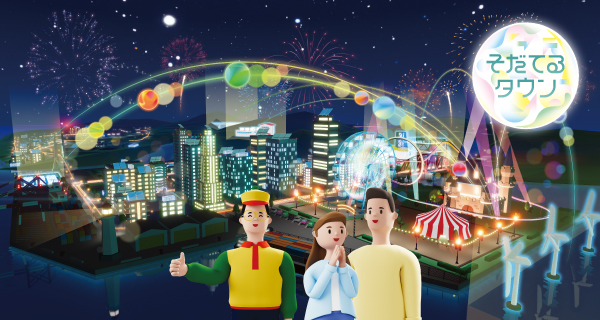 Period: 2022/9/29 (Thu) – 2023/1/17 (Tue)
Venue: METoA Ginza (Admission free)

Mitsubishi Electric Corporation (hereafter referred to as Mitsubishi Electric) will hold an event called "Growing Town – Can we share clean energy? Let's brighten the city together – " will be held from Thursday, September 29, 2022.
This event is a sustainable future city that realizes "local production for local consumption" of electricity by sharing clean energy such as solar power and wind power in the city through hands-on attractions using a large screen with a 4K projector. about can be experienced.
From this time, the special exhibition area has been renewed, and it has become a place where you can enjoy attractions in a high-definition space with a total of 16K and a sense of immersion.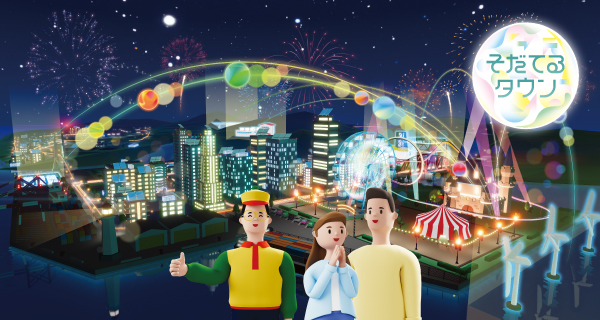 Japan relies heavily on thermal power generation for its energy, and faces major challenges such as the high import rate of fossil fuels and global warming caused by carbon dioxide emissions.
Clean energy is one of the solutions to these problems, but there are various problems such as "power can only be generated during the day" and "it is affected by the weather".
Mitsubishi Electric is paying attention to the technology that can solve these problems, and is working on the commercialization of the Area Energy Management System (AEMS).
Through attractions, we will provide opportunities to learn and think about energy problems, which have been attracting increasing attention in recent years, and hints for solving them, while experiencing a future city where AEMS is installed.
---
---
* Area energy management system: A management technology that adjusts the balance between energy demand and supply according to regional characteristics within a specific area.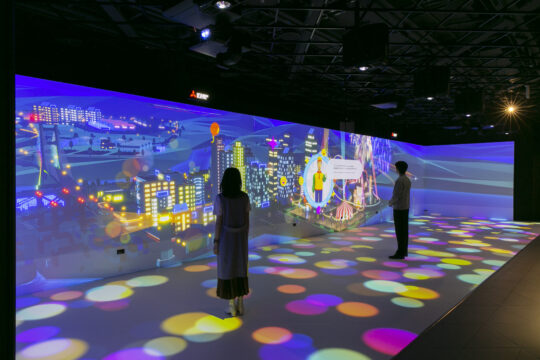 ■ [Exhibition] Various missions occur in the city! Let's work together to solve the problem (2F)
We will work on missions to solve various power shortage problems that occur in the "growing town" displayed on the giant screen. Participants throw an 'energy ball' projected onto the floor to share clean energy in an underpowered area.
Through these attractions, it is possible to learn the possibilities of AEMS in an easy-to-understand manner. After experiencing the mission, visitors can input their impressions of the mission and ideas for the future of sharing energy. Visitors can view various opinions displayed on the monitor and think about sustainable living.
■ [Example of mission] Save the city from the pinch of electricity with "local production for local consumption of electricity" using clean energy!
Mission 1: A lot of electricity is needed for the illumination lighting ceremony of the amusement park tonight. In order not to run out of electricity, run the solar and wind power generators during the day to save electricity and make the lighting ceremony a success!
Mission 2: A large-scale blackout in the city. Use area energy management to send electricity to people in need so that confusion does not occur in places where electricity is indispensable, such as medical sites and evacuation centers!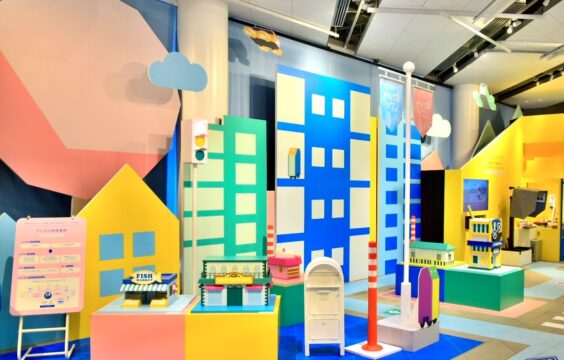 ■ [Experience Exhibition] Virtual City "Sodateru Town" (3F)
You can enjoy various attractions on the 3rd floor. This is an event that will give you an opportunity to think about how the latest technology can expand your life and how it can be used. In addition, you can enjoy learning about what you can do now for the future and social issues that need to be resolved through a wide range of products and solutions from inside and outside the Mitsubishi Electric Group.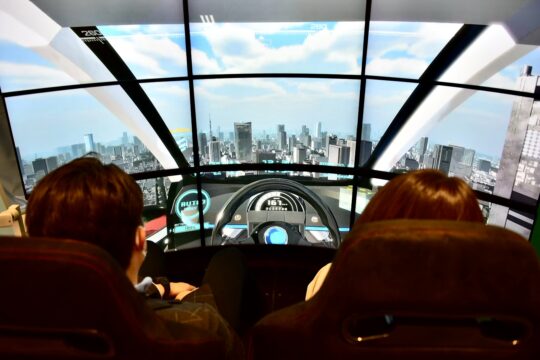 Attraction 1 – Let's ride a flying car!
At the 2025 Osaka/Kansai Expo, you can virtually experience a flying car that is said to fly. You can get into a motion base (a device that vibrates the seat according to the image) that gives you a sense of reality, and you can experience a simulated future where you can move in the sky from Marunouchi, Tokyo to Odaiba while watching the wind. It is an exhibition where you can feel how future life will change with technology that "sees the wind" that predicts the direction and strength of the wind.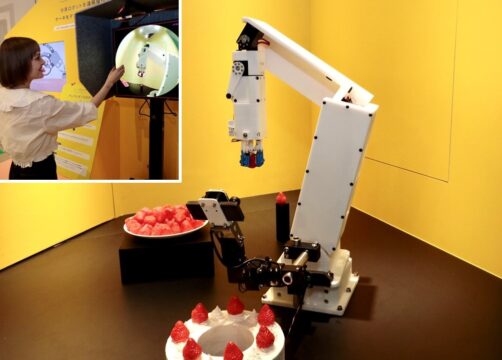 Attraction 2 ― Let's decorate the cake by remotely controlling the avatar robot!
Mitsubishi Electric is developing a new solution "VISUAL HAPTICS" that solves the problems of conventional "telepresence" technology, such as transmission accuracy, physical burden, and large-scale system processing.
In this exhibition, you can actually experience remote control of a robot using VISUAL HAPTICS. This is a hands-on exhibition that will give you an opportunity to think about how the robot will be remotely controlled in the situation of decorating a cake, which requires adjustment of power, and how it will be involved in your life in the future.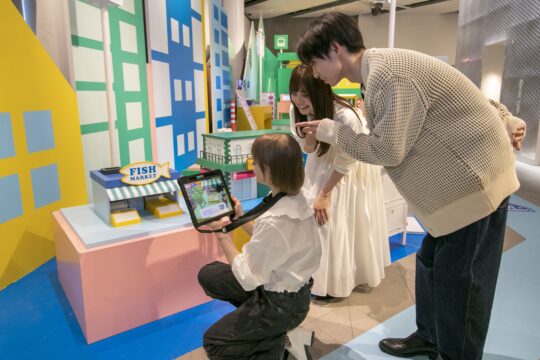 Attraction 3 ― Growing Coin AR (Digital Community Currency)
Community currencies have been attracting attention in recent years, and more and more regions are beginning to adopt them for the purpose of revitalizing the economy. At Sodateru Coin AR, you can enjoy experiencing how community currencies can help solve social issues through AR experiences.
The more you use the digital community currency, the more the economy of the city you live in will circulate, and by accumulating and using points through local volunteer activities and recycling, communication in the city will be activated.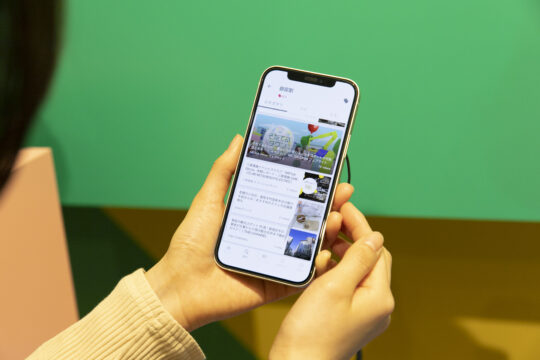 Attraction 4 ― ekinote@Sodateru Town
Released in March 2022, ekinote is a "station and city guidebook app" that allows you to rediscover and collect the attractions of railway stations (approximately 9,100 stations) throughout Japan and the surrounding cities.
In this exhibition, you can simulate the future that ekinote aims to "encounter various information you don't know starting from the station" and "grow the city together". Please enjoy the experience of "growing" the city by inputting recommended information and "encounters" around Ginza Station, and recommended information related to local stations and favorite stations.
■ [Cafe] METoA Cafe & Kitchen (1F)
Australian cafes have developed while absorbing various things, based on the belief that "a good meal leads to a richer life itself." At "METoA Cafe & Kitchen", which has inherited that essence, we offer special coffee and juice, as well as meals centered on superfoods and vegetables. From September 29th, a new menu will appear in conjunction with the exhibition.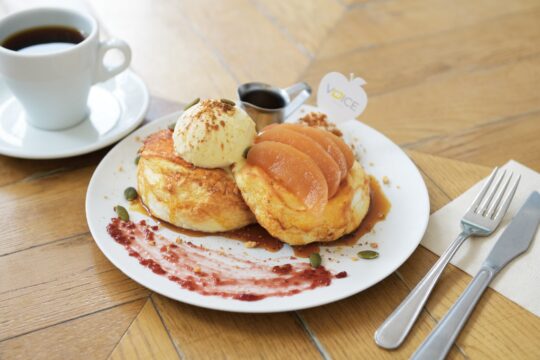 [New product] Sodateru Town limited original menu
apple compote pancake
1,408 yen (tax included) Drink set + 308 yen (tax included)
In Japan, abandoned farmland has become a social issue due to the aging of farmers and a decrease in the labor force due to labor shortages. It is a pancake with apple compote using cider made by effectively utilizing this abandoned farmland. Finished with raspberries and caramel sauce to give it an autumnal hue.
*Limited quantity, ends when sold out
■ Event overview
Title: "Growing Town – Clean Energy Can Be Shared!" ? Let's brighten up the city together."
Period: September 29, 2022 (Thursday) to January 17, 2023 (Tuesday) *The period is subject to change Time:
Event space: 11:00-20:00 (11:00-21:00 after October 1, 2022)
METoA Cafe & Kitchen: (Mon-Fri) 11:00 – 23:00/ LO 22:00 (Sat/Sun) 08:30 – 23:00/ LO 22:00 Please check jp Price: Free Venue: "METoA Ginza" (1F to 3F)
Information provided by: "METoA Ginza" PR Secretariat
<Related articles in the past>
[METoA Ginza] Experience-based events where you can learn while playing one after another during the summer vacation. It's okay even in the heat! 3 free indoor facility spots where you can enjoy learning in a cool indoor environment