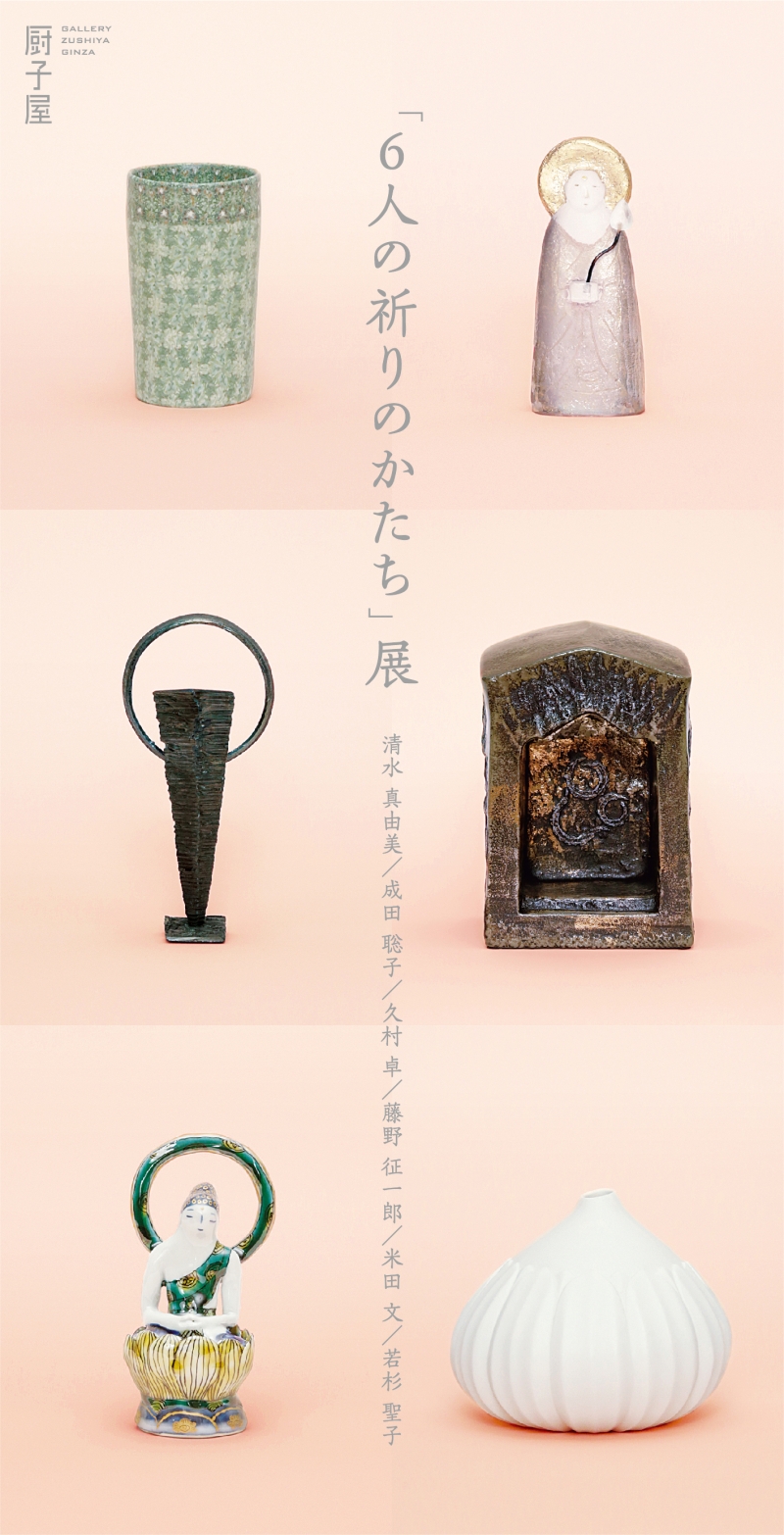 [Gallery Zushiya] Saturday, February 11, 2023 to Friday, February 24, 2023 11:00 to 19:00 / Closed on Tuesdays [Admission free] Closed at 17:00 on the last day
Since its opening, Gallery Zushiya (1-chome, Ginza, Chuo-ku) has held numerous exhibitions together with craftsmen and creators, hoping to create a form of prayer that suits modern lifestyles and people's hearts.
In this special exhibition, you can see the "form of prayer" such as Buddha and furniture by six artists, Mayumi Shimizu, Satoko Narita, Taku Kumura, Seiichiro Fujino, Aya Yoneda, and Seiko Wakasugi. The session is until February 24th (Fri).
Since the opening of Zushiya in 2002, many forms of prayer have been created through the sincere efforts of contemporary artists who wished to create a "place of modern living, a form of prayer that suits people's hearts." (Coordinator Setsuko Yamada)
"Six Forms of Prayer" Exhibition Mayumi Shimizu, Satoko Narita, Suguru Hisamura, Seiichiro Fujino, Aya Yoneda, Seiko Wakasugi
Date: February 11 (Sat) to 24 (Fri), 2023
11:00-19:00 / Closed on Tuesdays [Admission free] *Last day closes at 17:00
Venue|Gallery Zushiya Ginza 105 Building B1F, 1-4-4 Ginza, Chuo-ku, Tokyo (TEL 03-3538-5118)
Number of exhibited works|About 180
・ Mayumi Shimizu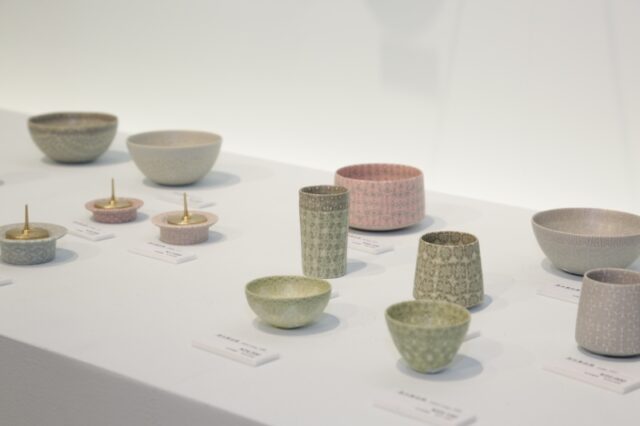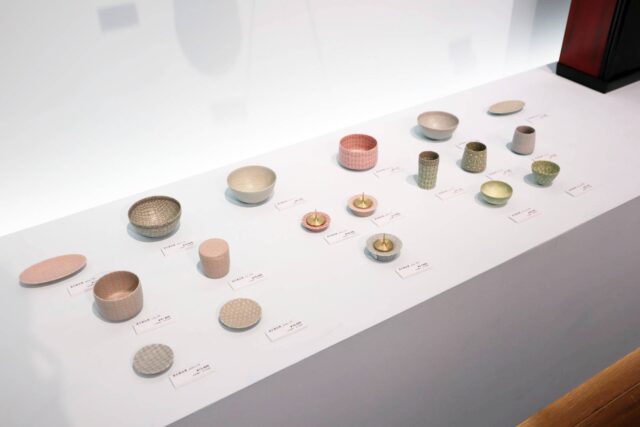 ---
---
Ceramic artist Mayumi Shimizu creates a kaleidoscope-like world by combining various pottery clays. "I'm happy that my creation is chosen as an item for the Buddha," says Shimizu. There are about 20 items in gentle colors that you want to incorporate into your life.
Mayumi Shimizu (ceramic artist)
Born in Chiba Prefecture in 1970. Graduated from Musashino Art University Junior College. Worked as a ceramic artist since 2000 after working as a trainee at the Shiga Prefectural Ceramic Forest and Kanazawa Utatsuyama Kogei Kobo. 2002 6th International Ceramics Exhibition Mino Jury Special Award. 2004 "Ruthless Objects – 11 Contemporary Craftsmen" Craft Gallery, The National Museum of Modern Art, Tokyo.
・Satoko Narita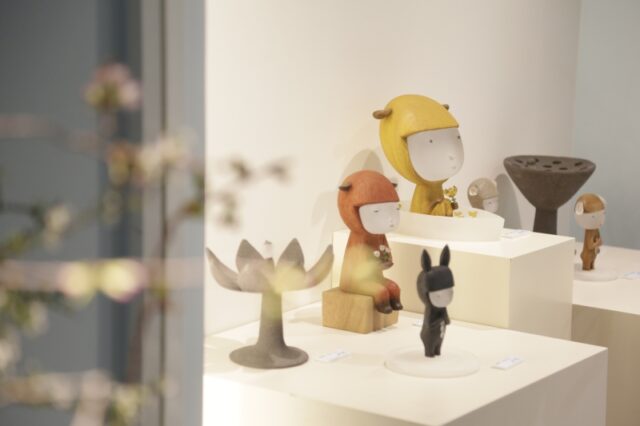 Ms. Satoko Narita, a sculptor who combines glass and wood to create her own worldview in three dimensions. I can't help but feel something from each work, such as the eyes looking into the distance, the smiling expressions with closed eyes, and the hands on the chest. About 15 points are lined up.
Satoko Narita (Artist)
Born in 1970 in Nagoya City, Aichi Prefecture. After graduating from Aichi Prefectural University of Arts, studied glass at Toyama City Glass Art Institute. From the drawings of people and animals that naturally come out of my hands, I create three-dimensional objects that I can hear their voices by combining glass and wood. They mainly express the thoughts, feelings, and prayers that people feel in their lives.
・ Suguru Kumura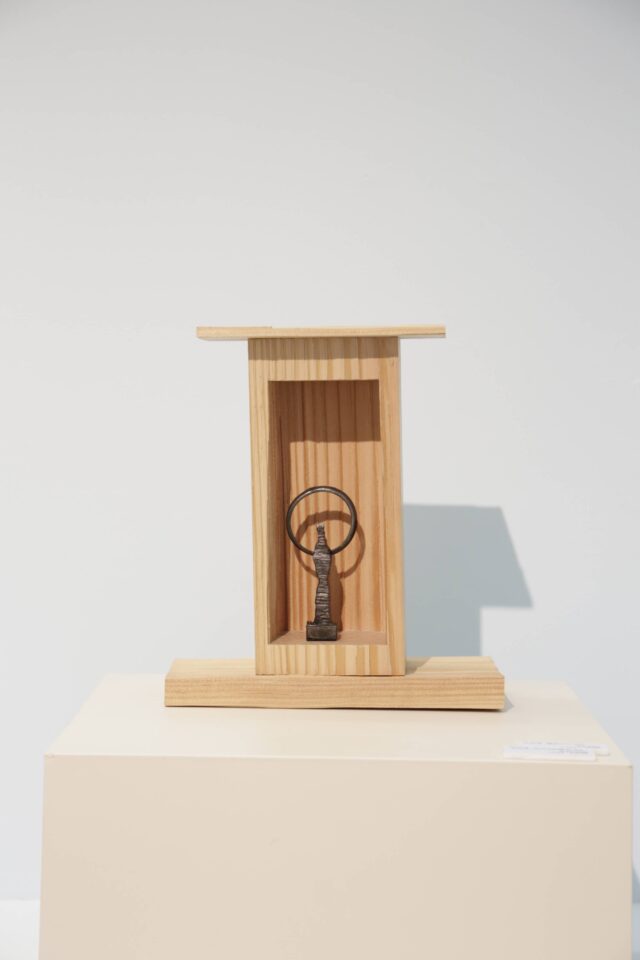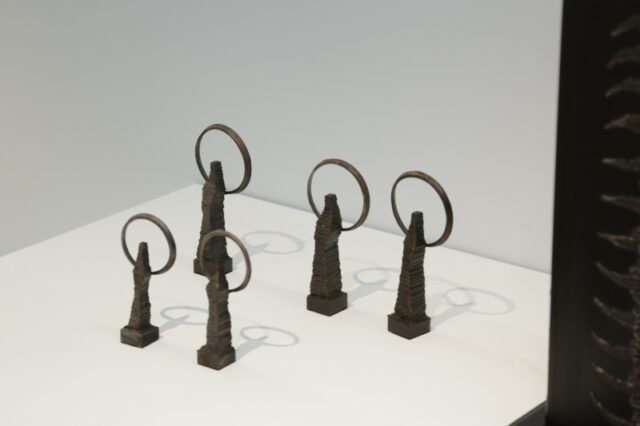 Taku Kumura, an artist who uses craft techniques and relies on the power of nature to create works based on the principle of "not creating shapes as much as possible." There are things that can be seen by staring at small works, such as the fibers of cut wood and the degree of melting of iron born from the fusion cutting technique. There are about 30 items such as Zushi and Buddha.
Taku Hisamura (Artist)
Born in Tokyo in 1977. 2001 Graduated from the Department of Sculpture, Tama Art University. Using a variety of materials and techniques, from embroidery to metal processing, he mainly presents works of art both in Japan and overseas. Since the group of works can be used as clothes and chairs, it has a critique of art, which is premised on appreciation, and also shows an affinity with the craft field.
・ Seiichiro Fujino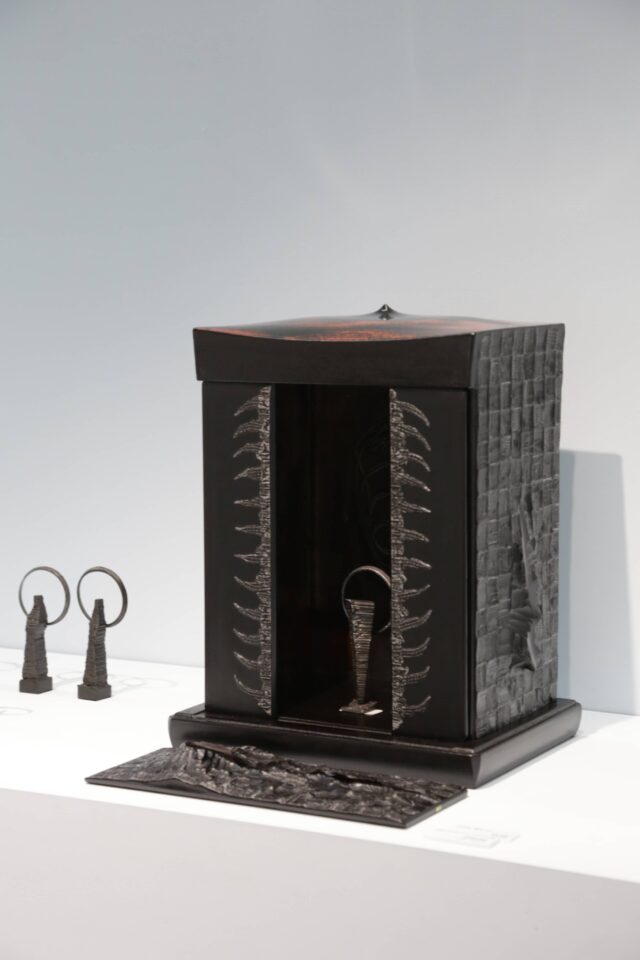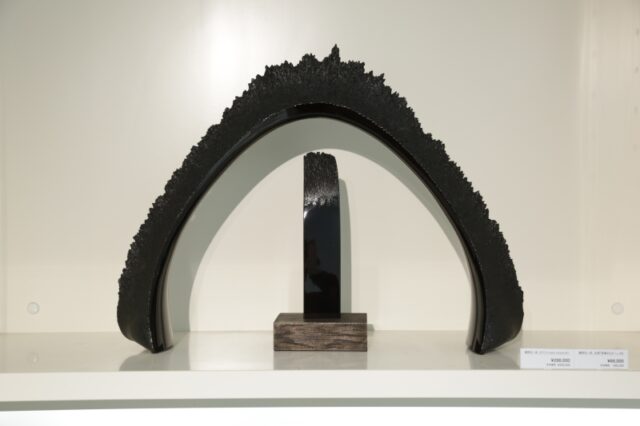 Mr. Seiichiro Fujino, a lacquer craftsman who respects the power of materials and continues to pursue texture and modeling expression. The works born from this attitude have a depth and mystery that draws you in. There are about 10 various items such as shrines, Buddha seats, mortuary tablets and objects.
Seiichiro Fujino (Lacquer craft artist)
Born in Shiga Prefecture in 1972. Completed master's course at Kanazawa College of Art and Kanazawa Utatsuyama Kogei Kobo. Major awards include the 45th Japan Craft Exhibition Japan Craft Award, International Lacquer Exhibition Ishikawa 2020 Encouragement Award, etc. In recent years, he has participated in exhibitions at Galerie Marianne Heller (Germany) and Itami City Craft Center.
・Aya Yoneda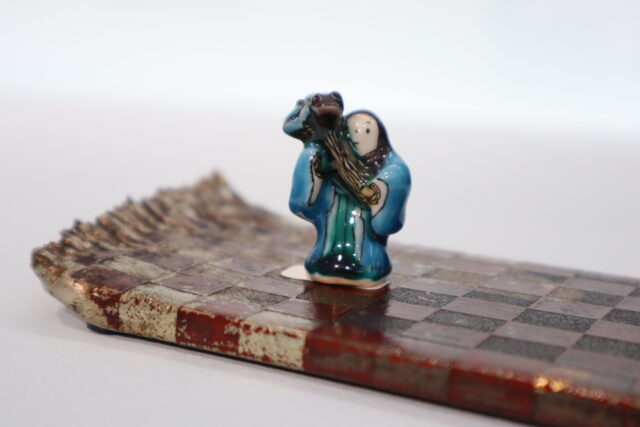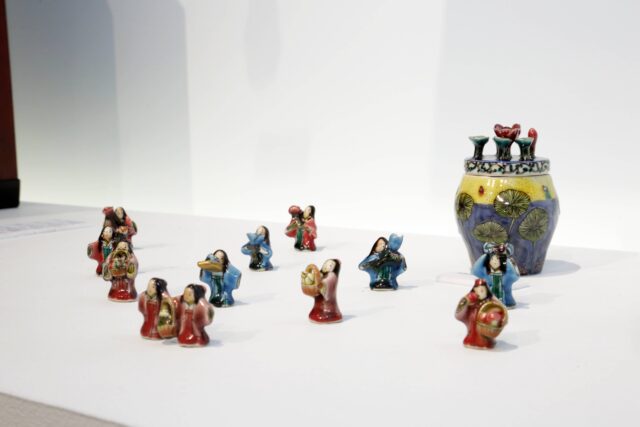 Ceramic artist Aya Yoneda uses traditional Kutani ware techniques to create small, fun worlds full of humor. In addition to the popular Buddha, there are also new works of a group of maidens based on the painting of Nirvana. Among the approximately 30 works, there is also a work title such as "Fruit Dedication Banana", which makes me feel warm.
Aya Yoneda Bun Yoneda (ceramic artist)
Born in Ishikawa Prefecture in 1975. After graduating from Tokyo University of the Arts in 1998, he entered the artist activity after training at the Kutaniyaki Technical Training Institute and the Kanazawa Utatsuyama Kogei Kobo. "Flower Trees, Fruits, and Well-Balanced Animals Exhibition" A solo exhibition of works that cross the boundary between practical use and objects, such as a ceramic box series that started at Savoie Vivre (Roppongi), and collaborations with artists using different materials. Presented at meetings, etc.
・Seiko Wakasugi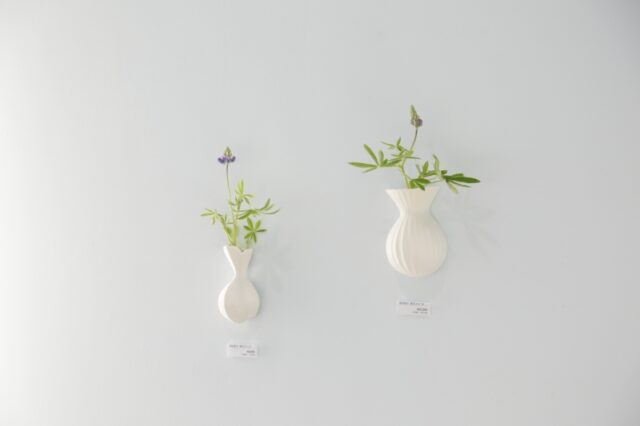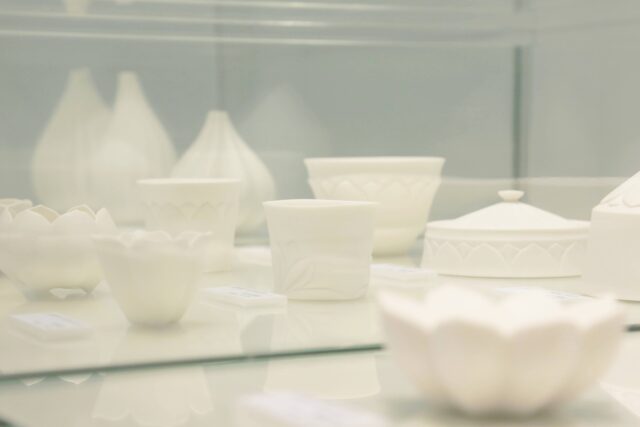 Ceramic artist Seiko Wakasugi is known for her delicate and soft white porcelain created through casting techniques. The texture of the unglazed surface feels good in the hand, and the sharp lines created by careful work create a sophisticated appearance. There are about 50 types and nearly 90 items, such as single flower vases, incense holders, and sake cups.
Seiko Wakasugi (ceramic artist)
Born in Toyama City in 1977. Completed the Tajimi City Pottery Design Institute. Became independent after working as a designer for a Mino ware manufacturer. Based in his atelier in the rich countryside of Sanda City, Hyogo Prefecture, he continues to create unglazed white porcelain by casting, inspired by the shapes of plants. Many solo exhibitions at home and abroad. Received the 2020 Hyogo Prefecture Art Encouragement Award. Currently an associate professor at Kyoto City University of Arts.
◆A state of the venue A man who visits every time he attends a special exhibition seems to have been six times as shocked as this time it was an exhibition of six people. He said, "It looks like it was struck by lightning." It will be held until 17:00 on the 24th (Friday).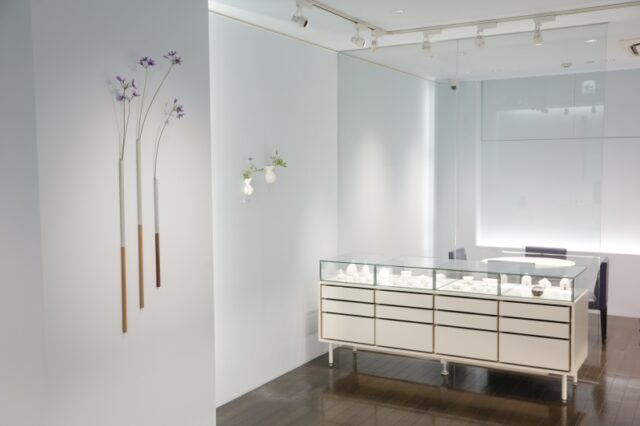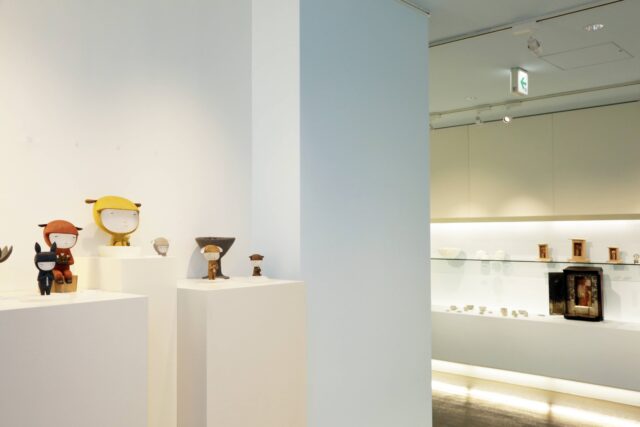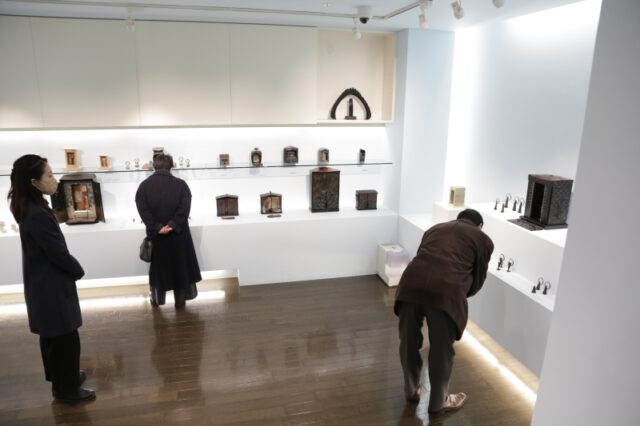 [About Gallery Zushiya]
"Zushi" is a box for storing important things.
A special box with a spirituality that can be entrusted with the soul.
Its history dates back to the 7th century (Asuka period) after the introduction of Buddhism to Japan.
It is derived from "Tamamushi-no-zushi" enshrined in Horyuji Temple.
Zushi became popular as a "box for storing important things" such as Buddha statues, Buddhist relics, sutras, and mortuary tablets.
A Buddhist altar belongs to a family lineage and is used to enshrine mortuary tablets of the principal image and ancestors.
Zushi belongs to an individual, and as a "box to store your precious things" such as amulets and keepsakes,
At Gallery Zushiya, we have continued to make proposals since the opening of the gallery.
At Gallery Zushiya, we will continue to search for a "form of prayer" that fits our current lifestyle.
[Corporate Profile]
Since its founding in 1900, Ultemaister (Hoshi Co., Ltd.), which operates Gallery Zushiya, has been manufacturing and selling Buddhist altars, fittings, and mortuary tablets as one of the local industries of Aizuwakamatsu. More than 200 craftsmen at the head office factory continue to make prayer products that are suitable for modern life with their hearts one by one.
Corporate name: Hoshi Co., Ltd. Location: Higashi 40 Ichinoseki-mura, Kadota-cho, Aizuwakamatsu City, Fukushima Prefecture 965-0844
President and Representative Director: Yasunori Hoshi Established: 1948
URL: https://alte-meister.co.jp/
[Artemister (Hoshi Co., Ltd.)] From the press release