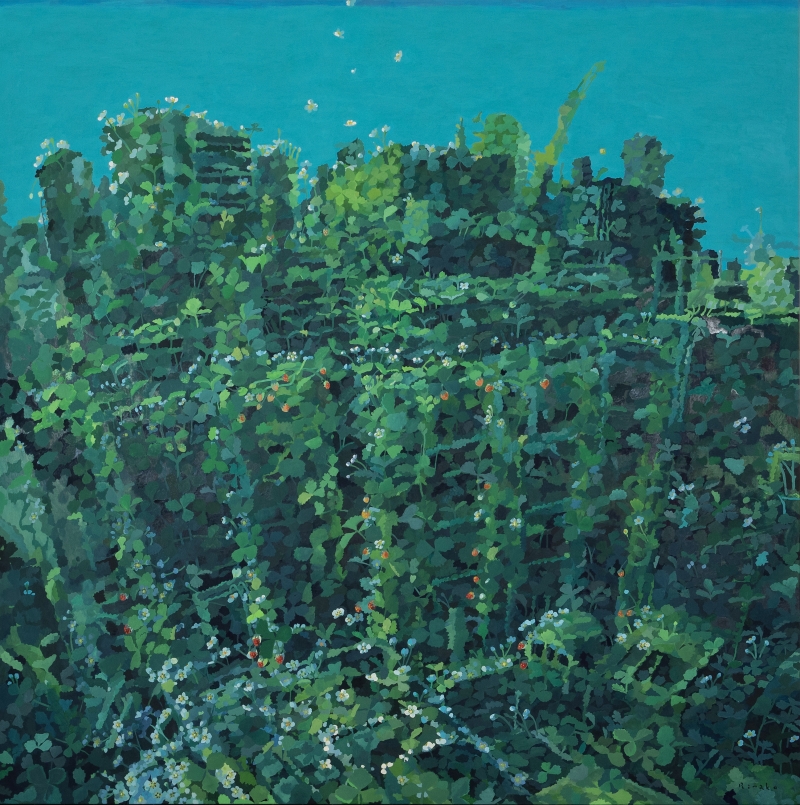 Artist Rimako Horikawa will hold her seventh solo exhibition in Wako, the first in three years.
At Seiko House Ginza Hall (former Wako Hall), "Rimako Horikawa Painting Exhibition -Utopia of Utsushimi-" will be held from April 27th (Thursday) to May 7th (Sunday). This exhibition marks the seventh solo exhibition by painter Rimako Horikawa in Wako after three years. About 50 works will be on display, from paintings to ceramics, including the masterpiece "Strawberry Town".
Wako will hold the 7th solo exhibition by painter Rimako Horikawa, the first in 3 years.
"Strawberry Town" is a large-scale work depicting a group of buildings visible from Horikawa's atelier covered in vitality-filled strawberries. Horikawa's view of the world is condensed in this work, and you can feel the flow of time itself, not the visible things or the cut moments. In addition to paintings of landscapes, people, flowers and fruits, we will also exhibit about 50 ceramic works. Please take a look at the many works drawn with a unique atmosphere and rich expressive power that speaks to the viewer.
[Painting work]
---
---
[Ceramic works]
Rimako Horikawa Biography
1965 Born in Tokyo
1989 Graduated from the Department of Design, Faculty of Fine Arts, Tokyo University of the Arts
1991 Received the Salon de Printemps Award for completion of Tokyo University of the Arts Graduate School of Fine Arts
2000/05/07/09/14/20 Solo exhibition at Wako
2017 Six women group exhibition in Wako
2019 Aoyama Gakuin middle school chapel stained glass production
2021 Received the 31st Bunkamura Deux Magots Literary Award for the picture book "Atelier of the Sea"
2022 Received the 53rd Kodansha Picture Book Award and the 71st Shogakukan Children's Publishing Culture Award Received the Grand Prix at the 1st "The Power of Pictures and Words Exhibition"
Picture book work "My stew, my stew"
"Oheyadai Bouken"
"The Country Beyond the Waterfall"
"Glacier mouse fur"
"Rimako Horikawa Painting Exhibition – A Utopia of Delight"
April 27th (Thursday) – May 7th (Sunday)
Venue: Seiko House Ginza Hall Seiko House Ginza 6F, 4-5-11 Ginza, Chuo-ku, Tokyo Contact: Wako (03) 3562-2111 (representative)
Business hours: 11:00-19:00 (until 17:00 on the last day)
Closed: No days off Admission: Free
◎ Wako Hall has changed its name to "Seiko House Ginza Hall".
We will send various messages to the world, such as exhibitions related to the Seiko Group business in general and co-creation with artists.
Business hours and events are subject to change without notice.
Please see our website for the latest information.
home page
https://www.wako.co.jp/
Instagram
https://www.instagram.com/wako_ginza_tokyo/
Instagram dedicated to art
https://www.instagram.com/art_wako_ginza_tokyo/
[Wako Co., Ltd.] From the press release
<Related articles in the past>
[Seiko House Ginza Hall (formerly Wako Hall)] "Creation of Crafts and Kôgei-Living National Treasure Exhibition-" will be held from April 6 (Thursday)
[Ginza/Wako] Seiko Sky Garden clock tower commemorative photo shoot for a limited time
A large-scale exhibition of vintage costume jewelry will be held in Ginza and Wako