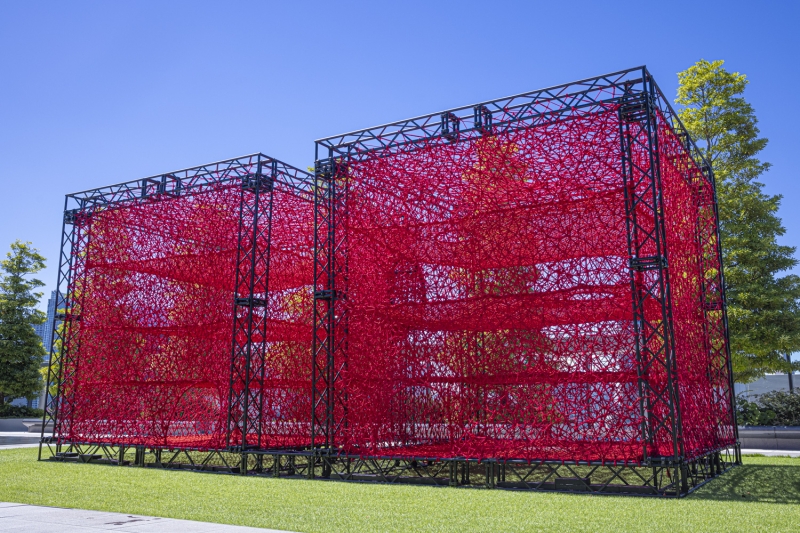 At GINZA SIX, the largest commercial facility in the Ginza area, from September 8th (Friday) to October 8th (Sunday), 2023, the GINZA SIX Garden on the rooftop will be recognized not only in Japan but also overseas. An "experience'' art park created by Hajime Kinoko, an accomplished rope artist, will appear.
This is an installation that children can enter and play with, allowing them to interact with the art.
▼An "experiential" art park created by rope artist Hajime Kinoko has opened in the rooftop garden
An experiential installation by Hajime Kinoko, who has many fans overseas, will appear at GINZA SIX Garden. The name of the work is "ENISHI". Only children can enter and play in the athletic gym-like installation made of red rope.
・Subject to cancellation in case of rain ・Ages 4 to 12 years old ・Those under 3 years old must be accompanied by a guardian ・Must wear socks
---
---
[Exhibition location] GINZA SIX Garden (rooftop garden)
[Exhibition period] Friday, September 8, 2023 to Sunday, October 8, 2023 Opening hours: 13:00 to 18:00 (Saturdays, Sundays, and holidays from 11:00)
Planning and production Satoshi Kukuno Kotetsu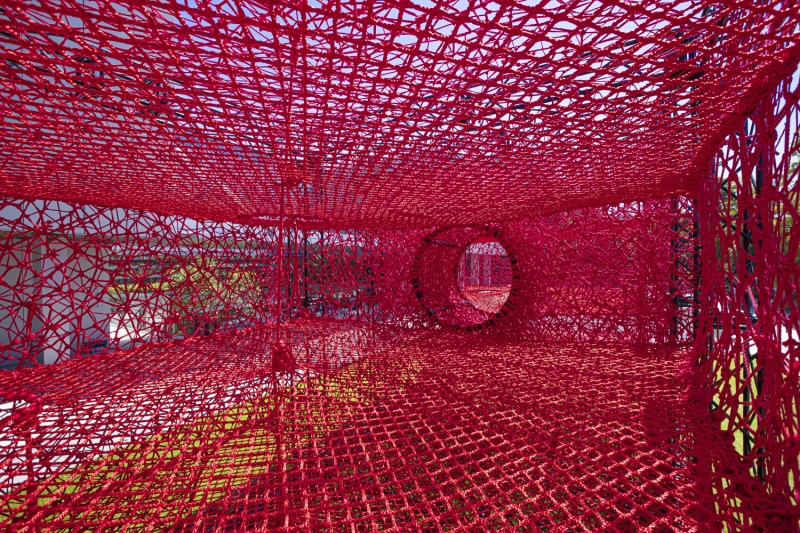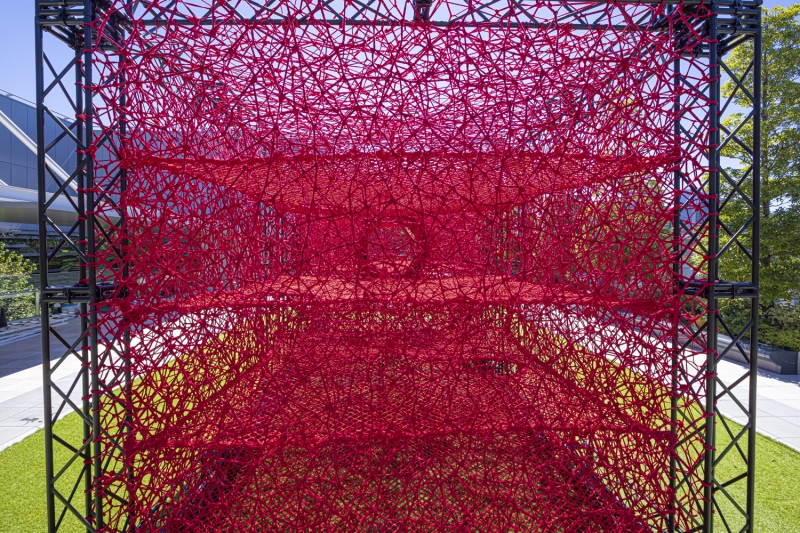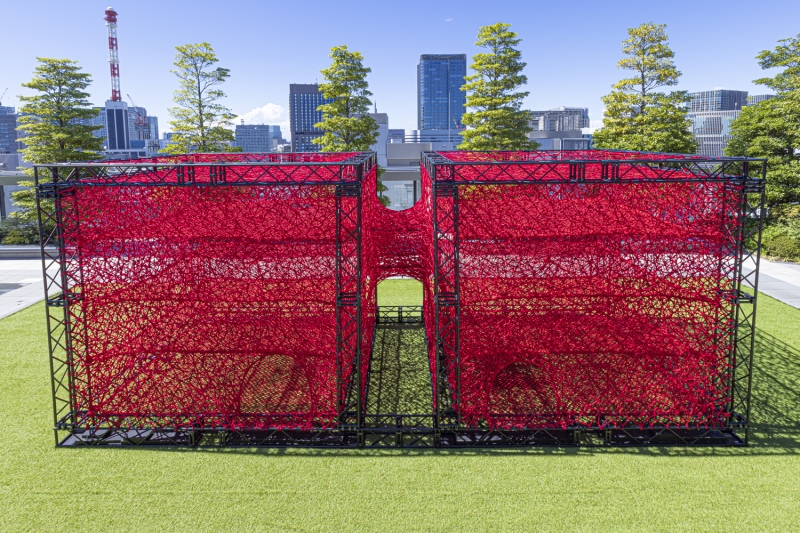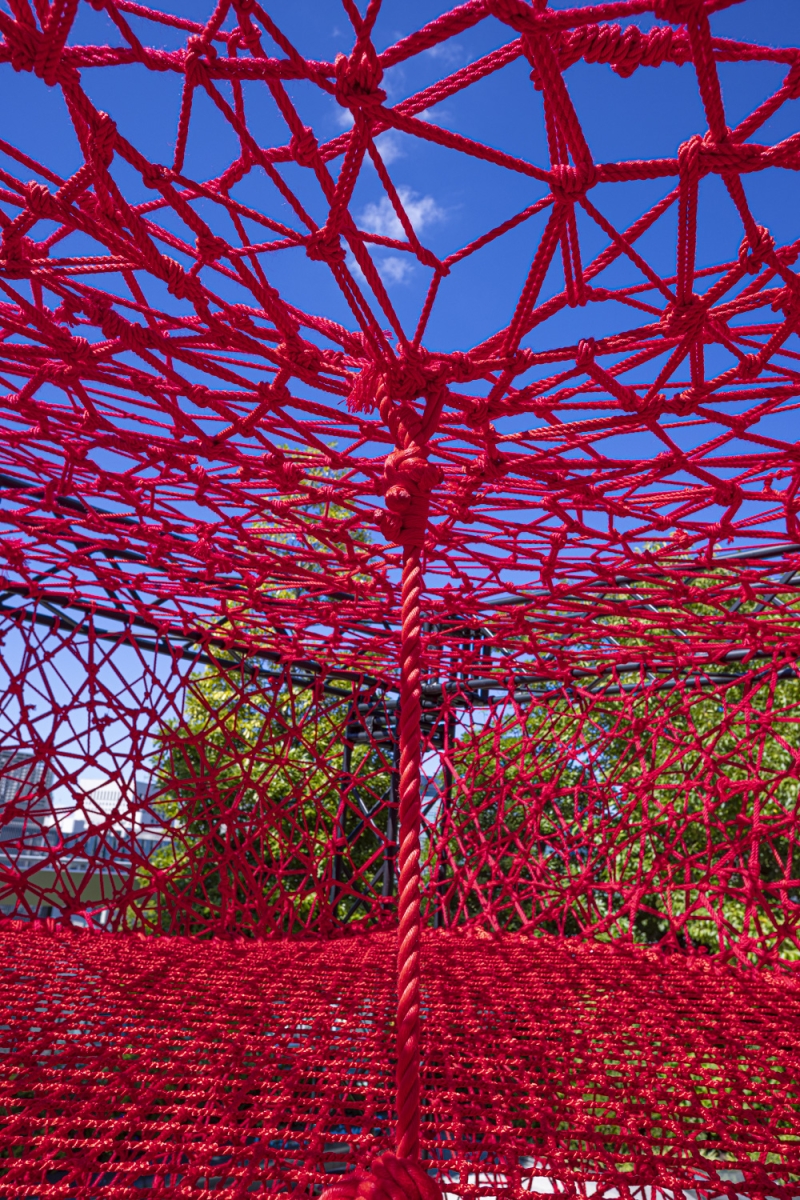 <Comment from Hajime Kinoko about his thoughts on the work>
Connecting people. I want to create such a space. Some time ago, I made a rope play equipment that resembled a trampoline that children could jump on.
I usually use ropes as art, but this was my first experience using ropes for entertainment. It quickly became popular and was crowded with children.
At that moment, I realized how good it feels to smile. Children get along easily and become friends. My rope art has an image of "tying'' rather than "tying.'' The red rope used this time is the "color of connection,'' reminiscent of blood or the red thread of fate, and the countless ropes crisscrossing each other signify "communion of people.'' I hope that this installation will become a knot where people meet, connect, and expand.
■Artist Hajime Kinoko
Born in 1977. He not only views bondage as erotic, but also specializes in pop interpretations and sublimation into art, and has been particularly praised for his unique work that binds nature (trees, rocks, etc.) and even space. In recent years, in addition to performances, he has also been actively presenting artwork using photographs and videos. Responsible for all tying, filming, and directing. In addition, they have held performances and workshops not only in Japan but also in over 20 major cities such as New York, Paris, London, and Munich, and are highly recognized overseas. http://shibari.jp/
■Planning and Producing Kotetsu Kukuno <br />Brand Producer/Entrepreneur My job is to enhance the appeal of products, brands, and companies and deliver them to the world. He has managed a wide variety of companies, including the expansion of overseas brands for individuals into Japan, IT-related businesses, and entertainment businesses, with a total of seven companies. Since then, he has been in charge of 130 creative projects for overseas brands, domestic people, things, companies, programs, events, talents, TV commercials, advertisements, and other brands. Currently, he serves as a brand advisor, advisor, producer, etc. for around 15 listed companies in a wide variety of industries, as well as top companies in the industry. We started a gallery brand called tHE GALLERY HARAJUKU in partnership with art curator Yasumasa Yonehara.
https://q-kotetsu.com/

<GINZA SIX basic information>
[TEL] 03-6891-3390 (GINZA SIX general information reception hours 10:30~20:30)
[ADDRESS] 6-10-1 Ginza, Chuo-ku, Tokyo 104-0061
[HP] https://ginza6.tokyo/
■Business hours, closed days Shop/Cafe (B2F~5F) 10:30~20:30
Restaurant (6F, 13F) 11:00~23:00
*Business hours may vary for some stores and restaurants.
*Closed days and business days and hours are subject to change.
*Please check the official website for details.
■Access Directly connected to Tokyo Metro Ginza Line, Marunouchi Line, Hibiya Line "Ginza" Station via underground passage. Parking available.
[PACK ARTS Co., Ltd.] From the press release
<Past related articles>
Aroma Truffle, a luxury snack brand from Singapore, will open its first store in Japan at Tokyo GINZA SIX on June 30th.
"Tsugu" debut commemorative POP-UP held at GINZA SIX Ginza Tsutaya Bookstore
[Ginza Tsutaya Bookstore] Kengo Kito's solo exhibition "About Lines" will be held from Saturday, May 13th. A unique exhibition space centered around installations where the contrast between colors and straight lines resonates, and also includes new two-dimensional works.