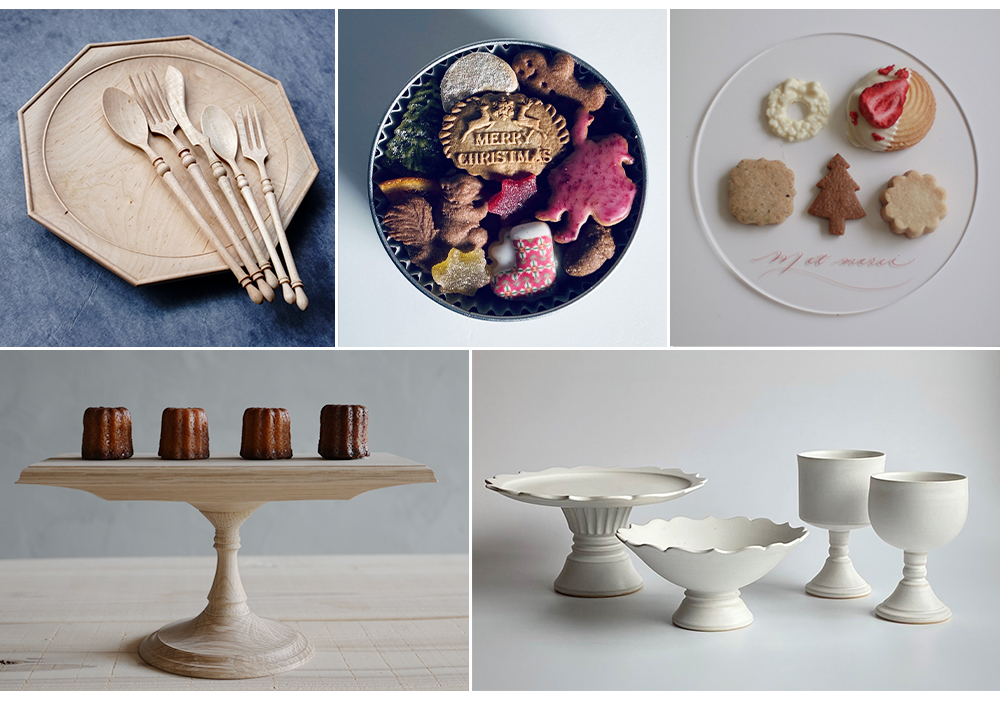 Ginza Tsutaya Bookstore Christmas 2023 "Joy of Sharing"
Ginza Tsutaya Bookstore (GINZA SIX 6F, Chuo-ku, Tokyo) will be holding a Christmas project titled "Tableware for Winter" from Thursday, November 2, 2023 to Monday, November 27, 2023. Masu. We will be introducing products such as wine glasses, cutlery, compotes made by three pottery makers, and Christmas cookie tins made by two sweets workshops.
Special page | https://store.tsite.jp/ginza/blog/travel/36679-1730041020.html
·overview
■Plates and cutlery that will complement your Christmas table <br />We have a collection of simple tableware made of wood and ceramics that will complement your colorful Christmas table.
Jungo Suzuki creates warm works using wood as a material. Ceramics and cutlery with beautiful wood grain, smooth curves, and accented edges are popular.
Chiemi Mizutani continues to create pottery based in Fukuoka, and her works are characterized by their soft, matte texture on a white background. Beautiful compotes and candle stands will brighten up your special day dining table.
Natsumi Mori continues to create products with a focus on the three essences of "materials," "stories," and "atmosphere." We create easy-to-use pottery that fits into your daily life while preserving the natural texture of wood.
■Sweets recommended as Christmas gifts
Junlee Cake will be selling a Christmas-themed cookie tin for the first time in stores. Each small cookie has a cute ornament-like design, and you can enjoy 12 different textures and scents.
M et merci will be selling an assortment of cookies limited to this fair. This is an assortment of small sweets such as speculoos made with spices for the winter season and sables made with Mariage Frères flavored tea leaves.
This season, when many recipe books are lined up, please enjoy them with dishes and cutlery that will brighten up your dining table, as well as bright-looking cookies and sables.
・Introducing some of the products we handle
・Dessert Spoon/Jungo Suzuki
---
---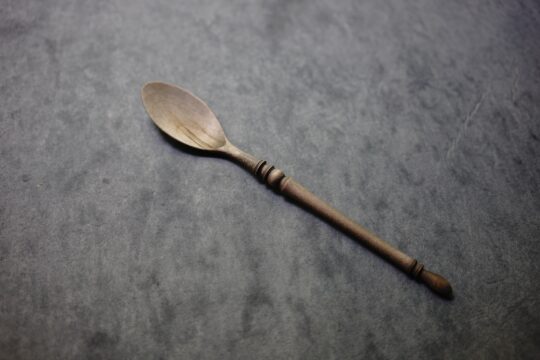 Price|6,600 yen (tax included)
Size|W30×L190 mm
Material|Maple/iron dyed
・Candle stand (large) / Chiemi Mizutani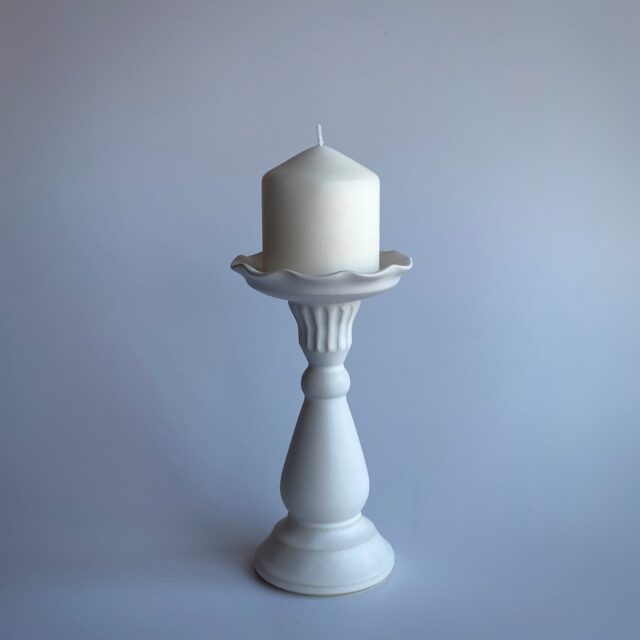 Price|22,000 yen (tax included)
Size|φ10.3cm×h19cm
Material|Pottery
・"rectangle" compote/Natsumi Mori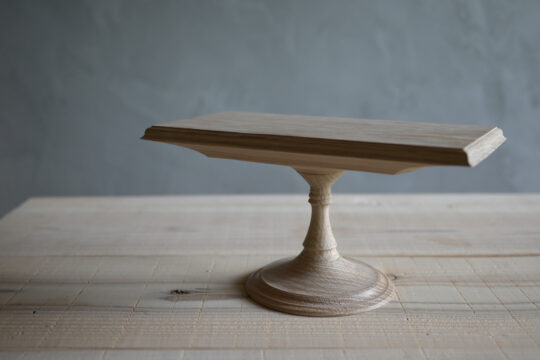 Price|24,200 yen (tax included)
Size | W280, D120, H120
Material|Oak
・CHRISTMAS/junlee cake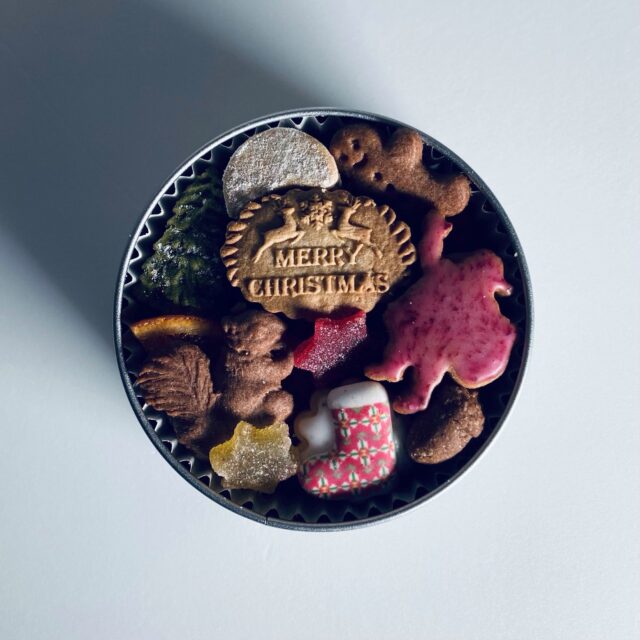 Price|3,600 yen (tax included)
Contents | Chai cookies, rosemary cookies, strawberry and walnut snowballs, chocolate and ginger cookies, Japanese warbler polvoron, vanilla kipfel, lavender sable, part de fruit (kiwi), part de fruit (raspberry), cassis cookie, orange Chip and hazelnut sable expiration date | Varies depending on delivery time. Please check at the store.
・Christmas Petit Gateau Sec/M et merci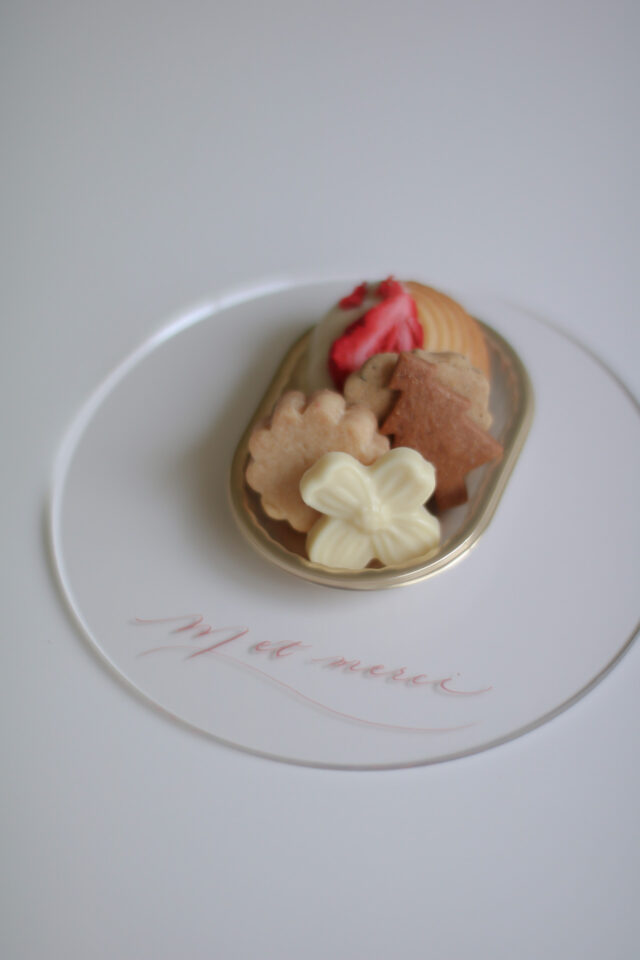 Price|972 yen (tax included)
Contents | Strawberry Milk Viennois, Sabre Marco Polo, Maple Shortbread, Speculoos, Chocolate Expiration date | Varies depending on delivery time. Please check at the store.
・About sales
It will be on sale at Ginza Tsutaya Bookstore from 10:30 on Thursday, November 2nd.
*There are no plans to purchase it online.
*Sale restrictions may be placed on both bowls and sweets depending on the crowding situation. Please note.
・Author (brand) profile
●Jungo Suzuki
Born in 1987 in Saitama Prefecture.
After completing the mechanical engineering major at Tokyo University of Science, joined Honda Motor Co., Ltd.
Mainly involved in launching new models of environmentally friendly vehicles.
After leaving the company in 2015, he studied the basics of woodworking technology at Agematsu Technical College in Nagano Prefecture.
Independent in 2019. Currently working mainly on wood
●Chiemi Mizutani Born in Kagoshima Prefecture.
Opened kiln in Fukuoka in 2019.
Currently, he continues to make pottery based in Fukuoka.
● Natsumi Mori Born in Kobe City, Hyogo Prefecture.
The concept is "a special place and time in everyday life''. Each piece is different, and we work with materials that are rich in individuality and are not easy to follow, and we incorporate a balance between intuition and detailed modeling into our designs. We create wooden vessels with a focus on creating a tense appearance and atmosphere.
●M et merci
The sweets are made with great care given to the aroma, flavor, and ingredients when the package is opened. We offer several types of sweets to match the deepening autumn season.
●junlee cake
Opening from 2023. We sell sweets irregularly at our online shop. The company mainly manufactures cookie cans, butter sandwiches, and chocolate. Each confectionery has a theme, and each confectionery is designed to tell a story.
・Fair details
"Tableware for winter"
Date: Thursday, November 2nd, 2023 – Monday, November 27th, 2023
Time|10:30-21:00 (until 17:00 on the last day)
Venue | Ginza Tsutaya Bookstore Travel Department Path Contact | 03-3575-7755 (during business hours)/info.ginza@ccc.co.jp
Special page | https://store.tsite.jp/ginza/blog/travel/36679-1730041020.html
・Ginza Tsutaya Bookstore
We connect art, Japanese culture, and daily life through books, and propose a "living with art.''
Address | GINZA SIX 6F, 6-10-1 Ginza, Chuo-ku, Tokyo 104-0061
Phone number|03-3575-7755
Business hours|Please check the store homepage.
Home page| https://store.tsite.jp/ginza/
Facebook| https://www.facebook.com/GINZA.TSUTAYABOOKS/?ref=bookmarks
Twitter| https://twitter.com/GINZA_TSUTAYA
Instagram|https://www.instagram.com/ginza_tsutayabooks/
・CCC Art Lab
CCC Art Lab is a planning group within the planning company Culture Convenience Club Co., Ltd. that proposes a "life with art.'' By proposing a "life with art,'' we hope to make art more accessible, make someone's life happier, and contribute to creating a better society. Based on the knowledge we have cultivated through many years of business experience in store planning, art media, product development, and event production, we will propose plans using an approach that only we can do.
https://www.ccc-artlab.jp/
[Culture Convenience Club Co., Ltd. (CCC ART LAB)] From a press release
<Past related articles>
[Ginza Tsutaya Bookstore] "1 Gallery Art Fair", a group exhibition by 11 artists active from all over the world, will be held from August 26th (Saturday). Explore unknown realms of creativity with unconventional materials and techniques.
"ART SESSION by Ginza Tsutaya Shoten'' will be held for the first time, with works by approximately 100 contemporary artists decorating the venue.
[Ginza Tsutaya Bookstore] Yukino Yamanaka's solo exhibition "silhouette" will be held from Saturday, June 10th. Presenting four new works that express "existence" with bold and smooth brush strokes.