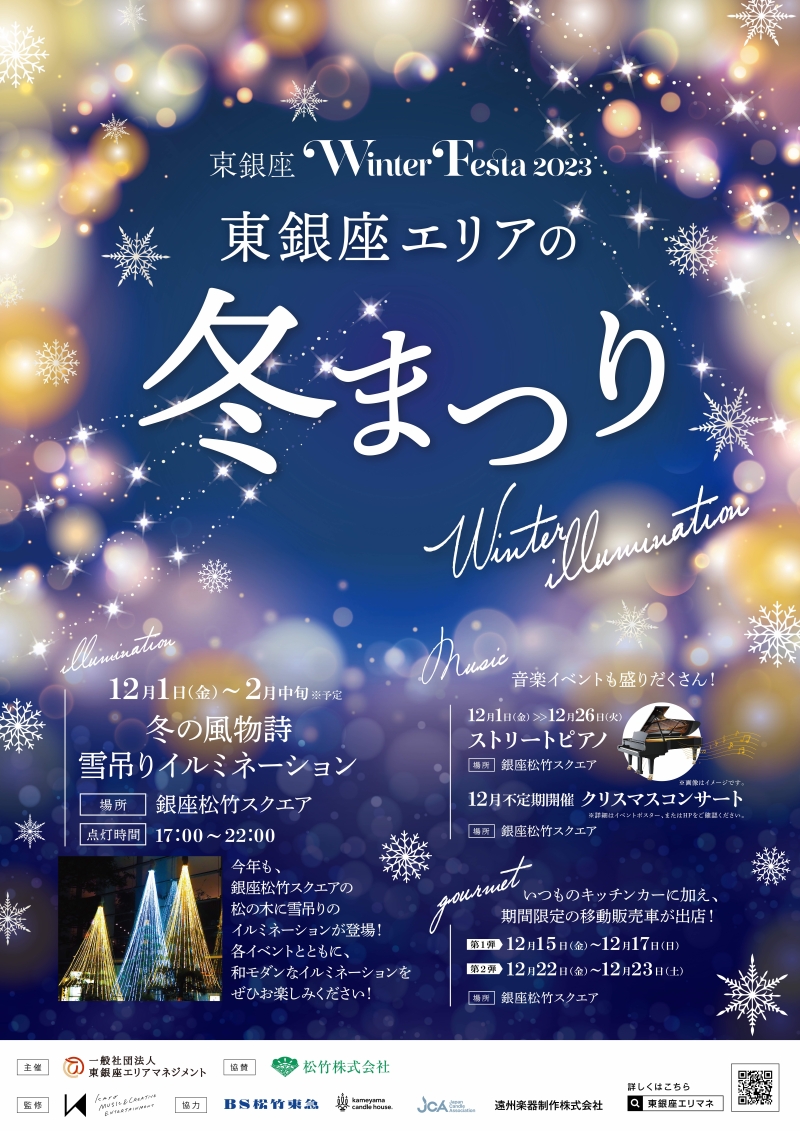 – Fun to see, listen to, and eat – A winter event will be held in Higashi Ginza with "lights" and "music"!
"Higashi Ginza Winter Festa 2023", sponsored by Higashi Ginza Area Management General Incorporated Association, will be held at Ginza Shochiku Square from December 1, 2023 to mid-February 2024.
Candle events and music events will be held at Ginza Shochiku Square, where the event will be held.
At the candle event, entitled Matsuya Onoue's Dream Candle , Matsuya Onoue, a Kabuki actor and director of the Japan Candle Association, produced the space himself, and candles that he created together with students from his alma mater, Ginza Junior High School, were on display. Beautifully coloring Ginza Shochiku Square.
A lighting ceremony is scheduled for 7:30pm on Monday, December 18th, and approximately 400 candles will light up Ginza Shochiku Square. Also, on the day of the lighting ceremony, a DJ will liven up the venue.
At the music event, the Enshu piano, which is popular as a street piano, will appear in the space in front of the grand staircase! Anyone can enjoy playing freely.
We are also planning a special concert with special secret guests, a popular pianist and popular YouTuber Melon Yamaguchi . In addition, there will be a Fureai concert stage by the Chuo Ward Priere Junior Chorus, a children's choir active in Chuo Ward , a winter concert by the Ginza Junior High School Brass Band, and a Christmas gala concert where they sing a collection of opera masterpieces and the Ninth. A variety of performances will be held.
---
---
Outside of Ginza Shochiku Square, the pine trees in front of the buildings are decorated with snow-dried illuminations , a winter tradition, enveloping the city of Higashi Ginza in warm light. Seasonal kitchen cars and Sanrio Cafe Wagons (limited to the 16th and 17th) will also be available, and "-Higashi Ginza Winter Festa 2023" is waiting for you.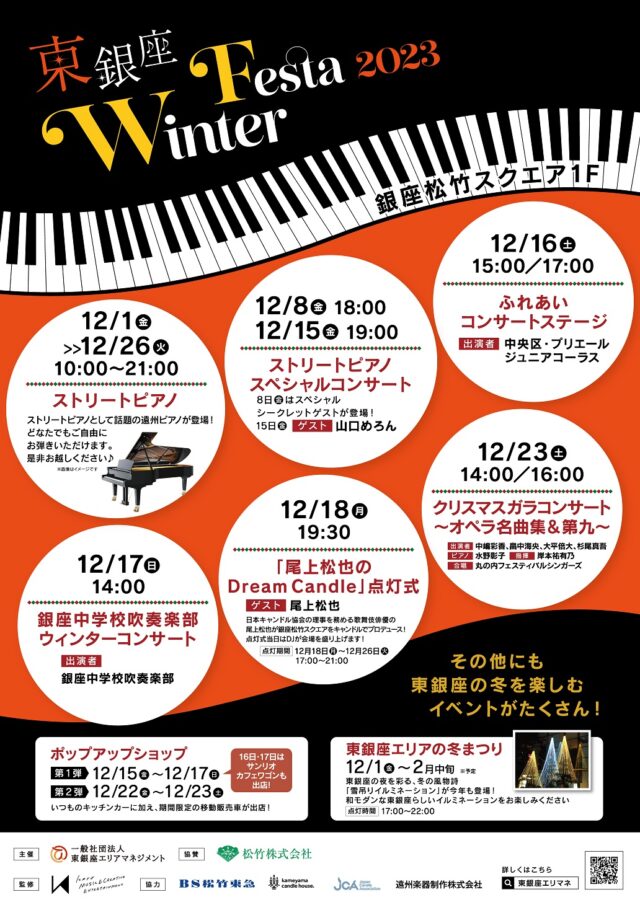 ◆Event schedule
[Yukitsuri Illumination]
"Higashi Ginza Area Winter Festival": December 1st (Friday) – Mid-February Lighting hours: 17:00 – 22:00
*Depending on the situation, the period and lighting hours may change.
[Matsuya Onoe's Dream Candle]
Lighting ceremony: December 18th (Monday) 19:30~
Lighting period: December 19th (Tuesday) – December 26th (Tuesday) 17:00 – 21:00
[Christmas concert]
・Street piano installation period : December 1st (Friday) – December 26th (Tuesday) 10:00 – 21:00
・Street piano special concert
Friday, December 8th 18:00 Special Secret Guest
Friday, December 15th 19:00 Yamaguchi Melon
・Fureai concert stage
December 16th (Sat) 15:00/17:00 Chuo-ku Priere Junior Chorus
・Winter concert
Sunday, December 17th 14:00 Ginza Junior High School Brass Band
・Christmas Gala Concert ~Collection of Opera Masterpieces & No. 9~
December 23rd (Sat) 14:00/16:00
Performed by Ayaka Nakajima, Kaio Hatanaka, Baidai Ohira, Shingo Sugio, conducted by Akiko Mizuno, Yuarino Kishimoto Chorus: Marunouchi Festival Singers
[Pop-up shop]
First round ▶ December 15th (Friday) to December 17th (Sunday)
The second Sanrio Cafe Wagon will appear on the 16th and 17th ▶ December 22nd (Friday) to December 23rd (Saturday)
Details can also be found on the official website below.
https://www.higashiginza-area.com/event/%e6%9d%b1%e9%8a%80%e5%ba%a7winter-festa2023/
Period: Friday, December 1, 2023 to mid-February 2024 (end date to be determined)
Location: Ginza Shochiku Square/Ginza Shochiku Square outdoor (1-13-1 Tsukiji, Chuo-ku, Tokyo/2 minute walk from Higashi Ginza Station on the Hibiya Line and Toei Asakusa Line)
Sponsor: General Incorporated Association Higashi Ginza Area Management Sponsor: Shochiku Co., Ltd. Supervision: KATO MUSIC & CREATIVE ENTERTAINMENT Co., Ltd. Cooperation: BS Shochiku Tokyu / Kameyama Candle / Japan Candle Association / Enshu Gakki Production Co., Ltd.
[Higashi Ginza Area Management General Incorporated Association] From a press release
<Past related articles>
Announcement of Higashi Ginza Festa 2023 "Higashi Ginza DE Cinema and Anko"
Announcement of "HIGASHIGINZA BOUSAI FES 2023"
The Sanrio Crepe issue also appears! Announcement of Ginza Shochiku Square Mini Marche