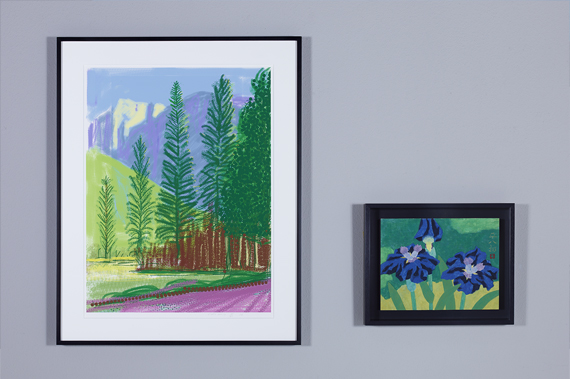 Left: David Hockney Untitled No. 12 from The Yosemite Suite, right: Hirachiro Fukuda iris
Details: https://store.tsite.jp/ginza/event/gallery/4673-1419140201.html
The art gallery THE CLUB of Ginza Tsuya bookstore (Chuo Ward, Tokyo) will hold a two person exhibition of David Hockney and Fukuda Heihachiro this time.
UK's leading painter Hockney visited the "Kyoto Japanese Painting Exhibition" held at the Kyoto Municipal Museum of Art, when he came to Japan for the first time in 1971 and met the work of Fukuda Heihachiro. Fukuda's "Ren" and "New Yuki" are exhibited at this exhibition, Hockney was overwhelmed by its color usage and composition, and talked that he wanted to open Fukuda's solo exhibition at the Tate Gallery in London That's right. In addition, we can take the influence of Fukuda Heihachiro on "snow" and "rain" of "Weather series" drawn after Hockney visited Japan, expression of water and landscape painting.
The surface that continues to float and the rippling sparkle. Vivid coloring that changes in Hyuga and shade. Two things that were attracted by two artists of different nationalities and times, that is a natural rhythm and coloring.
---
---
Both Hockney and Fukuda continue drawing their everyday scenes all the time, and by their bold color composition, they have unlimitedly produced works close to abstraction. What color is there, not what is there in front of me? By not turning consciousness from object to color, it seems that a completely new world will be visible.
In this exhibition, Hockney's "The Yosemite Suite" series drawn using iPad will be on display together with six representative works of Fukuda including "iris gull".
Please introduce the encounter of the two and enjoy the colorist competition that represents the century that went beyond the West and the East.
Exhibition holding commemoration talk event
Yujiji Yamashita, headmaster of "Japanese art cheering group", chasing Hockney work from the 1970s "Fukuhen." Suzuki Yoshio's special talks
Along with the opening of the exhibition, we will hold an opening talk by Professor Yuji Yamashita of Meiji Gakuin University and Yoshio Suzuki of editor / art journalist. I will tell you about the two colorists in a conversation form and tell the attraction of the exhibition to the customers who participate.
Those who wish to participate, please contact full name, telephone number, number of participants to the following e-mail address.
Date and time: Saturday, February 16, 18: 00-19: 00
Venue: THE CLUB (GINZA SIX 6F in Ginza Tsuya bookstore)
Participation fee: Free (Reservations are accepted at the following address)
Application address: info@theclub.tokyo
Outline of the exhibition
An Encounter of Two Colorists Encounter of two people
David Hockney | Heihachiro Fukuda David Hockney | Heihachiro Fukuda
Period February 16, 2019 to March 30, 2019 (Closed on February 25 and 26, 2019)
Time 11: 00-19: 00
Location GINZA SIX 6F THE CLUB (in Ginza Tsuya bookstore)
Organizer THE CLUB
Contact info@theclub.tokyo
03-3575-5605
URL https://store.tsite.jp/ginza/event/gallery/4673-1419140201.html
【profile】
■ David Hockney
Born 1950 in England, Bradford. Graduated from Royal College of Art as chief. Since 1964, he mainly works in Los Angeles. We publicly announce that it is homosexual and expressively express it to portrait works. Last year, as a work by the alive artist at the auction, it is made a bid for about the maximum amount of 10.2 billion yen. I am 82 years old this year.
■ Fukuda Heihachiro
Born in 1892 Oita-shi. I graduated from Kyoto Municipal Painting College. Associate Professor of Kyoto Municipal Painting College, awarded the Order of Culture after examinations of the Exhibition, Exhibition and Exhibition of Nissyo Exhibition. Honorary citizen of Oita-shi No. 1, and also honorary citizen of Kyoto city. He worked as one of the master masters of the Japanese painting art from Taisho to Showa. Death of 1974. I am 82 years old.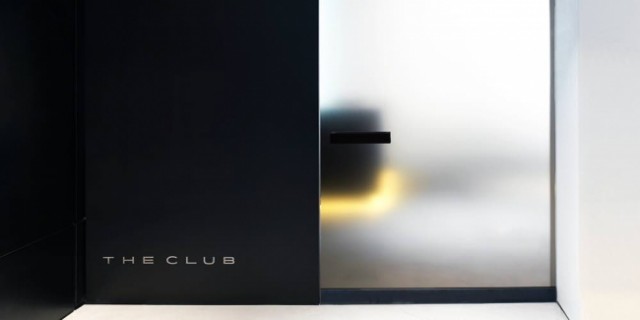 THE CLUB
Based on careful curation, we will continue to exhibit beyond the times and fields, mainly in contemporary artists who have few opportunities to see in Japan.
Address: GINZA SIX 6F, Ginza 6 – chome, Ginza, Chuo – ku, 104-0061, Japan
In Ginza Tsuya bookstore
Phone number: 03-3575-5605
Business hours: 11: 00-19: 00 (irregular holiday)
Homepage: http://theclub.tokyo
Instagram: https://www.instagram.com/theclub.tokyo/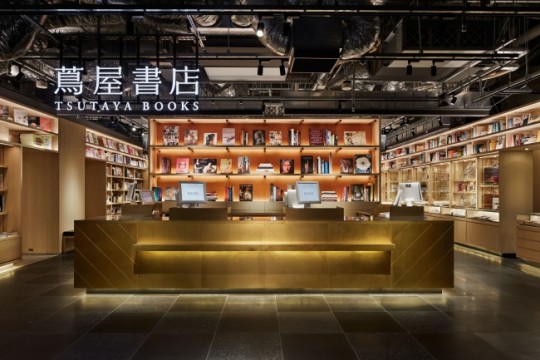 Ginza Tsuya Bookstore
We connect art and Japanese culture and living through books and propose "life with art".
While watching the art, I also have a cafe and a gallery where I can drink coffee while opening an art book. We are preparing a space where you can spend your time enjoying art with unexpected.
Address: GINZA SIX 6F, Ginza 6 – chome, Ginza, Chuo – ku, 104-0061, Japan
Phone number: 03-3575-7755 (representative)
Opening hours: 9: 00 ~ 23: 30 (irregular holiday)
Homepage: https://store.tsite.jp/ginza/
Facebook: https://www.facebook.com/GINZA.TSUTAYABOOKS
Twitter: https://twitter.com/GINZA_TSUTAYA
Instagram: https://www.instagram.com/ginza_tsutayabooks/
Online shop: https://store.tsite.jp/
---