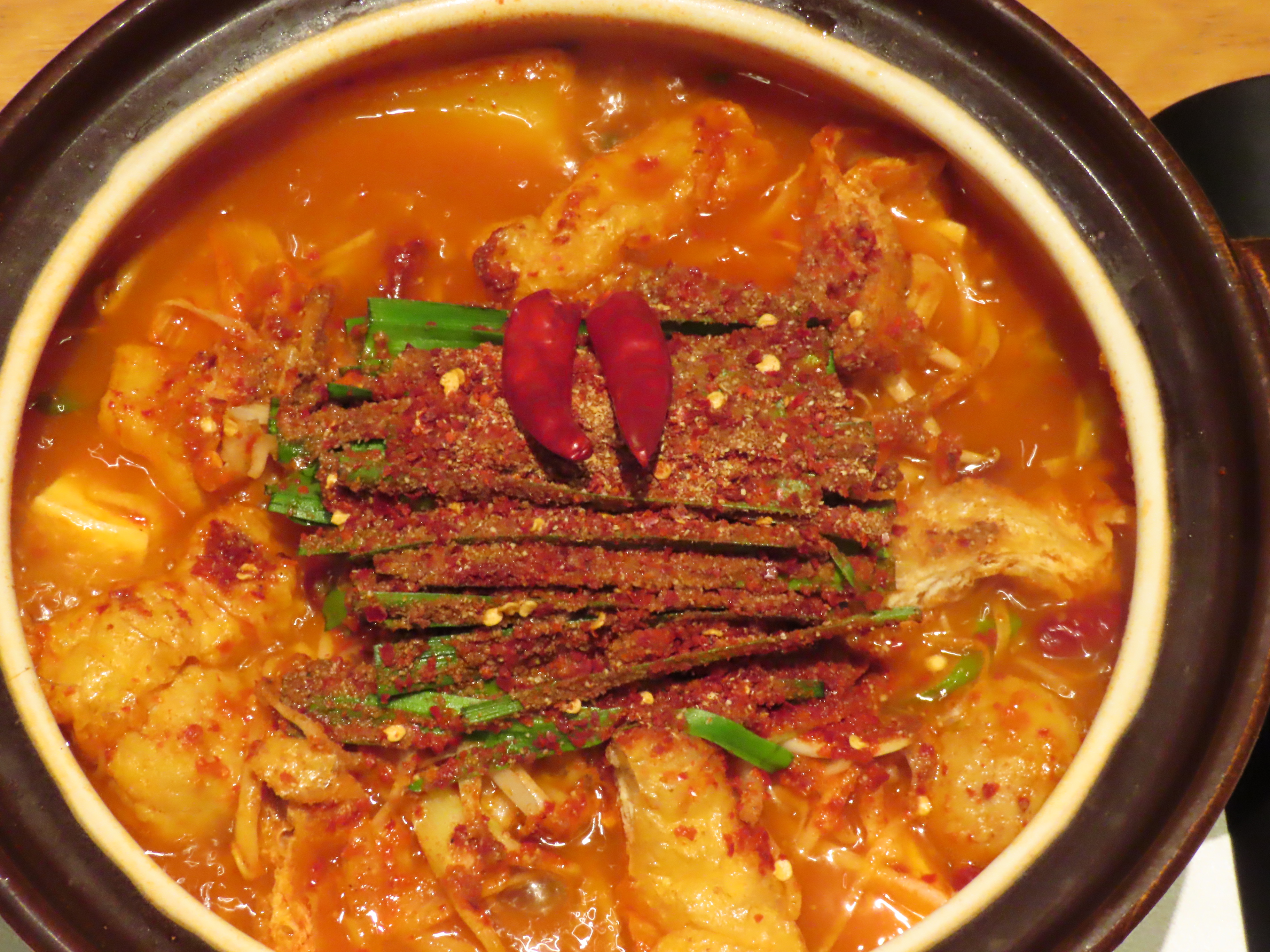 Eating and drinking establishments that mainly offer "Nabe from Nagoya" and "Chicken Baked" · From the red, currently the trend Mahler menu (a spicy dish using peppers and peppers) serves as a Grand Menu Appearance.
People who become addicted to distinctive hotness and umami successively! This time I tried the menu at the Ginza store. I will tell you how it is.
---
First of all it appeared from a hen to red pot .
Normally you can choose hot from a red pot from "Red No. 0" to "Red No. 10". The ordinary hotness is "Red No. 3", but this "Porco to Pot" is based on "Red No. 5" which is painful than normal, you can choose less hotness It does not seem. Furthermore, it is possible to add the spiciness. Original red meat, miso, peppers and peppers are added to the base. You can expect a considerable spicy just by looking at it.
Ingredients include Taiwanese minced beef with pepper, Taiwan minced domestic beef hormone, pig rose, fried tofu, Chinese cabbage, Chinese cabbage, Nagoya Cochin, Tsukune, bean sprouts, white onions, chives and lots of plenty.
---
---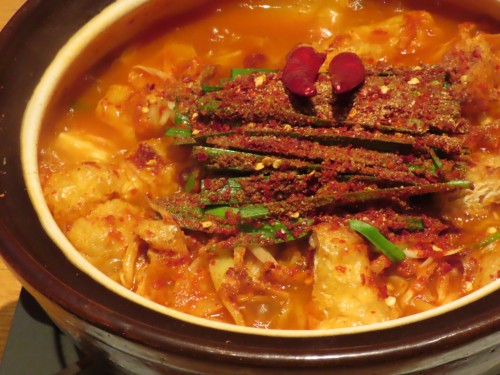 I felt a bitter spicyness in the throat despite not having ingredients in my mouth yet whether it was volatile in the air when it was put on fire.
And it is a real meal.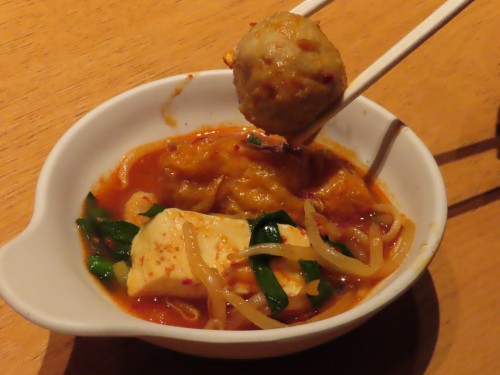 I will stretch the chopsticks terribly. Try not to mention the tsukune …
While feeling the strong spicy of chili, the taste of the tsukune jumps out after all. Numbness due to pepper comes afterwards, but it seems that the umami of the ingredients is even more pronounced by this. Because soup from abundant ingredients gives richness to soup, I can drink it unexpectedly.
Spicy and numbness and umami are united, a pot from hemp to red that produces a flavor that can not be said anything. Chopsticks advance. Because it warms from the core of the body, the time when the cold wave is coming is the fellows who want to surround them with their friends and family. Please note that ramen is recommended for the end!
In addition to the pan, there is a menu with plenty of chili peppers for the cold winter. Deep-fried chicken with sweet sauce and peppers in a Nagoya style fried chicken wrapped red chicken wrapped in red with powder and red pepper.
The pungent taste of chilli chasing after sweetness, it tastes unstoppable. For those who drink alcohol it is perfect as a snack!
And this time we got a pot from the white which is offered as a winter limited menu. It is a pure white pan with a change from the bamboo red previously. I already have plenty of cheese before putting on fire …
After boiling further cream and cream,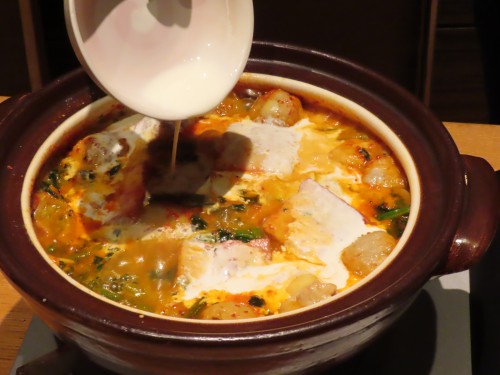 Throw melting cheese!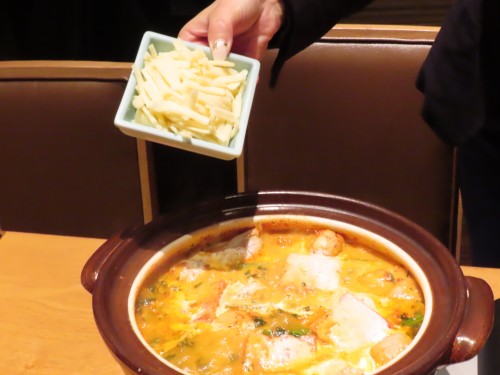 Here is the completed form. Even though it is covered with a casserole all over the pot, red pepper is insisting in places. This time the base soup is the most popular "Red No. 3" (Medium spicy), but even those who do not like spicy things from "Red No. 0" that is safe to "Dark red" No. 5 up to 6 You can choose according to your preference.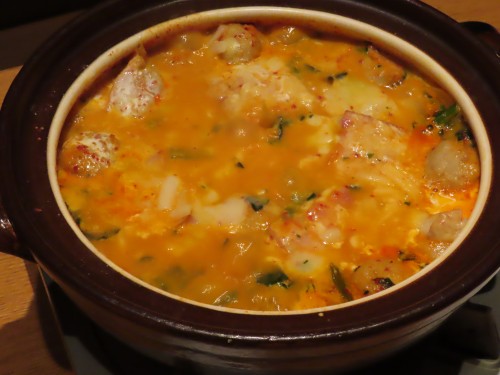 The ingredients are reminiscent of white stew, such as chicken, bacon, carrot, spinach, onion, but cheese and fresh cream are rich and very mild while the mildews are working well from secret red, the traditional red to hot pot It is finished in a pan to overturn the concept of. The past is a pasta, it seems to be a good choice to make egg yolk plus carbonara!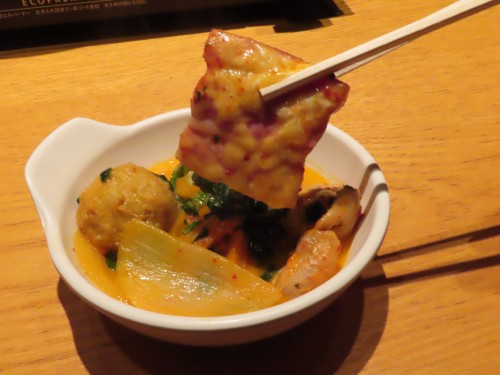 "White to hot pot" convinced that it is very popular among women is scheduled to be available until the end of March 2019 . Do not miss it!
※ "White to hot pot" is offered only at directly operated stores in Tokyo. Please check shop information on official HP from red .
---
Mr. Okamoto, a public relations official who told us this story, said, "The image from red is persistent, but we are not just offering painful things, but we are pursuing the delicacy of the ingredients derived from the spicy. That's why I think that many customers love it.We have a powerful word of "We look forward to your prospects as we continue to make new menus more and more as we continue to stay in the pot from the classic red." .
We were able to feel the style from red which keeps evolving by taking new things carefully while protecting the basic taste carefully by receiving new menu / winter limited menu. In Ginza, there is also a red-to-Ginza 5-chome shop in addition to the red-to-Ginza shop that we covered this time, so how about warming the cold body from red when walking around Ginza? Both are direct-operated stores, so you can also enjoy "Warm-to-hot pot" from the winter limited menu!