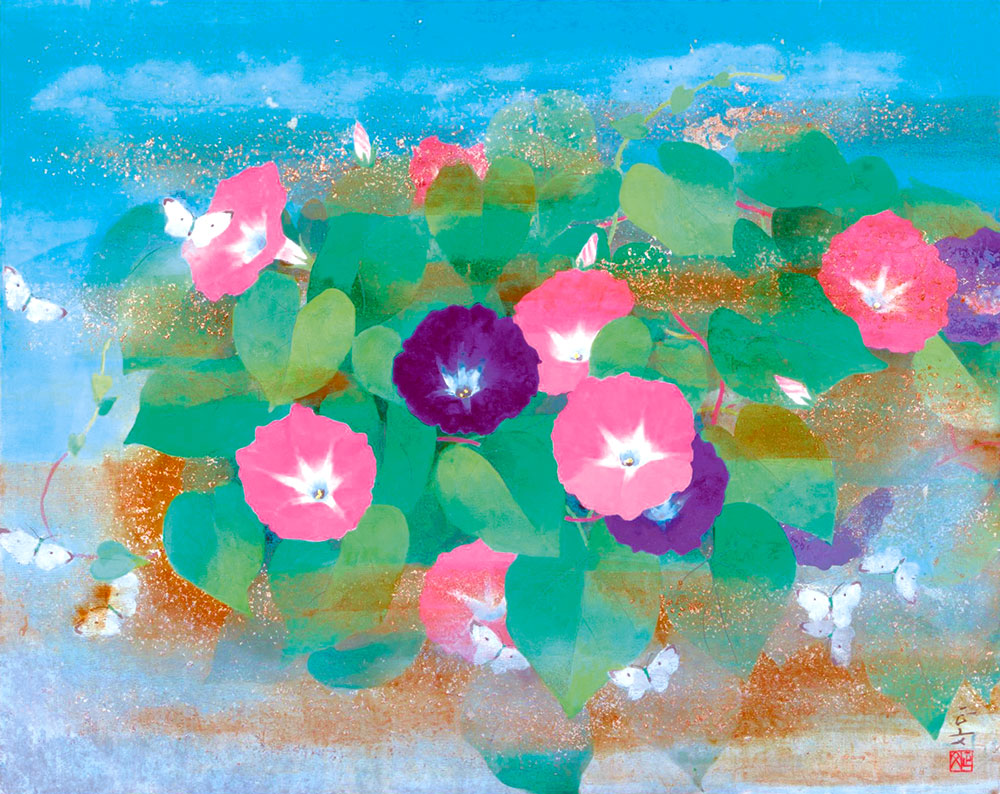 Masafumi Minami Painting "Nukae" Japanese Painting
Gratitude is in art and we continue to draw today.
Artists' Association drawing with mouth and foot is a painting exhibition at Tokyo Traffic Center B1 Gold Salon from May 12 (Saturday) to 18 (Saturday) 2019 2020-Painting drawn with mouth and foot-Thank you HEART- ] And Minami Masafumi Art Exhibition 【Joy of Seeds】 will be held.
---
---
Painting exhibition [painting with mouth and foot] & Minami Masafumi work exhibition [joy seed]
https://www.mfpa.co.jp/news/Archive_190418_exhibition/index.html
The Artist Association, which draws with its mouth and feet, is a group of painters who draw with its mouth and feet without having both hands. Starting in 1956 in Europe, it has expanded its activities in 72 countries and regions around the world, and has been active in Japan from 1961 to 58. Painters are deprived of the freedom of hands important to the art aspiration for various reasons such as diseases and accidents, but they keep paintings in their mouths and feet for independence, aiming to achieve independence.
In this exhibition, under the theme of "thank you for art", the message "Thank you for HEART", with the theme of "Thank you for HEART", is a mouth and mouth so that many people can freely view the paintings of the painters who draw with their mouth and foot. I will exhibit the paintings I drew with my feet. During the exhibition, you can watch production demonstrations by painters who draw with their mouths and feet. In addition, we display and sell original goods of the picture drawn by the mouth and foot.
I hope that you will have a chance to see the worlds on which the painters with disabilities express on the canvas, feel their courage and live in direct contact with the painters.
At the same time, we will hold an exhibition of works by Masashi Minami, who has been active as a Japanese painter who draws by mouth. It would be appreciated if you could see the many paintings of the author's dedicated effort, vitality, and rich sensibility in Japanese paintings.
[About Minami Masanori]
September 1951 Born in Sakai, Osaka. On the last day of the spring break of the third grader, my father-owned woodworking shop, I was caught in the belt of the machine and both arms were cut off. Due to his injury, he entered a school for the disabled from the second grade two years later and engaged in study and life training. In the second year of junior high school, he is now the last disciple of the late-mouth painter, Osamu Oishi, and works as a Japanese brush with a brush on his mouth. Selected for the first exhibition in Kashiwa city in 1967. Since then, it has been selected and won every year at a public exhibition. In 1975, to the Association of Artists Association drawn by mouth and foot. Became a judge of the Kashiwa city exhibition in 1995, and became a counselor in Kashiwa city in 1996. In 1999, he received a social contribution award from the Soroptimist Japan Foundation. As a painter, as a member of the association, while continuing the activities centered on the production of paintings and solo exhibitions, he visits juvenile schools, temples, elementary schools, prisons, etc. throughout the country to give lectures and to support the Thai foster parent system and in Nepal. Elementary school construction and the like. In 2011, the collection of works "If you look back …" published. In addition, the documentary film "If You Look From Heaven" was produced and screened. Permanent sleep in December 2012. In his life, he made about 900 paintings.
【Overview of held】
Name: Painting Exhibition [Pictures drawn with mouth and foot-Thank you for HEART-]
Simultaneous holding of south Masafumi work exhibition 【Joy of seeds】
Date: May 12 (Sun)-18 (Sat) 2019
10:00 am-6 pm ※ Admission on the 12th (Sun) from 12:00: Admission Free Venue: Tokyo Traffic Hall B1 Gold Salon Location: 所在地 100-0006 Yurakucho, Chiyoda-ku Tokyo 100-0006
(JR Yurakucho station square / Tokyo Metro Yurakucho Line Yurakucho Station direct connection)
Implementation details: Works drawn with mouth and foot A total of more than 50 points Demonstration of picture production by painters with mouth and foot Introduction of artist's association drawn with feet and foot (video screening)
Exhibition and sale of original goods using paintings Demonstration artist: Takashi Iihara (Niigata Prefecture / painter drawn by mouth)
Yamaguchi Kahoru (Tokyo / painter with feet)
Umemiya Toshiaki (Saitama / painter drawn by mouth)
Ishibashi, Hirohiro (Osaka Prefecture / Painter drawn by mouth)
※ The schedule of the performance artist may be changed. Please confirm the details including the schedule on the website.
https://www.mfpa.co.jp/news/Archive_190418_exhibition/index.html
[Overview of Association]
Name: Artist Association in Japan with mouth and foot Representative of Japan: Masami Matsuzawa Location: 〒 162-8703
Business area in Ikusei Ichigaya Ichigaya Building, 3-4 Ichigaya Sadoharacho, Shinjuku-ku, Tokyo Business description: Selling the pictures of painters drawn with the mouth and feet of the world as goods,
Get the living expenses and scholarships of the painters by the income,
We aim at independence of painters who had a disability.
In addition, we hold a picture exhibition to promote understanding and interest for people with disabilities.
URL: https://www.mfpa.co.jp
---
See information and reviews for Tokyo Kotsu Kaikan