Based on a service alliance signed with Marui Co., Ltd. in March 2018, ecbo Co., Ltd. uses the "E-mail shopping item reception counter" in Yurakucho Marui to temporarily store and temporarily share luggage "ecbo cloak (Evbo We will notify you that we will introduce "Clokes" and start luggage storage.
Yurakucho Marui "net mail order product reception counter" and customers of ecbo cloak
Yurakucho Marui is located just a minute's walk from Yurakucho Station, which is served by JR Yamanote Line, JR Keihin Tohoku Line, and Tokyo Metro Yurakucho Line. As a feature of Yurakucho Marui, many of the customers are women, and OLs who work in the area, housewives, and tourists from within and outside Japan visit daily.
This time, there are many Japanese people in their 30's to 40's who use the net store merchandise reception counter in Yurakucho Marui, which introduces the luggage storage service ecbo cloak, and the evening is 17:00 onwards. In particular, it tends to be crowded. On the other hand, about 70% of ecbo cloak's customer base is foreign visitors to Japan, and many of the luggage storage reservations are concentrated in the morning. Because each customer group visits at different times, it is possible to use the idle space to store luggage during busy hours and to have contact with new customer groups.
---
---
Ecbo cloak introduction background to Yurakucho Marui
ecbo has been implementing luggage storage since March 2018 with the introduction of ecbo cloak at the Ueno Marui "UENO Information Center" and the decoy Mar 20 "Marquee Duty Free Counter". Based on the results at other stores, we have also introduced ecbo cloak at the "Online mail order product reception counter" at Yurakucho Marui.
What to expect from the introduction
By storing heavy luggage, shopping bags and strollers at ecbo cloak, you can enjoy shopping and sightseeing around more comfortably. We also hope that you will be able to find out about our services through ecbo cloak and be able to offer new shopping options.
Service introduction summary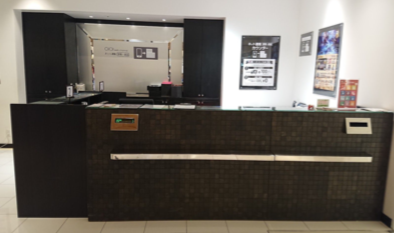 Reservation start date: Thursday, May 9, 2019 11:00-
Introduction start date: May 11, 2019 (Saturday) Luggage storage location: "Net mail order product reception counter" Luggage storage available time: 11:00 to 19:00 Luggage storage possible number: Bag size 10 pieces , Suitcase size 10 Storage fee: Bag size 300 yen / day · individual (tax included), suitcase size 600 yen / day · individual (tax included) [plan]
バ ッ グ Bag size: Luggage with a maximum size of less than 45 cm (backpack, handbag, baggage, etc.) ス ー ツ Suitcase size: Luggage with a maximum size of 45 cm or more (suitcase, backpack, etc.) Store URL : Https://Cloak.Ecbo.Io/ja/space/tokyo/ARE2/SUB202/MXkAKgT_
● With luggage temporary storage sharing service "ecbo cloak"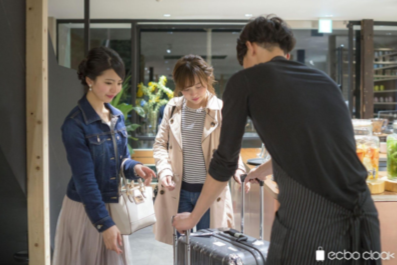 ecbo cloak HP: https://cloak.ecbo.io/
"Ecbo cloak" is a sharing service that connects "persons who want to store luggage" with "shops with space to store luggage". You can deposit luggage in a wide variety of spaces such as cafes, beauty salons, post offices, and train stations by making a reservation in advance from the app. Currently, the number of stores introduced is over 1000. It is deployed in major cities throughout the country. It can be used not only on the travel destination by tourists, but also for shopping at events, daily life, and various other scenes. We also store large luggage (strollers, sports equipment, musical instruments, etc.) that do not fit in the coin locker.
ecbo cloak (exek cloak) application http://bit.ly/2PSnab1
● Company Profile
【Ecbo Co., Ltd.】
President and CEO: Shinichi Kudo Founded date: June 2, 2015 Company Page: https://ecbo.io
Address: 3-24-2 Ebisu ST Building 3F, Shibuya-ku, Tokyo Main business: Operating a luggage storage platform "ecbo cloak" using idle space in stores, and operating an owned media "ecbonist"
[Marui, Inc.]
President: Founded President Masahisa Aoki date: October 1, 2007 the company page: Http://Www.0101.Co.Jp
Address: 3-2-2, Nakano-ku, Tokyo Business purpose: Marui retail and store business, mail-order business, specialty store business (voluntary and PB management and development)