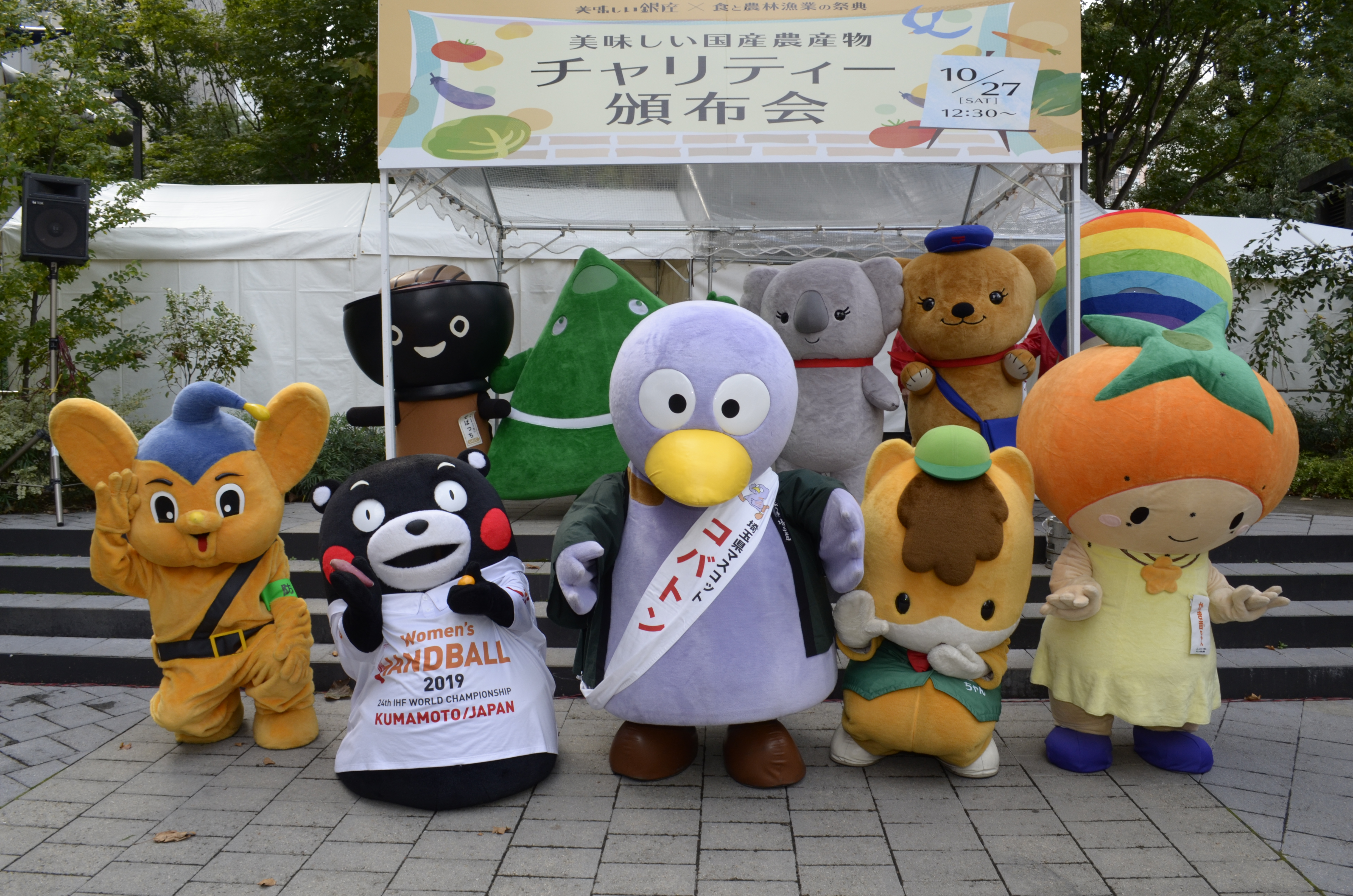 "Ginza Restaurant Association" (Chairman: Ginza)
Mamoru Sugiyama) is an agricultural forest that promotes "excellent Japanese food and food culture" and "genuinely-oriented Ginza" from October 16 (Wednesday) to November 3 (Sunday), 2019. As part of the event sponsored by the Ministry of Fisheries << Ginza x Food, Agriculture, Forestry and Fisheries Festival >>
(Sat) From 12:30, Sukiyabashi Park (5-chome, Ginza, Chuo-ku, Tokyo), "Delicious domestic farm products charity distribution"
Will be held.
This 19th event will be centered on carefully selected vegetables that famous restaurants in Ginza regularly serve customers, and with the cooperation of antenna shops around Ginza, local "sticky" fresh and delicious domestic agricultural products Producers themselves will introduce (vegetables, fruits, new rice, etc.) and will distribute about 1,500 people by charity.
All prefectures offer freshly picked local vegetables and fruits.
In addition, "Kumamon (Kumamoto Prefecture)", "Gunma-chan (Gunma Prefecture)", "Kovaton (Saitama Prefecture)", "Nijinoko (Chuo Ward Association)", "Sobachi (Iwate Prefecture)", "Posuma ( Nine "Yuru characters" such as "Japan Post" will appear and excite the venue.
Please cooperate with donation of 100 yen or more when you come.
The profits of the Honfukai will be donated to the Chuo Ward Social Welfare Council through Chuo Ward.
* There is a possibility that "Yuru Chara" cannot appear in case of rainy weather.
Ministry of Agriculture, Forestry and Fisheries Sponsored Event 《Delicious Ginza × Food and Agriculture, Forestry and Fisheries Festival》
[Last year event]
---
---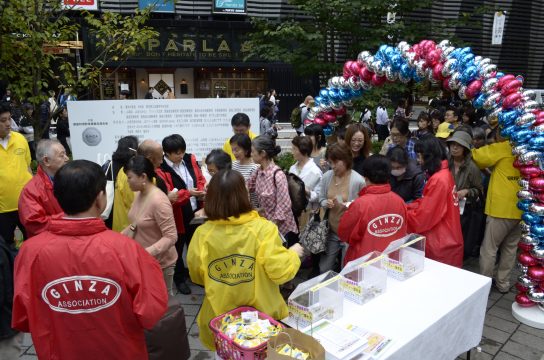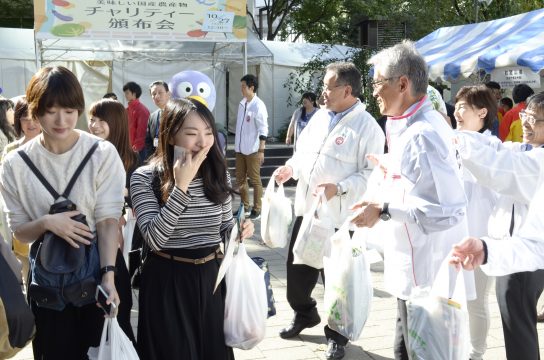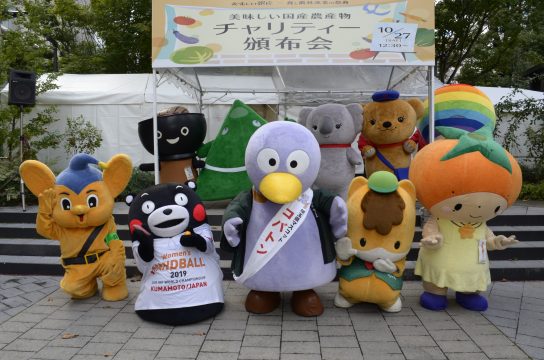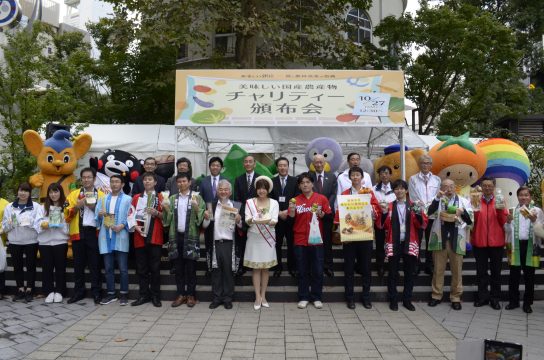 Nine popular popular characters will appear !!!
"Delicious Ginza x Food, Agriculture, Forestry and Fisheries Festival"
This activity that promotes "Ginza and food security" in Ginza for the past 18 years is positioned as a tie-up plan of the "Food and Agriculture Forestry Fishery Festival" by the Ministry of Agriculture, Forestry and Fisheries. An event that conveys "culture" and "genuine Ginza-likeness".
Based on the main theme of "Ginza supports safe and delicious domestic vegetables and fruits", we will provide "Ginza's delicious taste" to customers who come to Ginza. We will convey the safety and splendor of seafood.
■ Overview
Name: Delicious Ginza x Food, Agriculture, Forestry and Fisheries Festival Date: October 16, 2019 (Wednesday) November 3 (Sunday)
Organizer: Ginza Food and Drink Federation Association Sponsor: Ministry of Agriculture, Forestry and Fisheries, Chuo-ku, Tokyo Chamber of Commerce and Industry Central Branch Sponsor: JA Kitamirai, JA Nansai, Greens Kitami,
Ginza Section Post Office (Ginza West Post Office, Ginza Miyuki Dori Post Office, Kyobashi Dori Post Office,
Ginza San Post Office, Ginza Dori Post Office, Ginza Yo Post Office, Ginza Namiki Dori Post Office,
(Ginza Nana Post Office, Yaesu Underground Post Office, Ginzaichi Post Office)
Japan Post Bank Kyobashi store special cooperation: JA Saitama Chuokai,
JA Green Nagano, Niigata, Ibaraki, Nagano, Fukui Ginza antenna shop
IBARAKI sense
Ibaraki Sense, Kochi, Fukuikan
Delicious Yamagata Plaza, Hiroshima brand shop
TAU, Zarai Oita, Onsen Prefecture Oita Information Center,
Ginza Kumamotokan, Gunma-chan family, Iwate Galaxy Plaza,
Tottori Okayama Shinbashikan, Wakayama Kishukan, Ginza NAGANO (in random order)