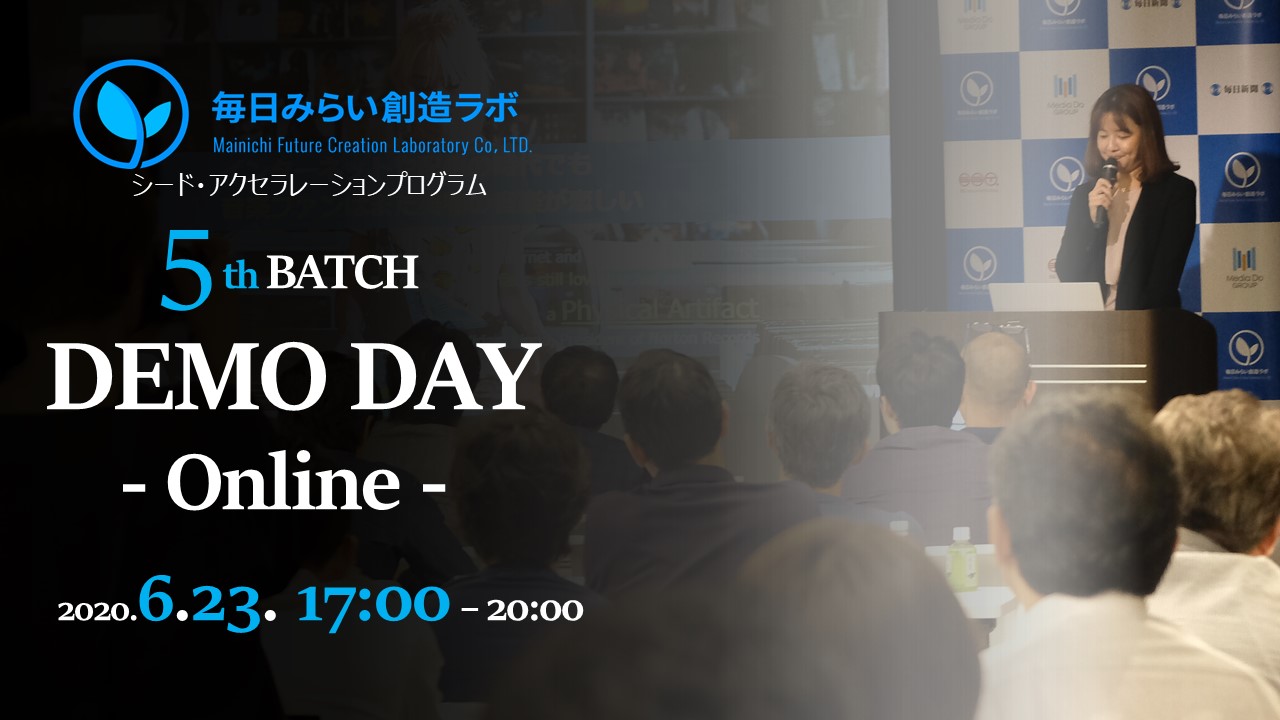 At Mainichi Mirai Creative Lab Co., Ltd., which consists of the Mainichi Shimbun, etc., the "Fifth Seed Acceleration Program DEMO DAY", which had been postponed due to the spread of new coronavirus infection, was held on Tuesday, June 23. It will be held online from 5:00.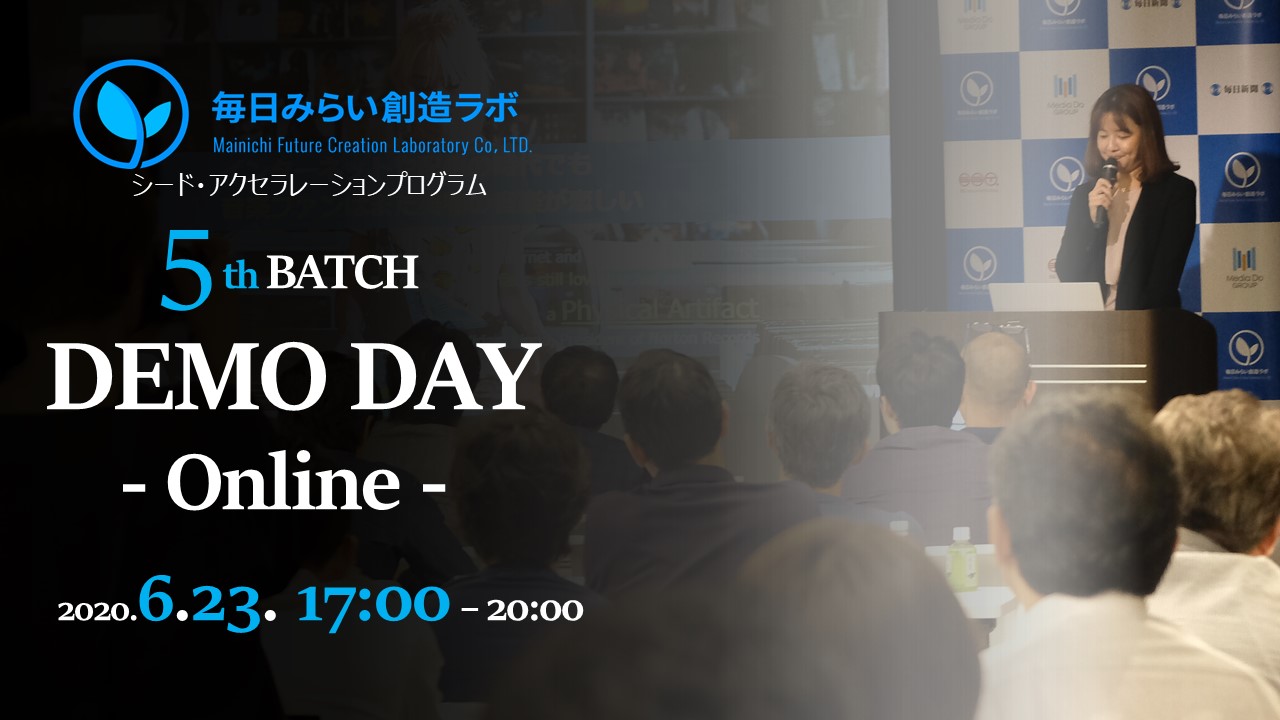 ---
---
Although the stage will move from the venue to the online stage, we can deliver the sunny stage of the adopted 5 teams at the beginning of the foundation to many business/investment persons and venture persons regardless of the activity base! Audience voting will also be held when the Grand Prize is decided.
We look forward to receiving many applications.
Applications are accepted from the event page (Peatix)
https://peatix.com/event/1497464
<<Outline of DEMO DAY 5th Seed Acceleration Program>>
Date and time: Tuesday, June 23, 2020, 17:00 to 20:00
Venue: Web conference system "Zoom webinar" planned * Viewers plan to use faceless webinars * Q&A and visitor voting
Capacity: 500 people Participation fee: Free
Main participants: VC/CVC, new business/collaboration promotion staff, lab mentors/supporters, invitees, other application methods: Please apply from Peatix. https://peatix.com/event/1497464
*We will inform the viewers of the viewing URL by the day before the event and will post the URL on the viewing page in Peatix.
《Schedule/Pitch Team》
*For details, please visit the Mirai Creation Lab website.
https://mirailab.tech/
17:00~ Opening and representative greetings
17:05~ Pitch by 5 teams in 5th period (1 team 7 minutes, Q&A 10 minutes *Q&A from viewers will be accepted depending on the time)
① Gab Co., Ltd.
② mestiii
③ NOIAB Co., Ltd.
④ myProduct Co., Ltd. (My Product)
⑤ Gifukuru Co., Ltd.
18:50~ Pitch by the 5th observer team ⑥ VALT JAPAN Co., Ltd.
19:10~ Break: Viewer voting ( viewer voting using Zoom'voting' function is also included in the score)
19:20~ Results announcement: Award ceremony (Special award including the 5th Grand Prix and 4th period of video screening)
19:40~ Comment / Closing *The time is a guide. It may change a little
*Demo Day of each term had the graduate pitch of the previous term, but in order to avoid holding a long online event this time, only the 5th grade will be pitched in real time. However, the 4th generation will also have their pitches recorded the week before DEMO DAY, and the "Special Award (Agarut Award)" will be judged and decided together with the day of Demo Day.
* After the end, there is a possibility that we will upload Demo Day and graduate pitch on Youtube Channel. Details will be announced on our website.
<Cooperation/Sponsor>
・Future Co., Ltd.
https://www.future.co.jp/
・Ginza Tailor Group Co., Ltd.
https://www.gintei.com/
・Agarut Inc.
https://agaroot.co.jp/
■About Mainichi Mirai Creative Lab Co., Ltd.

Home page: https://mirailab.tech/
Mainichi Shimbun Co., Ltd. is a business company established by Media Do Holdings Co., Ltd. and Broadband Tower Co., Ltd. for the purpose of promoting new business development and open innovation.
We started the seed acceleration program in 2017, have conducted official mentoring to a total of 21 companies over the past five times, and have invested in a total of 14 companies (as of April 2020).
The program is a three-month program consisting of a small number of elite and hands-on programs that support startups in various ways, and individual support for each team is also being developed.
How to apply: Please apply from Peatix.
https://peatix.com/event/1497464
Inquiries: Mainichi Mirai Creative Lab Management Office (Nagai/Nakajima)
mirailab@mainichi.co.jp