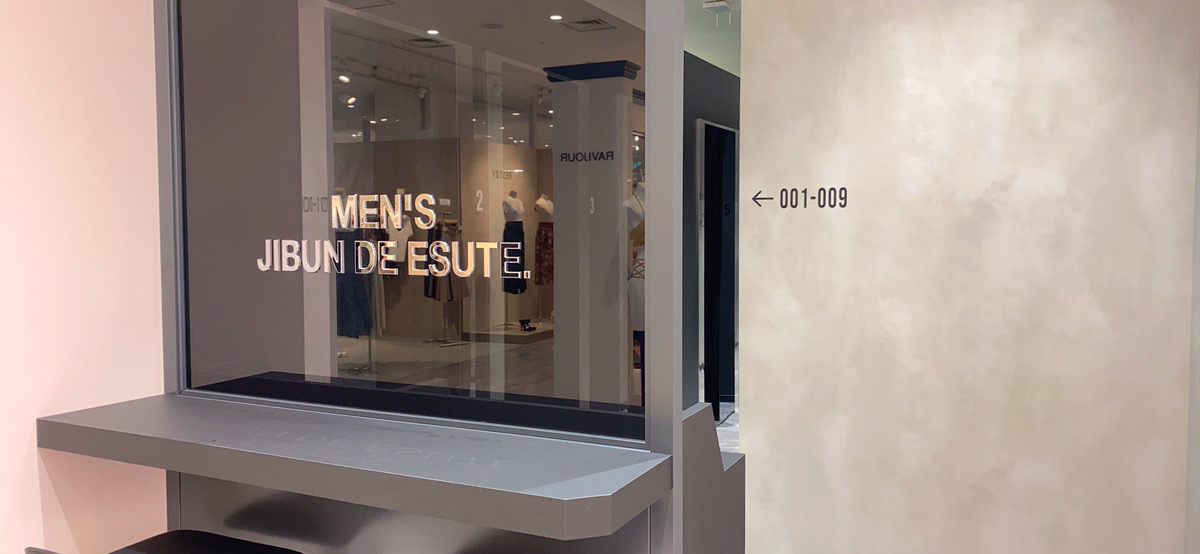 Monthly ¥5,980~! Unlimited access to all stores nationwide! Self-esthetic gym "Jibun de Esthetic" opens in Yurakucho Marui!
Hashin Co., Ltd.
========================================
A new store has appeared at the super-discount fixed-rate self-esthetic store "Jibun de Este"!
The first women's and men's store in Tokyo! & Sports gym "Megaloss" collaboration store!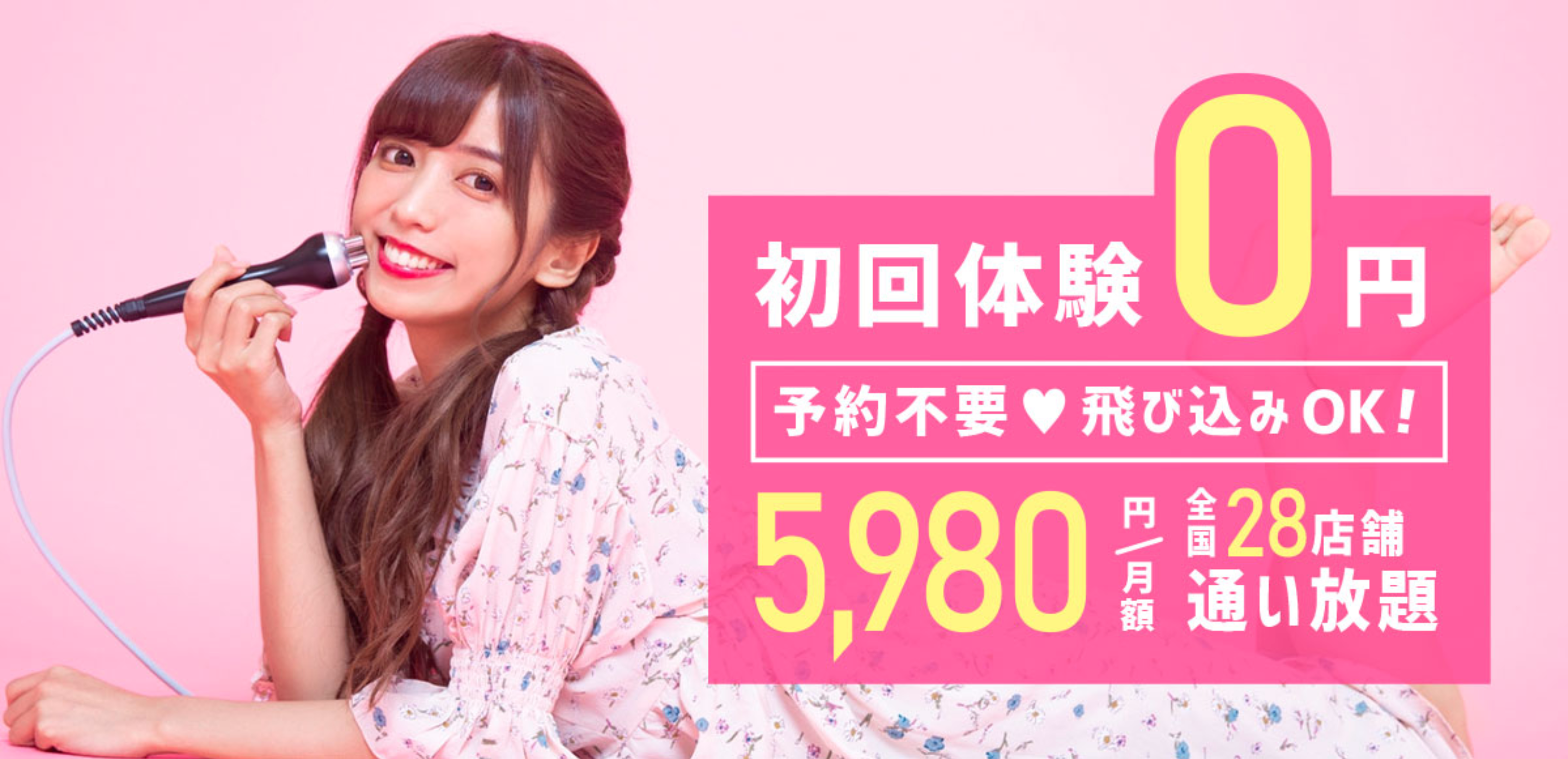 Yurakucho Marui Ladies & Men's Store Wednesday, July 29, 2020 GRAN D O PEN !!
[Request for preview/interview]
~ Industry's first! New sense of "BEAUTY GYM"
=====================================
New store overview
Hakushin Co., Ltd. will open the industry's first all-you-can-use flat-rate self-esthetic "Jibun de Este" at "Yurakucho Marui Women's & Men's Store on Wednesday, July 29, 2020".
The Yurakucho Marui store will be the first store for women's and men's stores in Tokyo, and has been a hot topic on various SNS before it opened!
The "fixed-rate self-esthetics" developed by our company in April 2017 is a hot topic among Instagrammers and beauty girls because they can use high-performance machines with good cost performance everyday. The Yurakucho Marui store will be the first store for women's and men's stores in Tokyo, and has been a hot topic on various SNS before it opened!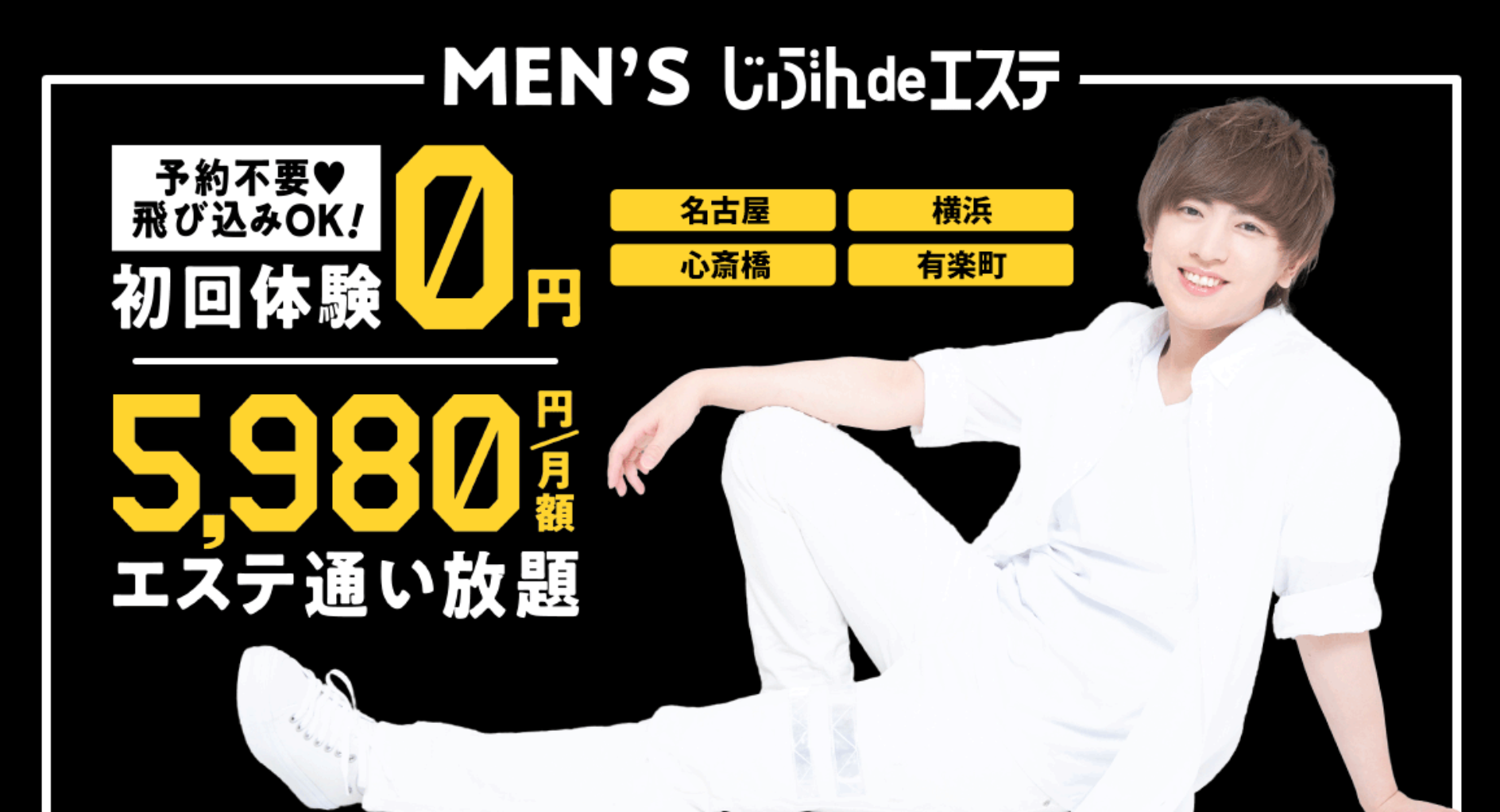 ---
---
Following 14 stores in the Kanto region, 8 stores in the Kansai region, 2 stores in the Tokai region, 2 stores in Kyushu and Okinawa (total of 26 stores, 40 stores planned to open by 2020), we are fully born in Yurakucho Marui!
◆Jibun de Este Yurakucho Marui Ladies & Men's Store◆
Grand opening on Wednesday, July 29, 2020 Location: 2-7-1 Yurakucho, Chiyoda-ku, Tokyo 100-0006 5th floor Business hours: 11:00 to 21:00 (last reception 20:00)
Price range: 5,980 yen/month (excluding tax)
TEL: 0120-858-688
URL: https://jibunde-esute.com
What is "Jibun de Este"?
"Jibun de Esthetic" is the "self-esthetic salon" of "the industry's first" "flat rate" "all-you-can-eat". Self-esthetics is a new service where you can use the high-performance business machines used in major beauty salons by yourself in a private room.
It is a flat-rate system with a monthly charge of 5,980 yen, and there is no additional charge. You can visit the shop everyday. In addition, it became a topic in the media that you can take care of yourself when you want without reservation.
"I want to lose weight, but the beauty treatment salon is expensive…", "I don't have time to go to the beauty treatment salon that has a long time…", "I'm afraid of solicitation…", "I can't make a reservation!" There should be many women who cannot go for various reasons. "Jibun de Este" is a new and fun space where all the women can feel the beauty of the esthetic threshold and feel serious about beauty.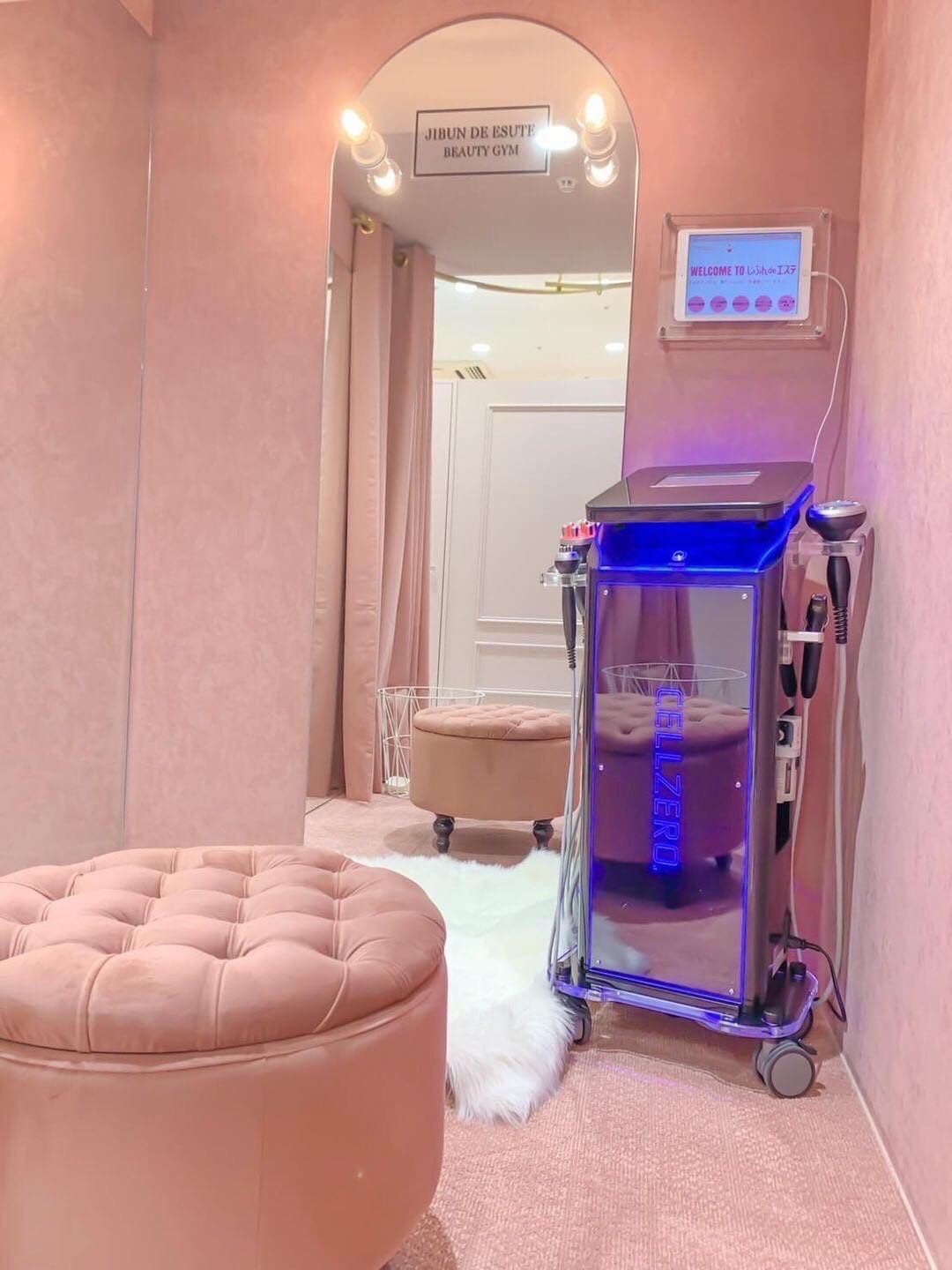 >>> Hot topic on Instagram! https://www.instagram.com/jibunde_esute/
5
features of
"Jibun de Este"
1. Adopting a major beauty salon! Unlimited use of commercial machines! The latest equipment will be available at any time!
Luxuriously monopolize several types of high-quality professional beauty salon machines adopted by major beauty salons! You can use a machine for tens of thousands of yen (market price) at a time with ordinary esthetic treatment by yourself! There are many types of machines available, so you can find your favorite machine according to your mood and worries! In order to provide better products, the latest machines will be received in order.
2.Unlimited commute with a flat rate of 5,980 yen per month. You can take care of your free time without making a reservation!
Since you take care of the machine by yourself, you can achieve unprecedented pricing. Even if you are busy, you can come to the store in your spare time! You don't need to make a reservation, so if you think about it, you'll want to go now!
3. Completely private room available! All rooms are equipped with iPad with explanation video!
Complete private room with full-length mirror and outlet. You can watch the easy-to-understand explanation in the video on how to use and how to apply it, so you can use the first machine with confidence. If you have a problem, you can call the staff from the tablet in your room.
4. We will not serve customers! Realize non-contact even though it is an esthetic salon!
In order to avoid face-to-face contact, we have placed a live delivery tablet at the reception counter and introduced contactless contact! We overturned the concept of customer service called beauty salon and started NEO customer service that can be done only by self-service.
5. All stores near the station! Deploy in a large commercial facility!
There are stores all over the country and in large commercial facilities in major cities. Because it is easy to reach and easy to understand, you can feel free to stop by after work or before play.
Appointed popular YouTuber Van Yun as image model
From July 2020, we have started broadcasting a new Web CM featuring the popular YouTuber Van Yun. In line with that, the HP will also have Van Yun specifications!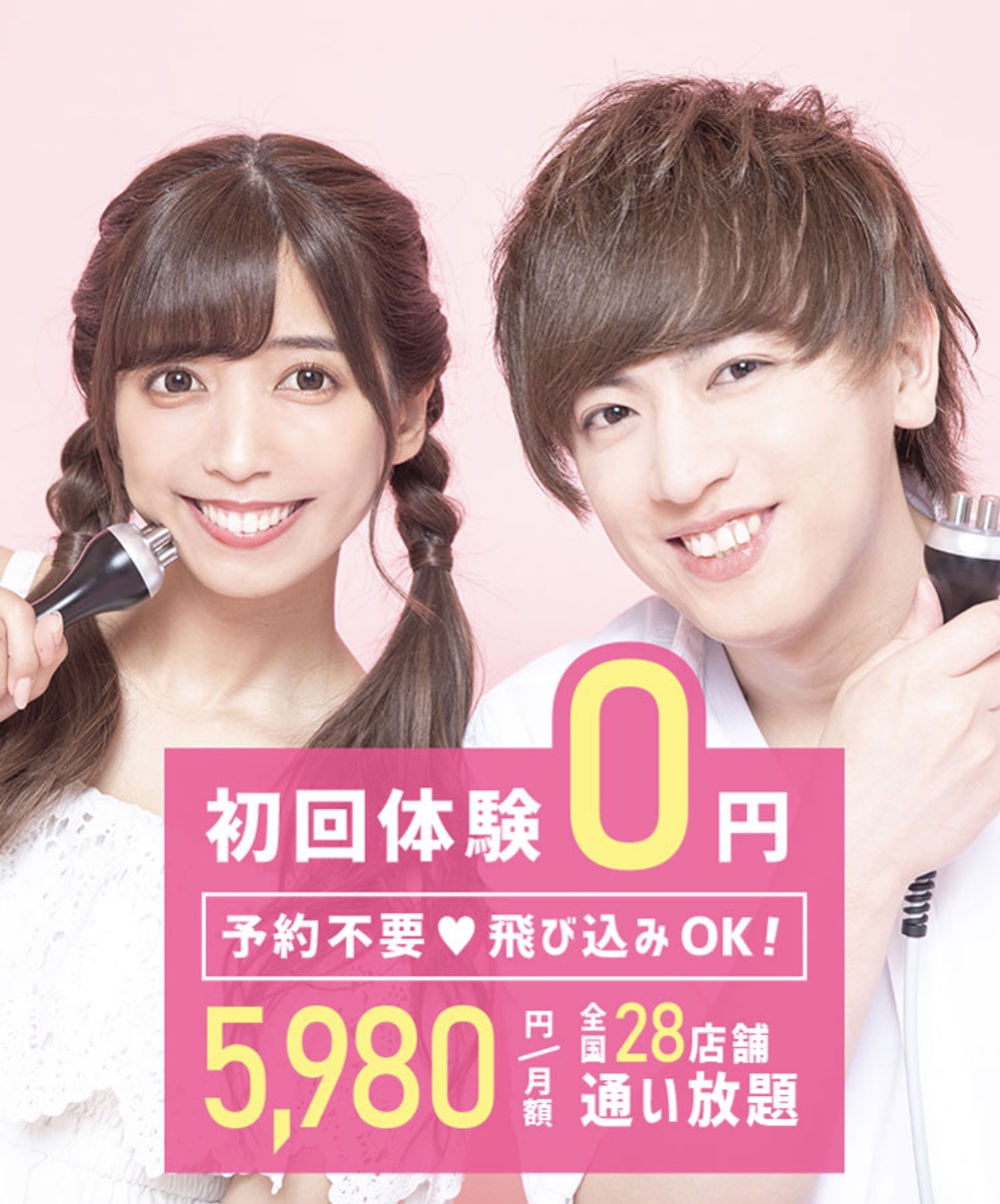 Collaboration YouTube is also available on "Van Yun Channel"!
https://www.youtube.com/watch?v=LseZCEwc4Ck
Start of the amazing new service "Esthetic machine rental service"!
Jibun de Este has started an "esthetic machine rental service" that you can do at home anytime. Similar to the all-you-can-eat service, you can enjoy an esthetic treatment at home for a fixed monthly fee! Now that we have continued to refrain from going out, we have received many voices from customers, and we have been able to achieve this by responding to the voices.
Not only machines that can be rented, but also the finest beauty salon machines. Because it is at home, it is possible to care freely at any time at any time. Customers who use the rental plan are also provided with membership qualifications that allow them to go to the store for free.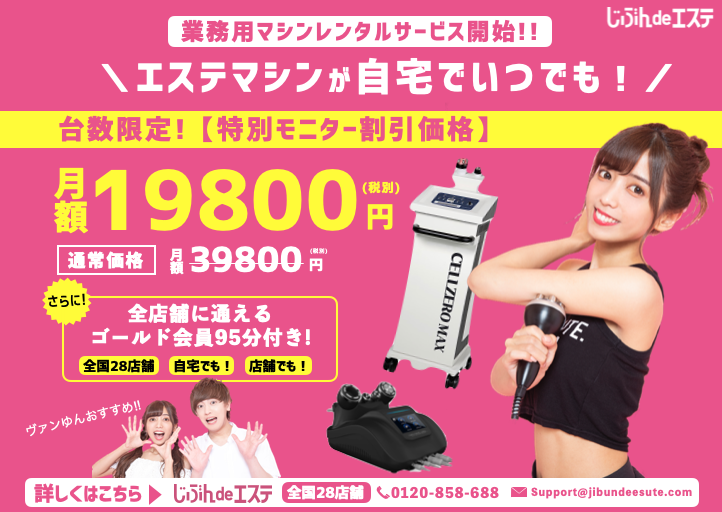 During the period of self-restraint, many people thought that it would be nice if they could make better use of their time at home. Even after the declaration of an emergency situation has been lifted, there are still many remote workers, and it's hard to go out. We have responded to many voices from customers wishing to use beauty treatment machines at home now that they have switched to a new lifestyle.
That's a monthly price of ¥19,800 (excluding tax), which is lower than you imagined, and inquiries flooded in immediately after the service started! It's so popular that the original rental schedule will be completed in about a week, and the next arrival is currently waiting for reservation. Now that you have to refrain from going out and reconsider how to spend time at home, many of you should have wanted this service.
Information for
previews
and hands-on
meetings
Prior to the general opening, we will hold a preview and hands-on event of "Jibun de Este".
Date: Yurakucho Marui Ladies & Men's Store Tuesday, July 28, 2020
Target: Media and WEB media companies Bloggers and influencers Contents: It is possible to shoot in the store and experience "self-esthetic" with the latest machine. (Free trial ¥0)
In addition, Misako Furukawa, President and CEO, will be available for interviews.
Please note: For TV media, interviews with talent casters, and interviews with the president and Furukawa, please make an appointment with a PR representative in advance. For steel and blogger influencers, you can freely browse and experience during the opening time. Specify hashtag # Jibun de beauty salon # Jibun de girl # Self beauty salon Jibun de beauty salon
List of stores (including planned opening)
[ Women only ]
1 Shinjuku Marui Annex store (3F) March 22, 2018 2 Ueno Marui store (3F) September 20, 2018 3 Marui City Yokohama store (3F) November 16, 2018 4 Shibuya Modi store (3F) 2019 January 11 5 Nagoya PARCO store (South Building 10F) February 12, 2019
6 Namba Marui Store (3F) March 8, 2019
7 Ikebukuro PARCO store (B2F) March 20, 2019
8 Omiya Marui store (3F) April 20, 2019
9 Hakata Marui store (3F) May 15, 2019
10 Kitasenju Marui store (8F) October 25, 2019
11 Kashiwa Marui store (5F) November 15, 2019
12 Kobe Marui store (5F) December 15, 2019
13 Machida Joruna Store (2F) December 15, 2019
14 Okinawa PARCO CITY store (3F) March 6, 2020
15 Nishi Ginza Department Store (B2F) March 25, 2020
16 Shinjuku Alta Store (3F) March 27, 2020
17 Kyoto OPA store (2F) April 3, 2020
18 Kawasaki Atre store (3F) April 6, 2020
19 Yokohama VIVRE store (3F) May 25, 2020
20 Shinsaibashi OPA store (4F) June 4, 2020
21 Hiroshima PARCO Store (3F) June 6, 2020
22 Tennoji MIO store (6F) July 2, 2020
23 LUCUA Umeda store (B1F) July 4, 2020
2 4 Yurakucho Marui store (5F) 7 May 29, 2020 * We are pleased to guide content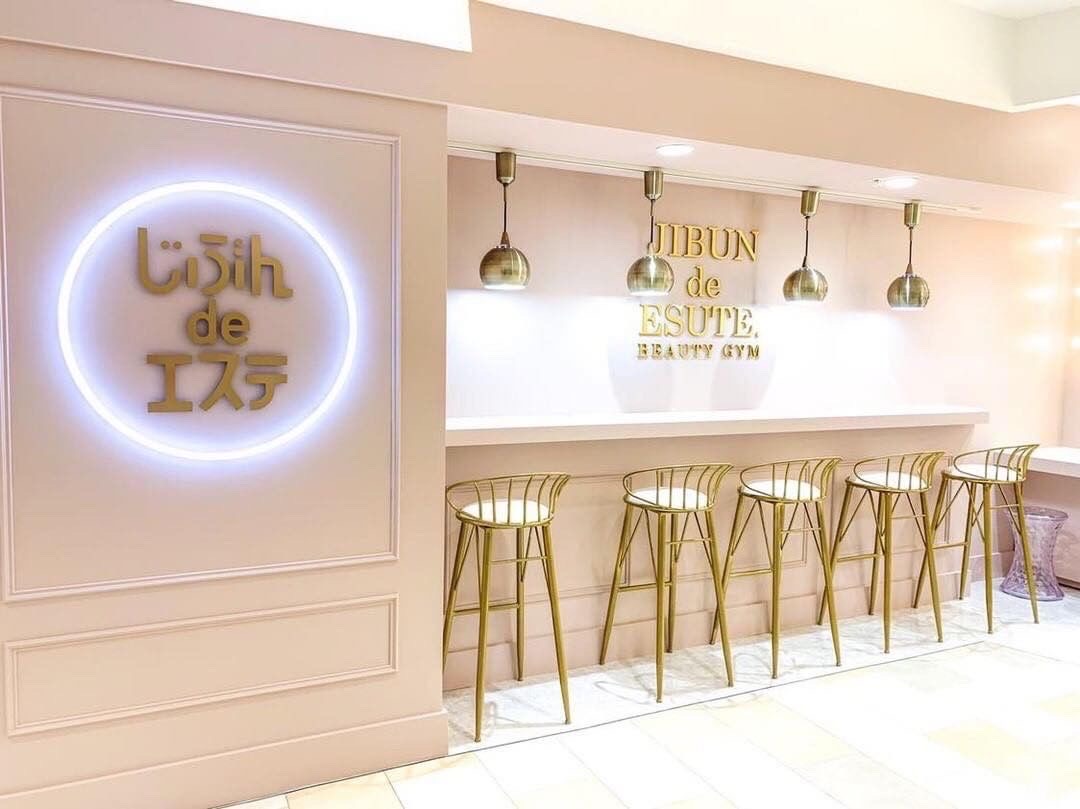 [Men only]
1 Nagoya PARCO MENS store (South Building 10F) February 28, 2020 2 Yokohama VIVRE MENS store (3F) May 25, 2020 3 Shinsaibashi OPA MENS store (4F) June 4, 2020
4 Yurakucho Marui MENS store (5F) 7 May 29, 2020 * We are pleased to guide content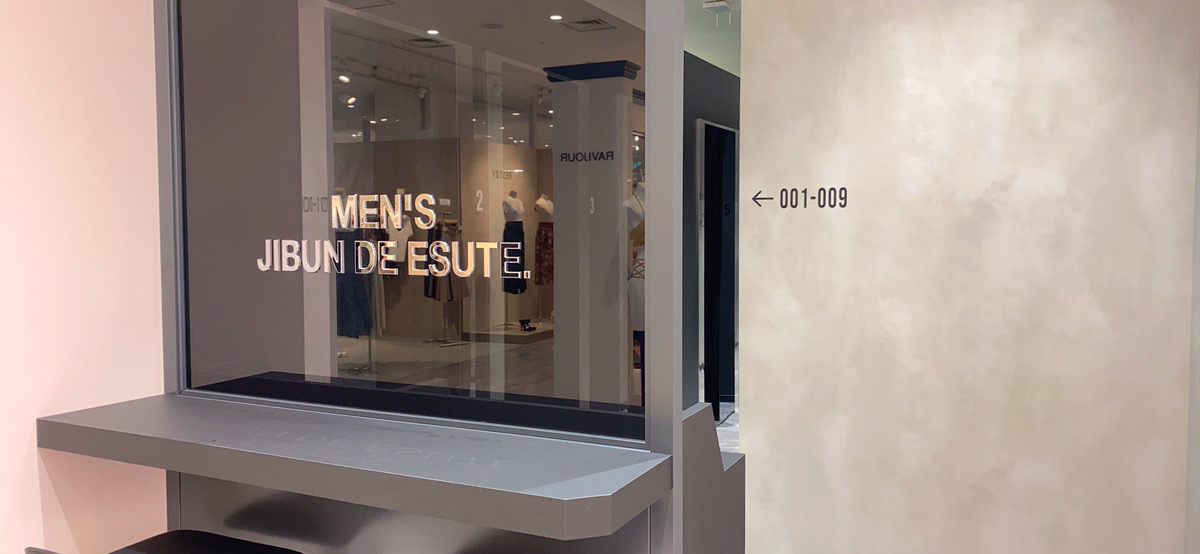 Tokyo/Yokohama/Hiroshima/Kanto/Tohoku area [Plan to expand nationwide]
Company Profile
Company name: Hakushin Co., Ltd.
Headquarters location: 5th floor of VerdeVista Shinjuku Gyoen, 1-34-5 Shinjuku, Shinjuku-ku, Tokyo Established: April 2017
Business :Self-esthetic business
URL: https://jibunde-esute.com