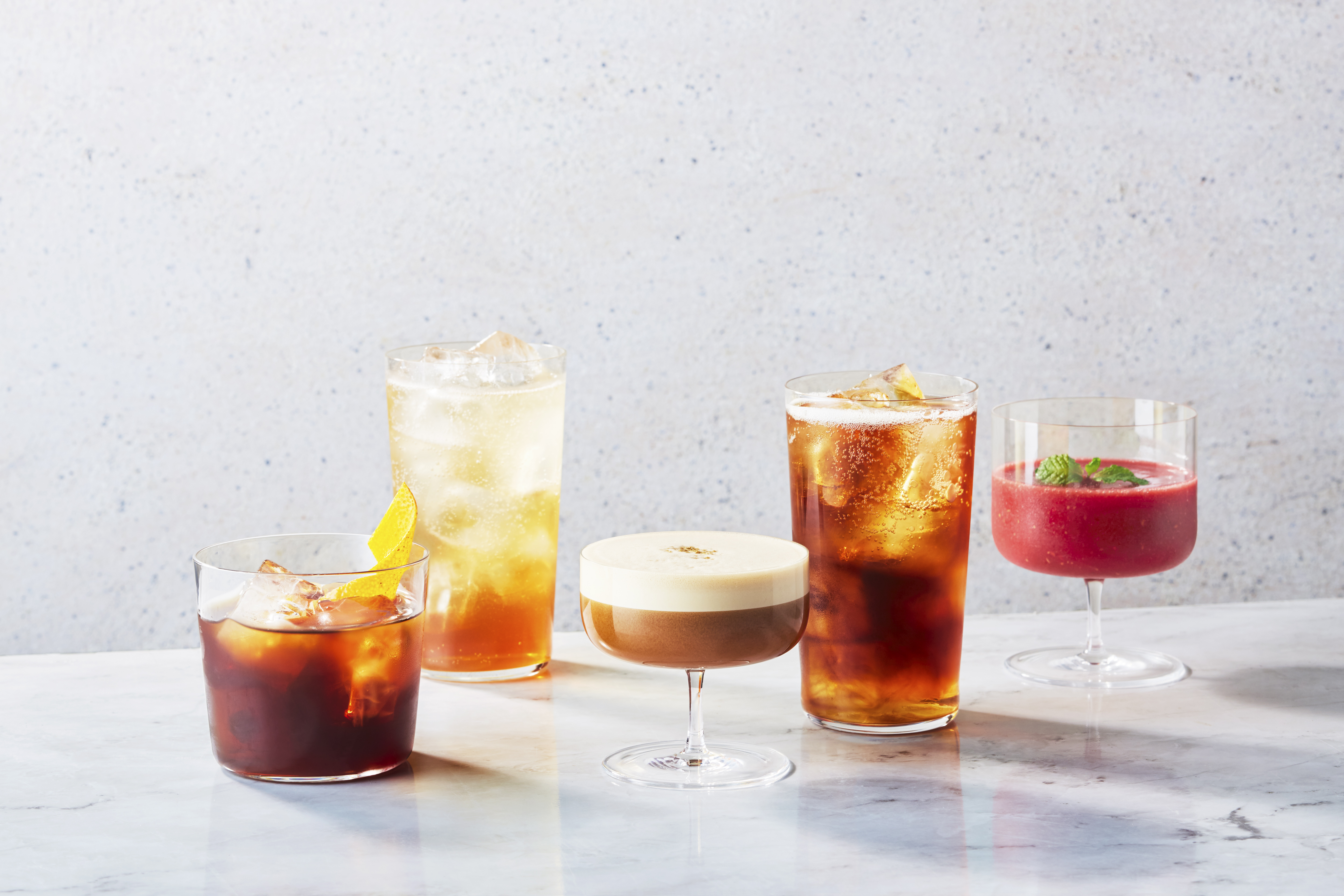 Monday, July 20, 2020 Blue Bottle Coffee Hiroo Cafe Limited Release
We would like to convey the charm and potential of specialty coffee to more people. With that in mind, we are pleased to announce the launch of Japan's first cocktail menu with alcohol in blue bottle coffee. It will be the world's first blue bottle coffee to be released as a standard menu.
BLUE BOTTLE COFFEE JAPAN GK CO., LTD. will open "Blue Bottle Coffee Hiroo Cafe" on June 11, 2020 (Thursday), and "THE RESTAURANT" located in the Hiroo shopping district It was opened at the front entrance of (Open on Mon).
"THE RESTAURANT" is a food hall where rare chefs gather, located on the 1st and 2nd floors of the new facility "EAT PLAY WORKS", which combines work culture with food and wellness for the future business people. With 17 famous stores attracting attention both in Japan and overseas, we will develop a business style where you can enjoy first-class taste casually.
With the opening of "THE RESTAURANT" on July 20, Blue Bottle Coffee is Japan's first alcoholic cocktail menu. Blue bottle coffee using high quality coffee and espresso jointly developed under the supervision of Mr. Fumitake Oba who has many achievements at bartending competitions and has a good knowledge of cutting edge technology and Japanese sake and tea. The five unique authentic cocktails have a unique taste that overturns the image of "coffee cocktail", and it is a lineup that brings out the new charm of specialty coffee.
In addition to this, Hiroo Café has a great brunch menu as well as carefully hand-dried coffee and espresso drinks. We look forward to welcoming you with a cozy space where you can spend your time according to your needs and needs.
Blue Bottle Coffee Hiroo Cafe Limited SPECIALTY COFFEE COCKTAILS (5 types in total)
NOLA Negroni (left), Coffee Cherry Gin&Tonic (middle left), Sansho Sour (middle), Smokey Cold Brew Highball (middle right), HVE Berry Crush (right) *These products contain alcohol.
Smokey Cold Brew Highball
---
---
Smokey Cold Brew Highball 900 yen
Cold Brew, Whiskey, Roasted Bancha, Juniper Berry, Elderflower Tonic
A high-ball type cocktail that uses cold brew (water-brewed coffee) of "Three Africas", one of the standard blends of blue bottle coffee, and Mizunara whiskey in which roasted green tea is soaked. A smoky fragrance of whiskey and roasted bancha, and a solid body of Three Africas, complemented by the sweetness and richness of juniper berry syrup and the scent of eldaflower, a multi-layered yet gorgeous long cocktail that anyone can drink. is.
Coffee Cherry Gin&Tonic
Coffee cherry Gin tonic 900 yen
Cascara Syrup, Monkey 47 Dry Gin, Elderflower Tonic, Soda
Cascara is a carefully dried flesh of coffee cherry that is removed during the coffee bean refining process, and is characterized by a sweet and fruity taste like apricots and plums. We combined spicy gin and elderflower tonic there to create a refreshing gin and tonic that you can enjoy throughout the day.
HVE Berry Crush
HVE Berry Crash 1,200 yen
Hayes Valley Espresso, Rum, Rhubarb, Strawberry, Raspberry
"Haze Valley Espresso", which has been served for many years as a blue bottle of coffee, features a rich and pleasant sweetness such as dark chocolate. By adding sweetness of rum and sourness of berry and rhubarb, the nuances of fruit of Hays Valley Espresso are brought out, and it is a frozen cocktail with a gorgeous taste like strawberry chocolate.
NOLA Negroni​
NOLA Negroni 1,200 yen
New Orleans Syrup, Gin, Vermouth, Sousse, Gran Classico Bitter, Orange Peel
"New Orleans (NOLA)" is a popular ice-milk coffee in blue bottle coffee that mixes milk with coffee drained with chicory. This is a Negroni-style cocktail with its base syrup and bitter vermouth and spicy gin. Enjoy the lingering sweetness of New Orleans with a pleasant bitterness.
Sansho Sour
Sansho Sour 1,200 yen
Single origin espresso, cascara syrup, vodka, egg white, yuzu, Japanese pepper
Freshly extracted single-origin espresso with the refreshing spiciness of vodka mixed with the scent of green pepper, and the sourness of yuzu and the mellow egg white bring out the richness of espresso for a more complex taste. Has produced. A coffee cocktail that never behaves, betraying the soft look of cappuccino.
CAFE INFO
Blue Bottle Coffee Hiroo Cafe 5-4-16 Hiroo, Shibuya-ku, Tokyo THE RESTAURANT 1F
Business hours 8:00–22:00
Store area 95.70m²
28 seats in the store (as of 20th July, the number of seats will be reduced to open)
Access 1 minute on foot from Exit 2 at Hiroo Station *There is no parking lot for guests, so please use public transportation when you visit us.
ABOUT BLUE BOTTLE COFFEE What is Blue Bottle Coffee <br /> Blue Bottle Coffee was created in 2002 by the founder, James Freeman, in California, USA. Since its founding, we have been providing coffee that thoroughly pursues deliciousness with the belief in deliciousness, hospitality, and sustainability. In addition, by opening cafes only in areas where freshly roasted coffee from our roasteries can be delivered, we are selling coffee beans that have aged according to the peak of deliciousness. Currently, we have more than 90 stores in San Francisco, New York, Los Angeles, Washington DC, Boston, Seoul, Hong Kong, Tokyo, Yokohama, Kyoto and Kobe (as of July 2020).
BLUE BOTTLE COFFEE Official Website: www.bluebottlecoffee.jp
BLUE BOTTLE COFFEE Official EC site: https://store.bluebottlecoffee.jp/
BLUE BOTTLE COFFEE Official Instagram: http://instagram.com/bluebottlejapan
List of Blue Bottle Coffee Cafes (As of July 20, we are operating with fewer seats than listed)
・Kiyosumi Shirakawa Flagship Cafe (2015/2/6)
1-4-8 Hirano, Koto-ku, Tokyo 135-0023
Store area 184.27m²
47 seats
・Aoyama Cafe (2015/3/7)
3-13-14 Minamiaoyama, Minato-ku, Tokyo 107-0062
Store area 214m²
80 seats
・Shinjuku Cafe (2016/3/25)
4-1-6 Shinjuku, Shinjuku-ku, Tokyo 160-0022
Store area 155.19m²
45 seats
・Roppongi Cafe (2016/9/16)
7-7-7 Roppongi, Minato-ku, Tokyo 106-0032
Store area 138.91㎡
27 seats
・Nakameguro Cafe (2016/10/27)
3-23-16 Nakameguro, Meguro-ku, Tokyo 153-0061, Japan
Store area 417.78㎡ (Cafe area: 61.49m²)
40 seats
・Shinagawa Cafe (2016/11/15)
2-18-1 Konan, Minato-ku, Tokyo 108-0075
Store area 165.80 m2
27 seats
・Sangenjaya Cafe (2017/10/27)
1-33-18 Sangenjaya, Setagaya-ku, Tokyo 154-0024
Store area 93.97m²
33 seats + terrace area
・Kyoto Cafe (2018/3/23)
64 Nanzenji Kusagawacho, Sakyo Ward, Kyoto City, Kyoto Prefecture 606-8437
Store area 452.98㎡ (Cafe area: 64.98m²)
44 seats
・Kobe Cafe (2018/7/20)
1 Maemachi, Chuo-ku, Kobe 650-0039, Japan
Store area 217.8㎡
63 seats
・Meguro Cafe (2018/8/17)
〒153-0064 1-2-19 Shimomeguro, Meguro-ku, Tokyo 1F
Store area 69.33 ㎡
19 seats
・Kanda Manseibashi Cafe (2018/12/7)
1-25-4 Kandasudamachi, Chiyoda-ku, Tokyo 101-0041, Japan
Store area 24.91㎡
・Ikebukuro Cafe (March 22, 2019)
2-23-7 Minamiikebukuro, Toshima-ku, Tokyo 171-122
Store area 65.01㎡
9 seats
・Ebisu Cafe (2019/7/19)
1-5-5 Ebisu Minami, Shibuya-ku, Tokyo 150-0022 Atre Ebisu Main Building 1st floor Store area 85.07 ㎡
21 seats
・Ginza Cafe (August 16, 2019)
GINZA SIX B2F 6-10-1, Ginza, Chuo-ku, Tokyo 104-0061
Store area 117.79 ㎡
48 seats
・Kyoto Rokkaku Cafe (December 13, 2019)
226-1 Sanjimachi, Higashitoin, Nakagyo-ku, Kyoto 604-8135 Japan
Store area 90.47㎡
25 seats
・Hiroo Cafe (2020/6/11)
5-4-16 Hiroo, Shibuya-ku, Tokyo 150-0012 THE RESTAURANT 1F
Store area 95.70㎡
28 seats in the store
・NEWoMan YOKOHAMA Cafe Stand (2020/6/24)
NEWoMan YOKOHAMA 1F 1-1-1, Minamisachi, Nishi-ku, Yokohama-shi, 220-0005, Japan
Number of seats in the store: None *POP-UP cafe space (26 seats)
・Kiyamachi Café, Kyoto ※Thursday, July 23 GRAND OPEN
〒604-8023 310-2 Higashiiri Bizenjimacho Higashiiri Bizenjimacho, Takuyakushidori Kawaramachi, Nakagyo-ku, Kyoto
Store area 123.29㎡
30 seats in the store