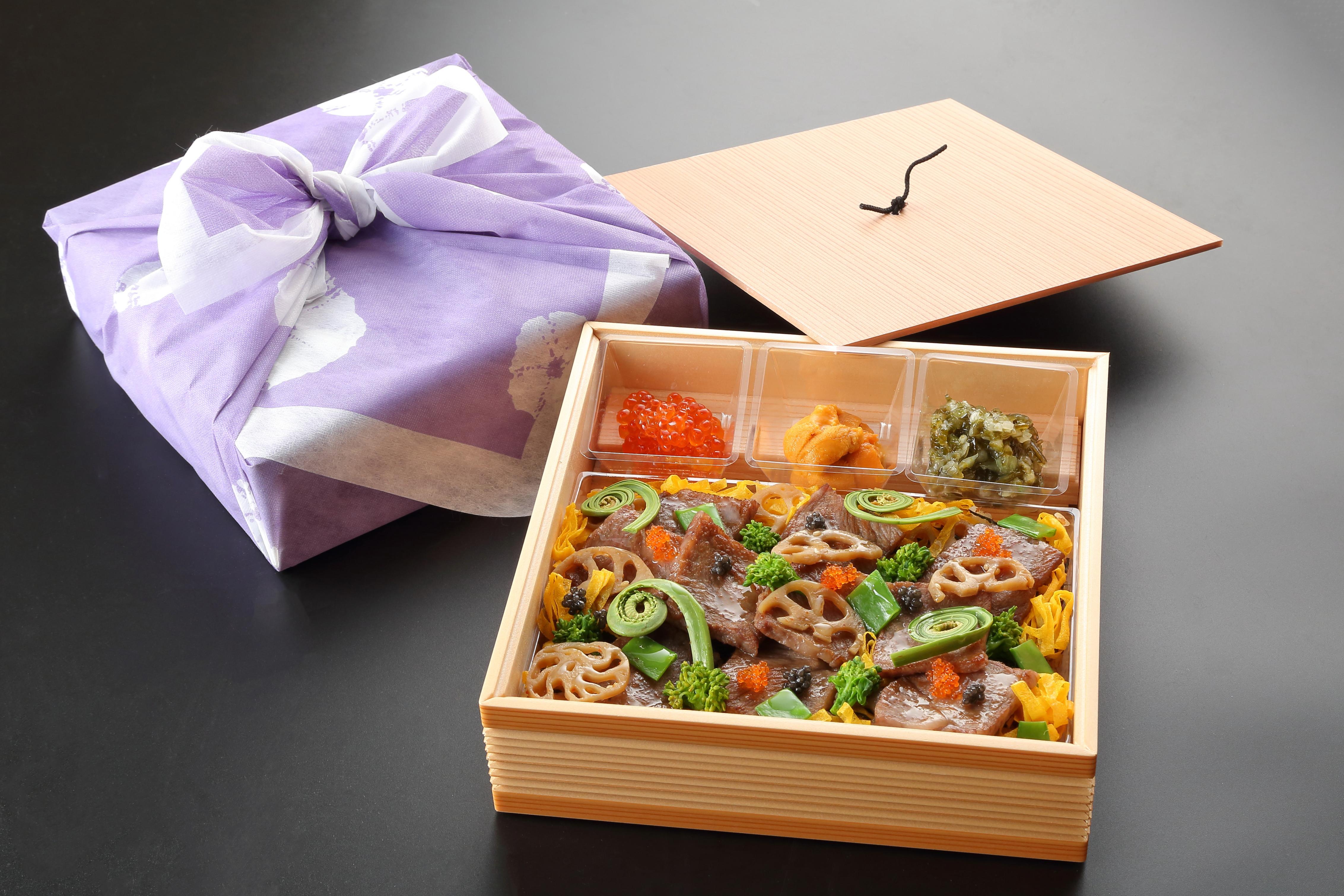 Even though the restriction on going out due to the new type of coronavirus has been lifted, the days are still calm.
Every day, in a changing and uncertain situation, the world is overwhelmed by heavy air and tends to look downward.
However, doing my best to be of as much as possible in such a situation, people of good luck Irassharu stores and facilities, Irasshaimasu N Taku is.

The Kokosil editorial department will introduce such stores and facilities as "Store Support Project" .
I would like to introduce you to the outline of stores and facilities, recommended menus, services that are devised because of this situation, things that are important to you.
This time, I would like to pick up "Nihon Yakiniku Hasegawa" .
There are many menus that you will want to eat just by looking at them, so please take a look!
---
◎About Nihon Yakiniku Hasegawa, recommended takeout menu for the person in charge, about the shop, recommended menu of the shop, recommended menu of the person in charge, recommended course dish, recommended sake, it is important only because of this Corona I asked about what I am doing and the message to customers.
Please tell us about the recommended take-out menu.
The recommended takeaway menu is Matsuzaka beef sirloin leaflets .
Our Japanese craftsmen roll each Matsuzaka beef sirloin chirashi hand-rolled on top of seasoned beef shigure rice, and more, how much Hokkaido how much, Hokkaido produced sea urchin, caviar and other high-quality seafood, full of seasonality. It is a luxurious menu with colorful vegetables.
Please enjoy the take-out menu that luxuriously uses the highest part sirloin of "Matsuzaka beef", the highest peak of Japan's three Yamato beef, at home.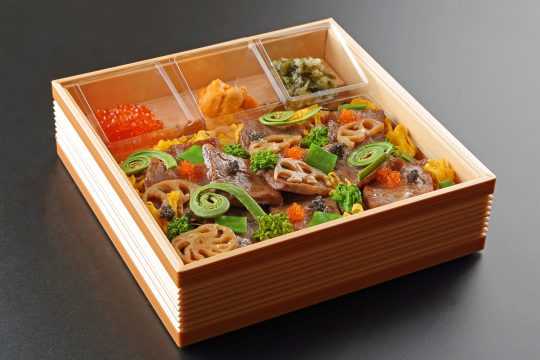 Matsusaka beef sirloin leaflet 7,500 yen (tax included)

*For food hygiene, it will take about 30 minutes since it is made after receiving your order.
*The menu may change depending on the purchase situation. Please note.
I got it!
When you open the lunch box lid wrapped in elegant Japanese paper, there is a colorful world of Japanese yakiniku with Matsuzaka beef sprinkled with seasonal vegetables, Kinshi eggs, salmon roe, etc. in a well-balanced manner. Was spreading.
I sigh without thinking of how it looks.
Great!
First, a bite.
I will have only meat.
The meat juice spreads out.
It's a pity to swallow right away!
If you chew and taste it many times, the taste of Matsuzaka beef runs around your mouth.
Next, I will have meat with caviar.
The saltiness of the caviar is exquisite on the meat oil.
Jumping on meat.
The soft texture of sirloin matches the crispy texture, making it comfortable to eat.
You can also enjoy a rich taste variation by putting the salmon roe, sea urchin, and wasabi on the meat.
---
---
When you eat beef Shigure rice, meat, and Kinshi egg, the fragrance and sweetness are intertwined and the flavor changes to soft.
I enjoyed the various tastes.
I don't have enough tongues.
Great satisfaction!
Other takeout menus
Other take-out menus include Japanese black beef yakiniku bento , Japanese beef black tongue boxed rice , and Japanese beef shigure thick rolls .
The Japanese Black Beef Yakiniku Bento is a dish prepared by a skilled craftsman who carefully cooks and carefully prepares each carefully selected Japanese Black Beef.
You can enjoy the taste of "Nippon Yakiniku Hasegawa" at home with a variety of Japanese colors.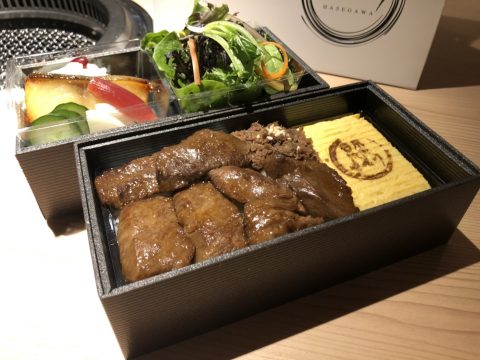 Japanese black beef yakiniku lunch 5,000 yen (tax included)
Wagyu black ton box rice , which is well-received at our restaurant, is a gem made from thinly sliced beef tongue, grilled savoryly with miso sauce, and finished in pressed sushi with Koshihikari from Shiga prefecture.
Children can enjoy it with confidence.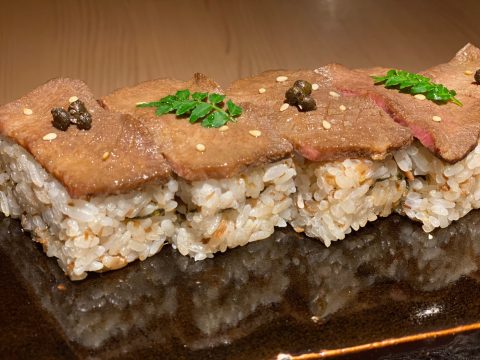 Wagyu black ton box rice 3,500 yen (tax included)
Wagyu Shigure Futomaki is a dish that uses Kuroge Wagyu luxuriously, and wagyu stewed with ginger or sweet and soy sauce is rolled into a thick roll for easy eating.
This is also safe for children to enjoy.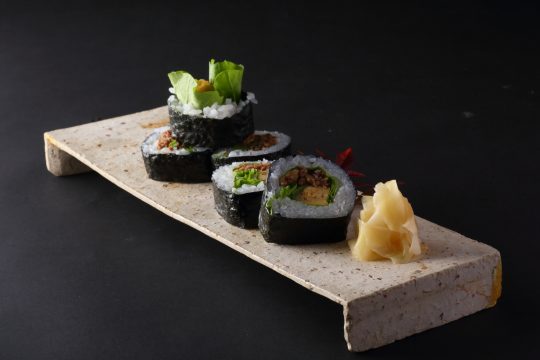 Wagyu Shigure Thick Roll 3,000 yen (tax included)
*For food hygiene, it will take about 30 minutes since it is made after receiving your order.
*The menu may change depending on the purchase situation. Please note.
Please tell us about the store.
Our shop proposes Japanese style Yakiniku that breaks the conventional wisdom of the traditional Yakiniku business style in the style of "Yakiniku x Japanese cuisine".
The restaurant boasts non-standard yakiniku that does not lean, does not smell, and is gentle on the body .
A "new discovery" that is created and connected like a chemical reaction.
And we will deliver "impression" to everyone.

Please come and experience the moment of "changing insaneness into common sense" .
Please tell me some recommended menus in the shop.
Matsusaka beef Chateau Brian and Matsusaka beef sirloin are especially recommended.

We buy one Matsuzaka beef with carefully selected eyes, so you can enjoy the highest quality Japanese beef at a reasonable price.
Château Brian is the highest quality part of the fillet, which is a high-grade part of beef, with a thick center and the best meat quality.
The meat quality is very tender and delicate, yet satisfying to eat.
Please enjoy the extremely rare "ultimate lean meat" and "phantom part" that can take only 600g from one cow.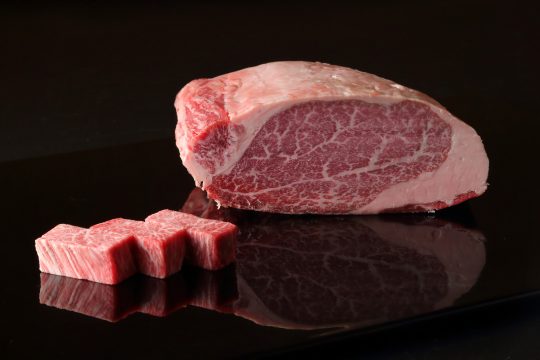 Queen of Meat Matsusaka Beef Chateaubriand [Limited quantity] [Thick or steak cut]
9,000 yen (tax included)
Sirloin is a meat that has been recognized for its deliciousness so that it was given the title "Sir" by the British King to represent the noble family.
The meat is so delicate that it can be called the king of beef, the sashimi is moderately tender, and has a rich flavor and a melting taste.
(* Sashi = common name for fat that is scattered around, such as marbled meat.)
King of meat Matsusaka beef sirloin [Limited quantity] 6,000 yen (tax included)
Could you tell me the recommended menu for the person in charge?
Finest Harami and Japanese black beef tongue yuanka net thick cut.
Finest Harami is our most popular menu.
The finest Harami that is soft and has a rich flavor and aroma, and uses conspicuous Harami that is made from raw Japanese black beef.
Bake over high heat and enjoy the rich and juicy flavor of halami.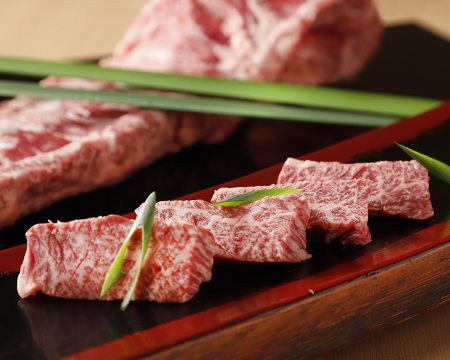 Finest Harami *Limited quantity of 3,800 yen (tax included)

Wagyu beef tongue sashimi is a thick slice of the softest tongue of tongue.
It is a product that the texture of thick slices is irresistible.
Enjoy salt, lemon and wasabi along with the fine taste of Japanese beef.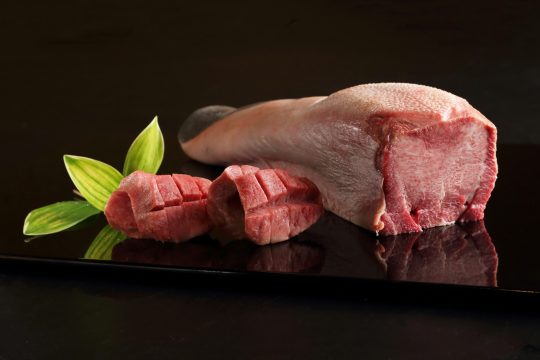 Wagyu black tongue, thick sliced net (single piece)" *Limited quantity of 4,800 yen (tax included)
Would you please tell me the recommended course meal?
The recommended course is the Ise course, which is the finest course, and the old and new course that covers the concept of our shop .
◎Ise-Ise-[20 items] Exhausted luxury Japanese beef [Reservation required] 28,000 yen
~Special course. Eat and compare three Japanese Yamato beef luxuriously~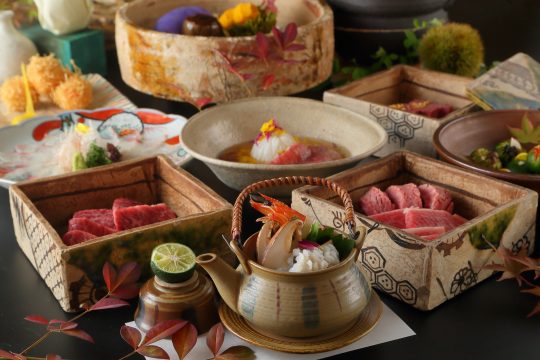 [Course content]
・Smoking Seasonal vegetables
・Three seasonal items with daily change
・Cold vegetables Hasegawa carefully selected early picked vegetable salad
・Sashimi Seasonal sashimi
・Sushi Matsusaka beef rib roast nigiri sea urchin and spilled salmon roe
・Meat phantom tongue Japanese black beef tongue original ・Japanese black beef Harami ・Kobe beef rare part ・Matsusaka beef rare part
・Matsusaka Beef Chateau Briand Luxury Truffle
・Seafood Seasonal seafood
・Progressive side dish of cold Japanese beef
・Hot items
・Meat Wagyu thigh meat net grilled shabu・Matsusaka beef sirloin net grilled suki
・Meals Seasonal pot rice
・Steamed red soup
・Ice confectionery premium ice cream
◎Konjaku-Konjak-[17 items] 6 kinds of high-grade meat 17,000 yen
Please tell us what liquor is recommended for those who like alcohol, and for those who are a little weak in alcohol, it is easy to drink.
For those who like alcohol, we have carefully selected rare craft items such as luxury craft beer, premium whiskey, wines from around the world, sake, etc. that are difficult to obtain.
Please enjoy with our meat dishes.
If you are not good at drinking, there are various soft drinks and luxury tea, so please ask for your desired drink.
A number of meats carved by the craftsmen's superb handling
I was shown cutting meat.
You will be fascinated by the knives of craftsmen who cut various parts of Japanese black beef skillfully.
The "collaboration of Japanese cuisine and yakiniku that is created by the sensitivity and skill of the Japanese craftsmen who have studied at famous stores in Tokyo" is produced from this kitchen!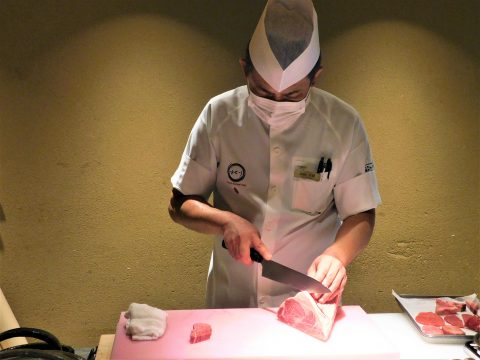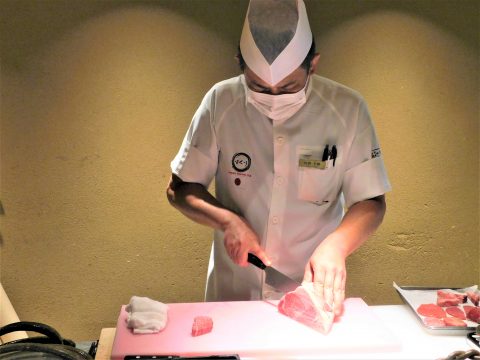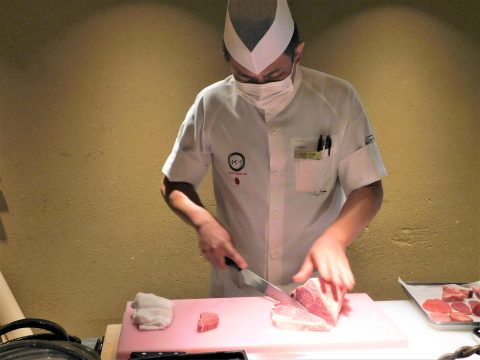 A clean meat section!