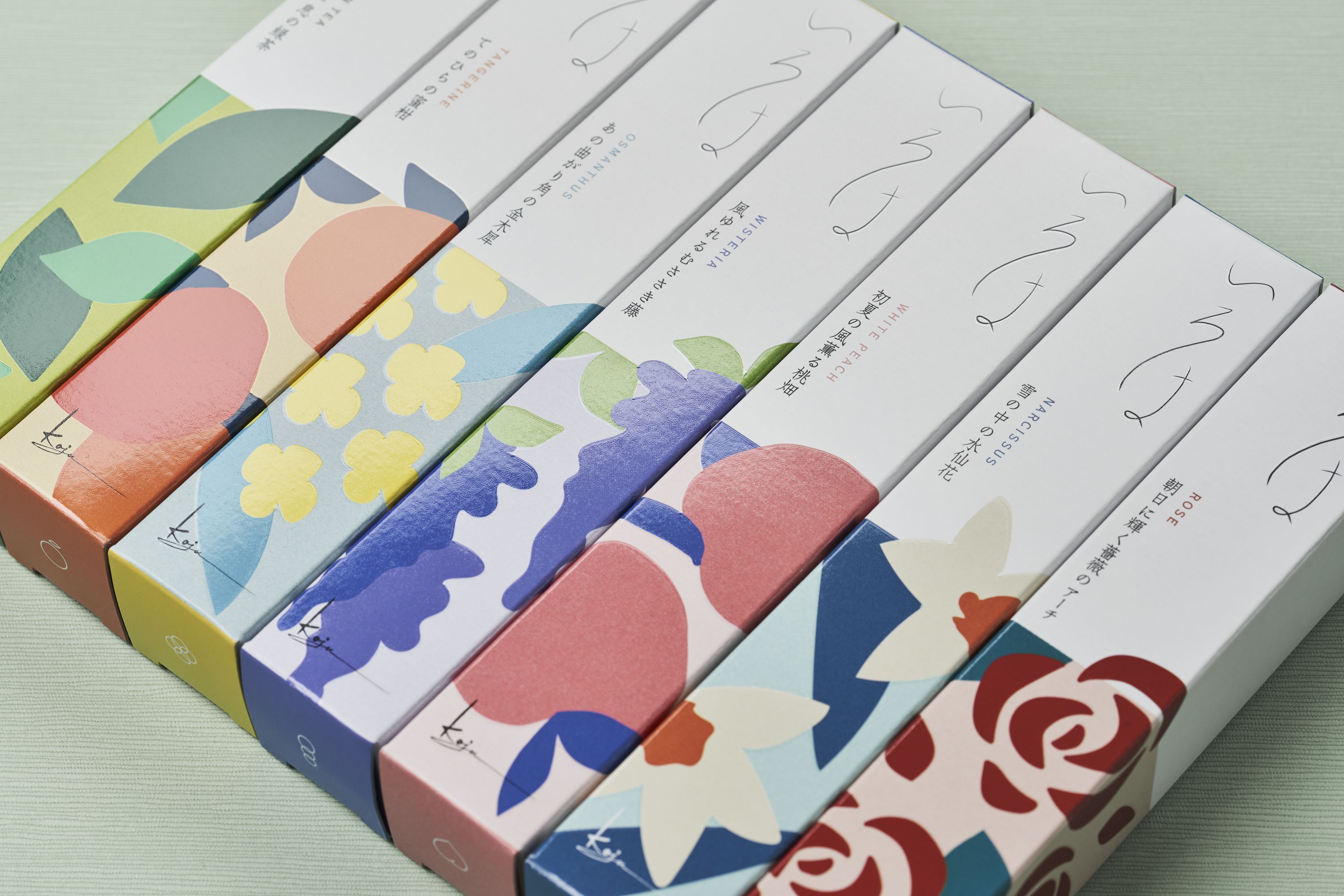 We aimed to create incense that is close to the memories of the heart with a scented scene.
On October 19, 2020, the long-established incense store "Kouju", which was founded 445 years ago, will release a new incense "Kouju Iroha" with the motif of Japanese flowers and scented trees. Sold at Kaju stores and online shops.
The long-established incense store "Kouju" (Kouju Tenkado Co., Ltd., President and CEO Masahiko Yamada 4-9-1, Ginza, Chuo-ku, Tokyo) is an incense with the motif of Japanese flowers and scented trees. 12 types will be released.
"Iroha" is a word that means the beginning of things. Kaju "Iroha" = The beginning is "Kaju Iroha", and we named it with the idea that people who use incense for the first time should definitely use it. In addition, we valued the scent scene in each sentence and package, and created a world view that is close to the memories of the user's heart.
The types of incense of Iroha are "Wind-swaying purple wisteria WISTERIA", "Rose arch ROSE shining in the morning sun", "Lotus flower in the morning dew WATER LILLY", "Palm tangerine TANGERINE", "Hino tree sunbeams CYPRESS", " That corner of Kanagi 犀 OSMANTHUS "," Early summer breeze peach field WHITE PEACH "," Spring voice cherry blossom CHERRY BLOSSOMS "," Sandalwood flower in the snow NARCISSUS "," Relieved breath of green tea GREEN TEA "," Hannari of the ancient city A total of 12 types of "Sandalwood SANDAL WOOD" and "Koji no Kiritto Agarwood ALOES WOOD". It has an easy-to-understand, nostalgic and friendly scent.
Product page
https://www.koju.co.jp/shop/products/list?category_id=953
The incense is a stick type and contains 30 pieces each. The price is 900 yen each (excluding tax).
This is a new release following the "Incense for Enjoying Home Time" released in April 2020.
Sales location <br /> Sold at Kaju directly managed stores and Kaju online shop.
At the Koju Ninenzaka store, we started a "free 60-minute online customer service" for those who cannot easily come to Kyoto due to the corona disaster, while using the online tool "ZOOM" to experience the feeling of traveling to Kyoto. .. You can make a reservation on the reservation site in advance and enjoy conversations and videos with the staff of the Kyoto Ninenzaka store while feeling free to stay at home using zoom.
For more information is here
https://koju-incense.tumblr.com/post/629922394324303872/
Koju
Founded in the Tensho era (1575). Kaju was born in the history of Japanese scent culture, inherited and created new times, and the product name is Juemon Takai, who was said to be a master, including the traditional incense "Kurokata". We deliver a number of scented products required in modern times, including incense and Japanese scented wood.