Online store "Ginza Sweets Collection 2021" January 6, 2021 (Wednesday) 10 am to February 2 (Tuesday) 6 pm
We will deliver confident works of domestic and foreign chocolates, patisseries and brands.
The theme of "GINZA SWEETS COLECTION 2021" to be held at Ginza Mitsukoshi this year is "LOVE LETTER". Chocolatiers and pastry chefs from all over the world have created whole-body sweets with their passion and refined skills. It's a sweet love letter from them. Put your thoughts on the love letter and tell your loved ones. "I love you, thank you, what are you doing?" "Good luck, I want to meet you, it's delicious, let's eat together …" What kind of love letter do you want to deliver?

* URL:https://www.mistore.jp/shopping/productlist?fcd=9050207&srule=views&stock=instock
・ "LOVE LETTER" that can only be obtained here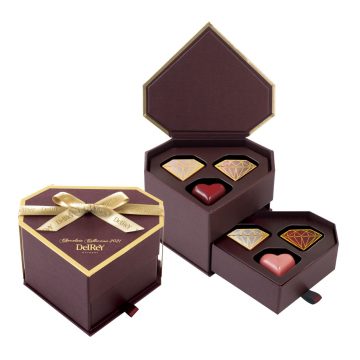 ---
---
The burgundy-colored BOX with a luxurious diamond-shaped drawer is "Mitsukoshi Isetan Limited".
Pink diamond milk with caramel ganache that melts in the mouth in milk chocolate, red diamond dark and dark chocolate with ganache with fragrant tonka bean flavor added to cacao from Peruvian Alt Elsol plantation in dark chocolate The assortment of 4 types of diamond chocolate such as purple diamond dark with ganache of exotic fruits such as mango and pineapple in cacao from Java Island and 2 types of heart chocolate using ruby ​​cacao is a special box of jewelry gems to eat. ..
[Limited to Isetan Mitsukoshi]
<Del Rey> Diamond BOX (Burgundy) 4,320 yen / 6 tablets / Antwerp, Belgium
・ Luxury with a special feeling "LOVE LETTER"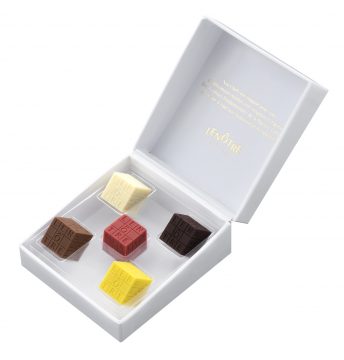 Chocolat developed by Guy Cleanser, who inherits the wishes of Gaston Lenôtre, who is known as the father of the French confectionery world, with particular attention to the ingredients. It is a typical cube-shaped chocolate of Le Notre with the LENOTRE logo engraved on 5 sides. It is a chocolate that is full of Le Notre-like colors, with a gorgeous hue centered on the fraise. A box reminiscent of a jewelry box creates fun from the time you open it.
<Le Notre> Cube Le Notre 5 pieces / 2,592 yen / 5 pieces / 108g / France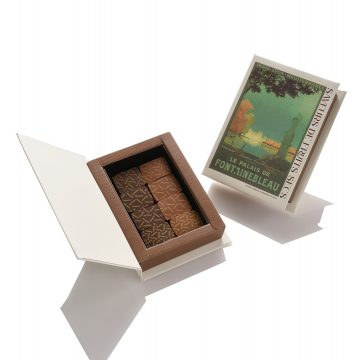 Frederick Cassel 2021's new work is a praline chocolate that tastes the aroma and richness of nuts. Eight flavors of four kinds of nuts (almond, hazelnut, pistachio, sesame) combined with milk chocolate and dark chocolate. From the idea of ​​"a chocolate that both children and adults can enjoy together," Kassel chose the theme of pralines, which he has loved since he was a child. The idea is that chocolate can become one of the communications by enjoying the aroma of each nut, the taste of chocolate, and the combination of chocolate and nuts that you like with your family and loved ones.
<Frédéric Cassel> Savour de Fruisec 3,240 yen / 8 tablets / France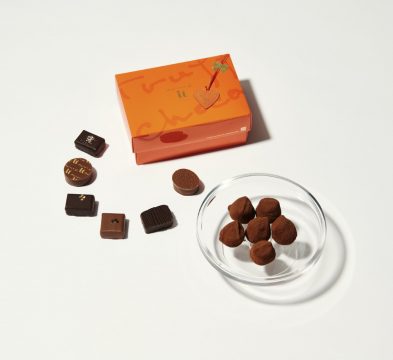 Finished with the taste balance of the owner chef, it is a chocolate that is rich and melts in the mouth, has a melting texture and a good aftertaste. The special BOX is a combination of 6 truffles, o chocolates and 6 bonbon chocolates, and you can enjoy a variety of chocolate flavors.
<Maison de Itte> Special BOX (12 pieces) 3,888 yen / 12 pieces / France
・ Adult commitment << LOVE LETTER >>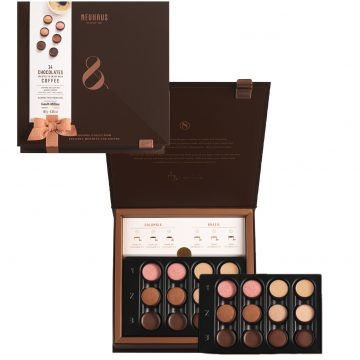 As the first pairing collection of Neuhaus, the chocolate collection for coffee produced by Meter Chocolatier is introduced. Coffee and chocolate have a long history of being loved in Belgium, and without chocolate you wouldn't be able to enjoy coffee. Experience the taste adventures of Neuhaus with a collection of six chocolates made from Brazilian and Colombian cocoa beans.
<Neuhaus> COFFEE & PRALINES ORIGIN BOX 7,020 yen / 24 tablets / Belgium
・ "LOVE LETTER" that heals your eyes and enjoys the texture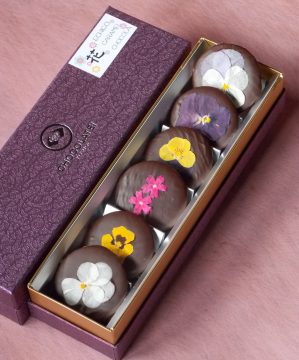 I used edible flowers from Niigata and put them on coin-shaped chocolate. It is a delicious dish with trolley and caramel melting from the chocolate. * The type of flower changes depending on the season.
<Chocolate>
ECHIGO Caramel Flower Chocolat ¥ 2,001 / 6 pieces / Japan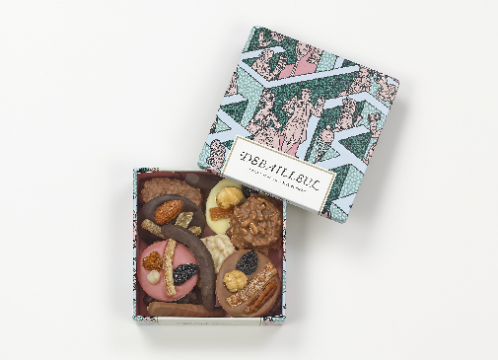 An assortment of 12 Friandis with a unique texture using nuts, dried fruits and citrus peels. The limited edition Mandian Ruby, which is a natural pink (without any coloring or fragrance) and has a slight berry flavor, topped with orange peel, ginger, and hozuki, is a limited chocolate for this gift only. First appearance in a limited edition can with an impressive contrast between blue and pink.
<Debailleul> Passage Sukure Friandis 12P 3,672 yen / 12 tablets / 150g / Belgium
・ Purely taste cacao << LOVE LETTER >>
With the motto "Make people happy with chocolate", this is a dish from "Peter Buyer" who is always searching for better chocolate by hand as one of the world's leading chocolate makers. The blend of two types of cacao brings out the exquisite taste of sweetness, sourness, and bitterness derived from cacao. Scandinavian, inorganic yet eye-catching design. It's perfect not only for the other party but also for rewarding yourself. * May differ from the image.
<Peter Buyer> World Of Chocolate PB SPCIAL BLEND 71.6% / 1,200 yen / 45g / Denmark
* All images are images.
* All prices include tax.
* The number is limited. Please forgive it when it is sold out.
"GINZA SWEETS COLLECTION 2021" special site
https://www.mistore.jp/shopping/event/ginza_e/sweets_collection_51