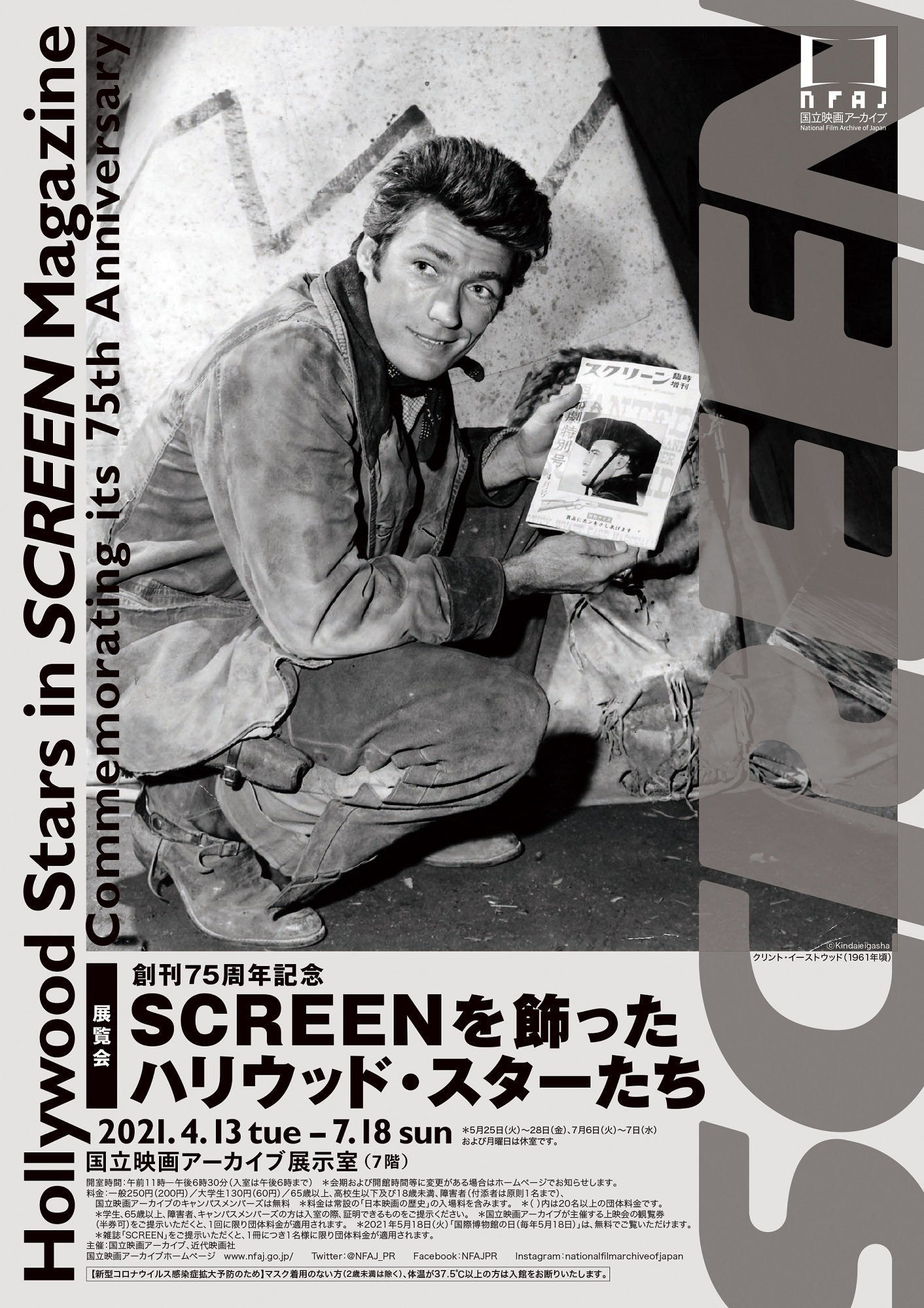 The dazzling brilliance of successive Hollywood stars who decorated "SCREEN"!
John Wayne, Elizabeth Taylor, James Stewart, Audrey Hepburn, Steve McQueen, Clint Eastwood, Jodie Foster, Michael J. Fox, Johnny Depp, Leonardo DiCaprio … The history of Japanese movie fans cannot be told without the myriad of American movie stars.
The monthly magazine "SCREEN" of the modern movie company, which interviews foreign films, especially Hollywood star actors, and always sends the latest information to Japan, is a quarterly "portrait collection" on both sides of Tyrone Power and Setsuko Hara. It was first published in May 1946, and from the third issue published in February of the following year, it made a new start as a monthly "American movie introduction appreciation magazine". Soon after establishing the style of Western movie fan magazines including European movies, it has been loved by movie fans for a long time, and in May 2021, it will celebrate its 75th anniversary.
"SCREEN" is a Japanese foreign film journalism that has its own correspondents in Hollywood and continues to convey the live voices of the stars, without favoring uniform articles that rely on information and photographs supplied from their home countries. Has also occupied a unique position in.
This exhibition traces the lineage of passion that Japanese movie fans have poured through the gorgeous star photos that were originally taken in Hollywood until the 1990s and the precious photographs taken when the stars came to Japan. I will. In addition to introducing the magazines of successive issues, it also features the achievements of Hollywood correspondent Yani Vegakiss, who has contributed to the magazine for nearly half a century.
---
---
Please enjoy the many fascinating facial expressions that the stars have shown to Japanese movie fans.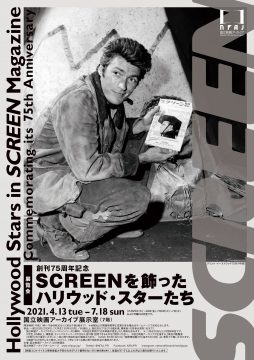 ◆ Stars captured by the "SCREEN" camera
Exhibits photos of Hollywood stars who visited Japan by the 1990s since Bob Hope in 1950.
Introducing a number of photographs unique to Hollywood local coverage that "SCREEN" started ahead of other magazines, focusing on the work of famous reporter Yani Vegakis.
◆ Gifts from Hollywood stars Audrey Hepburn's autograph written during the interview, and Cary Grant's autographed portrait of "SCREEN" and its readers are valuable assets of "SCREEN". Exhibits various materials.
◆ From the 75-year history of "SCREEN"
Introducing the magazines of each era, including the first issue of "SCREEN" published in May 1946.
A panel display of many memorable covers and successive stars from John Wayne to Natalie Portman.
The panel introduces the best works of the year selected by the "SCREEN" readers' vote and the history of popular male actresses.
The highlight of the exhibition
★ This exhibition is mainly composed of photographs of Hollywood stars that have been featured in the Western-style movie fan magazine "SCREEN" from the 1950s to the 90s. Among them, there are many valuable photographs of legendary stars who visited Japan from the 1950s to the 1960s, such as Clark Gable's visit to Japan called "Hollywood King".
★ A large number of autographed portraits of Audrey Hepburn and Johnny Depp, and autographed portraits of James Stewart and Gwyneth Paltrow, which can be said to be the property of "SCREEN", will be exhibited.
★ For more than 60 years, our own Hollywood correspondent has been conducting on-site interviews at "SCREEN". Introducing the history of Hollywood local coverage, which was the first in other magazines, centering on photographs of the famous correspondent Yani Vegakis, such as interviews with stars and coverage of the Academy Awards ceremony.
It launched 75 anniversary of Hollywood stars who have graced the commemorative SCREEN (Hollywood Stars in SCREEN Magazine: Commemorating its 75th Anniversary)
Organized by: National Film Archive of Japan, Kindaieigasha
Date: April 13th (Tuesday) -July 18th (Sunday), 2021
Closed days: May 25th (Tuesday) -28th (Friday), July 6th (Tuesday) -7th (Wednesday) and Mondays are closed.
Opening Hours: 11 am-6:30pm (Admission is until 6pm) * Night opening will be closed for the time being.
Venue: National Film Archive Exhibition Room (7th floor)
Access: Get off at Kyobashi Station on the Tokyo Metro Ginza Line, 1 minute walk from Exit 1 toward Showa Dori / Get off at Takaracho Station on the Toei Asakusa Line, 1 minute walk from Exit A4 toward Chuo Dori / Get off at Ginza 1-chome Station on the Tokyo Metro Yurakucho Line, Exit 5 minutes walk from 7 / Get off at JR Tokyo Station, 10 minutes walk from Yaesu South Exit
Fees: General 250 yen (200 yen) / College students 130 yen (60 yen) / 65 years old and over, high school students and under and under 18 years old, disabled people (up to 1 attendant in principle), National Film Archive campus members are free
* The price includes the admission fee for the permanent "History of Japanese Movies". * () Is for groups of 20 or more.
* Students, 65 years old and over, disabled people, and campus members are required to show proof when entering the room.
* If you show the admission ticket (stub) for the screening hosted by the National Film Archive of Japan, the group fee will be applied only once.
* May 18, 2021 (Tuesday) "International Museum Day (May 18 every year)" can be viewed free of charge.
* If you present the magazine "SCREEN", the group fee will be applied to one person per book.
* Please check our website for measures to prevent the spread of new coronavirus infections.
→ https://www.nfaj.go.jp/ge/topics/20200625/
Inquiries: 050-5541-8600 (Hello dial)
Planning HP: https://www.nfaj.go.jp/exhibition/screen75/