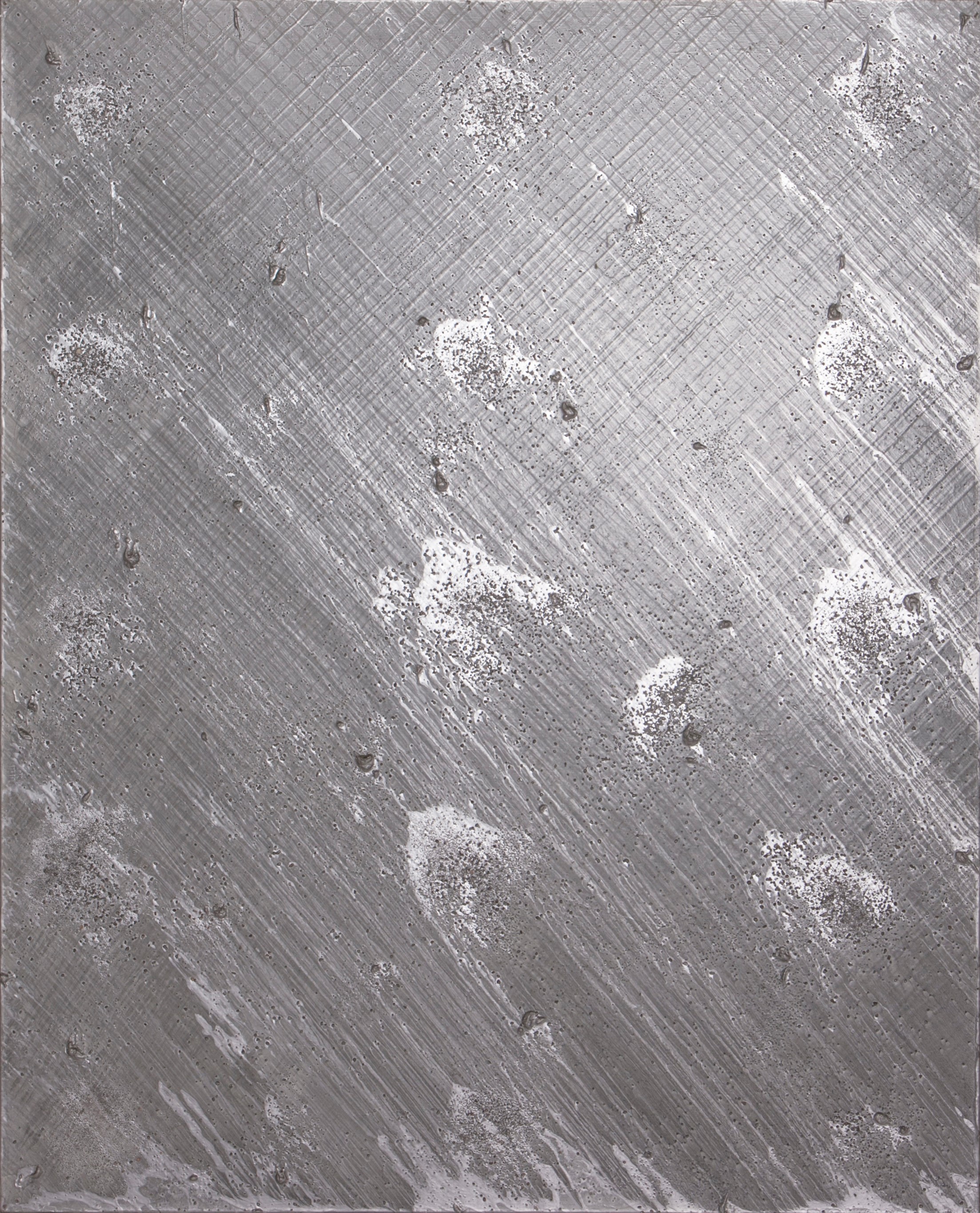 Ginza Tsutaya Bookstore (Chuo-ku, Tokyo) will hold an exhibition of "Hikari no Surface Toshiteno Silver" by Yasuhide Moriyama at GINZA ATRIUM, the central event space from Saturday, April 17th to Sunday, April 28th, 2021. Will be held.
At Ginza Tsutaya Bookstore, Yasuhide Moriyama, an artist who has left a vivid footprint in Japanese postwar art history as a core member of the avant-garde group "Group Spider" in Fukuoka and Kitakyushu since the latter half of the 1960s. ) Will be held with the cooperation of GALLERY SOAP in Kokura, Kitakyushu.
---
---
Yasuhide Moriyama was born in 1936 in Yawata City (currently Yahatahigashi Ward, Kitakyushu City). In 1968, he participated in the "Group Spider" with local artists, and repeated radical happenings that rejected all artistic expressions, targeting existing art groups, authorities, and even the avant-garde movement of the same era.
This exhibition is composed of paintings that Moriyama worked on after resuming activities in 1987, and follows the solo exhibition "Yasuhide Moriyama Dismantling and Regeneration" held at the Kitakyushu Municipal Museum of Art in 2018. This will be a valuable opportunity for my solo exhibition at 1994 since 1994.
We hope that Moriyama's activities, which have had a great influence on postwar art, will give us an opportunity to reconsider the history of Japanese art.
Special page | https://store.tsite.jp/ginza/blog/art/19427-1310200401.html
Yasuhide Moriyama
Born in 1936 in Yawata City (currently Yahatahigashi Ward, Kitakyushu City). An artist who still lives in Tobata-ku, Kitakyushu.
He entered the special art department of Saga University in 1955, but was soon removed from the register. At the same time as starting work in the early 1960s, he performed radical performances such as putting filth in a matchbox for stool test and distributing it on the street, having sexual intercourse at an intersection in Fukuoka, and producing a stolen print by Mokuma Kikuhata. It was. During this period, under the strong influence of the leading avant-garde art group "Kyushu School", he formed a "group spider" with local artists in 1968, and soon after a small number of three members were elite, the existing art Targeting groups, authorities, and even the avant-garde movements of the same era, he repeated radical happenings that denied all artistic expressions.
In 1970, he participated in a movement against the disposition of teachers at Fukuoka Prefectural Denshukan High School, and was arrested openly for displaying obscene materials.
The trial struggle continued until 1973. After a long period of 15 years of silence, he began producing silver-colored paintings in 1987, and has left a large number of paintings to this day. His early works were all-silver all-over abstract paintings, characterized by the technique of pouring paint, and since 2000, he has been producing paintings with abundant colors and shapes.
It will be on sale at the store / online store Preview | April 16th (Friday) * Invited only Store | April 17th (Sat) ~ Sales Online Store (OIL by Bijutsu Shoupan) | April 17th (Sat) Noon-Sales Online Store URL | https://oil.bijutsutecho.com/artist/1527
Yasuhide Moriyama "Hikari no Surface Toshiteno Silver" Exhibition Period | 2021 April 17th (Sat) -April 28th (Sun) * The exhibition period is subject to change.
Venue | Ginza Tsutaya Bookstore GINZA ATRIUM (Event Space)
Admission | Free sponsorship | Ginza Tsutaya Bookstore Planning Cooperation | GALLERY SOAP
Inquiries | 03-3575-7755 (during business hours) /info.ginza@ccc.co.jp
* Please check the store website for business hours.
Special page | https://store.tsite.jp/ginza/blog/art/19427-1310200401.html
Ginza Tsutaya Bookstore We propose "living with art" by connecting art with Japanese culture and living through books.
Address: 6-10-1, Ginza, Chuo-ku, Tokyo 104-0061 GINZA SIX 6F
Phone number: 03-3575-7755
Business hours: Please check the store homepage.
Homepage: https://store.tsite.jp/ginza/
Facebook: https://www.facebook.com/GINZA.TSUTAYABOOKS/?ref=bookmarks
Twitter: https://twitter.com/GINZA_TSUTAYA
Instagram:https://www.instagram.com/ginza_tsutayabooks/