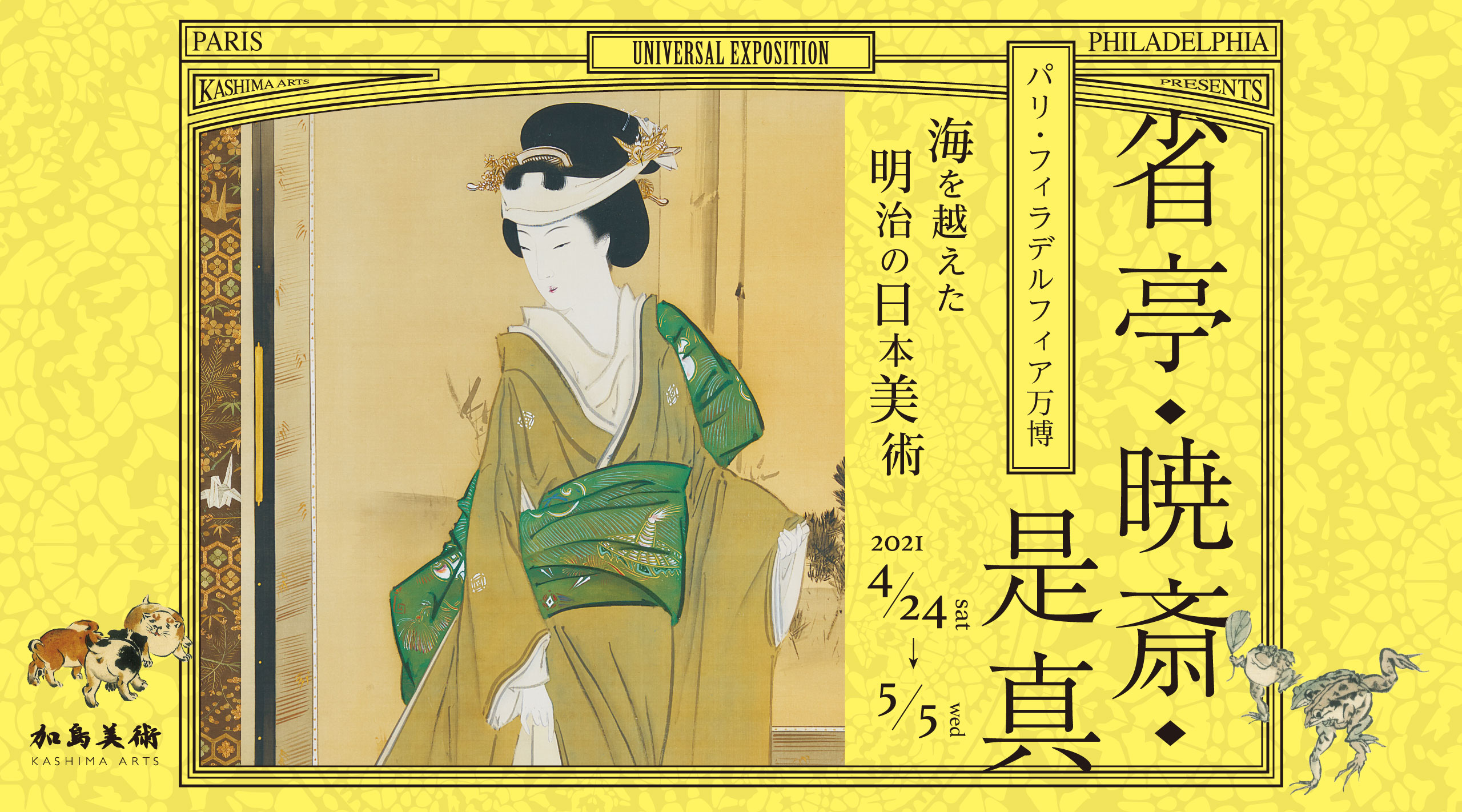 Approximately 40 works by Watanabe Shotei, Kawanabe Kyosai, and Shibata Zeshin, the three most popular painters of the Meiji era, will be exhibited and sold.
Kashima Arts will be held from April 24, 2021 (Sat) to May 5, 2021 (Wednesday / holiday), "Shotei / Akasai / Zeshin-Paris / Philadelphia Expo, Meiji Japanese Art Crossing the Sea" ~ "Will be held. This exhibition and sales event focuses on three Japanese-style painters from the Meiji era, Watanabe Shotei, Kawanabe Kyosai, and Shibata Zeshin, who have been re-evaluated in recent years. Approximately 40 items were exhibited. Free viewing.
● About "Shotei / Kyosai / Zeshin-Paris / Philadelphia Expo, Meiji Japanese Art Crossing the Sea"
At the end of the 19th century, internationalization progressed rapidly, mainly in Western countries, and the World's Fair, in which each country competed for the prosperity of its civilization, was booming. The breath of new culture has occurred not only in the industrial world but also in the art world, and many unprecedented trends in art have been born. There were masters of Japanese art who surprised the world on such a gorgeous stage. Watanabe Shotei, Kawanabe Kyosai, Shibata Zeshin. Its extraordinary aesthetics and expressiveness transcended the sea, and it was praised even on the big stage of the World's Fair, which was actively held in Western countries at that time.
They are also painters who have been particularly re-evaluated in recent years. It was forgotten for a long time from the government-made art history, which was regarded as the "mainstream of modern Japanese art history" in the swell of the irresistible era, while sweeping Europe and the United States against the background of the enthusiasm of Japonisme and leaving a spectacular achievement. It is. But time has passed and it is now completely regaining its former brilliance. The works of the painters, who can be said to be the most visible Japanese art now, are all in one place! Please take a look.
---
---
● About exhibiting artists
・ Shibata Zeshin (1807-1891)
Zeshin was a lacquer maker (lacquer artist) born in Edo, and was also a painter who learned the Shijo school. Urushi-e is the most notable part of my work. Zeshin started a new technique in urushi-e and left a big mark on the urushi industry in the Meiji era. Also, in Japanese paintings, many lacquer paintings with a Western-style texture are left with highly viscous lacquer, which is highly evaluated in Europe and the United States.
-Vienna Expo (1873) Exhibit, Progress Award Winner-Philadelphia Expo (1876) Exhibit, Award Winner-Paris Expo (1889) Exhibit, Gold Award Winner
・ Kawanabe Kyosai (1831-1889)
Kyosai grew up in Edo, and after graduating from the Kano school painting school, he worked on mad paintings (caricatures) and nishiki-e from the end of the Edo period and gained popularity. In Europe and the United States, it is especially known for ukiyo-e and mad paintings. It is the spirit of "rebellion" and "satirical" that colors Kyosai's paintings. Armed with his extraordinary artistic talent, his style, which resisted power and sarcasticly criticized the times, seems to shine rather than fade in modern times. It is also an interesting episode that Josiah Conder, an architect known as the designer of many famous buildings that symbolize modern Japanese architecture, has introduced to Kyosai, including Rokumeikan.
-Produced "The Figure of Empress Jingu and Takenouchi no Sukune" to decorate the Japanese garden at the Vienna World's Fair (1873) -Exhibited at the Philadelphia World's Fair (1876)
・ Watanabe Shotei (1852-1918)
Shibata Zeshin will be a disciple of Kikuchi Yosai, who specializes in historical painting. Traveled to France after gaining a reputation at the 1878 Paris Exposition. There is an anecdote of meeting the Impressionists in his land and presenting a painting to Edgar Degas. It is also said that this is the first time a Japanese-style painter has traveled to Paris.
The style of painting that fuses the sophisticated Edo aesthetic sense inherited from Yosai and Koshin with the Western sensation worn by traveling to France at a high level has reduced the chances of seeing Japanese art. It's easy to get used to, and the number of fans has been increasing in recent years.
-Exhibited at the Paris Expo (1878), won the bronze medal-Exhibited at the Amsterdam International Colonial and Export Exhibition (1883), won the silver medal-Exhibited at the Chicago World's Fair (1893)
● The highlight of this exhibition
1. The works of the painters who have received the most attention in this art today are all in one place!
Watanabe Shotei, a solitary god painter who freely manipulated a certain sense of photography and color with a delicate brush stroke and a sophisticated composition sense. In the Meiji era, many Edo painters were forced to close their businesses, and Kawanabe Kyosai maintained his rebellious spirit as a painter with his outstanding art skills and light humor. Shibata Zeshin has a unique style of urushi-e, which is created from the chic and stylish natural sense and the skill of urushi craftsmanship. There are about 40 works by the hottest artists in the world of art today. Not only those who like Japanese art, but also those works that caught the hearts of Westerners at the time of drawing, even in the eyes of us today, who are often unfamiliar with Japanese art. It has a charm that can be enjoyed widely.
2. The catalog is free and you can enjoy it at home.
We have prepared a catalog containing all the works of this exhibition so that you can enjoy the works to be exhibited and the atmosphere of the exhibition as much as possible at home. This catalog will be sent free of charge to all those who wish. In addition to paper catalogs, we also have online catalogs that can be viewed on computers and smartphones. Please apply at this opportunity. The price is also specified, so if you find your favorite work, you can contact us by phone, fax, or email.
3. You can see many precious works without a glass case!
At the venue, many valuable works are exhibited without using a glass case. Please enjoy the appearance of the work and the brush strokes of the artist, which you cannot easily feel through the glass.
● Exhibited works (partial)
・ Watanabe Shotei "Fujin Raijinzu"
・ Kawanabe Kyosai "Yang Guifei"
・ Kawanabe Kyosai "Seven Lucky Gods"
・ Shibata Zeshin "Tatami"
Other
● Outline of the event
Shotei, Kyosai, Zeshin-Paris Philadelphia Expo, Meiji Japanese Art Across the Sea-
Web page: https://www.kashima-arts.co.jp/exhibitions/seitei_kyosai_zeshin/
Date and time: April 24th (Sat) -May 5th (Wednesday), 2021
Open daily from 10:00 to 18:00 Number of exhibits: Approximately 40 exhibitors: Watanabe Shotei, Kawanabe Kyosai, Shibata Zeshin Venue: Kashima Arts Access: 3-3-2 Kyobashi, Chuo-ku, Tokyo 104-0031
Subway Ginza Line "Kyobashi Station" Exit 3 2 minutes on foot Subway Yurakucho Line "Ginza 1-chome Station" Exit 7 3 minutes on foot Toei Asakusa Line "Takaramachi Station" Exit A4 5 minutes on foot JR Tokyo Station Yaesu South Exit 9 minutes on foot Phone number: 03 -3276-0700
Participation fee: Free admission
* Business days and hours may change depending on the spread of the new coronavirus. In case of change, we will inform you on our website and various SNS.