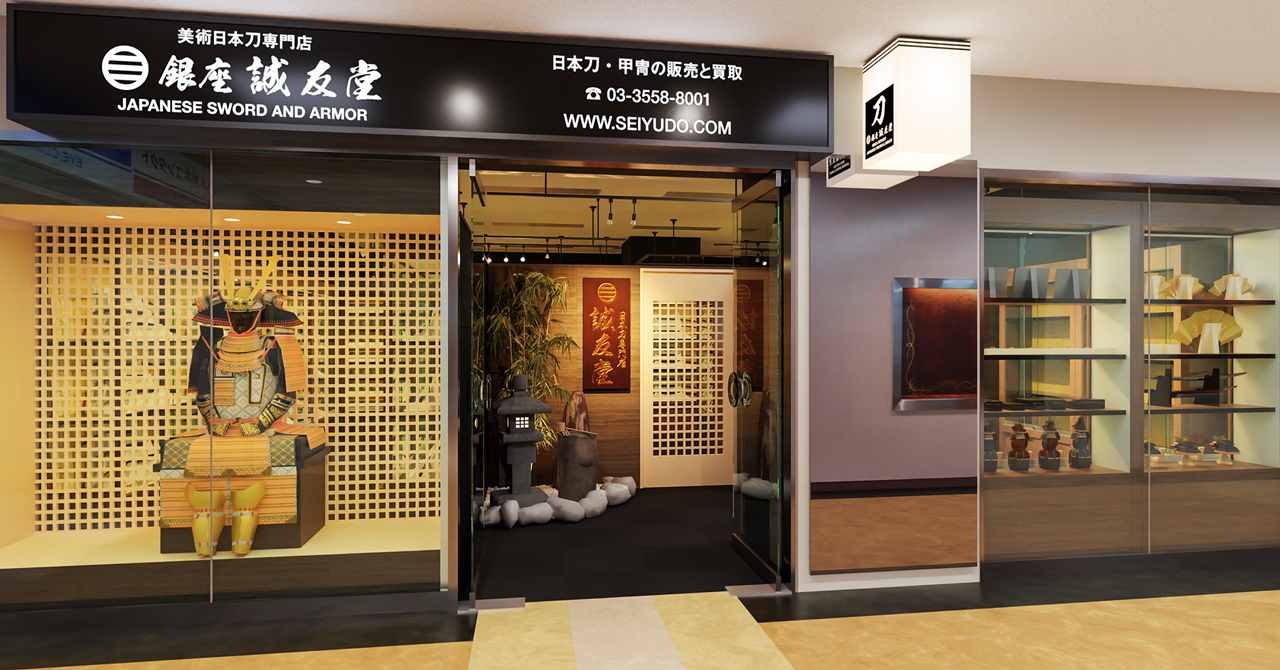 Japan's largest sword specialty store "Ginza Seiyudou" will move to Tokyo Kotsu Kaikan on September 1, 2021, a 1-minute walk from Yurakucho Station.
"Ginza Seiyudou" is a store with a proven track record of purchasing and selling swords, armor, armor, etc. in Ginza.
We handle a wide range of items from famous swords to affordable items, and we aim to be a store that even office workers can easily enter. As a Japanese culture, we will help spread the appeal of swords.
Even if you have never bought or sold a sword, go to a store that is easy to enter
No. 1 in price satisfaction. Some products are within reach of office workers
Many appearances and cooperation on TV and magazines of each station
[I want you to get a chance to get your favorite sword]
"Ginza Seiyudou" is an art Japanese sword specialty store that sells and purchases Japanese swords, as well as sword fittings and armor.
We will move to the convenient Tokyo Kotsu Kaikan, which is a 1-minute walk from Yurakucho Station, so that we can further enhance the exhibition and sales and allow more customers to pick up and view the products.
---
---
We aim to create a store that is easier to enter on the same 2nd floor as the passport center.
At the entrance, we have also set up a new sales floor that sells products related to Japanese culture and traditional crafts, such as kitchen knives made by swordsmiths.
Many people think that a sword specialty store is expensive and specialized, and many people feel that the threshold for entering the store is high, but "Ginza Seiyudou" is used for NHK's "COOL JAPAN" and TV Asahi's variety shows. Also appeared to deepen recognition.
The feature is that you can check the quality with your own eyes, which is different from the online only non-stores.
Even those who are not familiar with swords can carefully look at the real thing and choose carefully, as well as the largest selection of swords in Japan, from famous swords of cultural property grade to swords that can be purchased for around 100,000 yen, armor and armor that are well preserved. Is appreciated by domestic and foreign customers.
Furthermore, until the end of September, we are carrying out a great opening campaign.
For those who have difficulty visiting the store, we have set up an online shop where you can see the details of the sword with high-definition images taken by the world's only HB2 sword camera developed by our company.
[ Satisfaction and contribution from domestic and overseas customers ]
Regarding the sale and purchase of swords, it was selected as the number one in fair price satisfaction (according to the image survey of the brand name in the fiscal year ended March 31, 2019 according to the Japan Marketing Research Organization), and has a good reputation for purchase including inheritance.
It is attracting a lot of attention from overseas and is expected to be an inbound base that will surely return in the future.
In addition, we have formed a partnership with the samurai artist "Kamui", which combines formal beauty, drama, and martial arts, to disseminate SAMURAI and swords as Japanese culture and art to the world.
[From Ginza Seiyudou Representative, Tadashi Ikuno ]
In my childhood, historical dramas were always aired during golden time, and western dramas were aired in night movies, and all the boys longed for swords and guns.
Japanese swords are cultural assets and works of art from the Edo period and earlier.
By appreciating the sword, we can feel the romance of the eternal times and history and feel the Japanese culture.
Of course, there are expensive swords in the store, but my goal is to be a sword shop where office workers can buy. I would like to handle the price that you can buy if you save little by little from your salary, and convey the culture to young people.
Please feel free to contact us for anything regarding swords.
[Opening campaign]
For those who purchase a total of 100,000 yen or more, we will give you a "Ginza Seiyudo special Japanese knife" made by a swordsmith (until the end of September).
■ Company Profile Company Name: Seiyudou Co., Ltd. Representative: Tadashi Ikuno Headquarters: 2-10-1, Yurakucho, Chiyoda-ku, Tokyo 100-0006 Tokyo Kotsu Kaikan 2F
TEL: 03-3558-8001
URL: https://www.seiyudo.com/
<Related article>
Painting Exhibition [Paintings drawn with mouth and feet] Held from May 12th to 18th @ Tokyo Kotsu Kaikan Exhibition of works by Masafumi Minami [Seeds of joy] Beautiful Japanese paintings will be exhibited at the same time.
"Kaga Yubinuki Yuinuki no Kai Exhibition-Silk Thread Kaleidoscope Final Volume-", which introduces the traditional handicraft "Kaga Yubinuki" in one place, will be held at "Tokyo Kotsu Kaikan" in Yurakucho, Tokyo from January 23 (Monday).