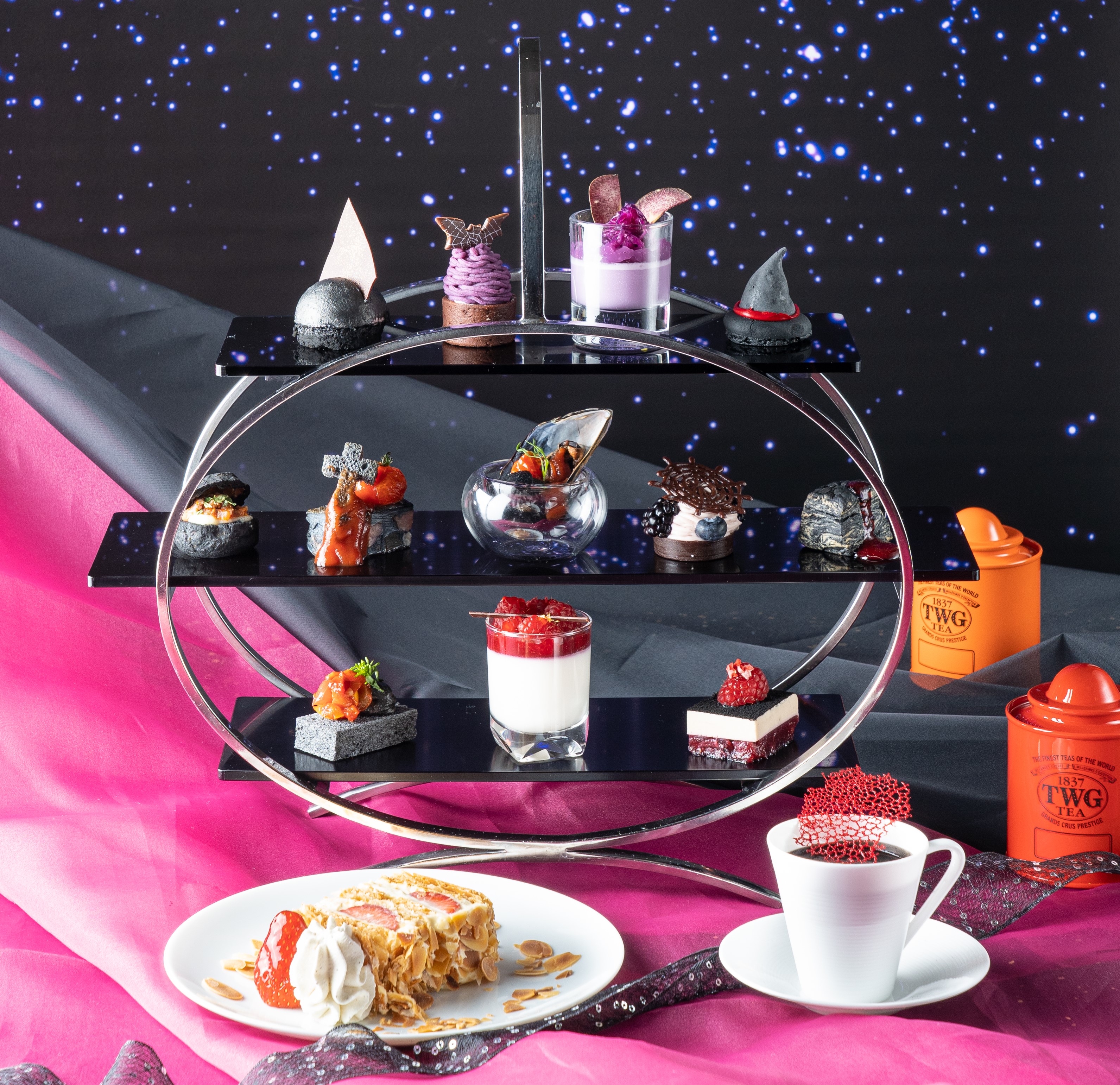 "Halloween Afternoon Tea Set" Witch's aphrodisiac-Witch's Aphrodisiac- ""
"THE GRAND GINZA", the venue for the group brand "VMG HOTELS & UNIQUE VENUES" developed by Value Management Co., Ltd., shows a beautiful witch running through the night sky to a person hidden in her heart on a starry night on Halloween. We are pleased to inform you that we have prepared a special afternoon tea set for adults and girls that we imagined.
https://www.grandginza.com/news/news-1503/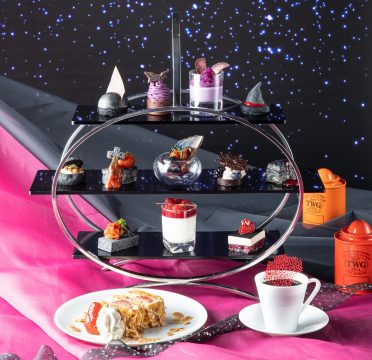 Limited plan from September 16th (Thursday) to October 31st.
We have prepared a special afternoon tea set for adult girls who imagined a beautiful witch running in the night sky to a person hidden in her heart on a starry night on Halloween.
Enchant everyone with Halloween-like desserts such as "Spider's Nest Griot Cherry Mousse" and "Witch hat style macaroons" produced by chef's whole savory and pastry chef such as "Foigra and Cassis Gateau Tailoring" and "Bamboo Charcoal Kish Rich Tomato Sauce" I invite you to a moment. We also have a lineup of strawberry millefeuilles that reproduce the recipe of the well-established French restaurant "Ginza Maxim's de Paris", which is a classic afternoon tea of ​​THE GRAND GINZA and has always been popular. ..
---
---
A gem of afternoon tea experience where you can enjoy a total of 18 types of drinks, including 13 types of TWG tea, to coincide with Halloween.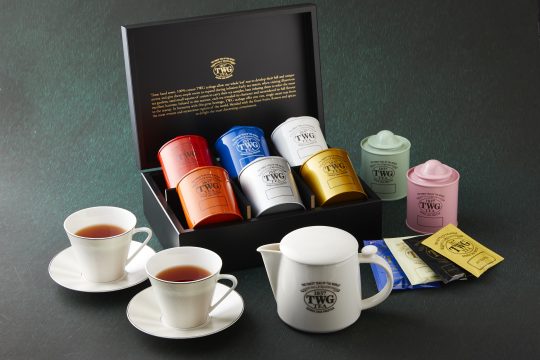 ・Food & sweets menu
■ Amuse <br /> Black sesame hot chocolate
■ Food・ Gato tailoring of foigra and cassis ・ Conchiglie of mussels and squid ink ・ Bamboo charcoal kiss Rich tomato sauce ・ Marine of red mousse and shoe rouge ・ BLACK shoe dough ragoo sand ・ Bamboo charcoal bread and ratatouille open sand
■ Dessert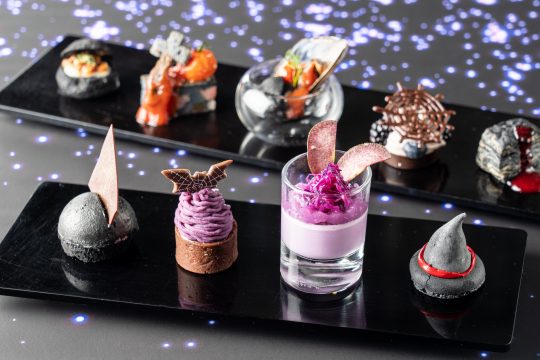 ・ Black marble scone and red sauce ・ White panna cotta Franboise sauce ・ Spider's nest griot cherry mousse ・ Black sesame dark mousse ・ Purple potato Mont Blanc ・ Witch hat style Macaron
■ Strawberry Millefeuille <br /> Reproduced with the recipe of Ginza Maxim! Strawberry millefeuille (half size)
[DRINK MENU]
Drinks are offered in a cafe freestyle where you can enjoy as much as you like for 3 hours from the following 18 types of items.
For tea, we offer TWG, one of the world's leading luxury tea brands from Singapore.
We have 13 kinds of tea such as "1837 Black Tea" which is a representative of TWG.
・ Coffee (hot / ice)
・ American coffee, espresso, latte (hot / ice)
·cappuccino
【price】
Afternoon tea set: 5,082 yen (4200 yen excluding tax and service charge)
Afternoon tea set with a glass of champagne: 6,292 yen (5200 yen without tax and service charge)
* Please note that we cannot provide alcohol during the state of emergency.
・ About THE GRAND GINZA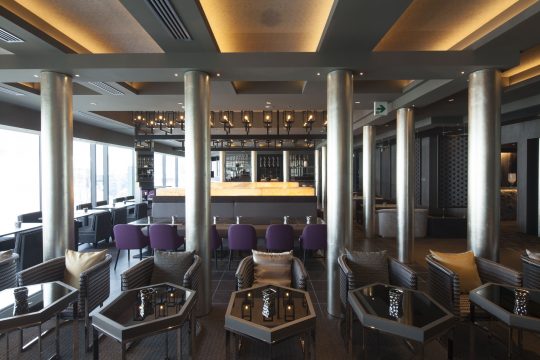 "Ginza" is a city that preserves the old, sublimates the new, and always sends out tradition and cutting edge.
GINZA SIX THE GRAND GINZA, which operates on the top floor of about 1,500 m2, wants to enrich the lifestyle by experiencing not only "things" but also "things" in Ginza. It is a transmission base in Ginza centered on such food.
■ THE GRAND GINZA Click here for details
https://www.grandginza.com/cms/
■ Click here for Instagram of THE GRAND GINZA
https://www.instagram.com/the_grand_ginza/
・ About VMG HOTELS & UNIQUE VENUES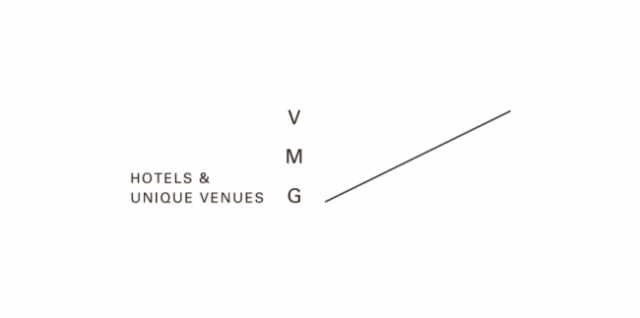 Based on the concept of "a place where you can meet times you haven't seen yet," we have positioned it as a new brand of unique venues and hotels that utilize historical buildings operated by our company. We aim to provide an opportunity to realize the richness of our hearts by providing personalized hospitality.
Brand site: https://www.vmg.co.jp/
■ About our company Under the theme of "spinning Japanese culture," we are working to regenerate historical buildings such as cultural properties and townscapes through businesses such as accommodation facilities, restaurants, and weddings, and leave them for posterity. Currently, we operate 24 facilities mainly in Kansai, and so far we have regenerated more than 30 facilities.
Company name: Value Management Co., Ltd. Established: February 14, 2005 Representative Director: Atsushi Rikino Capital: 30 million yen Location: 4-20, Ofuka-cho, Kita-ku, Osaka-shi, Osaka Grand Front Osaka Tower A 17th floor business Contents: Business revitalization consulting business, new business development support, business management (management and management of wedding venues and accommodation facilities)
Sales: 5.95 billion (FY12 / 20)
Number of employees: 881 (including part-time workers)
URL: https://www.vmc.co.jp/