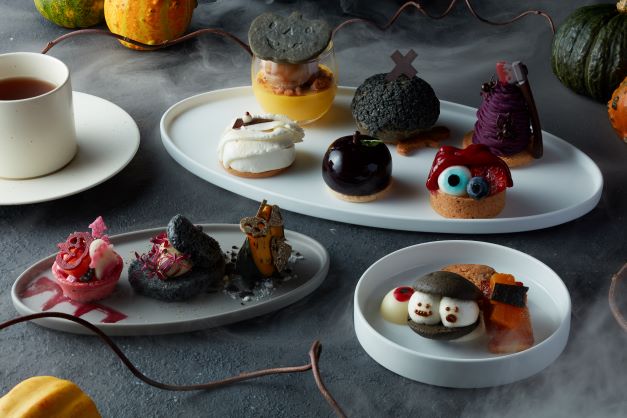 October 1st (Friday) -October 31st (Sunday) -Halloween weekend brunch that looks and tastes exciting with colorful ingredients is also available-
Located on Ginza Namiki-dori, the lifestyle hotel "Hyatt Centric Ginza Tokyo" (Location: 6-6-7 Ginza, Chuo-ku, Tokyo) is an afternoon tea where you can enjoy the annual Halloween cake set with daily small sweets and savory. , We will start offering in a new style. There will also be a Halloween weekend-only brunch that looks and tastes exciting with a ghost party motif.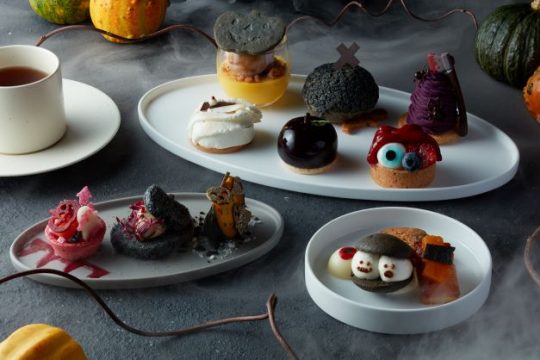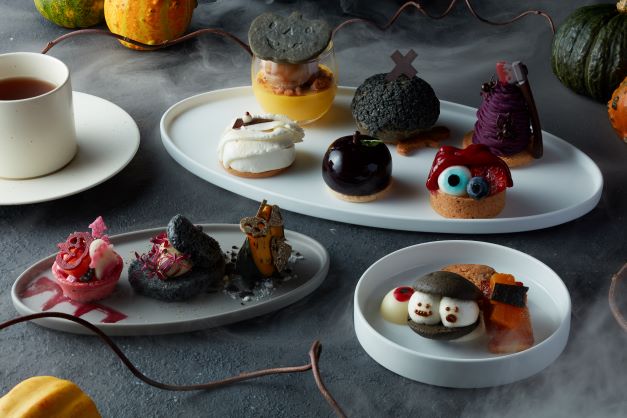 Halloween Afternoon Tea / Sweet Afternoon Tea
Every year, the popular Halloween cake set becomes an afternoon tea and new outfits are introduced.
Halloween Afternoon Tea is a place where you can fully enjoy the autumn afternoon with 3 types of savory, 6 types of sweets, daily sweets and free-to-drink coffee / tea. In addition to the popular cake set style, Sweet Afternoon Tea, which is only available on weekdays, offers several types of small sweets that change daily, so you can enjoy the sweets of pastry chef Ryuichi Osawa at a great price. .. In addition to coffee and latte, we will offer a renewed selection of teas for drinks that can be enjoyed together with sweets.
The new savory is a tart with sour cream and caviar that combines smoked salmon and beets, an open sandwich with a rich flavor of foie gras terrine and fresh cream, and a pumpkin with a truffle in the middle of a small pumpkin. You can enjoy the delicate taste unique to NAMIKI667 such as mousse.
Sweets deliver cute motifs such as Jack-o'-lanterns, poisoned apples, and eye-spots that make you feel as if you were at a Halloween party, along with the rich autumn flavors of pumpkin and purple potatoes.
Pumpkin pudding with caramel ice cream and cute Jack O Lantern cookies. Inside the black cream puffs baked black with bamboo charcoal, plenty of custard cream is packed, and under the shoes it is hidden as if waiting for Gingerbread man to find it. For purple potato Mont Blanc, squeezed a generous amount of fresh cream and thick purple potato cream on the meringue, and put spider chocolate on it. The poisoned apple tarte tatin contains cinnamon cream and is designed to be enjoyed by vegans. With a cassis coating, it looks like a poisoned apple reminiscent of a witch. Mommy mousse is a black tea mousse with cassis and raspberry jelly covered with vanilla-flavored cream. The eyeball berry tart is made by adding almond cream and baking it with berries and eyeball jelly.
And when it comes to Halloween, "Trick or Treat (If you don't give me some sweets, you'll be mischievous!)". Sour cherry is secretly hidden in one of the sweets as a mechanism of the playful "Choose Your Poison" only for this afternoon tea. Enjoy eating which item is in it. Please enjoy the prank with a feeling of excitement.
With the launch of afternoon tea, in addition to the standard cappuccino and latte, a new lineup of fragrant blended teas from NY's premium tea brand "HARNEY & SONS" will be added to the selection of free-to-drink coffee and tea. Join in. There are three types: "Hot Cinnamon Spice", a spice tea that allows you to enjoy the sweet scent of cinnamon, "Paris", which is fruity and fragrant, and "African Autumn", a caffeine-free herbal tea that blends cranberry and citrus scents.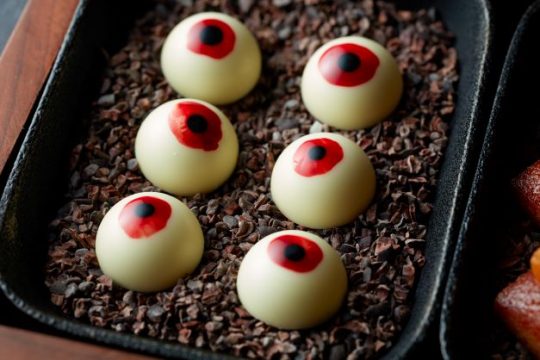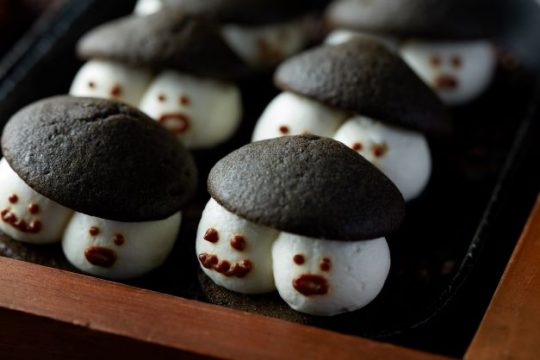 Contents:
・ Pumpkin pudding ・ Black cream puff ・ Purple potato Mont Blanc ・ Mummy mousse ・ Poisoned apple tart Tatan ・ Eyeball berry tart ・ Daily small sweets (black macaroons, chocolate chip cookies, pumpkin pound cake, raw chocolate, ghost marshmallows, etc.)
Smoked salmon and sour cream tart caviar (only available at Afternoon Tea)
・ Foie gras open sandwich (only available at Afternoon Tea)
・ Pumpkin truffle (only available at Afternoon Tea)
・ Coffee or tea
Offer price: Halloween Afternoon Tea ¥ 4,500 (tax included ¥ 4,950)
Halloween Sweet Afternoon Tea * Weekday reservations only ¥ 3,000 (¥ 3,300 including tax)
Offer period: October 1st (Friday) -October 31st (Sunday)
Offer time: 12:00 – 17:00 (LO16:00)
Details / Reservations: https://bit.ly/NAMIKI667AfternoonTea
* A 15% service charge will be added to the above price.
* The menu is subject to change depending on the purchasing situation.
Halloween Brunch
Just like a Halloween festival, we will offer an exciting special brunch menu using colorful ingredients and sauces only on Halloween weekends.
The marinade of fresh fish, which has the image of a Halloween party, uses fresh flatfish from Hokkaido, and the sauce is finished in a plate where you can enjoy the aroma and acidity of beets and yuzu. The mummy egg is a playful brunch dish that shows a poached egg made from rich potato puree with plenty of butter in a cute mummy. The ghost turnip, which uses sea bream and seasonal sweet buds, is served with a rich fish ju, which uses fish bones and heads. The Japanese black beef thigh used in the main skull and carrot is a purple carrot puree and rich red wine sauce with the theme of purple, which is the Halloween color, and you can enjoy the look and taste of Halloween. NAMIKI7667's special pumpkin pudding is a spooky dessert with seasonal fruits and sweets around a rich pudding.
Spend a relaxing morning at the brunch with the lovely ghosts.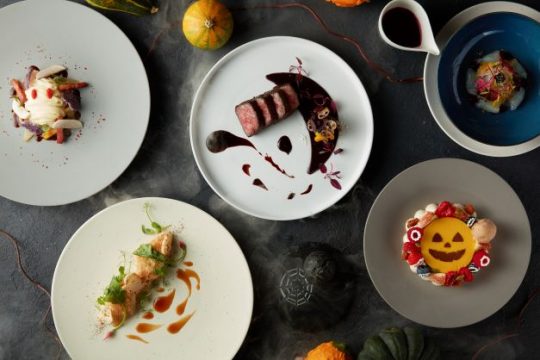 Contents:
・ Amuse Halloween Party (Marinated Fresh Fish Beets Caviar)
・ Mummy Egg (Poached Egg Potato Puree)
・ Ghost turnip (sea bream micro radish)
・ Skull & Carrot (Japanese Black Beef Thigh Truffle)
・ NAMIKI667 Pumpkin Pudding (caramel ice cream small confectionery)
・ Coffee or tea
Offer price: ¥ 6,000 (¥ 6,600 including tax)
* If you add a ghost turnip, ¥ 8,000 (¥ 8,800 including tax)
Offer period: October 30th (Sat) -October 31st (Sun)
Offer time: 11:30 – 14:30 (LO14: 00)
Details / Reservations: https://bit.ly/HalloweenBrunchNAMIKI667
* A 15% service charge will be added to the above price.
* The menu is subject to change depending on the purchasing situation.
About NAMIKI667 ■ Facility name: NAMIKI667
■ Location: 6-6-7 Ginza, Chuo-ku, Tokyo
Hyatt Centric Ginza Tokyo 3rd Floor ■ Chef: Toru Hirakawa
■ TEL: Reservation / Inquiry 03-6837-1300 (Reception hours 10: 00-22: 00)
■ URL: http://namiki667.com
■ Business hours: [Dining] Breakfast: 7:00 – 11:00 (LO 10:30)
Lunch: 11:30 – 14:30 (LO14: 00)
Dinner: 18:00 – 22:00 (LO21: 00)
[Bar & Lounge] 11:00 – 24:00 (Food LO 23:00 | Drink LO 23:30) *
■ Number of seats: [Dining] 102 seats / Private dining room: 2 rooms 24 seats / Terrace seats: 42 seats [Bar & Lounge] Counter 44 seats / Lounge seating: 22 seats / Terrace seats: 12 seats
[Dining area]
A show kitchen full of liveliness, a mellow scent that tickles the nasal cavity that can be poured from a large oven, and warm dishes full of the blessings of nature that incorporate abundant seasonal ingredients and seasonings unique to Tokyo and Ginza, "food" that you can enjoy with all five senses I invite you to. On the terrace along Namiki-dori, which is about 40 meters long, you can see the scenery of Ginza that changes from moment to moment depending on the time and season. The approximately 86 m2 private dining room (private room) and multifunction area can be used for a wide range of purposes. The bold and open atrium with typographic motif artwork and the interior woven with a wide variety of materials like Ginza, where various people come and go, create a special space.
[Bar & Lounge area]
As soon as you get off the elevator on the 3rd floor, you will see a bar counter with a total length of about 7m and a large staircase leading to the 4th floor where the bright red carpet is impressive. There is also a lounge area where you can relax and overlook the space. We offer a wide variety of drinks, from cocktails that enjoy the ingredients, such as unique and original signature cocktails that symbolize the Japanese taste. A popular cake set is also offered at cafe time. It is a cozy space that can be used properly according to the purpose.
* For the time being, the business hours will be changed as follows.
[Dining] Breakfast: 7:00 – 11:00 (LO 10:30) * Provided only by room service
Lunch: 11:30 – 15:30 (LO 15:00)
Dinner: Closed [Bar & Lounge] 11:00 – 17:00 (LO 16:30)
For the latest information, please visit our website:
https://namiki667.com/news/2021/01/hours.html
■ Hygiene measures <br /> At our hotel, the safety and health of our customers and employees are our top priorities.
We have strengthened hygiene measures (https://www.hyatt.com/ja-JP/hotel/japan/hyatt-centric-ginza-tokyo/tyoct/ ) so that you can use our services with peace of mind when welcoming guests. We will implement policies ) and pursue the provision of a safe and clean hotel life.
As part of hygiene measures, the restaurant will guide you to maintain the social distance of your seats.
We also recommend that you make a reservation in advance to prevent three-cs.
We ask for your understanding and cooperation.
At Hyatt, we are further strengthening our business guidance and resources regarding the safety and security of our customers and employees, based on our management philosophy of "spirit of care." For more information on "Global Care & Clean," a measure for Hyatt's new hygiene standards, visit Hyatt's official website (http://hyatt.com/care-and-cleanliness ).
About Hyatt Centric Ginza Tokyo "Hyatt Centric Ginza Tokyo" has landed for the first time in Asia on Namiki-dori, one of the representative streets of Ginza, Tokyo, where you can enjoy the city of Ginza in all directions. "Ginza" is a collection of world-class luxury brands, gourmet restaurants, and many long-established stores. As a new travel base in "Ginza" where old and new cultures intersect, as long as you are an "active traveler" who has an excellent antenna for travel, always pursues new discoveries at your destination, and is happy to share them with your friends. Supports no exploration. Follow @hyattcentricginza, @HyattCentricGNZ on Facebook , Instagram and Twitter.
■ Hotel name Hyatt Centric Ginza Tokyo | Hyatt Centric Ginza Tokyo
General Manager: Watanabe Uchiyama
■ Opening date
January 22, 2018 (Monday)
■ Interior Design Yohei Akao, Representative of Strickland Co., Ltd.
■ Location 6-6-7 Ginza, Chuo-ku, Tokyo
■ TEL
Representative 03-6837-1234
Accommodation reservation 03-6837-1313
■ Official website
https://www.hyatt.com/ja-JP/hotel/japan/hyatt-centric-ginza-tokyo/tyoct
■ Total floor area
11,905.23㎡
■ Hotel facilities Number of guest rooms: 164 guest rooms and suites 35㎡-127㎡
Dining facilities: Dining, Bar & Lounge 630㎡
Conference facility: Private dining room in the restaurant 86㎡
Others: Fitness gym 80㎡
■ Floor composition
1st floor entrance
3rd floor "NAMIKI667"
4th floor reception, library, fitness gym
5th-12th floor guest room underground parking lot (mechanical)
【access】
3 minutes walk from Tokyo Metro Ginza Station (Hibiya Line, Marunouchi Line, Ginza Line)
7 minutes walk from Yurakucho Station on the JR Line (Yamanote Line, Keihin Tohoku Line)
7 minutes walk from JR Shimbashi Station (Yamanote Line, Keihin Tohoku Line)
About 30 minutes by car to Haneda Airport / About 80 minutes by car to Narita Airport
About Hyatt Centric
Hyatt Centric is a full-service lifestyle hotel brand that is always in an excellent location. This hotel was created to invite experienced travelers who want to be at the center of various activities to an adventure journey full of new discoveries. While each hotel provides a place for guests to interact in the lobby, the on-site bars and restaurants serve as local hotspots for entertaining conversations, local taste-inspired menus and signature cocktails. .. The rooms are functional and modern in just proportion. Our passionate hospitality staff will welcome you with hot information on local food and nightlife. For more information, please visit hyattcentric.com. Follow @HyattCentric on Facebook and Instagram. We are also looking forward to posting photos with the hashtag "#HyattCentric" as a memory of your trip.
<Past related articles>
Paris-based globally active artist "itu'" collaborates with Hyatt Centric Ginza Tokyo! From Monday, May 24th, the hotel will be decorated with stools and pots colored in itu'color!
A special plan to commemorate the 3rd anniversary of Hyatt Centric Ginza Tokyo will be released on January 22nd (Friday)!
Hyatt Centric Ginza Tokyo 2nd Anniversary Dinner Plan "Special 2nd Anniversary Course" is now available for a limited time