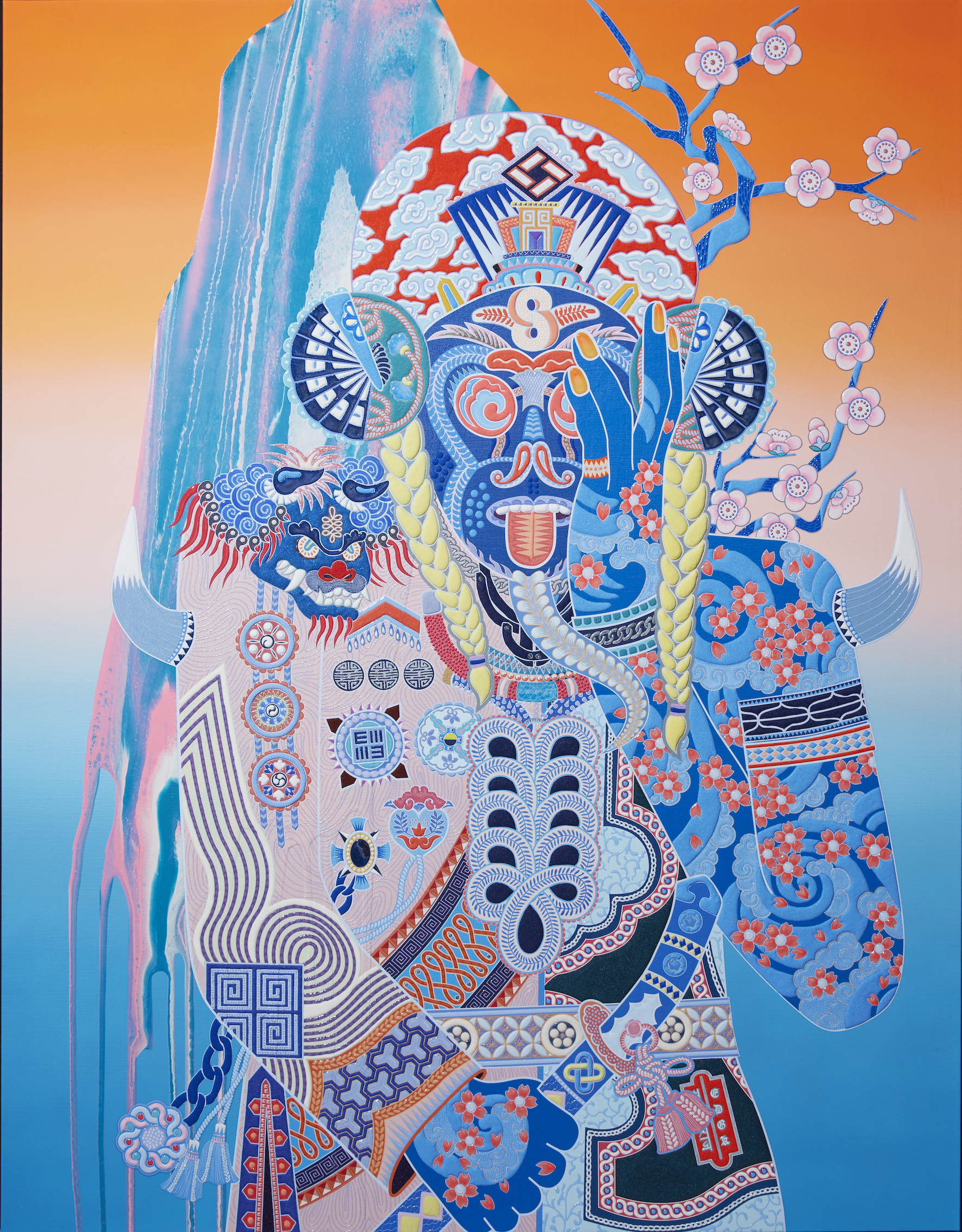 Kohei Kyomori, Flowing Forest god col.01, 2021, 116.7 x 91 x 5cm (F50)
Whitestone Gallery (Tokyo, Hong Kong, EC) will hold a solo exhibition "We can always talk here." By Kohei Kyomori from October 8, 2021.
https://online.whitestone-gallery.com/ja/pages/kohei_kyomori_exhibition
This time, we will exhibit the "FLOWING" series, which is a mastication of "Kacho Fugetsu".
And at the Ginza New Building, we are planning to carry out a viewer participation type project.
Please take this opportunity to experience Kohei Kyomori, a world-renowned contemporary decorator.
---
---
■ Details of the solo exhibition <br /> The basis of Kohei Kyomori's world is the constant exploration and reinterpretation of decorative arts from ancient times to east and west. We have unraveled and redefined the history of decoration that human beings have unfolded, and expressed the stories they contain in a plane. This exhibition, which will be his first solo exhibition at Whitestone, will feature not only new works and installations from the two series he has been working on in recent years, but also participatory works that will be a new initiative for Kyomori. Both are attempts to introduce a new bloodline into contemporary art.
Kohei Kyomori says that the reason why he is fascinated by decoration is "the strength of the visual power of decoration and the high density of the enormous amount of time poured by human hands." The exhibition title "We can always talk here." Suggests its potential as a visual language, the transcendence contained in individual decorations, and the disconnection due to differences in culture, language, time and race. The prospect is that everyone can have an equal and equitable connection in terms of overcoming and watching.
"Orientation to crossing and transcendence" appears in the form of Kyomori's creation. As an example, the series "FLOWING" exhibited this time is also a non-Western and Asian timeline, while chewing the natural feature "Kacho Fugetsu" unique to Japan in line with the present and giving it sensuality by dripping. -In the words of the writer, "cut out the best moment of the wave of time flowing from the future to the past, not from the past to the future, and fix it in the present" -forms a visual story. There, time is not something that overhangs humans, but rather something that comes in-a subject that can be faced and challenged.
On the other hand, the series "REP", which is a reincarnation of the seal from its origin, is a work of research that gives a bird's-eye view of the relationship between decoration and humans. Kyomori says that the seal is "the most simple symbol for human beings to express possession before the development of letters, and is an active activity that engraves one's own relationship with others and the world." By associating the role of the viewer with it, the work becomes participatory. Gaudi's Sagrada Familia is a remarkable embodiment of the decoration and the inseparability of the body. According to the writer, "It is magnificent, and it can only be obtained by the human beings themselves, and by the enormous amount of time that each human body has." For Kyomori, a decorative aura is not limited to the dimensions of color and composition, but can be born on a given extension of the human body. The magical power of the viewer will be greatly tested by actually participating with his own seal.
Kohei Kyomori always keeps in mind an ideological and seamless connection through art that is not tied to a particular context. For example, "FLOWING" presents a multidimensional worldview-a worldview that affirms the diversity of existence based on the original Japanese animism, while quoting the Noh masks that imitate the spirit of the gods. They also change the sense of distance from each other and suggest various alternative possibilities while drawing out the potential of art in the future, while being crushed by the demands of the times such as the renewal of technology and social conventions. .. Please take this opportunity to experience the world of Kohei Kyomori, who transforms the decorative culture and reconstructs it as an "open place for art."
■ Outline of solo exhibition
Date: October 8th, 2021 ~ October 30th, 2021 Venue Whitestone Gallery Ginza New Building Business Hours 11: 00 ~ 19: 00
Closed Sundays and Mondays Location 6-4-16 Ginza, Chuo-ku, Tokyo
Date October 8th, 2021st-October 30th, 2021 Venue Whitestone Gallery Hong Kong Business Hours 11: 00-19: 00
Closed days Sundays, Mondays and public holidays. (Except for special projects and events)
Location 7-8 / F, H Queen's, 80 Queen's Road Central, Hong Kong
Date October 8th, 2021st-October 30th, 2021 Venue Whitestone Online Gallery
URL https://online.whitestone-gallery.com/ja/pages/kohei_kyomori_exhibition
For the latest information, please contact the Whitestone Official Instagram Account
https://www.instagram.com/whitestonegallery.official/
(Search for "whitestonegallery.official" on Instagram)
■ Kyomori Kohei Profile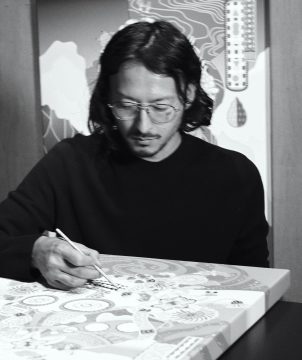 Kohei Kyomori aims to build his own visual language by reinterpreting the decorations found in all the sculptures of all ages, east and west, from a modern perspective and quoting them in two-dimensional works. Kyomori, who deeply sympathizes with the way the decoration itself is made by humans and appeals to someone's eyes, conducts thorough research on the role and nature of decoration in ceramics, architecture, clothes, seals, etc. I will make it into a work by a production technique rooted in a handicraft way of thinking. Kyomori's works, which are produced while looking back on the ideas and aesthetics of decoration and their history, are the value of modeling and expression as objects in the present age when human beings are increasingly using no hands due to the digital shift and leaving things, themselves. It presents an opportunity to re-question the fundamental human activity of creating something by the hands of.
Born in Ehime prefecture in 1985. Graduated from Marangoni Fashion Institute Fashion Master Course in 2008. Major solo exhibitions include "-REP.-" (BAF STUDIO, Tokyo, 2020) and "AWARE BI" (WATOWA GALLERY, Tokyo, 2020), and the main fairs are "Art TNZ" (TERRADA ART COMPLEX II, Tokyo, 2020). , "Hermes International Scarf Design Competition Grand Prix" (2020) and "Spiral Independent Creators Festival 20 Semi-Grand Prix" (2019).
■ About Whitestone Gallery
Since opening in Ginza, Tokyo in 1967, Whitestone Gallery has established itself as an art gallery that can compete with the rest of the world. In addition to domestic stores in Ginza and Karuizawa, we also have offices in Hong Kong (art complex building HK H Queen's) and Taiwan. Whitestone is one of Asia's most pioneering art galleries, introducing postwar Gutai art, contemporary artists, and up-and-coming young artists.
Company name: Whitestone Co., Ltd. Representative: Yukio Shiraishi, President and CEO Location: 5-1-10 Ginza, Chuo-ku, Tokyo 104-0061 Established: 1967
URL: www.whitestone-gallery.com
<Past related articles>
2021.5.18 (Tue) Whitestone Gallery launches online art sales
Group exhibition "Dimensions" where seven new artists show new possibilities