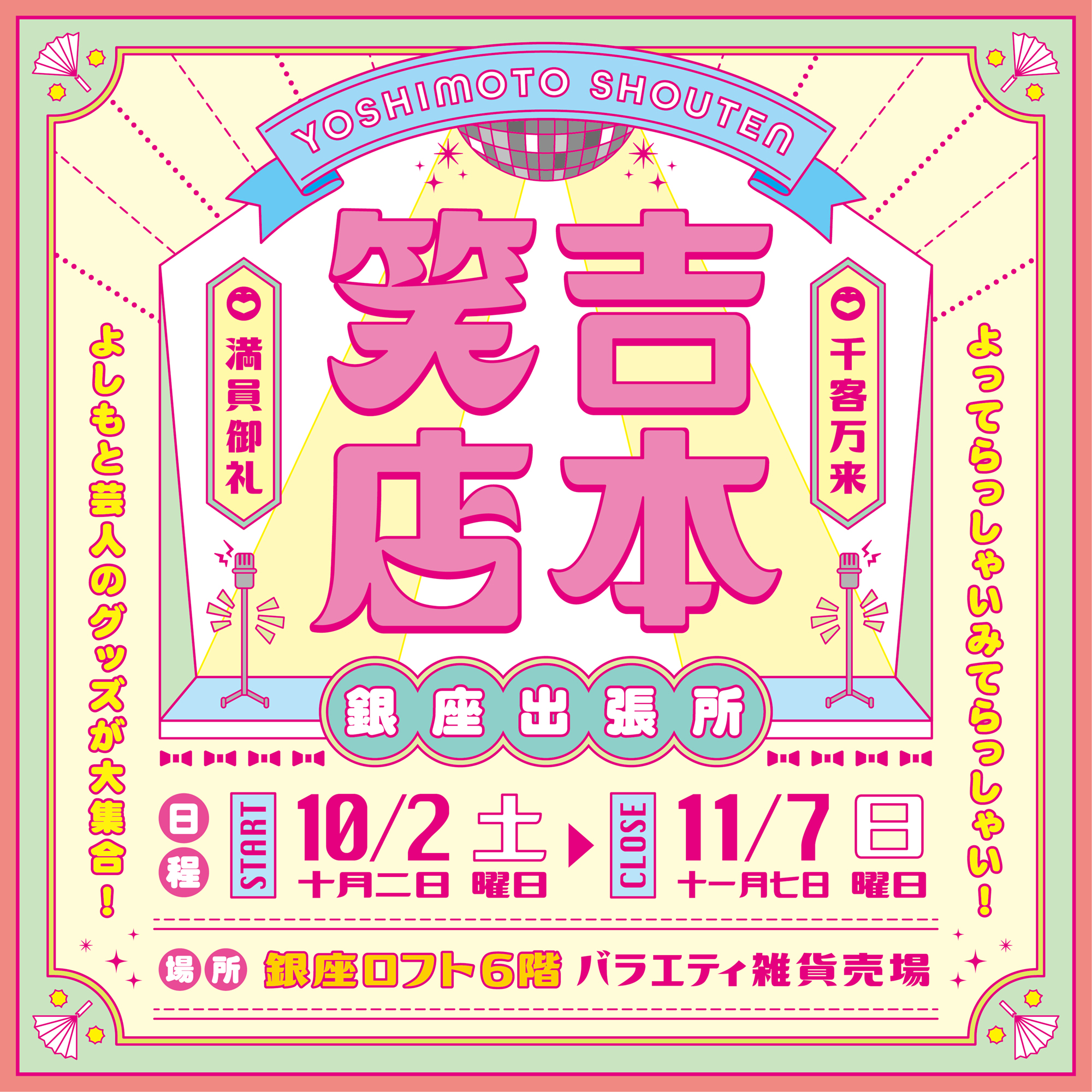 Apparel that combines laughter and art is also available
Ginza Loft will develop the designs of "laughter" and "entertainer" of Yoshimoto Kogyo Co., Ltd. (Chuo-ku, Osaka) as cute miscellaneous goods from Saturday, October 2, 2021 to Sunday, November 7, 2021. We will hold the "Yoshimoto Owarai Ginza Branch Office" where various entertainers' goods such as items from the brand " z akka YOSHIMOTO " will be gathered. In addition to three new products such as "Wagyu" from "zakka YOSHIMOTO", there are about 210 items such as the miscellaneous goods series "Contonomono" with the motif of conte, and the tote bag and parker of the apparel brand "DARE?" There are many types.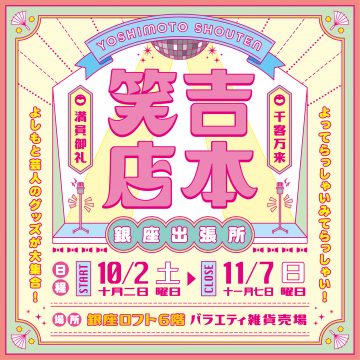 <[Yoshimoto Shoten Ginza Branch Office] Overview>
◆ Period: October 2nd (Sat) -November 7th (Sun), 2021
◆ Venue: Variety miscellaneous goods section on the 6th floor ◆ Number of products: Approximately 210 types
◆ Development entertainers: Einstein, Oide Yasuko, Onigoe Tomahawk, 3 o'clock heroine, Marbled Meisei, Gellerdon, Jaru Jaru, Suehirogarizu, Chocolate Planet, Nippon President, NON STYLE, Yuriyan Retriever, etc. (in alphabetical order)
◆ Product example: * All prices include tax

■ get used to smile, cute miscellaneous goods from "z akka YOSHIMOTO" concept
" Wagyu " , " Oideyasu Oda " , and " President of Japan " 3 sets of items ( 3 types ) are now available!
---
---
・New product triple acrylic charm All 3 types・ ・ ・ 1,430 yen
・New products A5 clear file All 3 types・ ・ ・ 550 yen
・New products All 3 types of tote bags・ ・ ・ 3,190 yen
■ The miscellaneous goods series "Tale Monomono" with the motif of Tale. A collaboration item between the tenugui brand "Nijiyura" and Yoshimoto.
・ Tenugui・ ・ ・ 1,760 yen Tenugui dyed with the traditional technique of injection dyeing, which originated in Osaka
・Take-out bag・ ・ ・ 2,200 yen Take-out bag using a towel
・ Key chain・ ・ ・ 770 yen
■ Apparel brand "DARE?" That fuses laughter and art. Some artists the entertainer rather than drawing with disabilities, originating as apparel items!
・DARE ? Tote bag・ ・ ・ 2,750 yen
■ "Onigoe Tomahawk Exhibition" of popular held in various places original goods also appeared
Punk Dolan Cars × Onigoe Tomahawk T-shirt … 5,500 yen
・ No good sticker・ ・ ・ 330 yen
■ Yoshimoto's Takoyaki shop "Yoshitako" items
・ Yoshitako Acrylic key chain・ ・ ・ 660 yen
・ Yoshitako Takoyaki Pouch・ ・ ・ 1,100 yen
・ Masking tape with Yoshitako can badge・ ・ ・ 550 yen
<Related article>
[Loft] A popular gelato shop in Sangubashi is now available! "FLOTO" POP UP SHOP held. Open for a limited time at Ginza Loft!
A limited-time pop-up of Snack Me, a collection of popular products | It will be held at Ginza Loft from September 1st (Wednesday)!
[Loft] The second in a series to re-edit the charm of Japan! "Super Markit! Island" focusing on 16 islands held at Ginza Loft