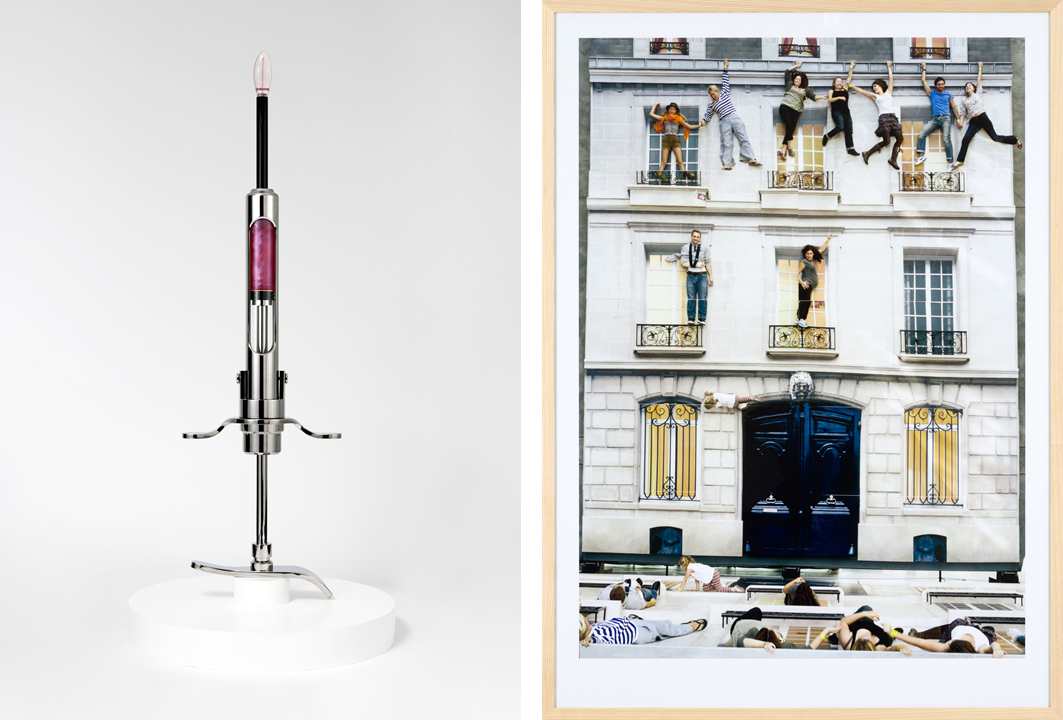 Left: "Lip Gloss" Tomomi Nishisaki 2020 photo by Hiroshi Noguchi, Right: "Batiment II" © Leandro Erlich 2004
Ginza Tsutaya Bookstore (GINZA SIX 6F, Chuo-ku, Tokyo) will hold a special exhibition "Survival Nature" that introduces 14 artists of various nationalities and ages from Saturday, November 13th to Tuesday, November 23rd. ) Will be held at the central event space GINZA ATRIUM in the store. The works exhibited at this exhibition will be on sale from November 13th (Sat) at the store and online.
·Overview
Ginza Tsutaya Bookstore is holding a special exhibition "Survival Nature".
This exhibition brings together works by a total of 14 artists of various nationalities and ages, from famous artists such as Christ and Leandro Erlich to young artists Naoharu Haruhara and Iku Hara.
This exhibition is entitled "Survival Nature", and with the keyword "life and nature", we will re-examine ourselves through art, and while facing the present era of experiencing the development of life engineering and pandemics, how humans will do in the future. Ask if you can survive.
Painters who continue to produce based on experiences in nature such as Naoto Haruhara and Natsuna Yasushi, Iku Hara who creates virtual forests on a computer and makes them into paintings, and the relief of pop trees. , Todo with glass sandwiched between the characteristic faces, and Masatake Kozaki, who looks like a mixture of future forecasts and flower paintings. In addition, we will exhibit the painting of Keiji Ishida, who has a strong narrative, and the work of Tomomi Akisaki, who creates a work on the issue of the boundary between beauty and medical treatment, which gives a glimpse of human nature.
In addition to Christo, who is a pioneer of site-specific works and whose packaging project for the triumphal return of Paris is new to memory, Leandro Erlich, Eco Nugrojo, Teppei Tsuchiya, Oskar Oiwa, Adele Abdesmed and others are set on their own. Introducing the participating artists of the International Art Festival (Setouchi International Art Festival, Oku Noto International Art Festival), you can see the works linked to the art festival sent from the ground in the center of Ginza.
Please enjoy the valuable exhibition including new works that you can enjoy the works of 14 real artists.
---
---
Special page | https://store.tsite.jp/ginza/blog/art/23234-1435421104.html
・ Introduction of exhibited and sold works
・ Artist profile (in no particular order)
Oscar Oiwa (Oiwa / Oscar)
Born in 1965. Based in NY, he draws a fantastic and colorful plane, including political and social criticism. Solo exhibition (2018) at 21st Century Museum of Contemporary Art, Kanazawa, currently exhibiting an isolation series depicting life in Corona at MOT.
Christo
1935-2020. A pioneer master who has continued a lifelong site-specific project to pack buildings and nature. This year after his death, the work of wrapping the Arc de Triomphe in Paris with canvas has finally been realized, and Christ's drawings and editions are attracting domestic and international attention.
Leandro Erlich
Born in 1973. In Kanazawa, we will set up an illusion that shakes perception by seeing the newly established KAMU Kanazawa, etc., including the pool works of the 21st century. Mori Art Museum solo exhibition (2018), permanent installation at Shiraiya Hotel in Maebashi.
Tomomi Nishisaki
Born in Tokyo, completed the Graduate School of Advanced Arts and Expressions, Tokyo University of the Arts in 2014. An up-and-coming artist who visualizes the social way of consciousness of beauty through beautiful instruments that seem to be between beauty and medical treatment.
Kana Kana
1975-2020. Yasushi has drawn colorful landscapes while experiencing the mountains and the sea with his body. Attracted attention at the Setouchi Triennale (2013) and MOT Annual (2014), and after his death, he is exhibiting a large installation at the Tokyo Metropolitan Teien Art Museum Special Exhibition (2020) and the Museum of Contemporary Art Tokyo.
Naoto Haruhara
Born in 1996. He mainly draws mountain scenery based on his mountaineering experience and sketches, and seeks various approaches such as three-dimensional works to go beyond the boundaries of Japanese painting while using ink and pigments. The most seasonal young artist, such as the Nikkei Nihonga Award Exhibition (2021).
Keiji Ishida
Born in 1975. After studying abroad in England, he invites viewers with a strong narrative oil painting, inspired by British picture books and pictorial books of the 1950s, to a world different from everyday life. This is his first solo exhibition at Art Front Gallery, and he is expected to play an active role in the future.
Adel Abdessemed
Born in 1971. Originally from Algeria, based in France, he is away from his homeland and deals with universal themes such as politics, history, life and death, but is a work rich in wit in various media. It has become known in Japan for the Venice Biennale (4 times), the Pompidou Center solo exhibition, and the Oku Noto Arts Festival, Tsumari, and Mori Arts Center Opening Exhibitions.
Teppei Kaneuji
Born in 1978. The existing context is replaced by connecting everyday images in a collage style using various materials. Participated in Yokohama Triennale (2020) and Roppongi Art Night (2018).
Masatake Kozaki
Born in 1972. Chimera-like flora and fauna scattered in the clouds and future vehicles fill the screen.
Produced a mural for Daikanyama T-SITE Anjin café (2011) and won the Nikkei Nihonga Award Exhibition (2021).
Bunpei Kado
Born in 1978. There are many works with a pop image that draw new meaning from unexpected combinations of everyday things. Received the 1st ccc AWARDS Grand Prix (2013).
Iku Harada
Born in 1982. Many of the works have a 3D virtual space on a computer drawn as a real painting, and the real world and the virtual space have an input structure, and present the viewer with an image of going back and forth between the two worlds.
Todo
Born in 1969. Known for his work of cutting Western and Japanese stones, inserting laminated glass into the cut surface, and polishing it. Recently, the rubble of the city has also been made into a work. Many collections at hotels in Tokyo, Kyoto, Taipei, etc.
Eko Nugroho
Born in 1977. An artist representing Indonesia. Produces planes and solids from a broad social perspective. Invited to the 2019 Setouchi Triennale, he installed in an unoccupied house.
・ About sales
It will be sold at the Ginza Tsutaya Bookstore store and the online art marketplace "OIL by Bijutsu Techo".
Store | Sales start from 11:00 on Saturday, November 13 Online | Sales start from 12:00 on Saturday, November 13
https://oil.bijutsutecho.com/gallery/730
・ Exhibition details
"Survival Nature"
Period | November 13th (Sat) -November 23rd (Tue), 2021
Venue | Ginza Tsutaya Bookstore GINZA ATRIUM (Event Space)
Admission | Free sponsorship | Ginza Tsutaya Bookstore cooperation | Art Front Gallery Inquiries | 03-3575-7755 (during business hours) /info.ginza@ccc.co.jp
Special page | https://store.tsite.jp/ginza/blog/art/23234-1435421104.html
・ Ginza Tsutaya Bookstore
We propose "living with art" by connecting art, Japan and living through books.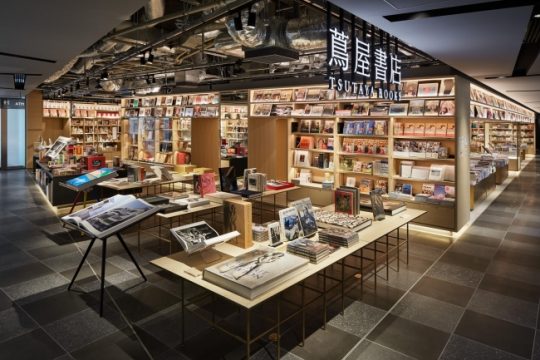 Address | GINZA SIX 6F, 6-10-1, Ginza, Chuo-ku, Tokyo 104-0061
Phone number | 03-3575-7755
Business hours | Please check the store homepage.
Homepage | https://store.tsite.jp/ginza/
Facebook | https://www.facebook.com/GINZA.TSUTAYABOOKS/?ref=bookmarks
Twitter | https://twitter.com/GINZA_TSUTAYA
Instagram |https://www.instagram.com/ginza_tsutayabooks/
・ CCC Art Lab
We are a planning group that conducts art-related business within the planning company Culture Convenience Club Co., Ltd. We would like to make art closer to us through "Proposals for a life with art" and contribute to making someone's life happier and creating a better society. Based on the knowledge cultivated through many years of business experience such as store planning, art media, product development and event production, we make planning proposals with a professional approach.
https://www.ccc-artlab.jp/
<Past related articles>
[Ginza Tsutaya Bookstore] The "Autumn Afternoon Tea Time" fair will be held from November 1st (Monday), which is a collection of works with animal and plant motifs and works with autumn colors. Introducing the works of 6 popular artists.
[Ginza Tsutaya Bookstore] The exhibition and sale of official modern prints by legendary fashion photographer Helmut Newton will begin on October 25th (Monday).
[Ginza Tsutaya Bookstore] Pierre-Elie de Piblack solo exhibition "Catharsis" will be held at THE CLUB from Saturday, October 16th.