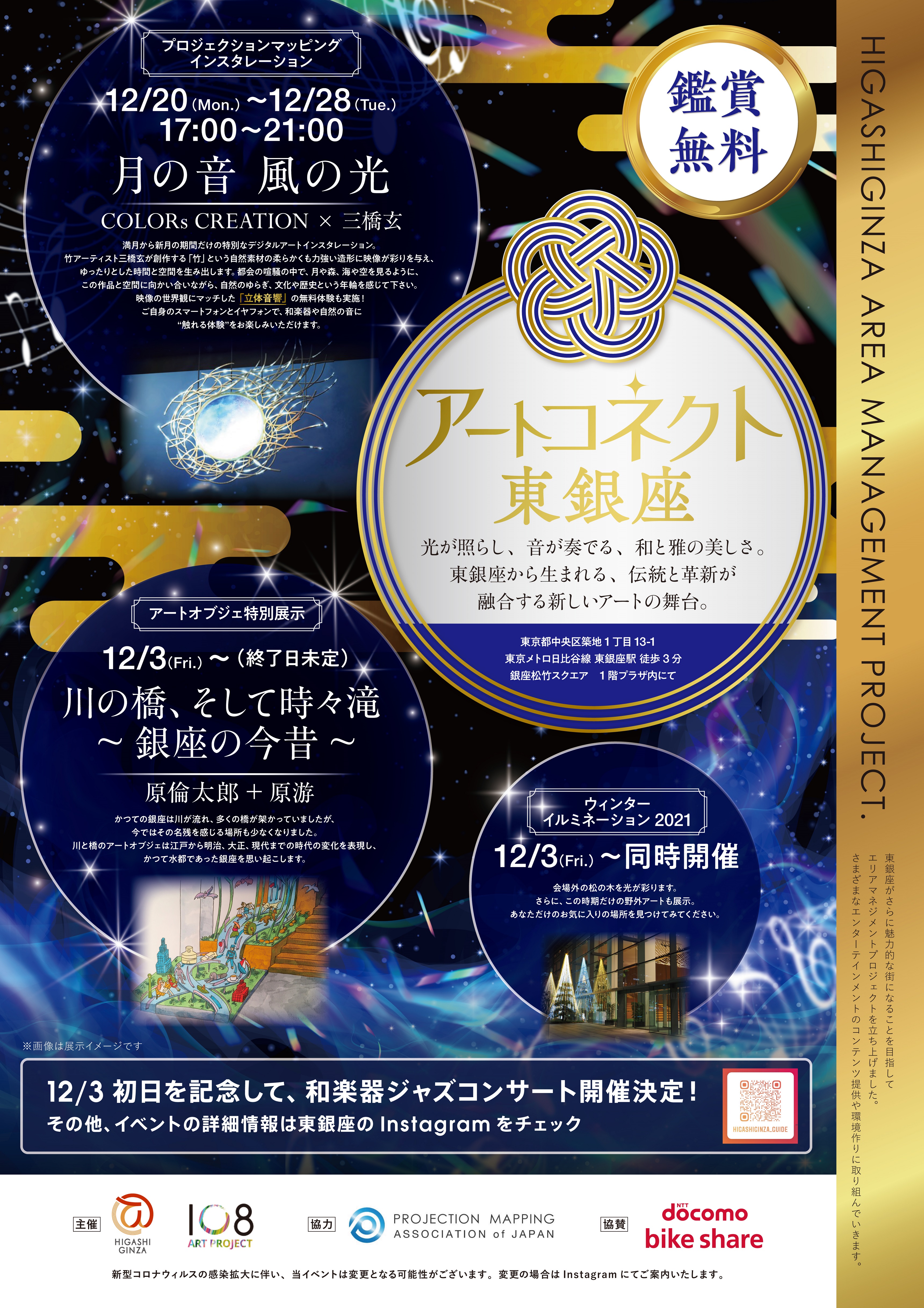 Reproduction art of Tsukiji River and projection mapping to screen made of bamboo art co-star
The Higashi-Ginza Area Management Project operated by Shochiku Co., Ltd. will hold "Art Connect Higashi-Ginza" from December 3, 2021 (Friday) at Ginza Shochiku Square together with 108 ART PROJECT.
In this project, we will exhibit two works, an art object and a projection mapping installation, with the concept of "connecting the present and the past with art". A new art stage will be born that will color the charm of historic Higashi-Ginza with light and sound, harmony and elegance.
---
---
* "Art Connect Higashi-Ginza" work introduction
Art exhibition "River bridge, and sometimes waterfall ~ Ginza's past and present ~" Rintaro Hara + Yu Hara 
<Date and time>
December 3, 2021 (Friday) -End date undecided * Free viewing
<Contents>
In the past, rivers flowed through Ginza and many bridges were built, but now there are few places where you can feel the remnants of it. The art objects of rivers and bridges express the changes of the times from Edo to the Meiji, Taisho and modern times, and remind us of Ginza, which was once a water city.
Rintaro Hara + Yu Hara <br /> An artist unit by Rintaro Hara, an installation artist, and Yu Hara, a painter. At the 2019 and 2020 " Water Play Expo'', there are many hands-on works that children and adults can play, such as developing a " Water Village'' where you can play by flowing a boat in the river, and in this work, the river is reproduced in the building. I will challenge a new project to do.
Projection mapping installation "Moon Sound Wind Light " COLORs CREATION x Gen Mihashi 
<Date and time>
December 20th (Monday) -28th (Tuesday), 2021 Every day from 17:00 to 21:00
* Free to watch the permanent screening during the time
<Contents>
A special digital art installation only during the period from the full moon to the new moon.
The image adds color to the soft yet powerful modeling of the natural material "bamboo" created by bamboo artist Gen Mihashi.
Creates a relaxing time and space. Feel the fluctuations of nature, culture and history while facing this work and space, as if you were looking at the moon, forest, sea and sky in the hustle and bustle of the city.
Gen Mihashi
Since 2005, he has been making huge bamboo sculptures with the theme of "shape of life". He is involved in a wide range of art and monument production at various events on the theme of region, culture, and history, and decoration of outdoor festival venues and stages such as the "Fuji Rock Festival," stores, and public spaces. Outdoor exhibition in France in 2017.
COLORs CREATION
One of the leading global creative companies in Japan, where top creators and artists in the media art and digital fields from Japan and overseas have gathered.
■ Special project ・ Free trial of 3D sound is also available!
At the venue, we will also deliver 3D sound that matches the world view of "Moon Sound and Wind Light" produced by Shochiku Video Center Co., Ltd. You can enjoy the experience of "touching" Japanese musical instruments and the sounds of nature with your own smartphone and earphones. (Japanese musical instrument performance: Shakuhachi / Masayama Hasegawa, Shinobue / Hikari Tamaki)
[Event Summary]
Title: Art Connect Higashi-Ginza Location: At the Plaza on the 1st floor of Ginza Shochiku Square (1-13-1 Tsukiji, Chuo-ku, Tokyo * 3 minutes walk from Higashi-Ginza Station on the Tokyo Metro Hibiya Line)
Date: <Art Object> From December 3, 2021 (Friday) <Projection Mapping> December 20, 2021 (Monday) -28th (Tuesday) 17: 00-21: 00
Organizer: Higashi-Ginza Area Management Project (Shochiku Co., Ltd.)
108 ART PROJECT (Secretariat: Yamashita PMC Co., Ltd.)
Cooperation: Projection Mapping Association
Event introduction website: https://www.higashiginza-area.com/event/
Higashi-Ginza Area Management Project Official Instagram (@ higashiginza_guide)
===== <Reference> Events to be held simultaneously at Ginza Shochiku Square =====
■ Winter illuminations
From December 3, 2021 (Friday) to mid-February 2022 (planned) * Lights up every day from 15:30
■ EVENIG CONCERT × Japanese jazz (free viewing)
Friday, December 3, 2021 Part 1 17: 15-17: 45 / Part 2 18: 15-18: 45
Performers: Masaki Nakamura (shakuhachi), Tomoyuki Ichinohe (piano), Minori Hagiwara (bass)