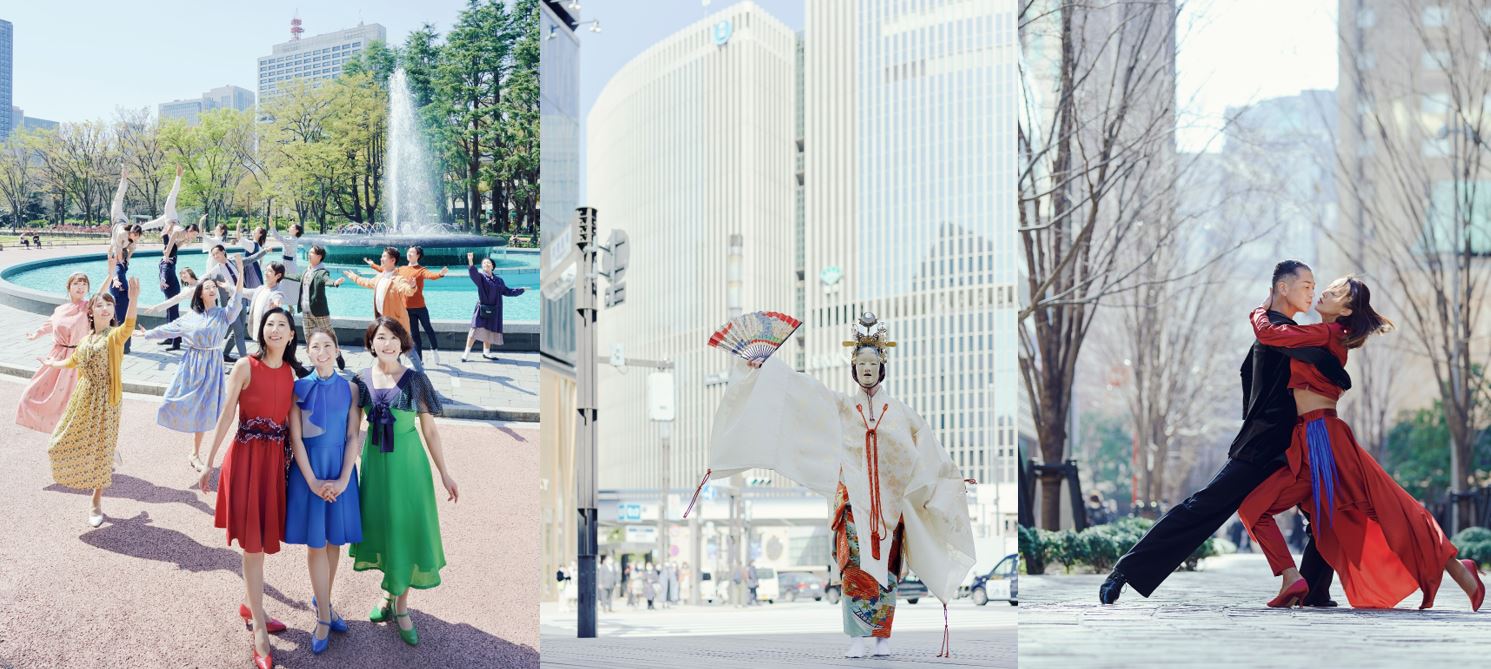 Amon Miyamoto's initiative Delivering performance videos recorded in the streets of Ginza and Hibiya
Tokyo Midtown Management Co., Ltd., which operates the Tokyo Midtown Hibiya, in "you NEXT artist! ~ With corona young support project -" for the purpose of talent excavation and dissemination of artistic culture and traditional arts in the corona epidemic, December 10 We will start recruiting "NEXT artists".
This project will create opportunities to perform in the cities of Hibiya and Ginza as a place for young artists who will lead the future to play an active role in the entertainment industry, which was greatly influenced by the Corona disaster, and will support the release of the video. It's a project. In the first activity, six leading artists who are active in various entertainment fields, including Ayaka Hirahara, who agreed with the thoughts of director Amon Miyamoto, gathered as "supporters" to share their thoughts on this project. We have released a YouTube video that talks about it.
■ First YouTube video
---
---
And as the second activity, this time, we will start recruiting "NEXT artists" who will be the protagonists of this project from December 10th. From the applicants, 15 "NEXT artists" who will be responsible for the future of each field will be selected. The selected "NEXT artists" are promised to perform in a performance video set in the city of Hibiya / Ginza with a full backup of the organizer, along with a performance fee of 100,000 yen .
In addition, each of the six "supporters", including Mr. Amon, has nominated "advisors" as powerful helpers to improve this project. Along with that, as the second YouTube video, we will release a talk session conducted by 6 advisors and Amon Miyamoto, the founder, to improve this project from today. In the talk session, in addition to the activities in Corona, the content will be to convey the future of online transmission, each member's thoughts on the city of Hibiya / Ginza and this project, especially for applicants. It is a content that can be a hint for application, so please have a look. The "advisor" will be involved in the screening of "NEXT artists" and support for this project in the future.
<What is the current state of the entertainment industry and what we should aim for in the entertainment industry after the corona disaster, which six advisors talk about>

■ The second YouTube video
[From the talk content]
Genkuro Hanayagi ・"If you can collaborate with long-established food and art galleries in Hibiya and Ginza, it will be a true festival that connects you to the city."
Takahiro Konagawa ・"It would be nice if a hit song was born from the Hibiya Festival (by the fusion of the city of Hibiya and music) like music and art."
* Video production and release may be scheduled to be changed, postponed, or partially canceled due to social conditions such as the spread of the new coronavirus infection.
"You are a NEXT artist! ~ With Corona Young Support Project ~" Application Guidelines
[Plan outline]
Six supporters who are active in the entertainment world and 15 "NEXT artists" are selected by the advisors nominated by each of them, with the aim of providing young artists who have lost the opportunity to perform or make presentations due to the corona. A plan to create a place of expression with special permission from the towns of Hibiya and Ginza (Tokyo Midtown Hibiya, Hibiya Park, Ginza stores, art galleries, etc.) to produce and transmit images. In the future, we are considering performing at the real venue of the annual event "Hibiya Festival" in Tokyo Midtown Hibiya, aiming for continuous support.
Organizer: Tokyo Midtown Hibiya, WM Co., Ltd.
Planning and production: WM Co., Ltd.
★ Photographed work publication destination: HIBIYA FES CHANNNEL (Hibiya festival channel) ・ Official YouTube URL
https://www.youtube.com/channel/UCR40B9BK-oyQT4si4slhJPg
【Qualification requirements】
✔ Those who are aiming to become professionals, those who are similar to professionals, those who have experience of appearing in paid live concerts by spectators (those who belong to the office can also apply)
✔ Those who have been affected by the corona disaster, such as having to suspend the performance ✔ Those who are up to 40 years old as of January 1, 2022 ✔ Those who are not Japanese nationals have a status of residence ✔ 2022 Those who come to shoot in Hibiya / Ginza during the shooting period from mid-February to the end of February
[Information required when applying]
✔ Name / contact information of representative, affiliated office (if affiliated)
✔ YouTube link for performance video (up to 5 minutes) (Limited Release)
✔ Past appearances, website and SNS URLs (if any), PR points (200 characters)
✔ What kind of influence did the Corona disaster have on the artist's activities?
Please prepare the above information and apply using the form below.
* Detailed information including other precautions for application will be released on the Tokyo Midtown Hibiya official website by December 10. Please be sure to read it before applying.
URL: https://www.hibiya.tokyo-midtown.com/next-artist
【schedule】
■ Recruitment of artists: December 10, 2021 to January 11, 2022 10:00 ■ Result announcement: Early February ■ Shooting period: From mid-February to the end of February
POINT!
(1) Professionals from various fields will judge. (2) It is possible to take special pictures of works at famous places in Hibiya and Ginza that cannot be used normally. (3) There is a possibility of appearing at the "Hibiya Festival" real venue held every year during Golden Week!
NEXT Artist Jury Supporter Advisor
<Advisor>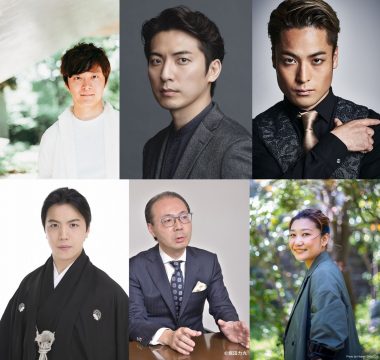 ~ From the top left ~
Takahiro Konagawa (Music Producer / Guitarist / Keyboardist)
Ryuji Kamiyama (actor)
FISH BOY (dancer / choreographer)
~ From the bottom left ~
Genkuro Hanayagi (Japanese dancer)
Koichi Iriyama (classical music producer)
Yoshie Kurisu (Chairman of NPO Slow Label / Producer of SLOW CIRCUS PROJECT)
<Supporter>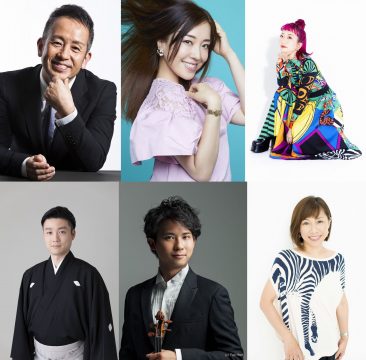 ~ From the top left ~
Amon Miyamoto (Director)
Ayaka Hirahara (singer-songwriter)
akane (choreographer)
~ From the bottom left ~
Kikunosuke Onoe (Japanese dancer)
Fumiaki Miura (violinist)
Anna Makino (LOVE JUNX representative / choreographer / performance director / talent training instructor)
As an event unique to Japan's Broadway "Hibiya", the event started in 2018 with the thoughts of "I want to release the heat of the theater to the city!" And "I want to make it a city where you can enjoy entertainment with the sky and greenery!"
The Sunday Festival is a theater festival where you can enjoy performance stages such as musicals, Japanese dance, opera, and dance for free in the open air, along with the greenery and nature of the city. From this year, we have established an online venue as the first attempt at the Sunday Festival so that more people can enjoy it.
[HIBIYA FES CHANNEL Official YouTube]
https://www.youtube.com/channel/UCR40B9BK-oyQT4si4slhJPg
"Hibiya Festival", a theater festival where you can experience the greenery of the city
Organized by: Tokyo Midtown Hibiya / Hibiya Area Management Co-sponsored by: Japan Performers Association / General Incorporated Foundation Culture Vision Japan Cooperation: Toho Co., Ltd./Shotake Co., Ltd./Nissay Cultural Promotion Foundation (Nissay Theater) /
Hibiya Matsumotoro Co., Ltd./Sanriku International Art Promotion Committee / Japan Folk Performing Arts Association /
Tokyo Art & Live City Initiative Executive Committee Support: Chiyoda Ward * Above, 2021 results
Contribution of Mitsui Fudosan Group to SDGs <br /> The Mitsui Fudosan Group is based on the principles of "coexistence and coexistence," "connection of diverse values," and "realization of a sustainable society." Aiming for a prosperous society, we are promoting business promotion that is conscious of environment (E), society (S), and governance (G), that is, ESG management. By further accelerating the ESG management of the Group, we believe that we can greatly contribute to the realization of "Society 5.0" advocated by the Government of Japan and the achievement of "SDGs".
* The efforts of this release contribute to two goals in the SDGs (Sustainable Development Goals).
https://www.mitsuifudosan.co.jp/corporate/esg_csr/
Goal 11 Aiming to create a city where people can continue to live Goal 17 Let's achieve the goal through partnership