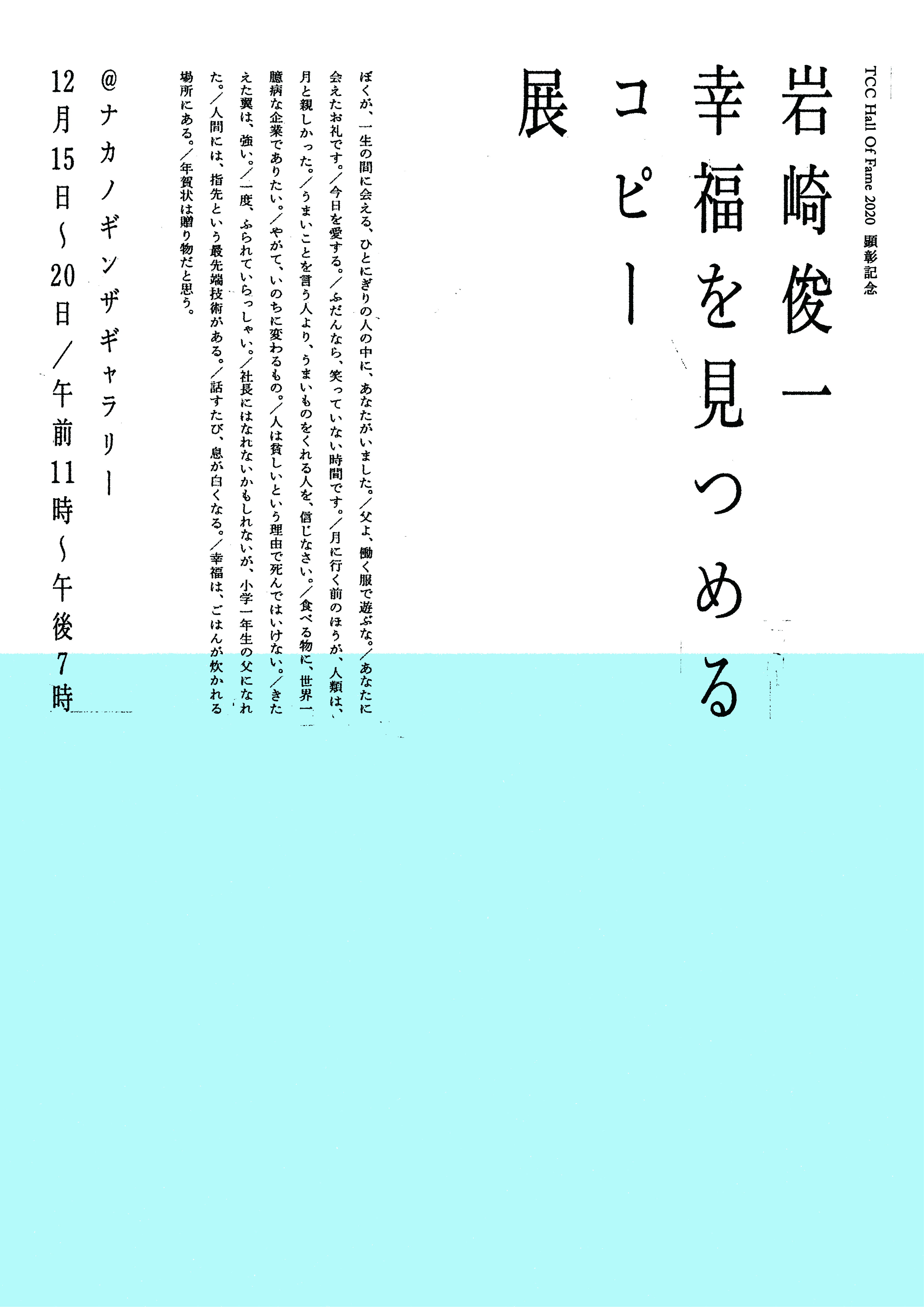 The Tokyo Copywriters Club (abbreviated as TCC, Chairman Masakazu Taniyama) commemorates the late Shunichi Iwasaki's 2020 Tokyo Copywriters Club Hall of Fame "TCC Hall of Fame" award from Wednesday, December 15, 2021. "Shunichi Iwasaki Copy Exhibition for Happiness" will be held at Nakano Ginza Gallery on December 20th (Monday).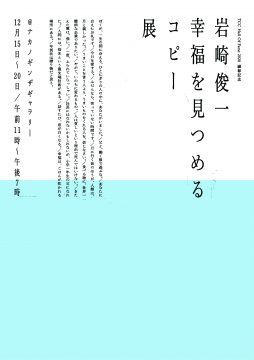 "Thank you for meeting you." (Suntory), "I think the New Year's card is a gift." (Postal service), "I love today." (Lion), "In time for the 21st century." (Toyota Motor Corporation) ), "Soon, things that will change in life." (Mizkan), "I think Japan will change when the number of beautiful 50-year-olds increases." Mr. Shunichi Iwasaki who left a copy and had a strong influence on the younger generation.
In this exhibition, Okamoto's copywriter and former disciple Okamoto, who has worked with Shunichi Iwasaki's office, from among his more than 600 works remaining in "Copy Yearbook" (published by Sendenkaigi). We will display masterpiece copies selected by Kinya and his second daughter, Aya Iwasaki, a copywriter of SUN-AD. In addition to Kinya Okamoto and Aya Iwasaki, art director Takayuki Soeda and CM planner Taku Tada will be invited to talk about a rare copywriter called "Shunichi Iwasaki" during the session. An online talk event is also held. In addition, art directors Kaoru Katsura, Masatsugu Kiyotsugu, Takayuki Deputy, Tomohiko Nagakura, and Tomoaki Hito, who was in charge of the art direction of this exhibition, will be presenting for this exhibition. Goods such as postcards specially designed for will also be on sale.
This exhibition is a collection of countless copies spun by Mr. Iwasaki, who said, "All advertising copies are written in the hope of human happiness." Please take this opportunity to appreciate it again.
---
---
■ Outline of the event <br /> Date: December 15th (Wednesday) to 20th (Monday), 2021
Opening hours: 11:00 to 19:00 (until 14:00 on the last day 20th)
Admission: Free Venue: Nakano Ginza Gallery 1-21-4 Ginza, Chuo-ku, Tokyo
Organizer: Tokyo Copywriters Club
■ Shunichi Iwasaki Biography <br /> Copywriter and creative director. Born in Kyoto in 1947. After graduating from Doshisha University, after working at Leman and Madra, established Shunichi Iwasaki Office in 1979. Major works include "I think New Year's cards are gifts." (Japan Post) "I think Japan will change when the beautiful 50-year-old grows." (Shiseido). He has received many awards including TCC Award, ACC Award, Galaxy Award Grand Prize, Yomiuri Advertising Award, Asahi Advertising Award, Mainichi Design Advertising Award, Nikkei Advertising Award, Cannes International Advertising Award and others. His books include "Copy for Happiness" (Tokyu Agency) and "Adult Lost Children" (Kosaido Publishing).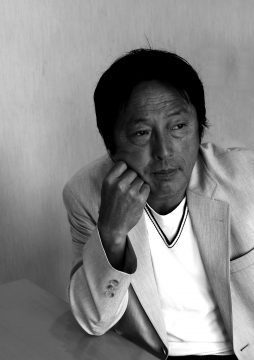 ■ Online talk event "Three nights talking about Shunichi Iwasaki"
Please see the link of each petix for application and details. Advance reservation is required.
Participation fee: Viewing ticket 1,000 yen Venue ticket 1,500 yen (Limited to 10 people each time / with souvenirs * Venue tickets have reached the capacity each time )
----------------------------
Wednesday, December 15th, 20: 10-21: 30 http://ptix.at/uo6yEn
First night: Mr. Soeda, the night paneler who talks about Shunichi Iwasaki for the first time Mr. Takayuki Soeda × Mr. Kinya Okamoto
Shunichi Iwasaki loved Takayuki Soeda. To Mr. Soeda, who has teamed up with various jobs such as Tombow Pencil, LION, Doutor, etc., there are endless stories about memories, Iwasaki's theory unique to Mr. Soeda, and the postcards he made this time. overnight. "I feel like I'm running out of time …" (Okamoto)
Friday, December 17th, 20: 10-21: 30 http://ptix.at/SeKlxU
Second night: What kind of person was Shunichi Iwasaki in the eyes of Mr. Tada? Panelist Taku Tada x Aya Iwasaki
Taku Tada is always at the forefront of the times. The person who freely crossed new expressions and ways of communication was the existence of "the opposite of my father" from the eyes of Aya Iwasaki. However, one day, a single email from Mr. Tada tells her about the connection between the two. The second night when two people meet for the first time, meeting through Shunichi Iwasaki. "This is exciting" (Aya)
Saturday, December 18th, 20: 10-21: 30 http://ptix.at/rFaM7P
Third night: Let's talk tonight, Kinya Okamoto x Aya Iwasaki Progress: Kunihiko Mishima
In fact, both of them used to work as "brothers / sisters" at the Shunichi Iwasaki office. An unknown episode told by two people who are "Shunichi's relatives", an episode with disciples, a feeling for Shunichi Iwasaki who can say "I can say it now", etc. Talking, talking, talking, a little gentle final night.
----------------------------
<About watching live events>
・ Events will be streamed live on Vimeo or YouTube Live.
・ The live distribution start time will be 20:00. (The event start time is 20:10) The delivery URL will be sent to the registered email address at 19:00.
・ You can watch from a computer, smartphone, or tablet that has an internet environment.
* Tickets cannot be purchased from 19:30.
* Recording during the event is strictly prohibited.
(Sharing URLs, uploading to SNS, etc. is prohibited)
* For those who cannot watch online on the day, there will be an archive distribution for about one week from the start of distribution.
* Panelists may not be able to participate in a hurry or may change due to various circumstances. Please note.
■ Organizer Tokyo Copywriters Club ■ Contact: TCC Secretariat 03-5774-5400/office@tcc.gr.jp
<Past related articles>
[Ginza Tsutaya Bookstore] Chiho Hayashi's exhibition "DREAM-POOL" will be held at Artwall Gallery from Saturday, November 6th.
YOSEIDO Ginza store will hold a new sense of "delivery" and "real" "dual gallery" from July 31st as an event to commemorate the 1st anniversary of its opening! You can view and purchase your work on your smartphone and PC from anywhere in Japan!
Photographer Daisuke Kiyota's solo exhibition "-Dark Beauty-" will be held at Fuji Photo Gallery Ginza from September 3rd to September 9th, 2021. After the exhibition, there will be an online exhibition in VR for one year!