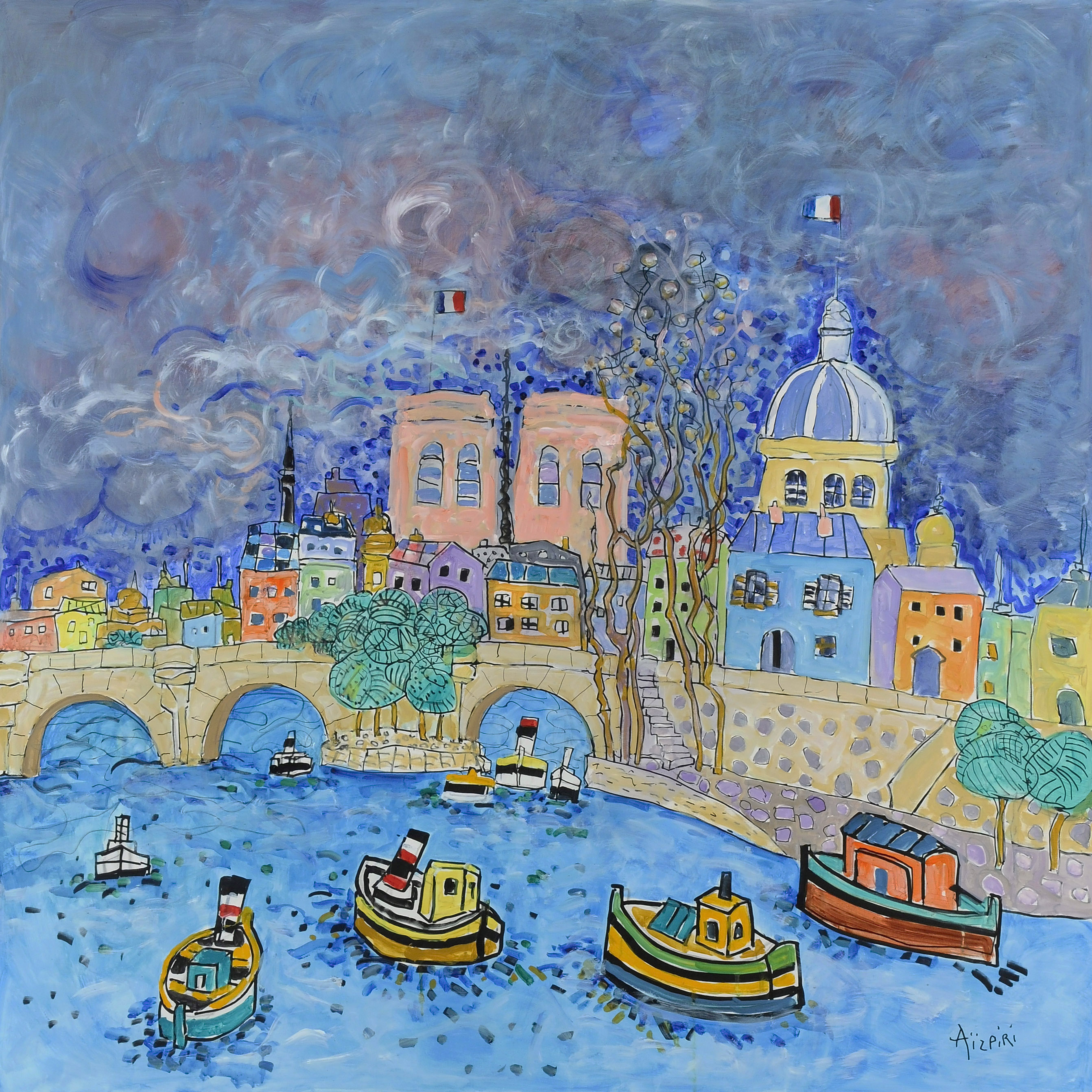 January 29th (Sat) -February 20th (Sun), 2022
This time, Galerie Tamenaga will hold an exhibition of Paul Aizpiri (1919-2016) at the Tokyo store for the first time in three years.
When it was held three years ago, Galerie Tamaga celebrated its 50th anniversary. The Aizpiri exhibition was the first exhibition to celebrate its 50th anniversary and was very well received. Being one of the representative artists of this gallery, we are proud of one of the best collections, and this exhibition will also exhibit about 40 diverse works from the beginning to the end of the year.
---
---
Paul Aizpiri's work is often referred to as the dream world.
"I love this ridiculous unreality. There is something I'm attracted to." With that said, the motifs that Aizpiri created by Aizpiri happily heading to the canvas are freedom and love itself.
And even after he was 90 years old, he said, "I don't want to be inspired by books, so I create expressions in my own way. The little animals of Aizpiri from my world. I'm happy. What's more, thanks to this kind of thing, I can express both illusion and happiness. " It was Kiyoji Asanaga who continued to walk together for more than half a century.
When I'm in Paris, I go to the atelier almost every day and get seriously into the painting. Inspired by the painter, he continued to develop a lively and romantic world with his creativity. Such Aizpiri's work is full of joy for life and envelops the viewer with a sense of happiness.
Born in Paris to a sculptor's father and an Italian mother of Basque's family, Aizpiri began to paint naturally from an early age and entered the Ecole des Beaux-Arts at the age of 17. After that, he was recommended as a member of Salon d'Automne at the age of 26, and in 1951 he won the National Grand Prize of the Venice Biennale, and his talent has been highly evaluated since he was young.
The popularity of the work is deep-rooted, and it is held in museums in Europe and the United States such as Belgium and the Netherlands, including the Paris Municipal Museum of Art. , Is loved all over the world.
We would like to take this opportunity to take a look at this exhibition.
Exhibition Overview [Paul Aizpiri Exhibition]
Date: January 29th (Sat) -February 20th (Sun), 2022
Venue: Galerie Taménaga 7-5-4 Ginza, Chuo-ku, Tokyo
TEL: 03-3573-5368
Time: Mon-Sat 11: 00-19: 00
Sundays and public holidays 11: 00-17: 00
web page:
https://www.tamenaga.com/exhibitions?exhibition=exhibitions
<Past related articles>
Information on holding "120th Anniversary Ogisu Takanori Exhibition" at Galerie Taménaga (Ginza, Tokyo)
Guidance for holding "Human Eight People Exhibition that Fascinates Pari"
Information for Galerie Tamaga "Lorenzo Fernandez Exhibition"
Guidance for holding "Tamihito Yoshikawa Exhibition" for Galerie