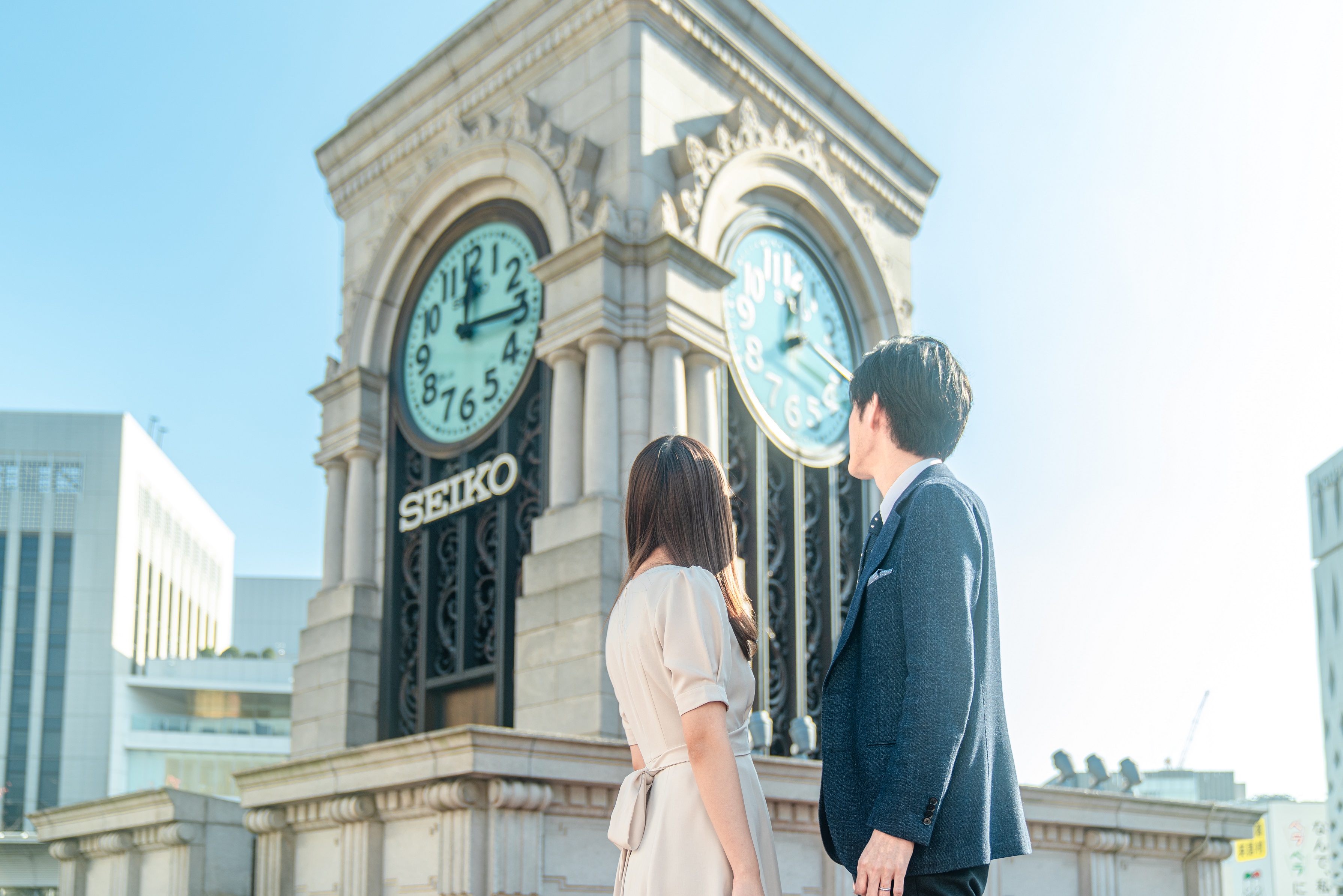 A chance to take a commemorative photo at the new rooftop clock tower!
Wako Main Store is known as a landmark in Ginza. The clock tower is the second generation and was completed in 1932. This year 2022 is 90 years since its completion and 75 years since Wako Co., Ltd. was established.
To commemorate the 90th anniversary of the clock tower and the 75th anniversary of Wako, Wako presents the Wako card for two days, June 18th (Sat) and 19th (Sun), and purchases over 55,000 yen including tax in one day. We will take a commemorative photo with a photographer in front of the clock tower of "Seiko Sky Garden" on the roof of the new Seiko House Ginza.
Why don't you take this opportunity to take a picture of your memories on the rooftop where you can't usually go up.
■ Clock Tower 90 years: Seiko Sky Garden Clock Tower Commemorative Photo <br /> Date: June 18th (Sat), 19th (Sun) 11: 00-18: 00 (reception hours until 17:30)
Location: Seiko Kai Garden Conditions: Purchase on the day 55,000 yen or more including tax (receipts can be added)
◎ Reservation and unpaid reservations are not eligible. Target stores: Main store, Annex, Grand Seiko Boutique Ginza, Seiko Dream Square, Seiko Prospex Boutique Ginza
◎ Those who enrolled in the Wako Card on the day are also eligible.
Click here for Wako cards.
https://www.wako.co.jp/member/
◎ It may be canceled depending on the weather. In case of cancellation, we will inform you on the Wako website.
◎ Please use the stairs to reach the Sky Garden.
◎ It takes about 5 to 10 minutes for each group. However, please wait when it is crowded.
◎ Up to 4 people per group.
Seiko House Ginza 6th Floor Seiko House Ginza Hall is holding "Seiko Harmony-12 Sounds Played by Takumi's Techniques". With the theme of 12 sounds related to "Takumi no Skill", the sound of the clock ticking precisely, the sound of the table clock that conveys the ancient water clock to the present, and the sound of the scissors that the tailor cuts out the graceful line, etc. Please enjoy the sound installation that you can feel the harmony with.
■ Seiko House Ginza Opening Memorial: Seiko Harmony-12 Sounds Played by Takumi's Techniques- <br /> Date: June 10th (Fri) -19th (Sun) 10: 30-19: 00 ( (Until 17:00 on the last day)
Location: Seiko House Ginza 6th Floor Seiko House Ginza Hall
◎ Free admission (priority is given to advance reservations)
◎ Click here for advance reservations.
https://seiko-harmony.zaiko.io/e/event
◎ The name of Wako Hall was changed to Seiko House Ginza Hall on June 10th (Friday).
home page
https://www.wako.co.jp/
Clock tower 90 years special site
https://9075.wako.co.jp/
Instagram
https://www.instagram.com/wako_ginza_tokyo/
<Past related articles>
Large-scale vintage costume jewelry exhibition held in Wako, Ginza
Enjoy the taste of Ginza / Wako Annex Tea Salon at home.
Held in Wako, Ginza "Akito Akagi Urushi Exhibition-One vessel enriches your life-" [November 5-18]