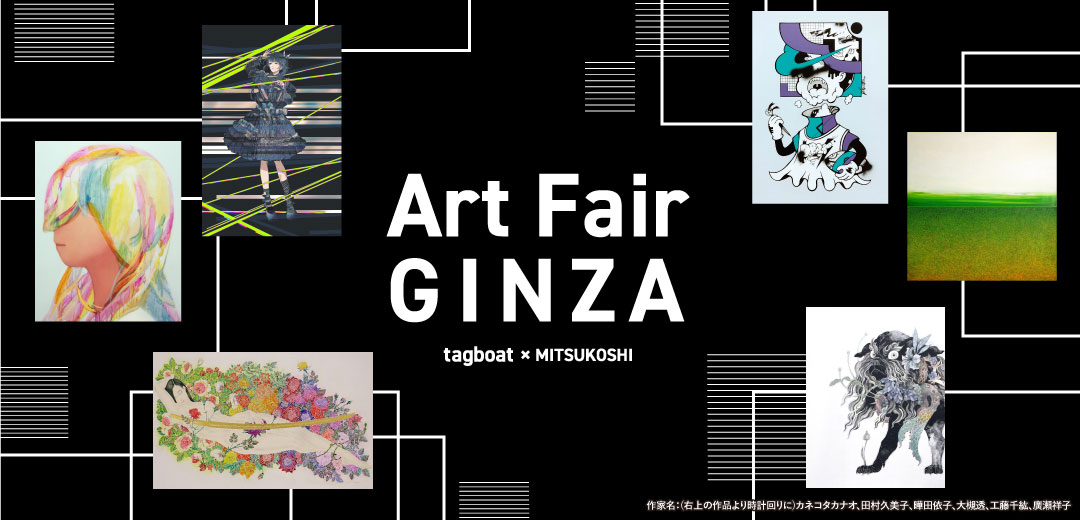 Let's fully enjoy the charm of "contemporary art" in the middle of Ginza at the beginning of autumn
Dates: Part1 Wednesday, August 31, 2022 to Monday, September 5 / Part2 Wednesday, September 7, 2022 to Monday, September 12 *Wednesday, August 31, 9 It is invitation day of MI CARD member and invitation customer on Wednesday, January 7.
*Both Part 1 and Part 2 will end at 6:00 p.m. on the last day.
■Venue: Ginza Mitsukoshi New Building 7F Event Hall
Ginza Mitsukoshi will hold "Art Fair GINZA tagboat × MITSUKOSHI" from Wednesday, August 31, 2022 to Monday, September 12, 2022 at the event venue on the 7th floor of the new building.
---
---
At this event, which will be held for the first time this time, TAGBOAT, which operates one of the largest online galleries in Asia, and Ginza Mitsukoshi have teamed up to exhibit and sell the works of 57 carefully selected artists belonging to TAGBOAT. Beginning with new works created especially for the event, please come and see the "now" of contemporary art that shows a variety of expressions directly at the venue.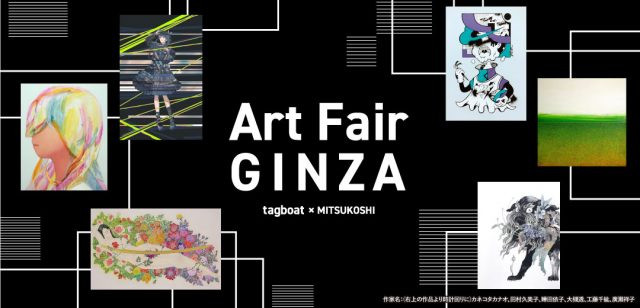 ・Tugboat and Ginza Mitsukoshi team up to hold an art festival!
Tugboat is Asia's largest online art gallery, featuring over 170 diverse artists. Tugboat has delivered the joy of buying art to many people through various projects to increase the value of artists and convey their charm. Ginza Mitsukoshi teamed up with this idea and wanted as many people as possible to enjoy a life with art.
・57 unique artists gathered!
The artists to be exhibited this time are 57 people who have been carefully selected by TAGBOAT and are also paying attention to Ginza Mitsukoshi. Each artist's unique expression methods such as oil paintings and three-dimensional works will please your eyes and mind. You can fully enjoy the "now" of contemporary art.
◇ List of exhibiting artists ◇ *Alphabetical order, titles omitted
Part 1
ayaka nakamura/JunKjapunk/TARTAROS JAPAN/VIKI/Asumi Asama/Kana Arimura/Ellie Iguchi/Shiori Ichikawa/Emi Imazeki/Taro Otani/Toru Otsuki/Kanao Kaneko/Chihiro Kudo/Masanori Koike/Kyoko Ogiso Waits/Yumeno Goto/Kimi Sakaki / Hidemi Shimura / Kaeru Tsukino / Miho Nishikawa / Yuji Nishijima / Hitoshi Hashimoto / Yumi Hamada / Koichi Hyogo / Yuta Fukasawa / Naoko Fukui / Shingo Horiguchi / Keisuke Masuda, 28 people
Part 2
AKIKO KONDO/Kamihasami/Nana Higashi/Atsushi Adachi/Nanaho Ishii/Minako Ishikawa/Kiyo Ohtaki/Wataru Kawawata/Miho Kimura/Yuya Saito/Mayu Shiomi/Tomohiro Shimizu/Mika Sugami/Hyottoko Suzuki/Kumiko Tamura/Hiroko Tokunaga/Takatomo Tomita/Nakaura Jou/Toru Nakamura/Sonoko Nukaga/Ryo Hamamura/Kyoko Hayashi/Sachiko Hirose/Soka Fulford/Hiromasa Maeda/Shimon Matsumori/Shinji Mitsuka/Yoriko Tateda/Kiyasu Yoshida, 29 people
"Art Fair GINZA tagboat × MITSUKOSHI"
Date: Part 1 August 31 (Wednesday) to September 5 (Monday), 2022
Part2 September 7th (Wednesday) – September 12th (Monday), 2022
* August 31st (Wednesday) and September 7th (Wednesday) will be invitation days for MI Card members and invited customers.
*Both Part 1 and Part 2 will end at 6:00 pm on the last day. *The event venue will be closed on Tuesday, September 6th.
Venue: Ginza Mitsukoshi New Building 7F Exhibition Hall
* Exhibited artists and works will be replaced in Part 1 and Part 2.
*The contents of the event may be changed or canceled due to circumstances.
*From the perspective of preventing the spread of new coronavirus infection, we may limit the entry of customers. Thank you for your understanding.
<Related articles in the past>
Enjoy the "season" at Ginza Mitsukoshi, start "summer vacation" at GINZA
Survive the heat wave! July 23rd (Saturday) is Midsummer Day of the Ox About 10 well-known eel restaurants gather in the basement of the Ginza Mitsukoshi department store
Special desserts and premium afternoon teas now in peach style! A new menu that incorporates the sense of the summer season will appear from "Bonbonheur" on the 4th floor of Ginza Mitsukoshi