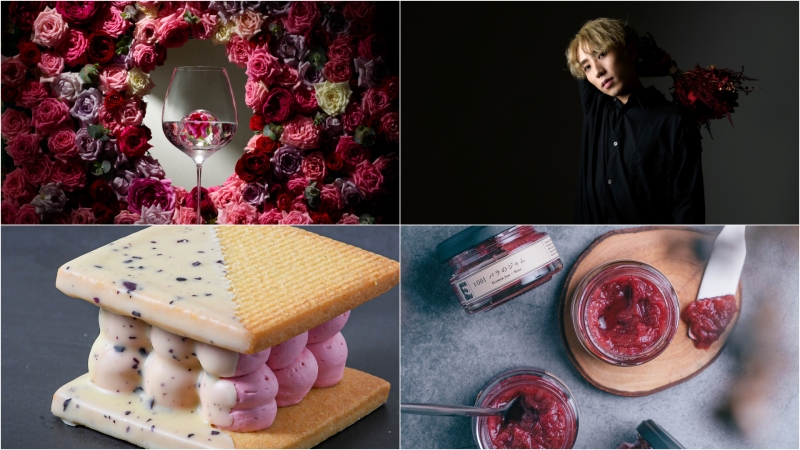 Seiichiro and NISHIZONO also offer limited-edition treats with rose butter sandwiches topped with rose jam.
The Edible Flower Laboratory, which creates a "delicious flower experience" that goes beyond decoration, has collaborated with flower artist Masashi. Re:ROSE Ginza (Ginza 7-chome, Tokyo) "Eatery Flower boutique" where you can experience "rose sweets" and "rose drinks" while choosing your favorite flowers with a flower artist. It will be held at 7-12 Keida Building 1F). Three days from 9/23 (Friday) to 9/25 (Sunday). Until 12:00-21:30.
Edible Flower Laboratory Official Website: https://eflab.jp/
Choose flowers, love them, and eat them. An experience to taste flowers using the five senses <br /> The Edible Flower Research Institute is working on creating a creative and new flower eating experience "delicious flower experience". We will continue to collaborate with creators in various industries in pursuit of creativity outside of decoration that maximizes the potential of flowers. This time it is a collaboration with young flower artist Masashi. Using the flowers purchased for this event, we will create a custom-made bouquet for those who visit us. Along with that, we have prepared a special "Rose Mocktail" and "Rose Wine" using edible flowers, as well as "Rose Butter Sandwich" by popular pastry chefs Seiichiro and NISHIZONO in Kansai. Choose flowers, love them, and eat them. We will deliver a new flower experience that uses all five senses.
An original bouquet designed by a flower artist to suit your taste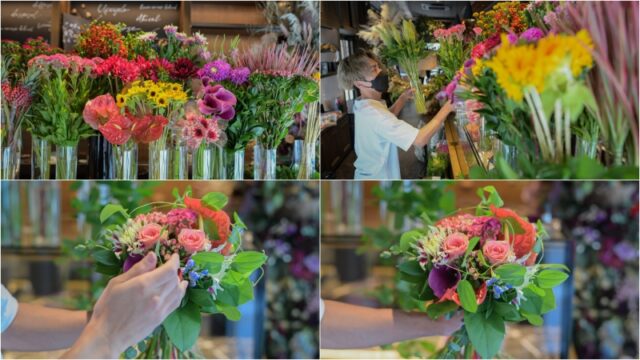 Flower artist Masashi will create a bouquet just for you. Flowers can be purchased from one piece (the amount varies depending on the type of flower), so please feel free to come by. Drink and bouquet sets start from 5,500 yen (tax included).
---
---
While choosing flowers at a flower shop, you can "eat" rose drinks and rose desserts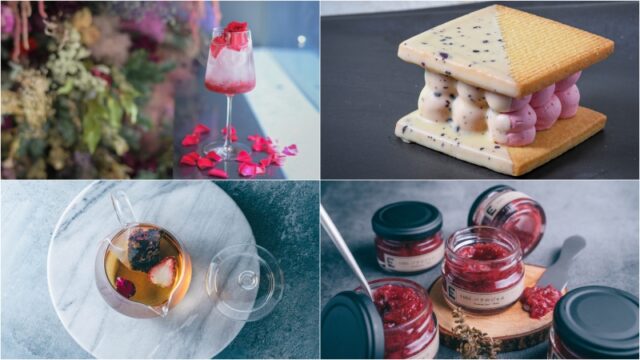 There are three flower drinks prepared for this day. "Roseberry soda", "rose wine" and "rose sparkling" using edible roses. You can enjoy it with your eyes, taste it with your tongue, and enjoy the lingering scent that comes out of your nose. moreover. As a special rose dessert, we have prepared "Rose Butter Sandwich" by Seiichiro and NISHIZONO, which is a sable sandwich of rose and raspberry sauce and chestnut cream. Top this with plenty of rose jam and enjoy.
Put plenty of fragrant rose jam on the rose butter sandwich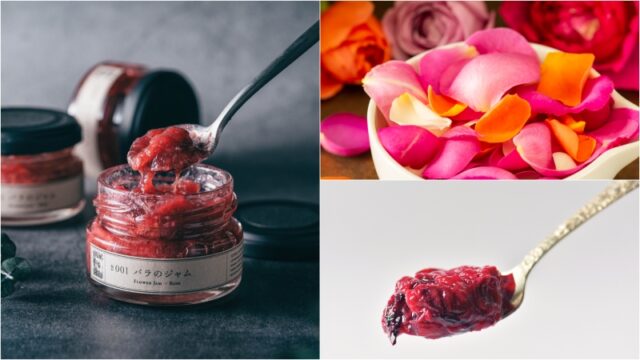 The rose jam, which makes the aroma of roses boil in your mouth, goes well with the rose butter sandwich. No fragrance is used, and you can enjoy the scent of real edible roses. Ingredients: Rhubarb, Sugar, Rose, Lemon Juice. The acidity is a composition that complements the scent of roses.
Commitment to rose jam "What should I do to enhance the wonderful scent of domestic roses? ], I was particular about pursuing thoroughly. The rose alone has a wonderful aroma, but the core of the deliciousness is weak. We couldn't just rely on sugar, so we combined rhubarb, which has a good aroma, balances sweetness and sourness, and has a natural consistency. In order to make the sweet scent of this rose even more pleasant and refreshing, we also added a small amount of lemon to bring out the scent of this rose that is not just sweet.
Background of making rose jam <br /> An edible rose with a wonderful fragrance that is unique in the world. How can I convey this wonderfulness to many people? I thought from the beginning, and made a jam that you can enjoy the petals as they are. Of course, I could have used only the scent, but I felt that jam, which can be packed with everything, including the texture and taste of the petals, was the best, because the roses are made for food. We hope that this rose jam will be an opportunity to enjoy delicious flowers, and that it will be loved not only in Japan but also in the world.
Eatery Flower boutique event overview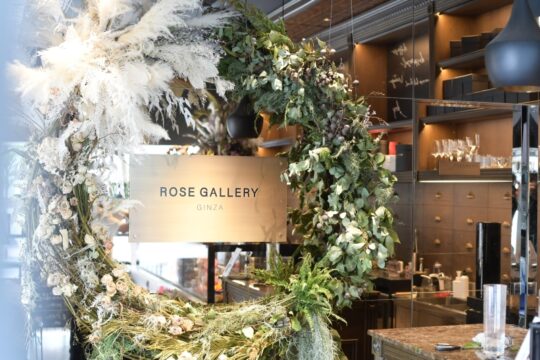 ■ Store name
re: ROSE Ginza ■Address 7-7-12 Ginza, Tokyo Keida Building 1F
■ Schedule
9/23 (Fri) 9/24 (Sat) 9/25 (Sun)
■ Business hours
12:00-21:30
■Price Roseberry soda: 990 yen (tax included)
Wine: 1,300 yen (tax included)
Sparkling: 1,400 yen (tax included)
Rose butter sand and rose jam: 770 yen (tax included)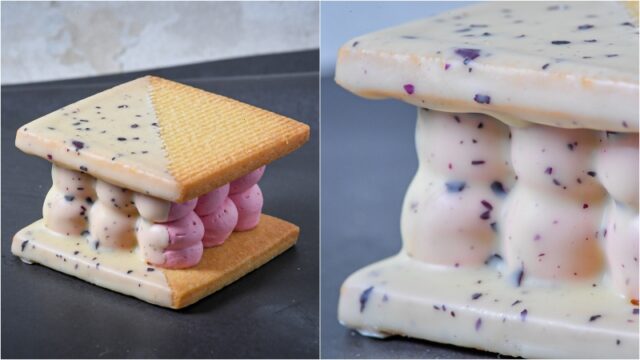 ■Profile of stakeholders
EFLab (Edible Flower Laboratory)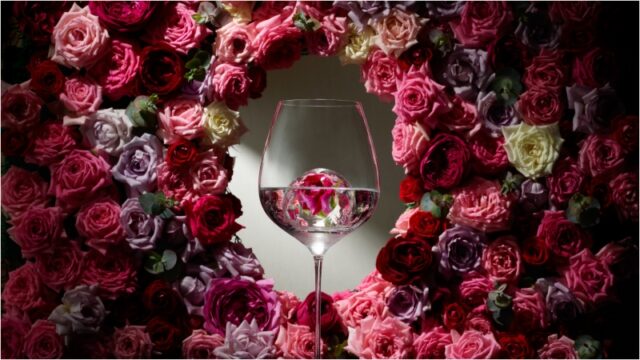 EFLab (Edible Flower Research Institute) is a team that realizes creative and new flower food experiences. We will develop new flower cultivars using the world's first scientific technology and discover their qualities from component analysis. Furthermore, together with creators who can maximize the original value and potential of flowers, we will create unexperienced tastes unique to flower food. From "eatable" to "taste", which was just a decoration. We will present a surprising experience brought about by smell, sight, and taste.
EFLab official website: https://eflab.jp/
Instagram: https://www.instagram.com/eflab/
Twitter: https://twitter.com/E_F_Lab
Eatable flower shop "EDIBLE GARDEN"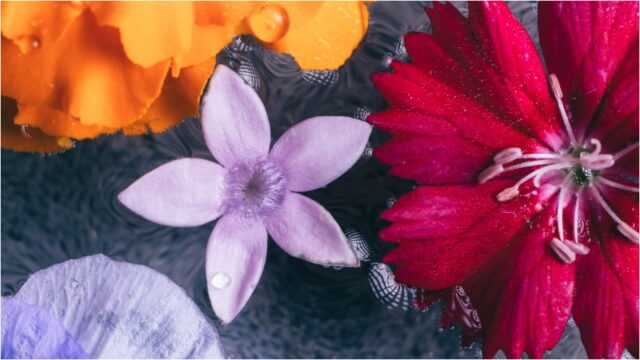 The only 100% chemical pesticide-free edible flower specialty store in Japan. Supervised the cultivation of various edible flowers, including the world's first year-round edible roses, at welfare facilities for persons with disabilities that meet "hygienic standards more than 1,000 times the standard" and "maintain freshness for more than twice as long". They are also used by Michelin Guide star restaurants, and the wages for users of welfare facilities for the disabled are twice the national average. In addition, while researching the nutritional value and aroma components of edible flowers with the university, I am challenging the development of flower food culture.
Edible flower shop EDIBLE GARDEN official website: https://ediblegarden.flowers/
Masashi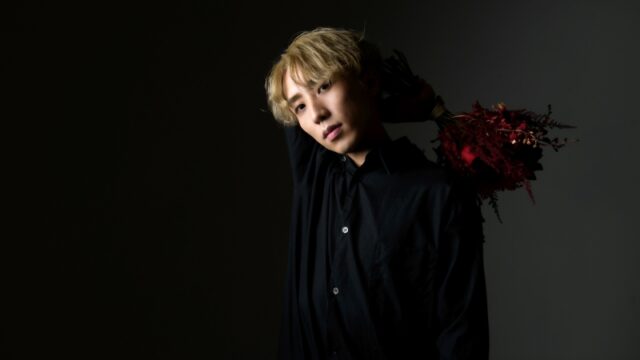 Flower artist. In order to deliver the value of flowers that he himself felt to many people, he held pop-up flower shops in various places under the title of "mobile flower shop project". Among them, drinks using edible flowers are also offered. The custom-made bouquets and arrangements are unique designs full of vitality, and give form to the wishes of our customers.
Instagram of flower artist Masashi: https://www.instagram.com/1222_masashi/
<About the operating company of the Edible Flower Research Institute>
dot science Co., Ltd. is a group of experts who work on solving problems in the food field, mainly composed of chefs, marketers, and scientists. The future of our "food" is what we are looking at from the social environment where various things change from moment to moment. We will continue to search for a future where producers who make good products can continue their business for 100 years, while making changes to suit the times, centering on traditional foods.
■ Component analysis branding https://rebranding.science/
■ EFLab (Edible Flower Laboratory) https://eflab.jp/
■ Edible Garden EDIBLE GARDEN https://ediblegarden.flowers/
■ Fraglace Eating Ice Cream https://fraglace.jp
■ Atarashii Himono with updated dried fish https://himono.design/
■ Ultimate Mochi THE OMOCHI https://theomochi.com/
Company name: dot science Inc. Capital: 2,900,000 yen Address: 12-29 Yochomachi, Shinjuku-ku, Tokyo 162-0055
Phone number: 03-4540-4271
Representative Director: Ryo Ozawa
<Related articles in the past>
Flower shop "Eatery Flower boutique" where you can experience "flower tea" and "rose cheese" while choosing flowers 8/19 (Fri) 8/20 (Sat) 8/21 (Sun) re: ROSE Ginza held at
[Interview Report] A rose destined to be discarded is reborn! Enjoy the charm of ethical roses at "re:ROSE" in Ginza