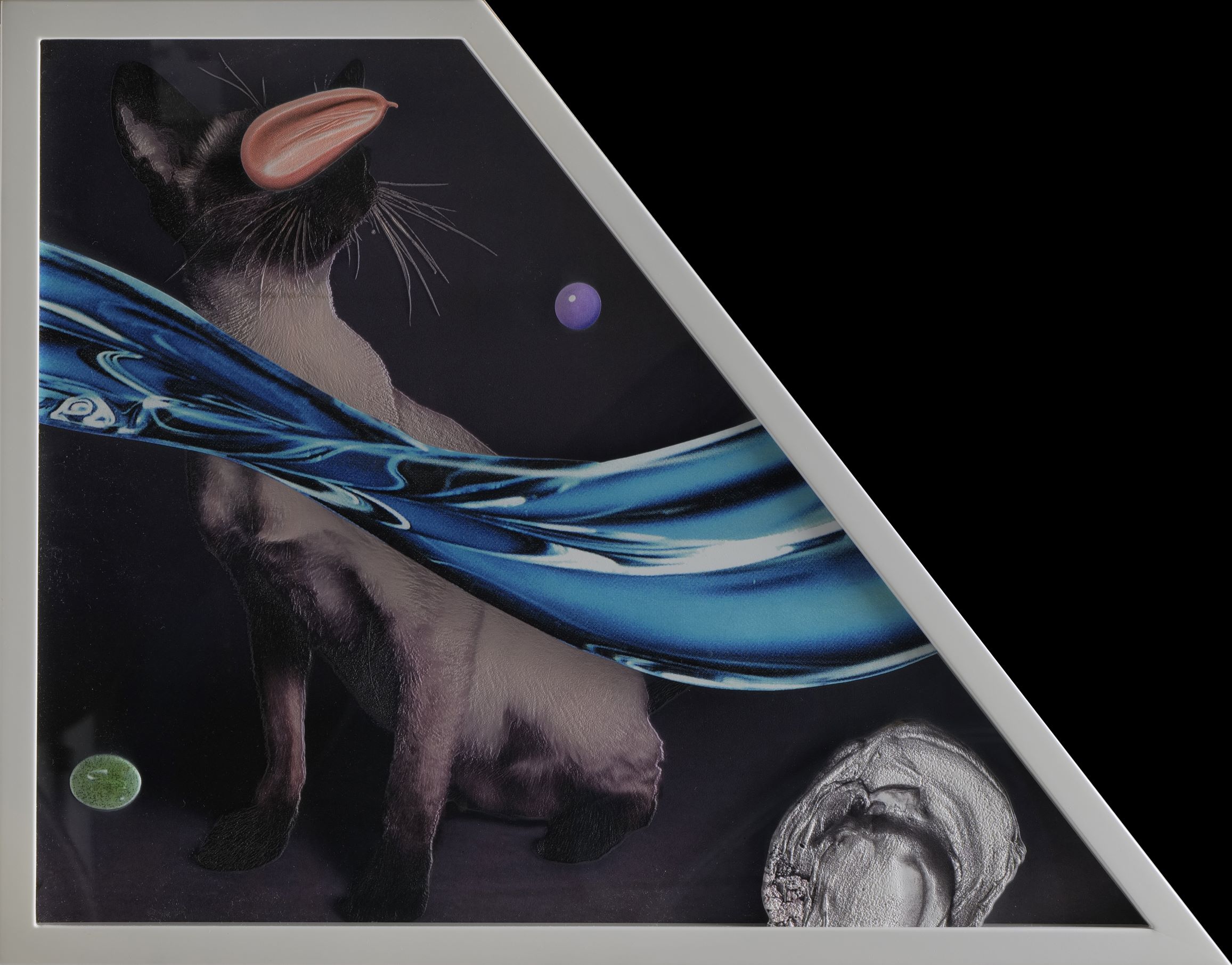 Teppei Kaneuji
Sea and Pus (Photograph of Cat) #13
524 x 413mm (image) / 560 x 449mm (framed)
UV inkjet print (Stare Reap 2.5 print) on acrylic board,polycarbonate
RICOH ART GALLERY is pleased to present a two-person exhibition "Human Behavior" by Teppei Kaneuji and Kenta Kobayashi.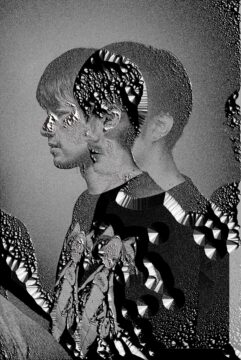 Kenta Kobayashi
Untitled (tentative title) / Untitled (tentative title)
650 x 435 mm (image) / 686 x 471 mm (framed)
UV inkjet print (Stare Reap 2.5 print) on acrylic mirror board, framed
Kobayashi will collaborate with Ricoh's printing technology "StareReap" for the first time since Kim's solo exhibition at Ricoh Art Gallery last year. In addition, the two announced a large-scale outdoor exhibition work at the music festival "SUMMER SONIC 2022" in August this year, and it became a hot topic beyond the art world. *
---
---
Mr. Kane's last year's solo exhibition "SF (Splash and Fragments)" is a 3D print of his collage work "Sea and Pus", which he has been working on for some time, and a remake of representative series such as "Teenage Fan Club" and "Model of Something". , challenged the expansion of expression. In this exhibition, we will take a closer look at Sea and Pus Animal Encyclopedia, which has received particularly high praise for its theme of animals, and present a series of works on the theme of cats. Cats, the animals most familiar to humans, have often been the subject of art works. Mr. Kim has the following words for this exhibition.
This series, which I started in 2004 under the title Sea and Pus, cut out and pasted liquid images such as advertisements for cosmetics and food packages such as chocolate from found photos such as picture books.
Aiming to create abstract expressionism by combining pre-existing images, and to create a situation in which concrete images and abstract or fluid images are unified without mixing under the same printed matter. I came.
By reconstructing it with StareReap's technology, we are taking on the challenge of creating a more complex relationship between images and substances and a new dimension.
―Teppei Kaneuji
Kobayashi, on the other hand, will be collaborating with StareReap for the first time. Three-dimensional printing has long been an interesting technology for artists who have digitally processed photographic images and output them in various ways. The new works to be announced are all series set in Shibuya. For Kobayashi, who started his activities from the community called Shibu House, Shibuya has a special meaning. Kobayashi describes how time has passed since the shooting, people and landscapes have changed, and the record becomes a memory, crystallizing. Crystal-like abstract images are combined with StareReap's three-dimensional printing, creating a monochrome world where time seems to stand still.
Kobayashi says that the colors in his images are intentionally black and white in order to emphasize the "light and shadow," which are the essential components of photography. If you look closely at StareReap's work, you will find that the molding process is inconsistent with the three-dimensional effect of the actual light and shade, forming a complex layer different from the iconography. Kobayashi says that while actually creating the work, he was particularly attracted to StareReap's illusionistic nature.
The title of the exhibition, "Human Behavior," can be translated as human behavior. Naturally, art is an activity for humans that does not exist for other animals. The works of both Kaneuji and Kobayashi are based on things familiar to us. This exhibition attempts to consider human behavior from a slightly different angle through familiar motifs.
The cat featured in this work by Mr. Kane has a wild cat as an ancestor, and humans have repeatedly improved breeds to become what it is today. Cats are also representative companion animals for humans, but their subordination and the flood of pet trades make us think about various things. In a sense, the way art continues to be "improved" may have some overlap with the history of cats.
The theme of Kobayashi's new work is the memory of the past. As we go through life, we face many emotions. Emotions that arise from moment to moment are also imprinted in different forms as time passes. It can be said that internalizing the past in this way is a human-like behavior that is not seen in other animals.
Half unconsciously, we continue to systematically refine things and deal with our emotions. Even if it's a common sight that you might pass by, you may be able to notice something in it by stopping for a moment. I hope that this exhibition will be a catalyst for such discoveries.
* "Music and art fuse at Summer Sonic." Music Loves Art in Summer Sonic 2022" will be held at Summer Sonic. 20 August]
<Teppei Kaneuji Biography>
Born in Kyoto in 1978. Graduated from Kyoto City University of Arts Graduate School of Fine Arts majoring in sculpture. Associate professor of sculpture at the same university. Currently active as an artist and sculptor based in Kyoto. Using daily necessities and miscellaneous goods around us as motifs, he creates paintings, three-dimensional works, and installations that are collages of these. By expanding the scope of his expression to video and stage, cutting off images and reconnecting them, he reexamines the reality of the fading significance of material existence. His dynamic expression sharply points out the relationship between matter and image. In 2021, a solo exhibition "SF (Splash and Fragment)" will be held at Ricoh Art Gallery. Other major solo exhibitions include "SF (Something Falling/Floating)" Ichihara Lakeside Museum (Chiba, 2022), "SF (Smoke and Fog)" Art Front Gallery (Tokyo, 2021), "En/trance" Japan Society ( New York, 2020-21), "Eraser Forest" (collaboration with chelfitsch) 21st Century Museum of Contemporary Art, Kanazawa (Ishikawa, 2020), "Plastic Barricade" Jane Lombard Gallery (New York, 2019), "Teppei Kaneuji's Mercator Membrane" Marugame City Genichiro-Inokuma Museum of Contemporary Art (Kagawa, 2016), "Towering Something" Ullens Center for Contemporary Art (Beijing, 2013), "Melting City, Blank Forest" Yokohama Museum of Art (Kagawa, 2009). Recent group exhibitions include "Void of Japan 77" GYRE GALLERY (Tokyo, 2022), "Setouchi International Art Festival" Hinode Park (Okayama, 2022), "Utopia of Sayaka Murata: The Structure and Violence of 'Normality' Dialogue David Shrigley ≡ Teppei Kaneuji" GYRE GALLERY (Tokyo, 2021), in addition to numerous group exhibitions in Japan and overseas, he also works as a stage designer and book designer. His works are in the collections of major museums in Japan and overseas, including Yokohama Museum of Art, Mori Art Museum, Museum of Contemporary Art Tokyo, 21st Century Museum of Contemporary Art, Kanazawa, KADIST (San Francisco, USA), Queensland Art Gallery & Gallery of Modern Art (Brisbane, Australia). ing.
<Kenta Kobayashi Biography>
Born in Kanagawa Prefecture in 1992. Based in Tokyo and Shonan.
Major solo exhibitions include "THE PAST EXISTS" Mitsukoshi Contemporary Gallery (Tokyo, 2022), "Tokyo Débris" WAITINGROOM (Tokyo, 2022), "#smudge" ANB Tokyo 6F Studio1 (Tokyo, 2021), "Automobile Entomology" / What is beauty?" G/P gallery (Tokyo, 2017), major group exhibition "COMING OF AGE" Fondation Louis Vuitton (Paris, 2022) "Hello World Towards the Post-Human Era" Art Tower Mito (Mito, 2018) "GIVE ME YESTERDAY" Prada Foundation Osservatorio (Italy, 2016), etc. In 2019, he collaborated with Dunhill, led by Mark Weston, for the Spring/Summer 2020 collection. Major collections include the Asian Art Museum of San Francisco (USA). Photobooks "Everything_1" in 2016 and "Everything_2" in 2020 were published by Newfave.
<Related articles in the past>
"Growing Town – Can we share clean energy?
[Ginza Tsutaya Bookstore] A two-person exhibition by Takami Sakurai, who left a dramatic mark on Japanese postwar art history, and his son Kyowa Sakurai, "What created the Kyushu school, what was born from the Kyushu school" on October 8 Held from (Sat).
Mai Kishimoto Exhibition "Barometer 75" will be held at Ginza Mitsukoshi Main Building 7F Gallery! !