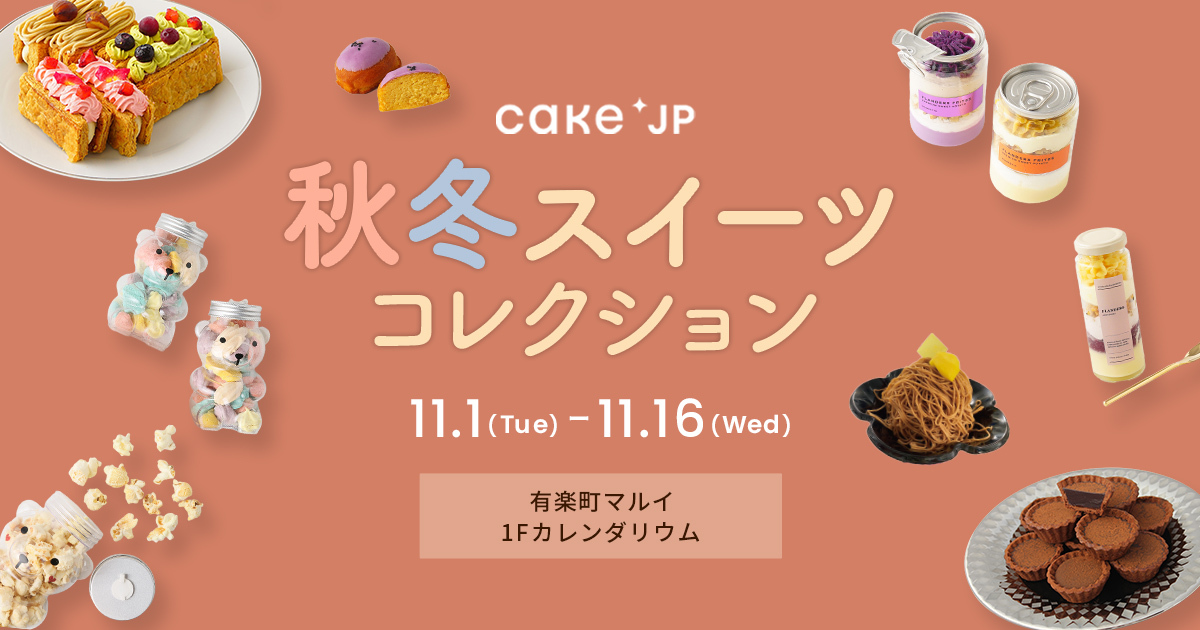 Campaign to win luxurious benefits by registering as a member
Cake.jp Co., Ltd., which operates the cake and sweets specialty mail order site "Cake.jp", will hold "Cake.jp Autumn Winter Sweets Collection" at Marui Yurakucho for a limited time from November 1st to November 16th. will open at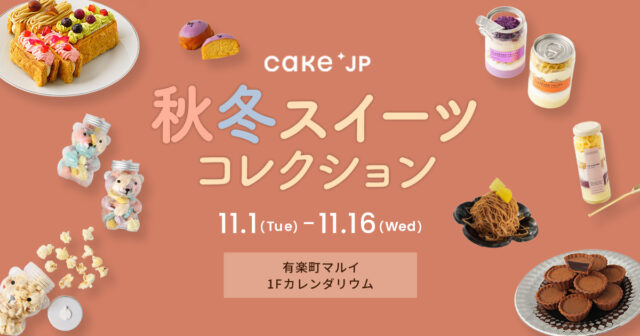 Cake.jp, which mainly sells frozen cakes and sweets on EC sites, will hold a pop-up store "Cake.jp Fall Winter Sweets Collection" so that more customers can experience the appeal of frozen sweets. In this season's store, campaigns for customers who have registered as members and an eat-in space are also available. It is a lineup that can be enjoyed by those who want to try popular products on Cake.jp and those who are considering purchasing on mail order sites.
In the "Cake.jp Autumn Winter Sweets Collection", you can purchase products from 5 popular stores on the site, such as store-limited mille-feuille, sweet potato cake cans unique to autumn and winter sweets, and baked sweets that are great as souvenirs. . Eat-in makes you want to upload to SNS! You can enjoy "Triple Raw Shibori Mont Blanc" and "Japan's Strongest Strawberry Milk" that are satisfying in both appearance and taste. Please come and experience the deliciousness of frozen sweets.
We will continue to meet the diversifying needs of our customers, expand our affiliated pastry shops and product lineup, and create matching with various scenes. In addition, regarding the food loss faced by the confectionery industry, while respecting the desire of confectionery stores to ensure that the products they offer to customers are always in the best possible condition, we are actively working to solve the problem through Cake.jp. We will promote our efforts.
・Cake.jp autumn/winter sweets collection store information
---
---
Dates: November 1st (Tuesday) to November 16th (Wednesday)
Business hours: 11:00-20:00 (11:00-19:00 on the last day only)
Venue: Yurakucho Marui 1F Calendar (2-7-1 Yurakucho, Chiyoda-ku, Tokyo) https://www.0101.co.jp/086/
・ List of stores (in no particular order, titles omitted)
・Flanders Fritz ・Re:s cafebar&sweets Liscafe ・Patisserie La Vie en Reve ・Campanule by Usplay
・Ikenoue Pierre
・Exhibition product introduction (partial excerpt)
Sweet potato parfait 2 cans set Purple sweet potato chocolate & Anno sweet potato cream

A beautiful parfait that fits in your hand. I packed a can full of potatoes, textures, and colors. You can enjoy the difference in texture and taste as you eat. If you mix the whole thing, the sweet potato's gentle taste will stand out even more. It is also recommended as an outdoor dessert because it does not fall apart easily when you carry it around.
Price: 1,900 yen (tax included)
Cute bear can of meringue

Saku. Shuwa. You can purchase a can of meringue that melts in your mouth and a can of crispy sugar butter popcorn. Since the lid has a rubber lid, it can be used as a drink bottle even after eating.
Price: canned meringue 907 yen (tax included)
Canned popcorn 907 yen (tax included)
Sweet Potato Shop Mitarashi Dango Bottle

In collaboration with a long-established dango (dumpling) shop, sweet potato and mitarashi dango sweets have been created. The dumplings are chewy, soft, and slightly sweet on skewers. Mitarashi is finished with a sweet sauce of special baked soy sauce, and the aroma like baked rice cake spreads. Sweet potato sweet cream on the top layer, Japanese sweets to eat with soybean flour.
Price: Single item 550 yen (tax included)
2,500 yen (tax included) for gifts
Limited to Yurakucho! Frozen Millefeuille 2 Strawberries & 2 Pistachios & 2 Waguri Mont Blanc

The cream uses plenty of vanilla beans from Madagascar, and the original blend of milk produced in Hokkaido has achieved a rich and refreshing taste. The pistachio cream uses Italian pistachio roasted paste, which has a good aroma and a rich taste. The rich Mont Blanc cream has a refreshing aftertaste, allowing you to fully enjoy the original sweetness of Japanese chestnuts. The pie crust is flaky and offers a surprise you won't believe is frozen.
Price: 3,400 yen (tax included)
※The image is an image. Actual product and size may differ.
・By registering as a member, challenge the lottery for luxurious prizes without losing!
If you purchase one or more products and register as an individual member of Cake.jp, you can participate in a lottery where you can win luxurious sweets such as "whole melon cake".
Also, if you register as an EPOS member, you can enter the lottery one more time. Please join us for this opportunity.
Member registration page: https://cake.jp/security/sign_up/
・ What is "Cake.jp", a mail-order site specializing in cakes and sweets?

Since January 2017, he has been operating Cake.jp, an online shopping site specializing in cakes and sweets. Under the mission of "raising the temperature of the heart with sweets", we deliver sweets that we really want to eat and give to others. Currently, there are 1 million members, more than 1,500 affiliated stores, and a lineup of 5,000 types. We also develop new products using technology and provide branding support to member stores so that we can provide value beyond the platform.
https://cake.jp/
・ About Cake.jp Co., Ltd.
Company name: Cake.jp Co., Ltd.
Representative: Yuki Takahashi, Representative Director Head office: Nishi-Shinjuku Mitsui Building 1503, 6-24-1 Nishi-Shinjuku, Shinjuku-ku, Tokyo
Date of establishment: April 23, 2009 Number of employees: 65 (including part-time workers)
Fiscal year end: December
URL: https://corp.cake.jp/
・Inquiries about products
Cake.jp Customer Support
TEL: 03-6869-2226 (10:00-18:00)
<Related articles in the past>
"Inclusion Festival 2022 AUTUMN-My love is kind to the earth and people!" will be held at Yurakucho Marui
".hack//20th Anniversary Exhibition" will open on the 7th floor of Yurakucho Marui!
A food tech event "FUTURE FOOD EVENT" will be held at Yurakucho Marui! We will provide a new "delicious" experience through tasting events! !