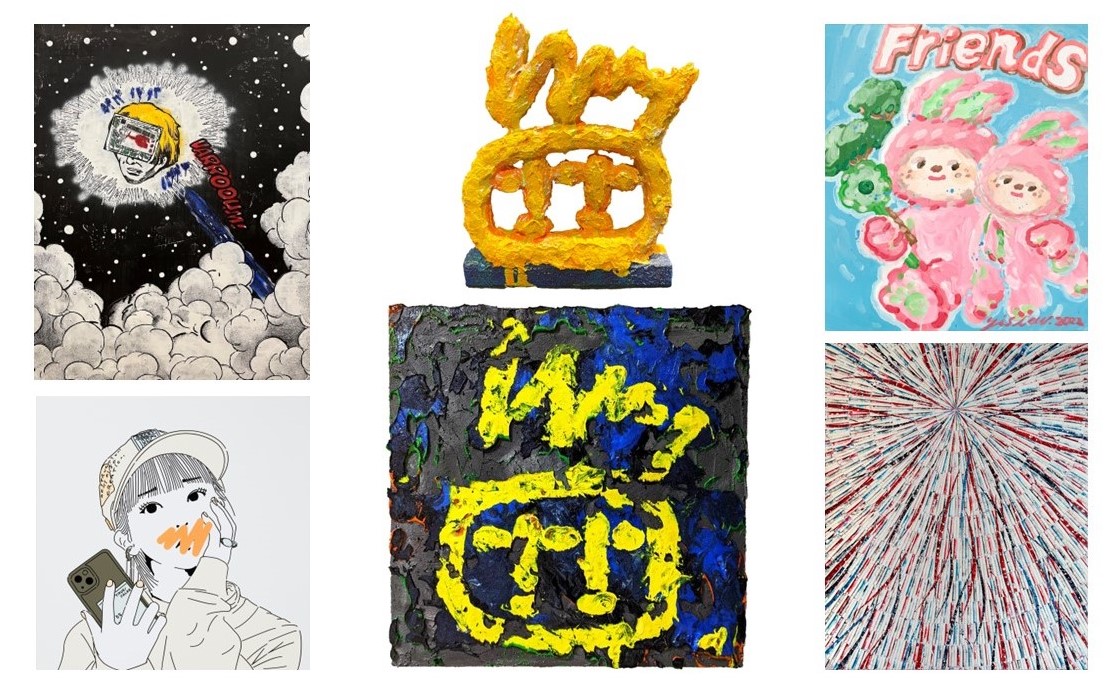 Ginza Tsutaya Bookstore (GINZA SIX 6F, Chuo-ku, Tokyo) will hold a group exhibition "Piece of the times" that focuses on five contemporary artists who are attracting attention in the domestic and international art scene. It will be held from Saturday, December 3rd to Wednesday, December 14th.
·Overview
We will introduce the recent works of five contemporary artists who have different career histories and places of activity, but whose momentum cannot be overlooked. Artists who are very popular in the commercial scene and have opportunities to see creatives in the city and in everyday life. We have collected works that capture the "now" in various forms, such as works that directly feel the atmosphere of the times and abstract paintings that focus on human psychology.
At this exhibition, Ryo Koizumi will present a new large-scale work. Erika Naka plans to exhibit and sell multiple three-dimensional works created exclusively for this exhibition. Hiroki Niimi is an up-and-coming new artist who also handles music and fashion art direction. Masato Yamaguchi's solo exhibitions in Hong Kong and Taiwan have ended with great success, and in his triumphant return exhibition in Japan, he will present three new large-scale works and his first sculpture. YISLOW is the only Korean artist this time. The works to be exhibited are scheduled to be divided into three categories, the first of which is No. 10, which includes text on the screen. And the second is "Friends Friends", one of his masterpieces. For the third work, Interval, we are planning a performance that will be completed by live painting at the venue, and the content that YISLOW felt at the scene will be included in the work.
Special page| https://store.tsite.jp/ginza/blog/art/30268-1021091121.html
・ Artist introduction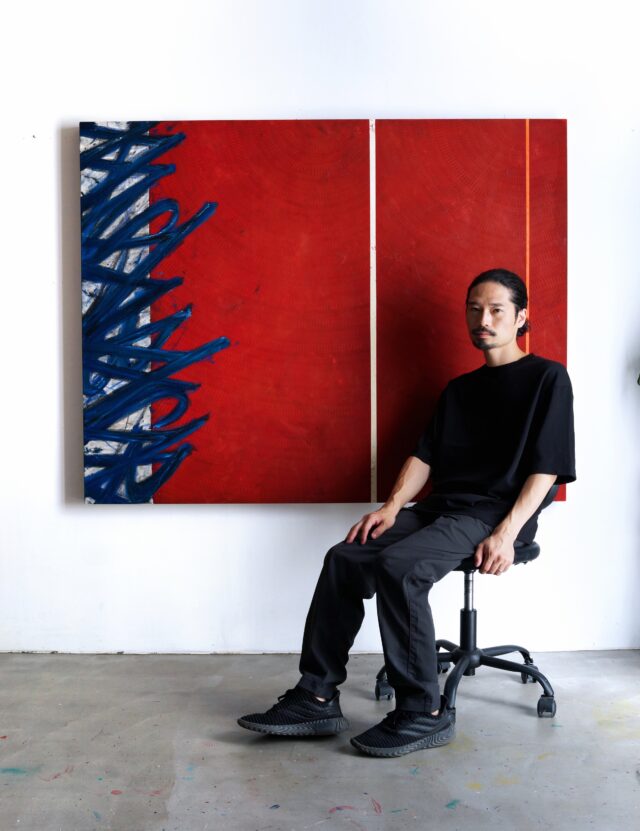 ●Ryo Koizumi
---
---
Koizumi has been working as a calligrapher since 2016, and in 2019 developed the "enso" series, in which he draws the basic lines of calligraphy in a continuous circle, as a painting. By repeatedly repeating primitive symbols, Koizumi seems to be showing us a world where abstraction and concreteness are becoming ambiguous. Koizumi has started working on the "Halo" series in 2021. In the "Halo" series, I incorporated the contingent of color, presenting a pure visual image of light in the air as an abstract painting on canvas. The "Halo" series is a work that expresses a new level of Koizumi's power of light while hiding the oriental mystique inherited from the "enso" series. Koizumi captures light in his paintings and seems to be trying to convey strength and warmth to people. Koizumi, who used to have a career as a gardener, has a strong abstract expression and a unique oriental personality. He is also active as a calligrapher, such as being in charge of the title characters for the 2018 NHK historical drama "Segodon".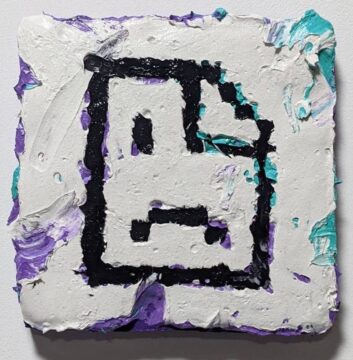 ● Erika Naka
Naka incorporates fragmentary logos, natural landscapes, and familiar everyday objects as visual elements into his pictorial space, reconstructing figures that visualize abstract meanings. It is said that there is a moment when the paint moves beyond one's expectations when the paint is applied thickly to the support. There is a "gap" between you and your support, and your relationship is fascinated by that gap that doesn't go your way. A young artist who continues to explore the possibilities of painting, breaking through traditional painting forms and directly expressing "momentary" and "accidental". The thickness of the paint, the layered gradation, and the soft, creamy texture of the paintings, which eliminate independence, not only give a strong visual impact, but also arouse limitless curiosity and imagination.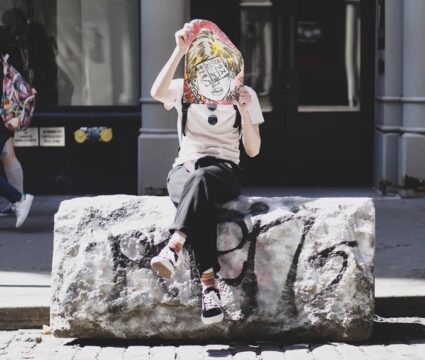 ●NIIMI HIROKI
After graduating from Tama Art University, he started his career as an art director while doing art direction for advertising, music, and fashion. Niimi creates two-dimensional works on the theme of today's mass-consumption society, especially the consumption of creativity in it. While there are clothes and foods that are mass-produced, supplied, and sometimes discarded, modern times also produce a large amount of creatives to encourage consumption by users, and they are thrown away. While referring to precedents such as Schwitters' Merz paintings, he brings in the relationship between modern industry and advertising, and is drawn to defend creatives who are consumed. Citing logos and characters that have been abandoned by society or worn out by the times, and featuring barcodes as the most modern icon that symbolizes consumption, as an irony to endless creative consumption. It is the mission of Niimi's work to depict it, and at the same time it is also a statement for this era.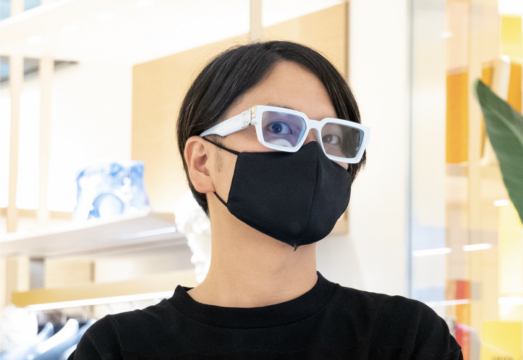 ● Masato Yamaguchi
I am working as an artist influenced by the music, fashion and design of 90's Tokyo. Based on the theme of "trans-reality (the reality on the other side of reality)," she continues to question what reality is by drawing cool and cute women who take selfies. We are doing borderless activities such as collaborating with apparel brands ReZARD and X-girl. Major solo exhibitions include "SELFY: Complete Edition" (Honkkong 2022), "stay pixelated" x MAKERS SPACE (Tokyo 2022), and "SELFY" (Tokyo 2021).
●YISLOW
Born in Seoul, South Korea in 1987. Graduated from Hongik University with a major in digital media design. It is enthusiastically supported by young people in South Korea, and is also highly popular for creating "Sugar Bear", the main character of the famous donut dessert cafe "Cafe Knotted" in South Korea. In addition, he is in charge of the art visuals for the fashion brand "SLOWCOASTER" and the popular K-POP girl group "OH MY GIRL" mini-album "Dun Dun Dance", which has attracted a lot of attention. Like other contemporary artists, YISLOW has been heavily influenced by various media characters and pop culture, including games, comics, TV series, and animation. Please pay attention to the unique work style in which various shapes are embedded in the work in a relationship.
・About sales of works
It will be sold at Ginza Tsutaya Bookstore from 11:00 on Saturday, December 3rd.
*Products may be sold out before the exhibition period depending on the pre-sale situation.
・About sales of multiple works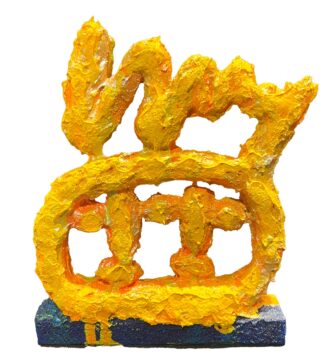 We will exhibit and sell multiple three-dimensional works created by Erika Naka for this exhibition.
* All items are one-of-a-kind, and the size and color will vary depending on the work.
* The posted work will be a motif work. The materials and specifications differ from the actual multiple works.
Title|Cal-chan_edition
Number of editions|35
Work size|Height 14.5cm
Material|Acrylic resin Production year|2022
● How to enter multiple works
Reception will begin at 11:00 on Saturday, December 3 at the exhibition hall (GINZA TSUTAYA BOOKS GINZA ATRIUM).
*This is not a first-come-first-served basis.
* At the time of application, we ask that you fill in the entry sheet at the venue.
Entry acceptance period | December 3 (Sat) 11:00 to December 11 (Sun) 20:00
・ Exhibition details
Ryo Koizumi/Erika Naka/Hiroki Niimi/Masato Yamaguchi/YISLOW Group Exhibition "Piece of the times"
Dates: Saturday, December 3, 2022 to Wednesday, December 14, 2022
Time|11:00~20:00 *Last day only, closes at 18:00 Venue|Ginza Tsutaya Bookstore GINZA ATRIUM (event space)
Admission | Free Hosted by Ginza Tsutaya Bookstore | SH GALLERY
Inquiries|03-3575-7755 (during business hours)/info.ginza@ccc.co.jp
Special page| https://store.tsite.jp/ginza/blog/art/30268-1021091121.html
・ Ginza Tsutaya Bookstore
By connecting art, Japanese culture, and life through books, we propose a lifestyle with art.
Address|6-10-1 GINZA SIX 6F, Ginza, Chuo-ku, Tokyo 104-0061
Phone number|03-3575-7755
Business hours | Please check the store website.
Homepage| https://store.tsite.jp/ginza/
Facebook| https://www.facebook.com/GINZA.TSUTAYABOOKS/? ref=bookmarks
Twitter| https://twitter.com/GINZA_TSUTAYA
Instagram |https://www.instagram.com/ginza_tsutayabooks/
・ CCC Art Lab
We are a planning group that conducts business related to art within the planning company Culture Convenience Club Co., Ltd. We would like to contribute to making people's lives happier and creating a better society by making art more accessible through "proposing a life with art". Based on the knowledge cultivated through many years of business experience such as store planning, art media, product development and event production, we will propose plans with a professional approach.
https://www.ccc-artlab.jp
<Related articles in the past>
[Ginza Tsutaya Bookstore] Haruka, an artist who has refined her sensibility in New York and Europe and expresses it with various materials and painting methods, will hold a solo exhibition "Rebirth" from November 17th (Thursday) to November 23rd, 2022 ( held on Wed.
[Ginza Tsutaya Bookstore] An exhibition "little wish" by illustrator Ami, who gently draws a fantasy world in pop, will be held from November 4th (Friday).
[Ginza Tsutaya Bookstore] A group exhibition "Intermission" by eight young artists active mainly in Asia will be held from Saturday, October 22nd.