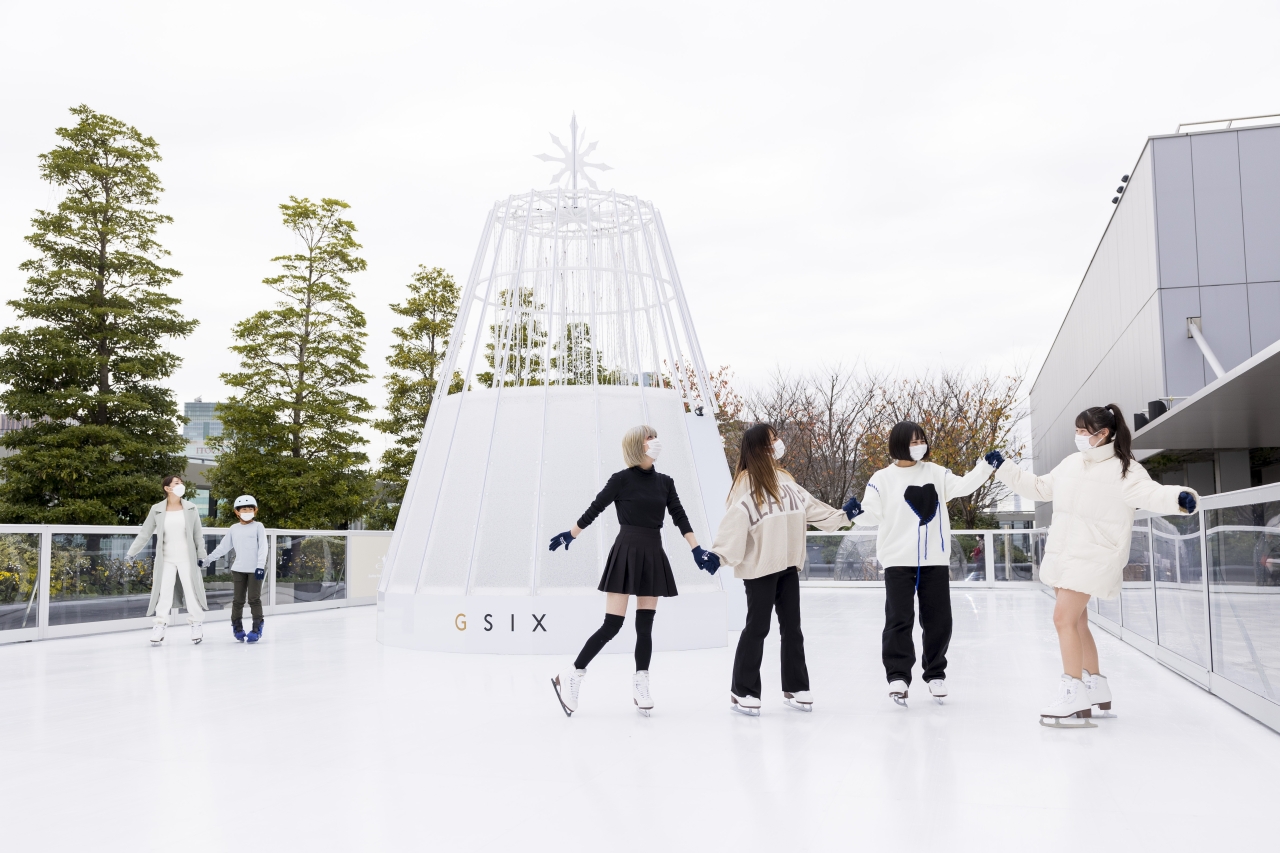 Approximately 56m above the ground, the rooftop garden GINZA SIX Garden, which is located in the place "closest to the stars" in Ginza, will be a rooftop skating rink for a limited time from December 1, 2022 (Thursday) to January 31, 2023 (Tuesday). It will become a "Rooftop Star Skating Rink" and add bustle to Ginza in winter.
A skating rink will appear in the "water basin area" and "lawn area" (approximately 310m²) in the GINZA SIX garden, which boasts the largest area in Ginza (approximately 4,000㎡). The rink uses resin instead of ice, so it is eco-friendly because it does not use electricity. It is a skating rink where children can slide safely.
The trees around the rink are decorated with Christmas decorations, and you can enjoy gorgeous illuminations at night. In addition, a star tower is installed in the center of the rink, and it is also possible to take pictures as a photo spot. A dome tent that can seat 4 to 5 people is also available in part of the lawn area. You can use it as a relaxing space after skating.
Please enjoy Christmas that can only be experienced here this winter.
<Overview>
[Official name] Rooftop Star Skating Rink
[Period] December 1, 2022 (Thursday) to January 31, 2023 (Tuesday)
[Hours] Weekdays 12:00-20:00 Weekends and holidays 11:00-20:00 Last reception 19:00
*December 24th (Sat.) to January 4th (Wed.) are treated as weekends and holidays.
[Location] GINZA SIX garden (rooftop garden) basin, lawn area
[Glide fee, shoe rental fee, etc.]
Adults (high school students and older) 2,000 yen Children (junior high school students and younger) 1,500 yen *Shoe rental fee included Extension fee: 500 yen for 30 minutes Children 300 yen *Accompanying fee: 200 yen/person 3-hour system on weekdays, Saturdays, Sundays, and holidays 1 hour system Gloves sold (must be worn by all visitors; you may bring your own) Large: 500 yen Small: 300 yen Helmet rental (free, must be worn by preschoolers)
Socks for sale: Scheduled to be sold at the venue *Children under school age must be accompanied by a guardian
[Ticket purchase method]
Local sales (cash, credit card, transportation IC, PayPay) [product sales/rental]
[Rink size] 8m x 11m (approximately 310㎡)
[Maximum capacity] 60 people
[Organizer] GINZA SIX
*Invitation-only events may be canceled due to weather conditions.
Please check the GINZA SIX website for the latest information.
https://ginza6.tokyo/
<Past coverage article>
GINZA SIX "Saf Gallery" will be held from Saturday, December 3, 2022 to Wednesday, December 14, 2022! Flower artist Yasuhiko Fujikawa
[Interview report] Go on an adventure on a magic carpet. Jean Julien's new work "The Departure" appears in the GINZA SIX atrium art
Exhibition of works by Ukrainian artists for projects supporting Ukraine! Held at GINZA SIX "Saf Gallery" from November 1st to 4th, 2022