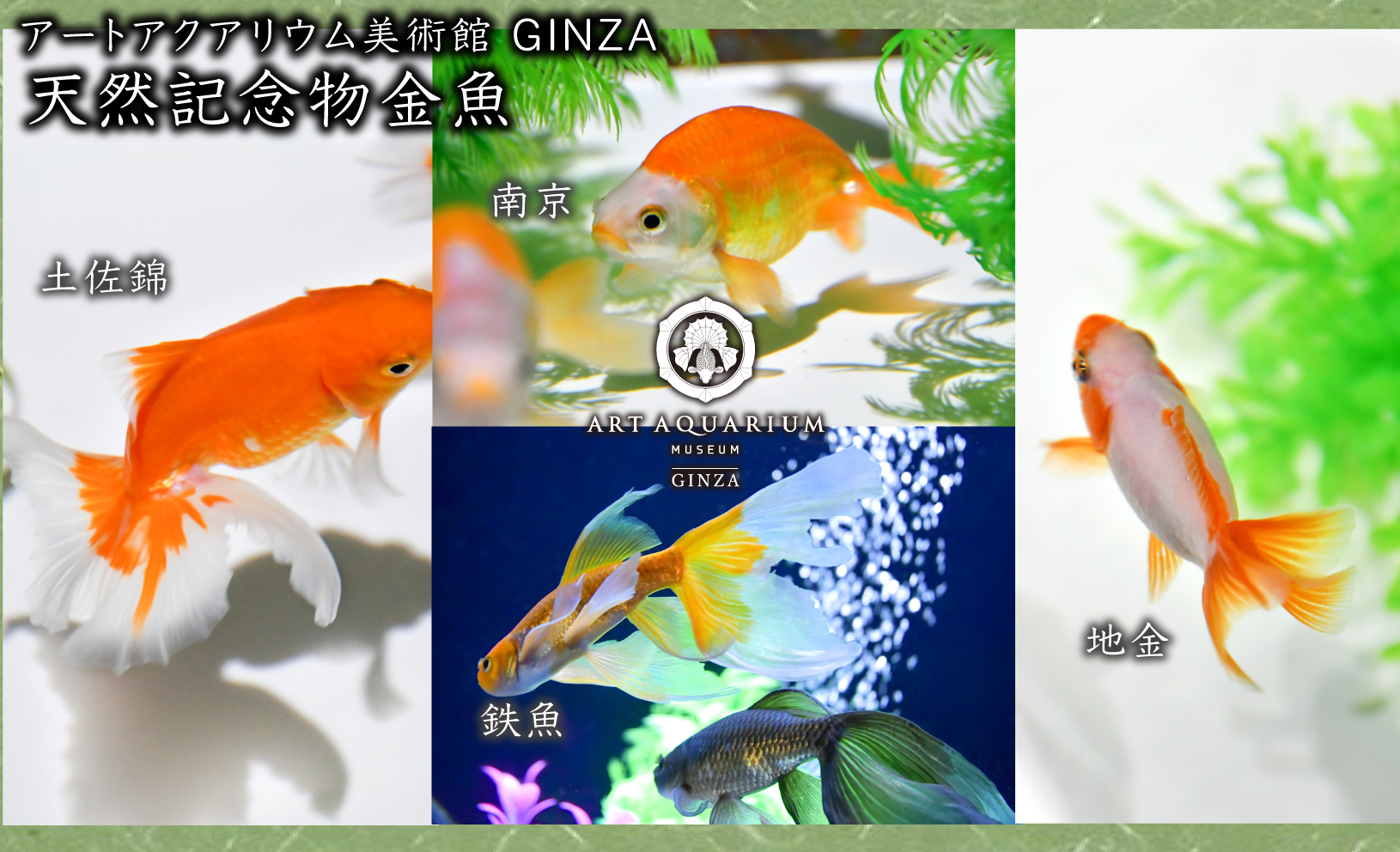 ART AQUARIUM MUSEUM GINZA (located in Ginza Mitsukoshi) expresses the culture of viewing goldfish that has existed since the Edo period as a work of art "ART AQUARIUM" in the present age. About 70 kinds of goldfish swim in various aquarium works in this museum. This time, all four kinds of goldfish designated as natural monuments in Japan have been collected. Experience the beauty of ornamental fish called goldfish at the ART AQUARIUM MUSEUM, where you can find everything from typical goldfish to rare goldfish.
4 kinds of natural monuments, Tosanishiki, Nanjing, Tetsugyo, and Jigane are available!
The four types of goldfish that have been designated as natural monuments can be viewed in the work areas called "Goldfish Collection" and "New Goldfish Review". Please enjoy the beautiful appearance of the living art and goldfish swimming leisurely in the original way of viewing goldfish, which is called "horizontal viewing" where you can enjoy the appearance from the front and side, and "top viewing" where you can see the beauty from above.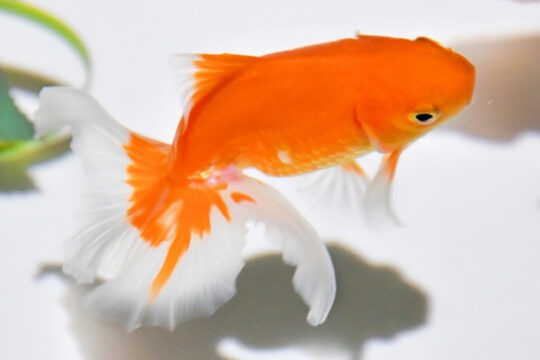 Tosaki Nishiki Designated as a Natural Monument in 1969 | Kochi Prefecture Known as the "Queen of Goldfish," it is a natural monument of Kochi. It is characterized by a large, forward-inverted tail that flutters gracefully like a dress.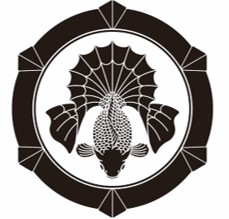 ---
---
The goldfish silhouette of the ART AQUARIUM MUSEUM has this Tosa Nishiki motif.
● Viewable area: New goldfish evaluation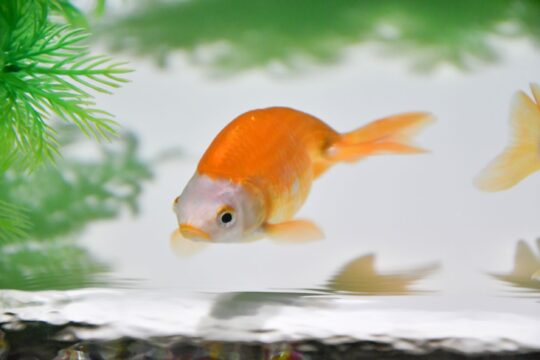 Nankin Designated as a natural monument in 1982|Shimane Prefecture <br />The combination of a bright white voluminous body and a small head gives it an elegant atmosphere.
It is a local goldfish that has been bred in the Izumo and Matsue regions of Shimane Prefecture since the mid-Edo period, and is also called Izumo Nanjing. In 1982, it was designated as a natural monument of Shimane Prefecture.
● Viewable area: New goldfish evaluation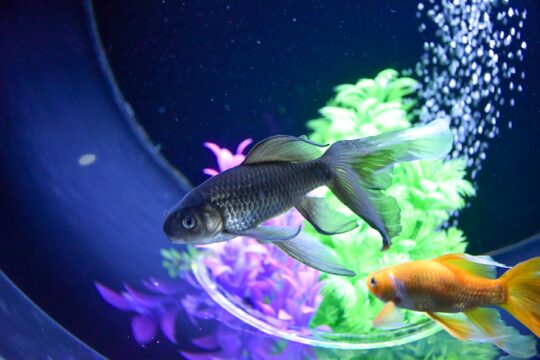 Tetsugyo Designated as a Natural Monument in 1933|Miyagi Prefecture <br /> Characterized by its crucian carp-shaped body and all its fins, including the long tail fin. It is a species that is said to be a hybrid of wild crucian carp and goldfish found in Miyagi prefecture. It was designated as a natural monument in 1933 because it has different properties from other crucian carp.
At our museum, a type of iron fish called "Hagoromotennyo", whose fins are longer and more graceful, swims.
●Visible area: Goldfish collection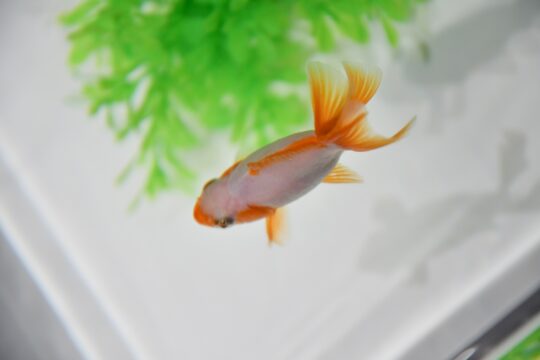 Bullion Designated as a natural monument in 1958|Aichi Prefecture <br /> Its translucent white body and red fins make it even more attractive when viewed from above. The mouth is dyed red as if red was applied.
It is an ancient species that was produced in the middle of the Edo period and is designated as a natural monument of Aichi Prefecture.
● Viewable area: New goldfish evaluation
ART AQUARIUM MUSEUM GINZA Winter Special Exhibition "Winter Goldfish Glittering in the Lights" is being held <br /> Currently, the ART AQUARIUM MUSEUM GINZA is holding a special winter exhibition. Please enjoy the winter production that can only be seen now, such as a tunnel-shaped production where pine trees, which are considered to be prosperous trees, grow thickly, and decorations with beautiful colors of camellia flowers.
●Chochin Rium <br /> A space of about 10m where spherical aquarium works that look like lanterns are lined up like a path. Rare types of goldfish swim in a total of 14 tanks. There are moments when the goldfish appear larger due to the lens effect in the tank, and it is popular at the museum as a unique work of art.
During the winter special exhibition, this space is lined with pine trees and decorated with plum blossoms and kites.
●Flowerrium <br /> A collaboration work with flower arrangement artist Shogo Kariyazaki. Goldfish swim gracefully in an aquarium that looks like a vase. It expresses the beauty of "stillness'' flowers and "movement'' goldfish, which are opposite but synergistic.
This work, which is decorated with seasonal flowers, is colored with camellias in the winter special exhibition.
·Equipment outline
Facility name ART AQUARIUM MUSEUM GINZA (English notation: ART AQUARIUM MUSEUM GINZA)
Admission fee WEB ticket 2,300 yen https://ticket.artaquarium.jp/ Same -day ticket 2,400 yen (Same-day tickets are sold on the 1st floor of Ginza Mitsukoshi New Building)
Location Ginza Mitsukoshi New Building 8th floor (Entrance is on the 9th floor) (4-6-16 Ginza, Chuo-ku, Tokyo)
Access ・Directly connected to Ginza Station on the Tokyo Metro Ginza Line, Marunouchi Line, and Hibiya Line ・5-minute walk from Tokyo Metro Yurakucho Line, Ginza-itchome Station (Exit 9) ・Toei Asakusa Line, Tokyo Metro Hibiya Line, Higashi-Ginza Station 2 minutes on foot via underground passage towards Ginza Station / 9 minutes on foot from JR Yurakucho Station (Central Exit / Ginza Exit) Business hours 10:00-19:00 (subject to change)
Closed days Same as Ginza Mitsukoshi closed days (In addition, it may be closed irregularly due to maintenance etc. Please check the official website for details)
Official HP http://artaquarium.jp/
Official SNS Twitter https://twitter.com/artaquarium_tm
Instagram https://www.instagram.com/artaquarium_tm_official/
Facebook https://www.facebook.com/artaquariumofficial
*The official account has been transferred.
Safety measures We will operate with thorough infection control measures for all guests and staff, and appropriate measures against the new coronavirus.
Notes Strollers, suitcases, and pets are not allowed inside. There are no lockers for luggage.
Organizer AQUA ART RELATIONS Co., Ltd.
Planning and Production Amuseum Parks Co., Ltd.
Operated by Amuseum Parks Co., Ltd.
Cooperation Isetan Mitsukoshi Ltd. Ginza Mitsukoshi
[Art Aquarium Production Committee] From the press release
<Related articles in the past>
Christmas illumination space immersed in the daytime Art Aquarium Museum GINZA Winter special exhibition starts! "Winter Goldfish Glittering in the Light"
ART AQUARIUM MUSEUM GINZA 〈Limited time〉Autumn special exhibition held Halloween for adults dyed in autumn colors
ART AQUARIUM MUSEUM GINZA Summer Special Event Summer Art Aquarium ~Feel Summer with Goldfish, Cool~