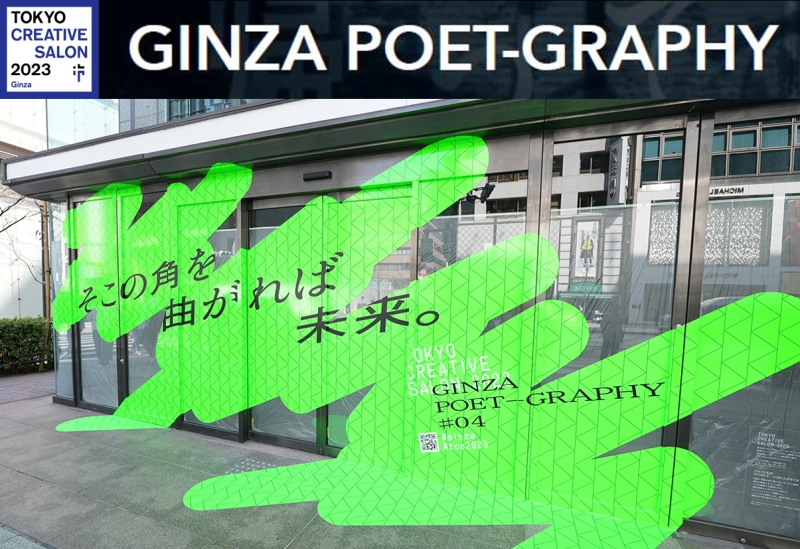 A music video based on the work will be released on March 22 (Wednesday), and a campaign for famous restaurants and restaurants in Ginza will be held at the same time.
The Tokyo Creative Salon Ginza Area Executive Committee will transform unused resources such as vacant stores and temporary construction enclosures into Reiwa's "Gin Bra" photo spots as the Ginza area content of the fashion and design festival "TOKYO CREATIVE SALON 2023". , A total of 13 installation works "GINZA POET-GRAPHY" will be released from March 17 (Friday) to March 31 (Friday), 2023 to attract customers and excursions. In addition to the production and release of a music video based on the work, a campaign "GINZA Special Days" for restaurants and famous restaurants in Ginza will be held at the same time. Please enjoy spring Ginza through this project.
Due to the impact of the new coronavirus, the number of vacant houses and vacant stores has accelerated in each region of the country. "Urban spongy", where unused real estate stock is generated randomly, is becoming apparent. Considering such vacant land as a valuable regional resource, how to regenerate and utilize it is a major issue in terms of regional revitalization. In addition to vacant stores in Ginza, a city that represents Japan, there were many buildings that were being reconstructed due to aging, etc., and the most valuable land space in urban space was becoming an unused resource. Therefore, now that the corona disaster is converging, as part of the Tokyo Creative Salon, we have planned "GINZA POET-GRAPHY" to turn these unused resources into tourism resources and make Ginza a model case for attracting new customers and excursions. is.
"GINZA POET-GRAPHY" is an installation work developed in 13 locations in the Ginza area. By posting different modern poetry of graphic design on unused resources such as the walls of vacant stores and temporary construction fences, which have been difficult to use until now, it will be a new device to attract customers and make a trip as a photo spot for Reiwa's "Gin Bra". transform. In addition, by releasing a music video in which these poems transform into a single message as music, we will work on a completely new urban media utilization of "vacant land x modern poetry x music".
This measure has received cooperation and support from land owners, general contractors, the Tokyo Metropolitan Government, the Ministry of Land, Infrastructure, Transport and Tourism, Chuo Ward, as well as commercial facilities and restaurants in Ginza, centered on the Ginza Association. This will only be realized when the entire city of Ginza becomes a "one team". We hope that this measure will serve as a hint for new regional revitalization throughout the country.
For details, please see the "TOKYO CREATIVE SALON GINZA Special Site".
https://tcs.ginza.jp/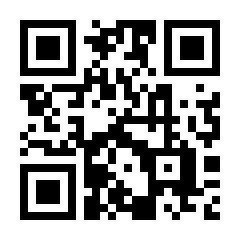 ・"GINZA POET-GRAPHY" MUSIC VIDEO released
A music video featuring contemporary poetry scattered throughout the streets of Ginza will be released on the TOKYO CREATIVE SALON GINZA special site from Wednesday, March 22nd. Please enjoy how words that seem to be independent when seen in the city are connected as music and transformed into one big message.
・"GINZA POET-GRAPHY" local photos

★ 1: Matsuya Ginza 1st floor front window ★ 2: Ginza Mitsukoshi main building 9th floor Ginza Terrace Garden ★ 3: Wako / Seiko House Ginza (2 locations)
★ 4: Ginza Velvia Hall 1F Entrance ★ 5: MUJI Ginza front window ★ 6: Hulic Nishi Ginza Building (2 places)
★ 7: Hulic Ginza Building ★ 8: Saegusa Main Building ★ 9: Ginza Sanwa Building ★ 10: Kurosawa, AK Building, Kosaka Building ★ 11: Ginza Tenkoku Building
・Artist information
■ LQVE (general planning, creative direction, music video production
A next-generation creative team that uses the power of ideas and visuals to "invent" expressions for a new era and create many topical works. Together with numerous brands, we devise and develop genreless with love and questions, from strategy to planning and output.
2021 ACC CM FESTIVAL Silver Award, 2021 Young Lions (U-30) Film Competition Japan Gold Award, Cannes Lions, New York Festivals, London International Award, AdFest, Webby Award, BOVA, Tokyo Midtown Award, etc.・Won many design awards.
■ emuni (art direction)
Graduated from the Graduate School of Fine Arts, Tokyo University of the Arts. emuni representative. Worked on various designs such as branding with graphic design as the main axis. He is also energetically producing artworks that mainly use letters.
His main works include giraffe lemon rebranding and anime chain saw man art direction. He has received numerous awards in Japan and overseas, including the Tokyo TDC Award, JAGDA Newcomer Award, ONESHOW Gold, D&AD Award, and NYADC Award. Part-time lecturer at Tokyo University of the Arts.
■ One inch ahead darkness band (music production / performance)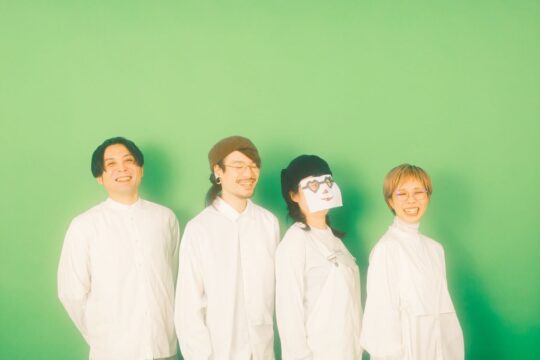 Formed in 2019 centering on Otake @ James, who is active as a singer-songwriter. Although it is a sound that is not bound by genres and has a high degree of freedom, it plays a unique sound with an unwavering worldview and an emotionally appealing voice of Otake @ James.
・"GINZA Special Days", a campaign for Ginza restaurants and famous restaurants, will be held at the same time.
A special period where you can enjoy long-established and famous stores in the Ginza area, mainly on March 18 (Sat) and 19 (Sun). You can receive various special services by obtaining a PASS distributed at commercial facilities and presenting it at participating stores. At the restaurant, "GINZA Music Night" will be held to enjoy the marriage of gourmet and music. Musicians add flowers to the mealtime. Please enjoy Ginza in spring together with the "GINZA POET-GRAPHY" tour.
For details such as stores and dates, please visit the special site below.
https://tcs.ginza.jp/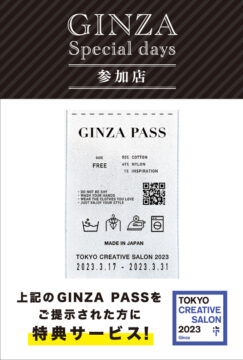 [Overview of Tokyo Creative Salon 2023]
Name: "TOKYO CREATIVE SALON 2023"
Period: March 17 (Friday) to March 31 (Friday), 2023
Area: Marunouchi/Yurakucho, Nihonbashi, Ginza, Shibuya, Harajuku, Haneda Organizer: Tokyo Creative Salon Executive Committee Official Website URL: https://tokyo-creativesalon.com/
Official SNS URL:https://www.instagram.com/tokyocreativesalon/
https://twitter.com/tokyo_c_s
[Tokyo Creative Salon Executive Committee] From the press release