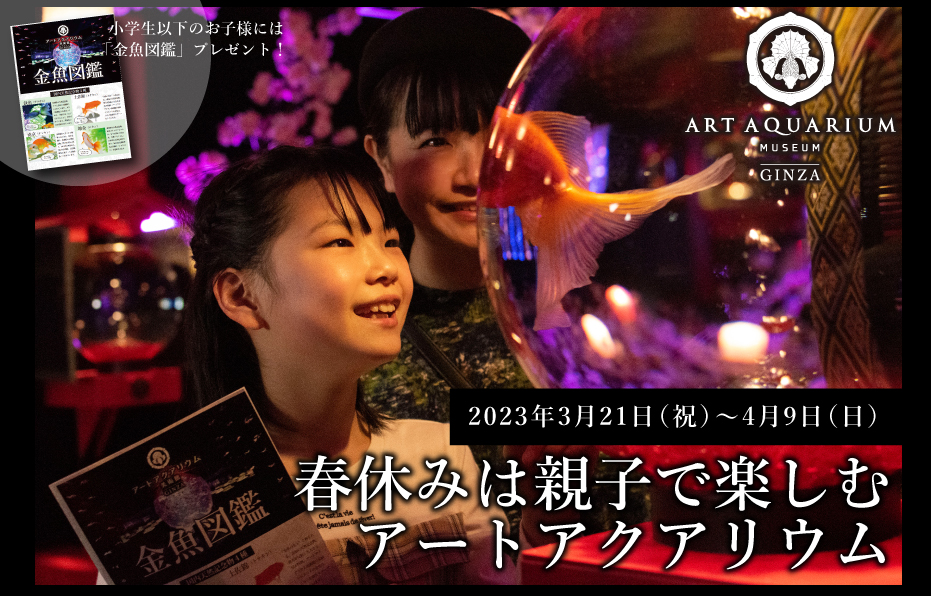 Children of elementary school age and younger can enter the goldfish museum for free, so you can enjoy the spring vacation art experience for your family at a great value!
ART AQUARIUM MUSEUM GINZA (Location: Ginza Mitsukoshi) will present a "Goldfish Encyclopedia" to all children who visit the museum from Tuesday, March 21, 2023 to Sunday, April 9, 2023.
Why don't you make memories of spring break with your family at our hotel where children can enter for free (*)? In addition, during the period, a special spring project "Mecha Sakura ~SAKURA Special~" is being held! We are welcoming you with spring clothes.
Enjoy viewing cherry blossoms and goldfish art while learning about the types of goldfish with your children.
*Two children under elementary school age are free of charge for one adult.
・Goldfish Encyclopedia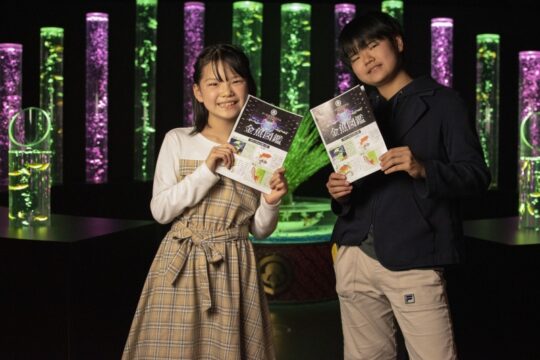 There are about 70 types of goldfish swimming in the aquarium works displayed at Art Aquarium Museum GINZA. Children will receive a booklet "Goldfish Encyclopedia" that introduces 20 types of fish. In addition to the types of goldfish, the Q&A answers questions about goldfish. Find your favorite goldfish with your child while looking at this booklet.
・ Introducing some of the contents!
---
---
In the booklet presented this time, we introduce various types, such as the classic type, the type designated as a natural monument, and the popular type at this museum. Photos and comments explain each feature, so you can enjoy reading after watching.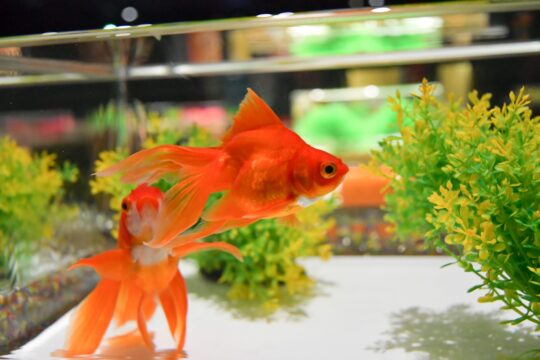 Ryukin
A representative type of goldfish with a round shape and elegant long tail. I think it's the most familiar type, but there are many types of Ryukin in this museum, so please try to find the difference.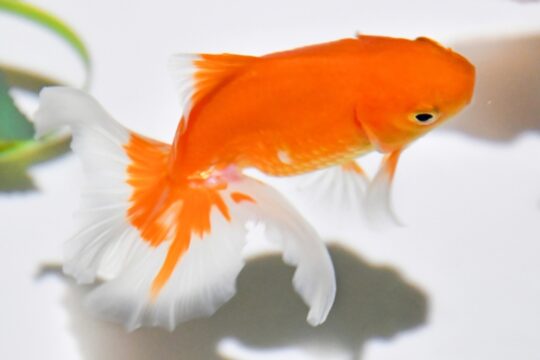 Tosa Nishiki
Known as the "queen of goldfish," it is a natural monument of Kochi. It features an inverted tail fin. The goldfish silhouette of the ART AQUARIUM MUSEUM has this Tosa Nishiki motif. Try to find both the family crest Tosa Nishiki and the Tosa Nishiki swimming in the tank.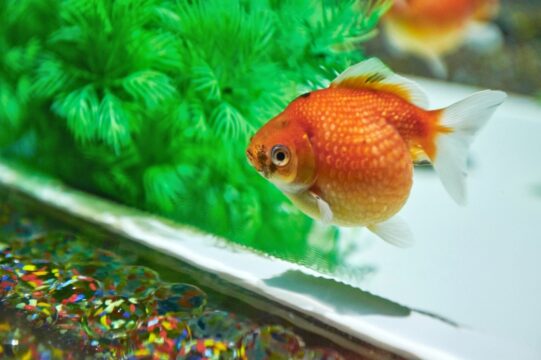 Ping-pong pearl <br /> As the name suggests, it is characterized by a round shape like a ping-pong ball and pearl scales with raised pearl-like surfaces. It is a very popular type at our hotel because of its cute appearance. From small and cute ping-pong pearls to large ping-pong pearls, please enjoy their cute appearance.
・Art aquarium for parents and children
The ART AQUARIUM MUSEUM, where you can enjoy various goldfish viewing in an extraordinary space, is also visited by families with children.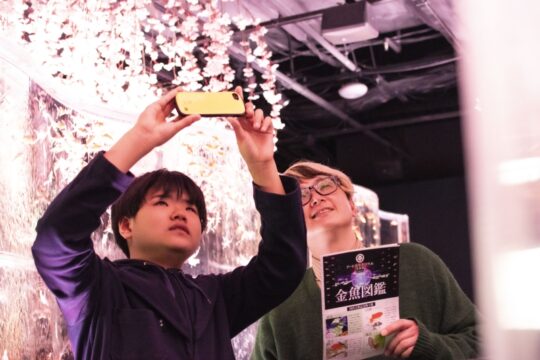 If you read the goldfish encyclopedia and appreciate the work, you may grow more attached to goldfish! You may be able to take more beautiful pictures of the fantastic space and the goldfish swimming in it by knowing the characteristics of each in the goldfish encyclopedia.
In addition, the content is designed to be enjoyed by adults, so parents can teach their children about the characteristics of goldfish. Please enjoy watching goldfish art while learning together.
・ Spring special project "Mecha Sakura ~ SAKURA Special ~"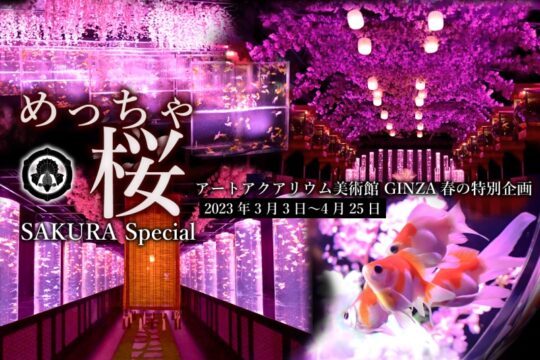 From March 3, 2023 (Friday) to April 25 (Tuesday), we will hold a special spring project "Mecha Sakura ~SAKURA Special~". The beauty of goldfish dancing and swimming in a space surrounded by cherry blossoms. Please enjoy the beautiful scenery of Japan.
[The arrival of spring, goldfish dancing in cherry blossoms]
In this project, we will exhibit various works and create a space with the motif of cherry blossoms, which symbolize spring in Japan, and welcome everyone in spring attire. There is also a space that expresses a natural scene where cherry blossoms are in full bloom and weeping cherry blossoms hang down. Cherry blossom petals dance in the tank where the goldfish swim elegantly, and the spring breeze blows throughout the building.
Please enjoy the "much cherry blossom" space delivered by ART AQUARIUM.
·Equipment outline
Facility name ART AQUARIUM MUSEUM GINZA (English notation: ART AQUARIUM MUSEUM GINZA)
Admission fee
WEB ticket 2,300 yen https://ticket.artaquarium.jp/
Same-day ticket 2,400 yen (Same-day tickets are sold on the 9th floor of Ginza Mitsukoshi New Building)
Location Ginza Mitsukoshi New Building 8th floor (Entrance is on the 9th floor) (4-6-16 Ginza, Chuo-ku, Tokyo)
Access • Directly connected to Ginza Station on the Tokyo Metro Ginza Line, Marunouchi Line, and Hibiya Line • 5-minute walk from Tokyo Metro Yurakucho Line, Ginza-itchome Station (Exit 9) • Toei Asakusa Line, Tokyo Metro Hibiya Line, Higashi-Ginza Station 2-minute walk via underground passage towards Ginza Station 9-minute walk from JR Yurakucho Station (Central Exit/Ginza Exit)
business hours
10:00-19:00 (Subject to change)
Closed: Same as Ginza Mitsukoshi (In addition, it may be closed irregularly due to maintenance, etc. Please check the official website for details)
Official HP http://artaquarium.jp/
Official SNS Twitter https://twitter.com/artaquarium_tm
Instagram https://www.instagram.com/artaquarium_tm_official/
Facebook https://www.facebook.com/artaquariumofficial
*The official account has been transferred.
We will operate after thoroughly implementing infection control measures for safety measures staff and taking appropriate measures against the new coronavirus.
Notes Strollers, suitcases, and pets are not allowed to enter.
There are no lockers for luggage.
Organizer AQUA ART RELATIONS Co., Ltd.
Planning and Production Amuseum Parks Co., Ltd.
Operated by Amuseum Parks Co., Ltd.
Cooperation Isetan Mitsukoshi Ltd. Ginza Mitsukoshi
[Art Aquarium Production Committee] From the press release
<Related articles in the past>
"Mecha Sakura ~SAKURA Special~" will be held from today! ART AQUARIUM MUSEUM GINZA Spring special project
Goldfish designated as a natural monument assemble in full force! Enjoy beautiful goldfish at the ART AQUARIUM, a museum where life lives
Christmas illumination space immersed in the daytime Art Aquarium Museum GINZA Winter special exhibition starts! "Winter Goldfish Glittering in the Light"