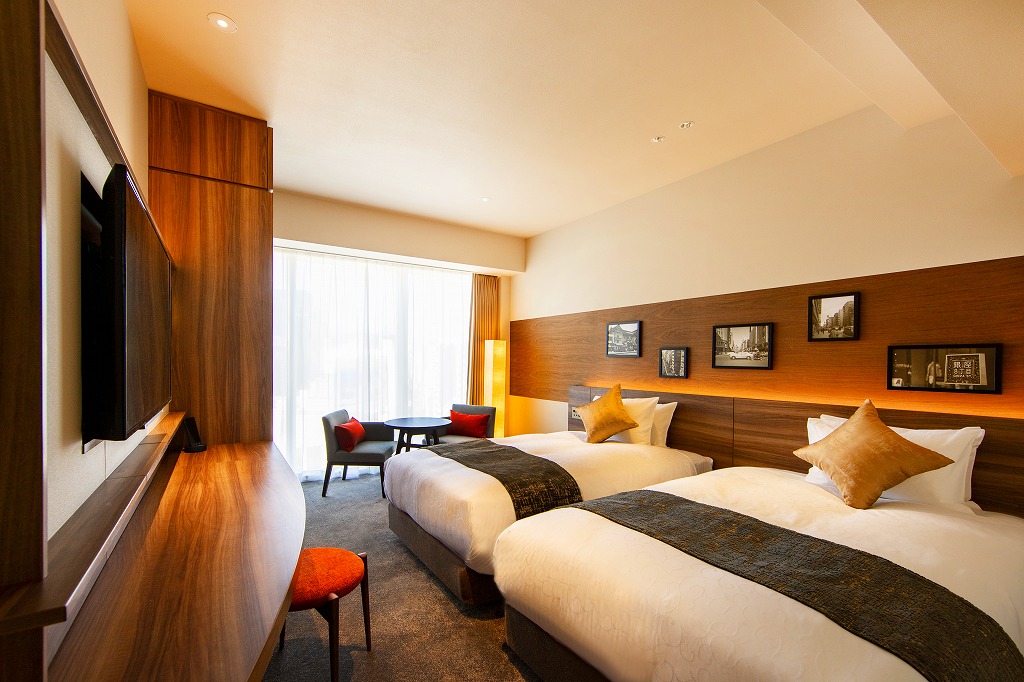 Official Website Limited Launch Plan Commemorative
Kura Hotels, which operates and manages lodging-specialized hotels for tourists, will open "Takasa Hotel Premier Tokyo Ginza" on Wednesday, May 1, 2019. Karakusa Hotels currently operates 5 hotels in Kansai and Hokkaido, but is the first to open in Tokyo.
Karakusa Hotel Premier Tokyo Ginza (1-6-6, Shinbashi, Minato-ku, Tokyo) is a hotel ranked upscale. We offer upper class service with 57 twin and double rooms featuring 26 square meters to 43 square meters and large windows and a complimentary lounge for guests. Within walking distance to Ginza, a shopping area that represents Japan and also features Kabuki-za, where you can admire traditional performing arts. The nearest station of the hotel is conveniently located at Shimbashi Station, which offers various routes, and it offers easy access to all the attractions in Tokyo and the suburbs of Tokyo.
Pre-ordering started from last August. From February of this year, it is being sold "opening Memorial original sense wrapping cloth with a special accommodation offer" official website limited to provide half a year from the opening date. A fan presents one per person regardless of the number of nights, and a Furoshiki gives one per room. https://karaksahotels.com
The concept of Karakusa Hotel Premier Tokyo Ginza is "Enjoy the life with your important partner" . The two tourists who enjoy sightseeing, shopping, and dining will return to the hotel and make a rest and create a time to reflect on today's delightful events and memories.
Feature 1 PREMIER Premier
The rooms are mainly 26 m2 to 43 m2 in size
Large window overlooking the city of Ginza
Free lounge for guests only (20 seats-6:30-22:00) There is also a mini lounge on the high floor
---
---
Guest room type is all six kinds. Soft woodgrain furniture and large windows provide a peaceful space.
※ Superior twins can be doubled.
In the lounge on the second floor, you can enjoy a self-service drink selection and seasonal pop food, and wine and other alcoholic beverages in the evening.
Feature 2 Pursuit of COMFORT comfort
Serta custom mattresses, high moisture absorbing and desorbing wool bed pads, optoelectronics® feather duvets and total coordination
We introduce rain shower, LED mirror
Ample amenities such as free Wi-Fi throughout and a smartphone for guests
Feature 3 PERSONALIZED   Hospitality
Seating check-in
In-room breakfast with the theme of "Japanese-style, taste"
Various foreign staff support guests (English, Chinese, Korean, Vietnamese, Bulgarian)
Official website limited "Opening Commemorative Original fan , special accommodation plan with Furoshiki "
Presents a fan with an original design featuring a pattern of arabesque that is also a motif of the "Karokusa Hotel" and a Furoshiki with illustrations. It is a special rate plan with breakfast limited for half a year from the opening date.
Accommodation period: Wednesday, May 1, 2019-Thursday, October 31
Feature: Original fan ※ One sheet per person regardless of the number of nights. You can choose from 3 colors Original Furoshiki (50 cm x 50 cm) ※ One charge per room per room, regardless of the number of nights Price: One room for 2 persons (including breakfast, consumption tax and service charge)
20,000 yen ~ ※ It will change depending on the time Check in 15:00 / Check out 11:00
Booking destination: Official website https://karaksahotels.com
The plan reservation link is this https://directin.jp/?z=A0Y6N4
Contact: Sales & Reservation Center Tel: 03 5544 5800
Karakusa Hotel Premier Tokyo Ginza Overview <br /> Name: Karakusa Hotel Premier Tokyo Ginza (English name karaksa hotel premier Tokyo Ginza)
Address: 1-6-6 Shinbashi, Minato-ku, Tokyo 〒105-0004
Tel & Fax: Tel: 03 3573 6602 Fax: 03 3573 6603
URL: https://karaksahotels.com/ginza
Scheduled to open: Wednesday, May 1, 2019
Management and operation management: Takkusu Hotels Co., Ltd. (Minato-ku, Tokyo, President & CEO: Satoshi Sato)
Operation: Takusa Hotels Tokyo Co., Ltd. (Minato-ku, Tokyo, President & CEO: Satoshi Sato)
Design / Construction / Design Architect:
Irie Miyake Design Office Co., Ltd. / Okumura-gumi Co., Ltd. / Peter Han Associates Limited Building scale: 12 floors above ground / total floor area 2, 988.8 m 2
Facilities & Facilities: All 57 rooms * 14 connecting rooms / standard double 2 persons 1 room 25.7m 2
・ Standard twin 2 people 7 rooms 27.2 m2
・ Superior twin / double 2 people 34 rooms 26.0 m2-27.1 m2
・ Premier Twin 2 people 9 rooms 26.0m2 ~ 27.1m2
・ Deluxe Twin 2 people 3 rooms 36.3m2
・ Executive twin 2 people 3 rooms 42.8m2
※ All rooms are non smoking Check in 15:00 / check out 11:00
Reception (2nd floor) / Guest lounge (2nd floor) / Smoking room (2nd floor) / High floor dedicated mini lounge (10th floor)
Free Wi-Fi in the entire building / Courier service / Free storage of luggage / Barrier-free in the hotel / Parking for disabled people (1 car)
〔access〕
・ From Narita Airport via Keisei Electric Railway Narita Sky Access Line via Oshiage to Shimbashi Station (68 minutes), about 6 minutes on foot ・ From Haneda Airport International Terminal Keikyu Airport Line 21 minutes to Shinbashi Station, from Shimbashi Station about 6 minutes on foot -About 6 minutes on foot from JR / Toei Subway Asakusa Line Shimbashi Station-About 10 minutes on foot from Tokyo Metro Ginza Station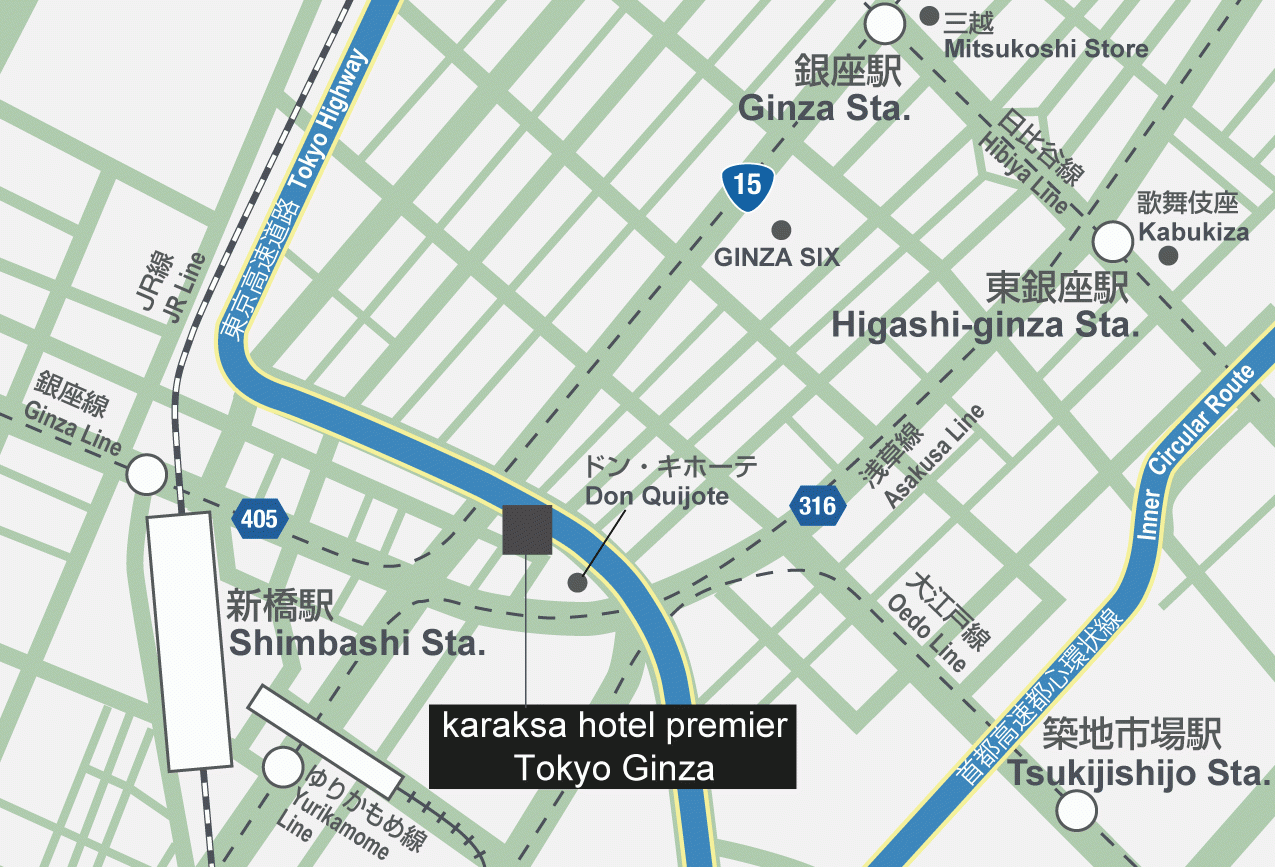 Karakusa Hotel Sapporo Hokkaido Hokkaido Sapporo City Chuo Ward Minami Sanjo Nishi 5-24 〒060-0063 Tel: 011 204 6602
Karakusa Hotel Kyoto I Kyoto Prefecture Kyoto City Nakagyo Ward 12-13 Shoseibojocho 〒 604-8804 Tel: 075 823 6602
Karakusa Hotel Osaka Namba Osaka Prefecture Osaka City Chuo Ward Nishi Shinsaibashi 2-9-13 大阪 542-0086 Tel: 06 6212 6602
Karakusa Hotel Osaka Shinsaibashi I 1-6-9 Hakuyucho, Chuo-ku, Osaka Prefecture 〒 541-0059 Tel: 06 6268 6602
Spring Spring Hotel Kansai Air Gate Osaka Prefecture Sennan-gun, Tajiri-cho Kachijoji 588 〒 598-0091 Tel: 072 466 6602
Scheduled to open in 2019
The second hotel in Tokyo
Karakuma Hotel Tokyo STATION
Scheduled to open on July 8, 2019, Yaesu, Chuo-ku, Tokyo / 151 rooms, 5 minutes walk from Tokyo Station. The best location for a trip to Japan
The 5th largest hotel in Kansai, the largest hotel
Karakusa Hotel Grande Shin-Osaka Tower <br /> Osaka Prefecture Osaka City Osaka Prefecture Miyagawa Kashiwa Miyahara 3-3 / 2019 scheduled to open at the end of November / 396 rooms height 94.7m · 24 floors · accommodating approximately 1,200 people