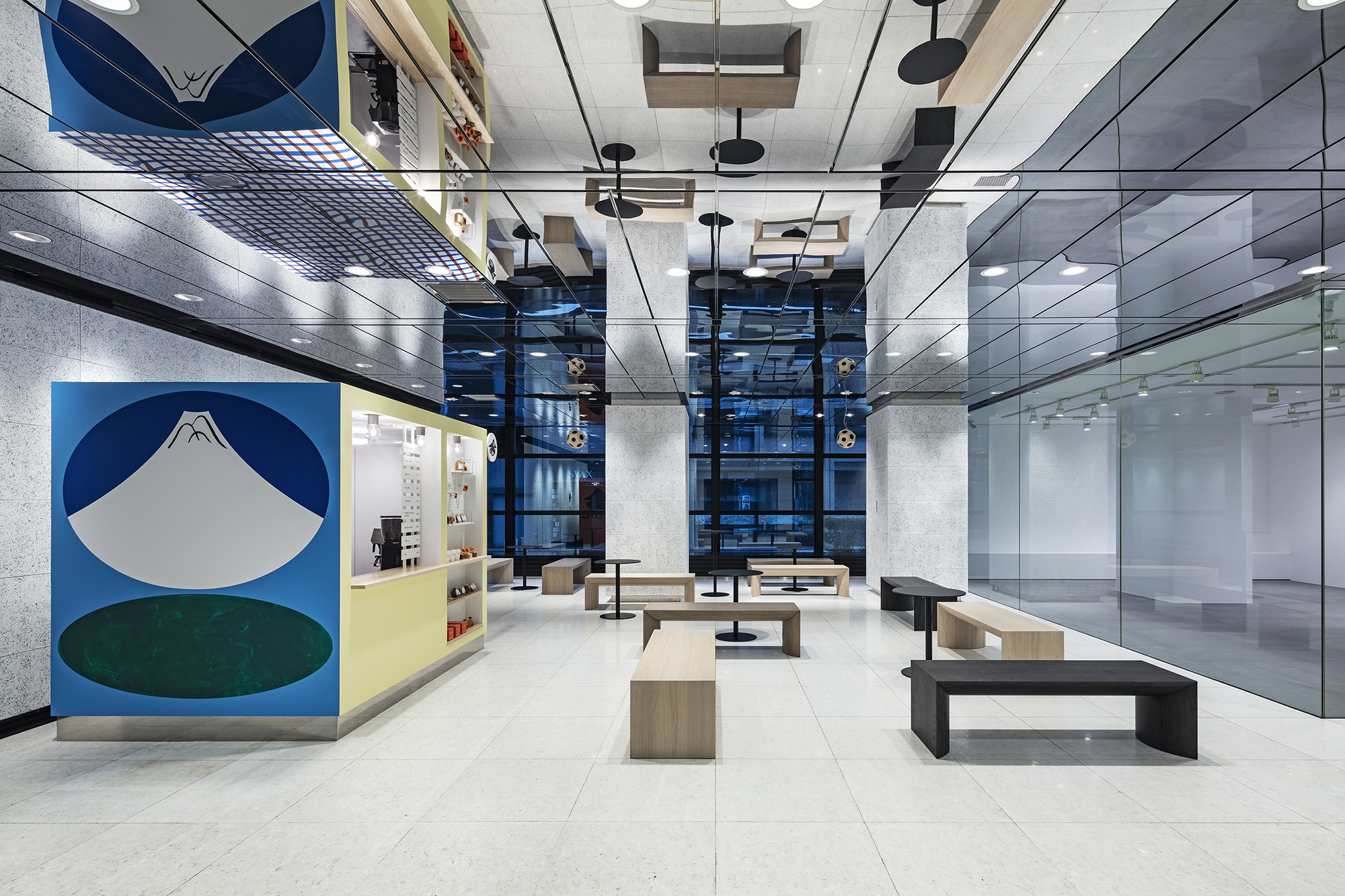 CAFE G8 (Cafe G8) planned by Creation Gallery G8 opened on Tuesday, February 25, 2020. After a temporary suspension of business, we will reopen on Monday, July 20, 2020.
CAFE G8 is located in the 1st floor lobby of Recruit GINZA 8 Building. The trough architectural design office is in charge of the renovation design of the lobby, such as installing a wall with a texture based on white and a wooden bench that makes use of the warm roundness, and the Trough Architectural Design Office is in charge Made a signing plan. The lobby has been reborn not only as a meeting place, but also as a multipurpose space where you can have meetings and eat and drink at a cafe.
The logo of the cafe, the exterior design of the coffee stand type cafe with gallery, environmental music, etc. change regularly due to the collaboration of creators. The first time, Eriko Kawakami (art director) was in charge of the cafe logo, labels, and exterior graphics, Shuta Hasunuma (musician) was in charge of environmental music, and NO ARCHITECTS was in charge of the cafe box.
We have original takeaway coffee, seasonal drinks, sweets such as cookies and muffins, lunch boxes every Tuesday, and takeaway products such as cookie cans as gifts. We will continue to disseminate information as a place for communication, where people gather through cafes and the gallery connects with the town of Ginza.
---
---
Creation Gallery G8
Store name: CAFE G8
Location: 8-4-17 Ginza, Chuo-ku, Tokyo 104-8001 Recruit GINZA 8 Building 1F Lobby (next to Creation Gallery G8)
Business Hours: Weekdays 9:00-19:00, Saturdays 11:00-19:00 (July-August weekdays 11:00-19:00 hours shortened)
Holidays: Sundays and holidays (business days are the same as Creation Gallery G8 opening days)
Seats: None Opening date: Tuesday, February 25, 2020, reopening Monday, July 20, 2020 Reference menu: G8 blend 350 yen (tax included) Cafe latte 400 yen (tax included) Chocolate chunk cookie 200 yen (tax included) )
BOX lunch 850 yen (tax included) every Tuesday only, lunch 1200 yen (tax included) every Tuesday only Store URL: http://rcc.recruit.co.jp/g8/cafe
* The cafe regularly disinfects alcohol, and employees take thorough measures to prevent infection, such as wearing a mask and daily temperature measurement.
Lobby renovation design: Trough architectural design office Lobby sign construction: Ishimaru sign Plan: Nippon Design Center Co., Ltd. Irobe Design Institute Cafe BOX Design and construction: NO ARCHITECTS
Cafe graphic: Eriko Kawakami Environmental music: Shuta Hasunuma Cafe management: HAGI STUDIO
Creation Gallery G8 will also hold the Yusaku Kamekura Prize Atsumi Kikuchi 2020 Commemorative Exhibition at the Kamekura Yusaku 2020 Commemorative Yusaku Kikuchi Atsumi 2020, which will be held on July 20th (Monday), the same day that the cafe is reopened. Please make a reservation on the website before visiting. Please note that those who do not have a reservation cannot enter. http://rcc.recruit.co.jp/g8/
◾️ Visual materials