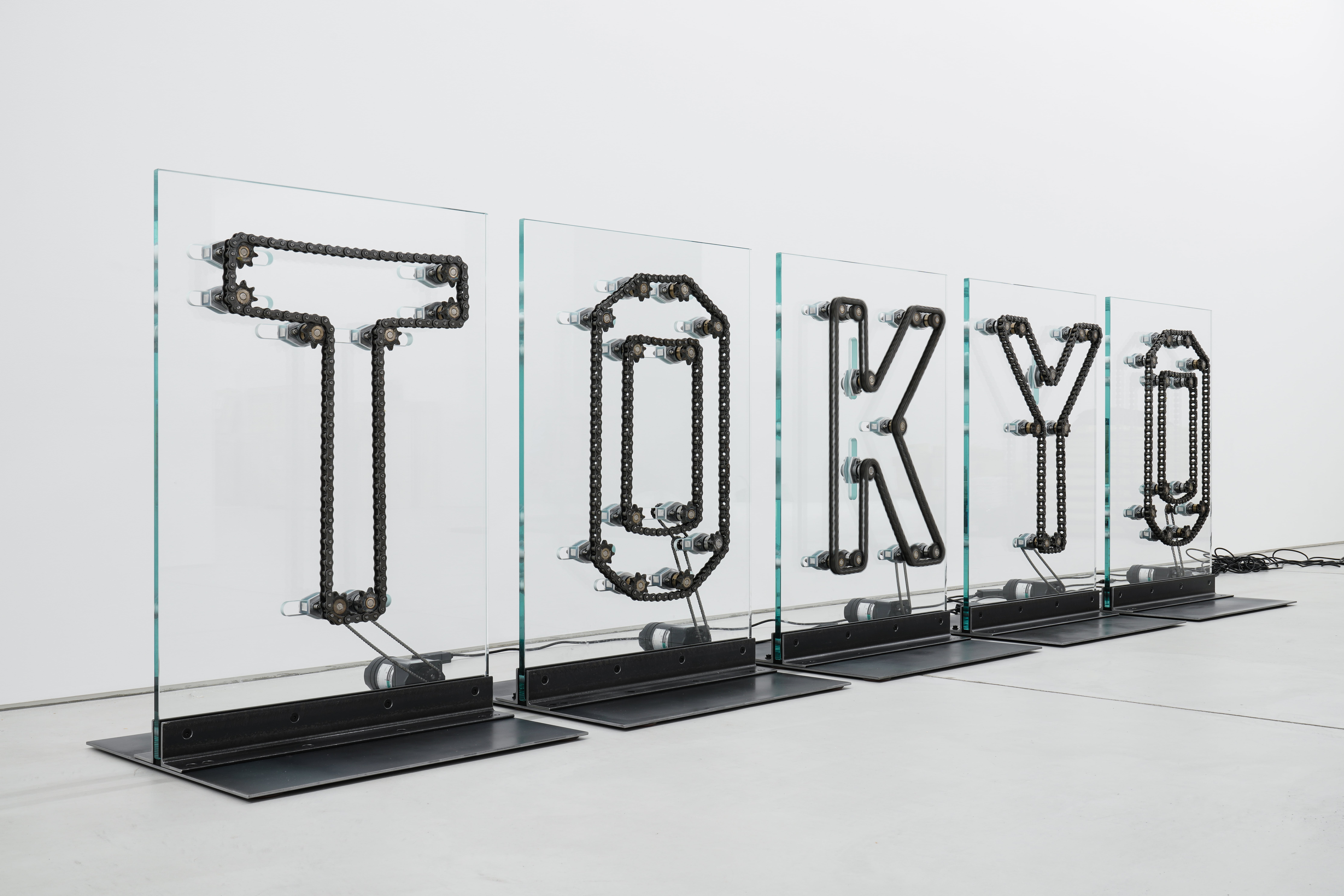 TOKYO machine 2021 glass, steel, chain, bearing, motor, cable 102.0 x 390.0 x 60.0 cm
Ginza Tsutaya Bookstore (GINZASIX 6F, Chuo-ku, Tokyo) will hold Tamura Satoru's solo exhibition "TOKYO Machine" from September 18th (May) to September 2021 to create three-dimensional works with cynical humor using electricity. It will be held at the central event space GINZA ATRIUM on the 23rd (Thursday).
Tamura Satoru uses "electricity", which is indispensable to our daily lives, to create works that make us want to call it a "device" on a large scale without practicality.
An incandescent lamp that turns on and off regularly while emitting sparks, a cloth that spins while making a rattling noise, a crocodile that spins around …
While wondering what the purpose of this was, we continue to appreciate the work innocently when we notice it, "From the meaning, setting, and purpose that the material and form will have. I want to be free, "he says. Maybe he's addicted to it.
At the venue this time, the "Machine Series" will be exhibited, in which chains that form numbers, letters, and symbols rotate endlessly. It is a masterpiece that more than 20 works such as the ART machine in the shape of the alphabet "ART", the "!" (Exclamation mark) type machine, and the TOKYO machine, which will be unveiled for the first time this time, move at the same time.
---
---
Please take this opportunity to enjoy the space created by Tamura Satoru, who creates works with cynical humor as useless and useless things that produce nothing useful electricity that is indispensable to society.
Special page | https://store.tsite.jp/ginza/blog/art/22199-1523140908.html
・About sales
It will be sold at the Ginza Tsutaya Bookstore store and online store.
Period | September 18, 2021 (Sat) Store 10: 30〜 / Online 12: 00〜 Sales start Special page | https://store.tsite.jp/ginza/blog/art/22199-1523140908.html
・ Artist profile
Born in Tochigi prefecture in 1972
1995 University of Tsukuba (Ibaraki) Graduated from the Faculty of Arts, Comprehensive modeling
<Major solo exhibition>
2019 "Tamura Satoru Exhibition Wall to Wall (Domain of Art 22 Plaza North 10th Anniversary Exhibition)" Plaza North North Gallery, Saitama
2015 "Point of Contact # 6" LAGE EGAL RAUM FÜR AKTUELLE KUNST, Berlin
2014 "Tamura Satoru" Midsummer Amusement Park "" Tochigi Prefectural Museum of Art, Tochigi
<Major group exhibition>
2005 "Breathing in the World-Breathing in Art Breathing Art (15th Anniversary of Kawamura Memorial Museum of Art)" DIC Kawamura Memorial Museum of Art / Sakura City Museum of Art, Chiba
2003 "I am a Curator" Chisenhale Gallery, London
2003 "First Steps: Emerging Artists from Japan" PS1 Contemporary Art Center, New York
2002 "New Media New Face 02" NTT Intercommunication Center, Tokyo
<Major awards>
2017 International Light Art Award 2017 First Prize Winner
2009 12th Taro Okamoto Contemporary Art Award Exhibition (TARO Award) Special Award
2002 Philip Morris KK Art Award 2002 "The First Move" Special Award
1999 KIRIN CONTEMPORARY AWARD 1999 Encouragement Award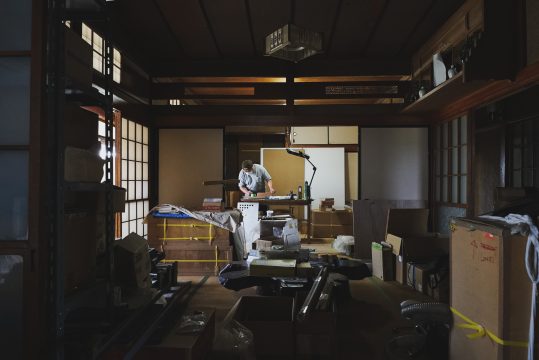 ・ Exhibition details
Tamura Satoru "TOKYO Machine"
Session | September 18th (March) -September 23rd (Thursday), 2021
* The session is subject to change.
Venue | Ginza Tsutaya Bookstore GINZA ATRIUM (Event Space)
Entrance | Free sponsorship | Ginza Tsutaya Bookstore Inquiries | 03-3575-7755 (during business hours) /info.ginza@ccc.co.jp
* Please check the store website for business hours.
Special page | https://store.tsite.jp/ginza/blog/art/22199-1523140908.html
* If there is a change in the content of the leave request from the country / local government in the future, the period of this exhibition may change accordingly. Please note that any changes will be announced on the Ginza Tsutaya Bookstore website, official SNS, etc.
・ Ginza Tsutaya Bookstore
We propose "living with art" by connecting art, Japan and living through books.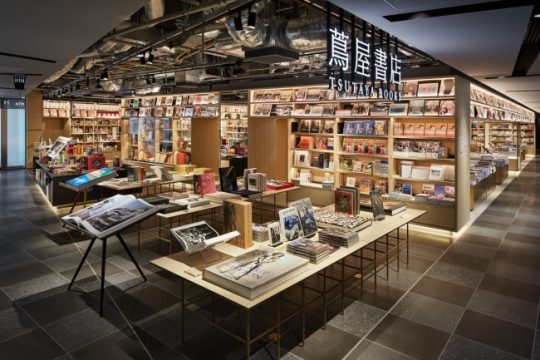 Address | GINZA SIX 6F, 6-10-1, Ginza, Chuo-ku, Tokyo 104-0061
Phone number | 03-3575-7755
Business hours | Please check the store homepage.
Homepage | https://store.tsite.jp/ginza/
Facebook | https://www.facebook.com/GINZA.TSUTAYABOOKS/?ref=bookmarks
Twitter | https://twitter.com/GINZA_TSUTAYA
Instagram |https://www.instagram.com/ginza_tsutayabooks/
・ CCC Art Lab
We are a planning group that conducts art-related business within the planning company Culture Convenience Club Co., Ltd. We would like to make art closer to us through "Proposals for a life with art" and contribute to making someone's life happier and creating a better society. Based on the knowledge cultivated through many years of business experience such as store planning, art media, product development and event production, we make planning proposals with a professional approach.
https://www.ccc-artlab.jp/
<Past related articles>
[Ginza Tsutaya Bookstore] An up-and-coming contemporary ceramic artist, Yohichi Muta's solo exhibition "Eye Vessel" will be held from August 14th (May).
[Ginza Tsutaya Bookstore] The solo exhibition "Star Time" by the up-and-coming young artist Ejoetsu will be held from Saturday, July 31st.
[Ginza Tsutaya Bookstore] A group exhibition "Emerging Artist Exhibition" by up-and-coming young artists born from the special feature of "Art Notebook" will be held from Saturday, July 3rd.