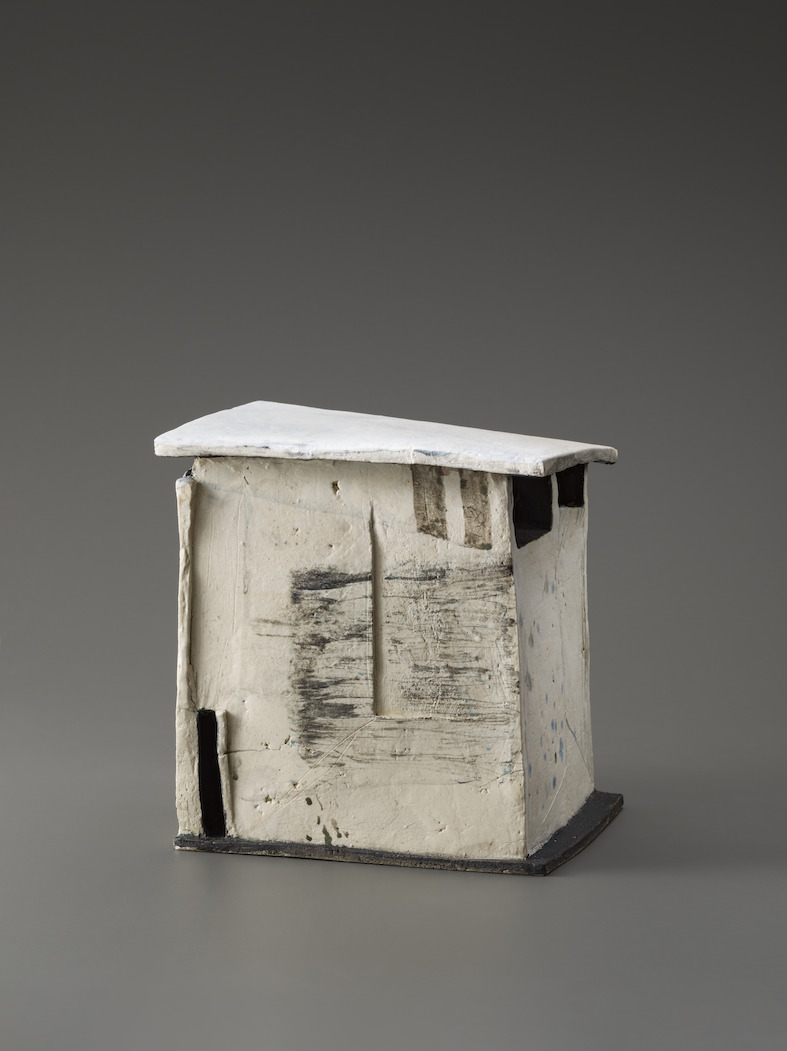 The Yaei Gallery Ginza store has an atelier in Kyoto from January 20th (Thursday) to February 19th (Saturday), 2022, and is still enthusiastically presenting its production at the age of 94. We are holding a solo exhibition of Mr. Yasuo Hayashi (1928-).
---
---
Mr. Hayashi was born in 1928 (Showa 3) as the second son of the Kyoto ceramist Hayashi Shigure. I studied Japanese painting at Kyoto City Arts and Crafts School (currently Kyoto City Dohda Arts and Crafts High School), but it was suspended due to the war. He volunteered for the kamikaze corps himself and was scheduled to sortie in August 1945 (Showa 20), but the sortie order was not given and the war ended.
After the war, he started ceramic art under his father's business, and in 1947, he participated as a founding member in the "Shikokai" formed in Kyoto with the aim of producing avant-garde ceramic art. Through interaction with artists of all genres of the same era, such as Kazuo Yagi and Jiro Yoshihara, I deepened my thinking about new ceramic art. In 1948, he released "Cloud", which suggested the possibility of impractical ceramic art, and released an untied ceramic object that no one was working on at the time. Furthermore, in 1950, the "Human Body" that was selected and exhibited at the "Contemporary Japanese Ceramic Art Exhibition" held in Paris, France at the young age of 22 received high praise as an object. In the works of this time, the influence of Cubism and the unique pattern "Chokkomon", which is a combination of straight lines and arcs, seen in Japan during the Kofun period, can be seen, which was not seen in ceramic art until then. We will move on to our own modeling.
After that, from the 1960s to the 1970s, I proceeded to create a more pure abstract form, but the work was gradually given glaze and white makeup, giving it a certain painting quality. From the early 1980s, it developed into a fascinating three-dimensional object that invites the viewer's optical illusion, creating an extremely original work in which two-dimensional (planar) and three-dimensional (three-dimensional) are intricately interlaced. I did. It was based on the optical illusion experience of night flight that I experienced as an aviator.
In this exhibition, the representative works of the 1960s will be centered on the Tohoku series "Namie Town Scenery", which was shocked by the abandoned house seen in Namie Town, Fukushima, which was the first public release in Tokyo. We will also exhibit it. Mr. Hayashi's world view, in which the terrible nature of the earthquake caused by distorted white walls and roofs and scratched scars, and the texture of simple hand-kneading are in perfect harmony, and the creativity that never stops even at the age of 94. Please take a look.
■ Yasuo Hayashi
Born in Kyoto in 1928. 1940 Entered the Department of Painting, Kyoto City Arts and Crafts School. 1943 Joined the Naval Air Corps in World War II. 1945 defeated. 1946 Helps his father earn money with the resumption of the pottery industry. 1947 Participated in the formation of the Shikoukai.
1950 Contemporary Japanese Ceramic Art Exhibition Paris, Cernesky Museum (France)
1972 30th Hua Entour International Ceramic Art Exhibition Grand Prix Winner (Italy)
1973 Calgary International Ceramics Exhibition Grand Prix Winner (Canada)
1974 Grand Prix of the 4th Valoris International Ceramic Art Exhibition, de Noor (France)
1987 1st Obidos Biennale Grand Prix Winner (Portugal)
1994 Kyoto Exhibition Part-time Exhibition Received the Kyoto Exhibition Award
1998 "Yasuo Hayashi Works" published by Kawade Shobo Shinsha "Mathematics and Ceramics Exhibition" (Germany, Berlin, etc.), Person of Cultural Merit, Kyoto City
Received the Kyoto City Art and Culture Award in 1999
2000 Performing arts for the opera "Botan-tei" (Nice Cannes, France)
2022 Kyoto Prefectural Cultural Award Special Achievement Award "Avant-garde Ceramics Age Yasuo Hayashi's Way of Life" (written by Shinobu Sakagami)
■ Overview of Yasuo Hayashi Exhibition
Yasuo Hayashi exhibition
Venue: Yaei Gallery Ginza Store Location: 7-10-8 Ginza, Chuo-ku, Tokyo 5th Taiyo Building 1st Floor Session: January 20th (Thursday) – February 19th (Saturday), 2022
Business hours: 11: 00-18: 00 Closed on Sundays, Mondays, and holidays
TEL: 03-6263-9707
<Past related articles>
[Ginza Tsutaya Bookstore] Mysterious "living things" born from casual everyday life. Naoki Nomura's exhibition "Tsuchi no Hanashi" will be held from Saturday, January 15, 2022.
Canon Photo House Ginza Special Exhibition "'Walking the Times' Photographer Luke Ozawa" Held
[Pola Museum Annex] Group exhibition by young artists "Pola Museum Annex 2022" will be held from February 11, 2022 (Friday / holiday)