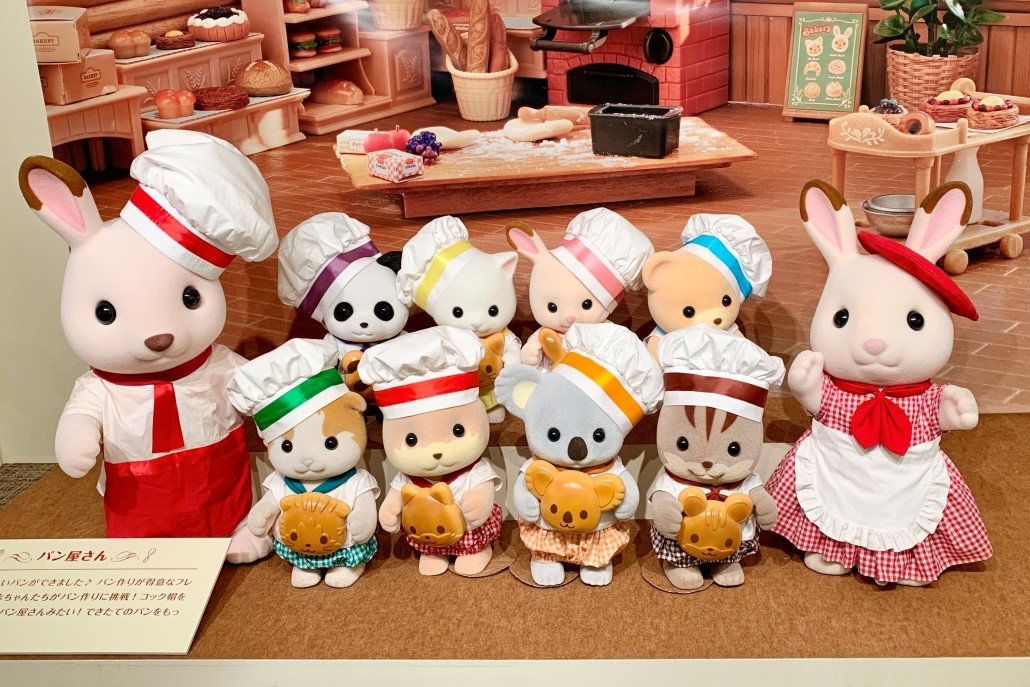 At the event square on the 8th floor of Matsuya Ginza, a special exhibition & special store "Sylvanian Families Delicious Time" is being held from March 7th (Monday) to 21st (Monday), 2022.
Even at Kokoshiru, I went to the venue on the first day of the session. It was a small but satisfying content that I'm sorry for the free admission!
The theme is "food". A special exhibition of delicious time sent by friends in the village of Sylvania
The Japanese-born dollhouse series "Sylvanian Families" released by Epoch in 1985. The beautiful house and furniture made with attention to detail, and the utopian world view of adorable palm-sized dolls are captivated not only by children but also by adults, and are loved in more than 70 countries and regions around the world.
A large-scale exhibition of the Sylvanian Families was held in Matsuya Ginza in 2019, but the theme of this special exhibition is "food" .
Animals living in Sylvania village will collect and introduce "delicious time sent by friends of Sylvania village" such as happy dining scenery surrounded by family and picnics to enjoy while feeling the seasons.
When you enter the venue, you will be greeted by a big baby doll. At this point, I was already full of love. Isn't anything too cute? ??
Normal dolls are palm-sized, but these children are likely to be about 40 to 50 cm. I think the child on the right is Fennec, who will join the village of Sylvania from April this year.
On the wall, a lot of "delicious time" photos that attracted attention on Instagram etc. are displayed on the panel. Each panel had a short story-style scene commentary. Even if you are not familiar with Sylvanian Families, you should be able to immerse yourself in the gentle world of Sylvanian Families as soon as you read it.
Babies with bread are so lovely that they feel pain in their chests …!
After that, Baban and a large photo spot appeared! There are 4 photo spots in all. The "bakery" spot, where baby animals are holding bread in the shape of their faces as cooks, which became the key visual of this exhibition, seems to be the most popular among visitors.
Because I ingested cute ingredients that exceeded my allowance, I became a creature that just muttered "love …", "precious …", and "life …".
---
---
It is impressive that a woman with a child about 3 years old was enthusiastic about taking pictures of her child at the photo spot. With a height of that age, it fits nicely as if you were a member of the Sylvanian village. The scene is pretty again …
If you are planning to go to this exhibition with small children, you may be able to take a picture with a sense of unity by bringing some bread, which is a prop for shooting.
There is also an exhibition entitled "History of" Delicious Time "Products" that introduces products related to "food" that have been released so far. A lot of items that have produced a fun meal scene in Sylvania village are collected for each era, such as "Delicious lunch set", "Rat pizza shop", "Funny house", "Candy wagon" and so on.
It seems that the "tea set" and "cooking set" released in 1985 were made of real pottery, and were very popular with genuine-minded adults. The design is also sophisticated and fashionable.
The tea time set, which was born in collaboration with the long-established patisserie "Ladurée" in Paris, released in 2021, is wonderful with a paper bag of "Ladurée". The romantic brand logo matches well with the world of Sylvanian Families.
Just looking at the elaborate construction … The masterpieces of miniature dollhouse writers are gathered!
By the way, the best thing to see at the venue is the collaboration work with the Sylvanian Families by famous miniature dollhouse writers and people belonging to the Japan Dollhouse Association. It seems that all of them are works that will be unveiled for the first time in this exhibition.
The work of Mimi Ash, a miniature dollhouse writer familiar to fans, is "Fairy's Mysterious Confectionery". It seems that they are selling magical sweets, and it feels like a secret base, which makes me excited. You will forget the time and look at the sweets that are packed in a jar with well-balanced colors and the props that are in the exquisite position of whether you can see or not.
In the work of the Japan Doll House Association, 12 participants express "a delicious year in Sylvania village" every month.
"Waku Waku Summer BBQ" in August pays attention to the back of the bear's father! Are the bear children printed? Family love is transmitted.
My favorite is "Preparing for winter" in November. It is a representation of a scene where mushrooms and berries are picked to prepare for winter, but the baby who is helping with matching clothes is too cute and the emotions are strange. It is a wonderful work that stirs your imagination, such as ribbons, scissors, and other items for some kind of work can be seen in the wood.
By the way, at the top of the diorama works, photographs of each part taken up are displayed. When I asked the person in charge of this exhibition, "I'm introducing the points of interest that I especially want you to see in the work. I hope you will enjoy it without losing its charm. " It is a specification that is easy for diorama beginners.
In addition, although the venue itself is not large, you can enjoy the illustrations drawn by picture book writers and illustrators with a soft atmosphere, and the device called "Zoetrope" that makes it look like an animation by quickly moving an object placed on a disk. It was a special exhibition packed with highlights.
At the special store, there is also a pre-sale "Baby Trio (bakery)"!
At the special store attached to the exhibition floor, the pre-sale product "Baby Trio (Bakery)", as well as the original products of the special exhibition featuring the visuals and illustrations drawn for this project will be on sale. I am.
If you enjoy this exhibition, you will have to bring these children home, but you are worried that they will not be sold out. According to the person in charge, "The pre-sale items at the venue are limited to purchase up to 5 items per person, and we have plenty of stock, so I don't think they will sell out soon." If you are a person, please come and visit us as soon as possible.
Other pre-sale products include mini tote bags, zipper pouches, slide mirrors, and masking tape. It seems that there are about 8 types in all.
By the way, during the period, a menu in collaboration with the Sylvanian Families is offered at the MG Cafe on the 8th floor.
If you order the collaboration menu, you will get an original coaster as a gift, so fans should check it out! However, it will end as soon as the limited number is reached.
In addition, the lottery "Sylvanian Families lottery" that you can always get a prize without losing from 10 am on March 12 (Sat), 13 (Sun), 19 (Sat), 20 (Sun) during the holding period ( 600 yen including tax once) will be held at the special counter in front of the elevator on the 8th floor.
I'm wondering what kind of prizes will come out! This also seems to end as soon as the prize runs out.
Not only for fans, but also for those who are tired of everyday life and want to "see cute things" and "want to be healed", we would like to recommend from the bottom of our heart the special exhibition & special store "Delicious Time in Sylvania Village".
When I visited around noon on the first day, it was crowded to some extent, but it was so crowded that I could appreciate the work carefully without any particular collision, so please refer to it. It will be held until March 21st (holiday / Monday)!
Outline of the special exhibition "Delicious Time in Sylvania Village"
* The content of this article is as of the publication date (2022/3/8). Please note that the information may differ from the latest information.
<Past coverage articles>
[Panasonic Shiodome Museum of Art] "The Power of Ceramic Art and Traditional Crafts that Connect to the Future" (~ 3/21) Preview Report
[Experience Report] Enjoy the illuminations at "Tokyo Christmas Market 2021 in Hibiya Park"! Introducing store openings, miscellaneous goods, and congestion status
[Actual food review] A colorful and cute petite-sized meat bun specialty store "TOKYO PAO" opens in Yurakucho!
Nana Suzuki fires "nice!" Tokyu Plaza Ginza "Mana Belle Marche-Production Process Exhibition Covered by Children-" Coverage Report