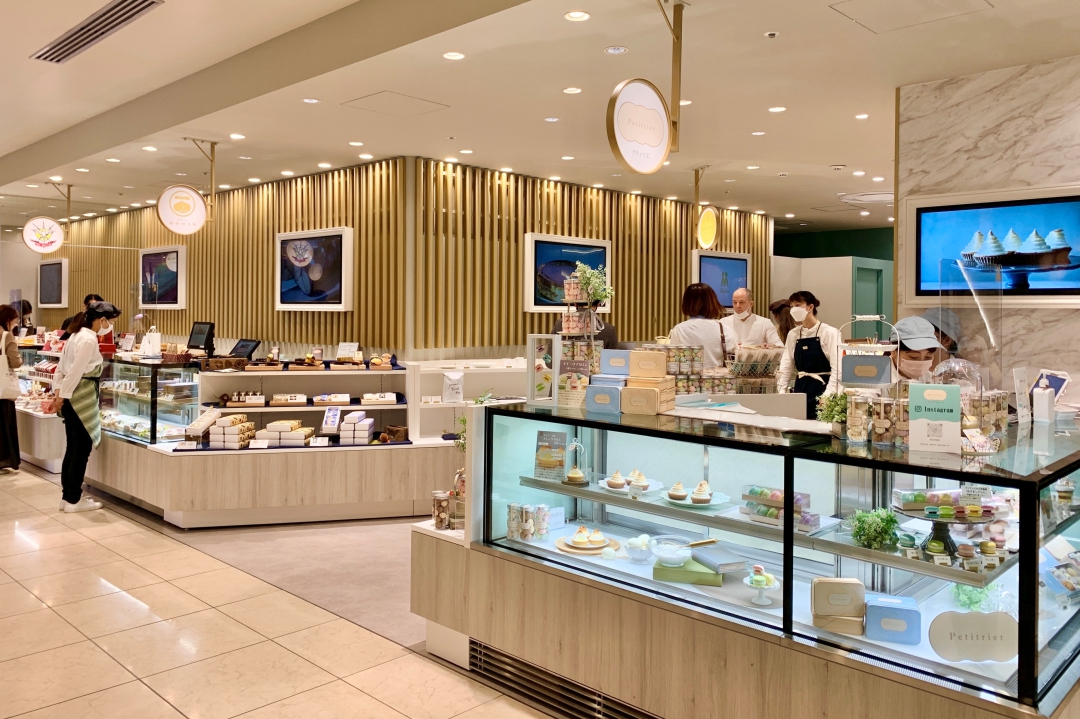 A new sweets spot "GINZA SWEETS MARCH" opened on April 27, 2022 on the 1st floor of the commercial facility EXITMELSA in Ginza 5-chome!
Of the 12 stores, the first store is 3 stores, the first store in Tokyo is 4 stores, and the first store in a commercial facility is 2 stores . Since I participated in the press preview held the day before the opening, I will introduce the state of the floor with a food report.
* The information posted is as of the time of the preview. Please note that product details and lineups may change after opening.
12 various sweets shops are gathered! GINZA SWEETS MARCH
The concept of GINZA SWEETS MARCH, which was born by completely renewing the first floor facing Chuo-dori, is "to you, to me who did my best, a special gift." A lot of attractive sweets were created aiming at a lively place like a lively march.
Among the 12 stores that line the eaves, there are stores that you can hardly see anywhere else, such as the first store specializing in the finest Basque cheesecake supervised by a former chef of a three-star restaurant in Spain, and the popular patisserie that opened for the first time in Tokyo. Many!
In an exciting and exciting space like a march, there is a desire to boost the energy of the visitors.
Since I went around the floor, I will introduce from the 3 stores that set up the first actual stores.
[Japan's first! 1st store ①] Petitrier / Meringue confectionery specialty store
"Petitrier", which has been sold mainly in online shops, is a meringue specialty store that conveys the hidden charm of meringue that complements various sweets.
The concept is "encounter a new meringue mouthfeel". Various textures of meringue such as "Scorched cheese meringue tart" with fluffy raw meringue and "Assortment of meringue and cookies" with crispy and crispy colorful meringue and cookies There were many sweets that you can enjoy how to eat.
In connection with this opening, the sweets "Plaisir citron praliné" supervised by Mr. Sebastian Martin, the head chef of the French Embassy in Japan, is on sale! Lemon cream, praline cream, hazelnut biscuits, etc. are layered under the Italian meringue, making it a refreshing dish.
It was a shop full of cute products that made you feel soared just by looking at it!
■ Petitrier official website https://www.petitrier.com
[Japan's first! 1st store ②] JÉRÔME cheesecake GINZA / Basque cheesecake specialty store
The permanent store of "JÉRÔME cheesecake GINZA", a superb Basque cheesecake specialty store supervised by Jerome Kirbov, who was the head chef at a three-star restaurant in Spain, has opened for the first time in Japan.
The only sweets on the shelves were the hall or piece cut of the signature product "JÉRÔME Basque Cheesecake", and I felt extraordinary confidence in the product. It seems that seasonal products will be developed in the future. In addition, original blended organic coffee and tableware newly devised for cakes were also sold at stores.
"JÉRÔME Basque Cheesecake" is a luxurious use of carefully selected ingredients such as cheese from the Basque Country of Spain and fresh cream cheese from Hokkaido. It seems that one hole has a diameter of about 17 cm. "It is characterized by its melting in the mouth the moment it is put in the mouth and its thick texture."
I took one piece home and tried it.
When I put it in my mouth, I was surprised at the extremely smoky flavor. It's completely different from the Basque cheesecake sold at convenience stores …! The sweetness is modest, and it is very delicious with a slight acidity in the heavy richness. You can enjoy pairing with sake as if you were eating smoked cheese as a snack. Certainly, the melting in the mouth was fascinatingly smooth. I'm happy with the afterglow after eating … The price was high, but I was impressed with it.
■ JÉRÔME cheesecake GINZA official website https://jerome-cheesecake.com
[Japan's first! 1st store ③] Kanedaya (Canadaya) / Evolutionary fruit Daifuku
This is also the first store of "Kandaya (Canadaya)", which sells the supreme fruit Daifuku, which is decorated with fruits and looks like a Western confectionery. It's a shop that you can't get online, and you can only buy products here.
What surprised me when I went to the store was that there was no showcase for arranging products. I used the space unified in chic black luxuriously, and only the sample was spinning around. It is said that orders will be received at the counter and the finished products will be sold from the backyard.
The base of the product is black fertilizer kneaded with bamboo charcoal, which contains white bean made from Hokkaido azuki beans and special cheese cream. On top of that, it seems that it is decorated with carefully selected seasonal fruits. beautiful…….
Japanese and Western confectionery, which resembles black fertilizer as a stone (cushion) on which a jewel called fruit is placed, is carefully placed in a cosmetic box one by one. It's a novel evolutionary Daifuku that you can enjoy with your eyes when you open it!
At the time of opening, only 4 types will be sold, and the number of types will be gradually increased to around 30. It seems that there will be a lineup of ingredients that are not often used in Daifuku, such as Earl Gray and pistachios, and it seems that they will be attracting attention in the future.
■ Kanadaya Official Website https://kanadaya.co.jp
[First store in Tokyo ①] Toshihisa Hinata / Chestnut confectionery specialty store
Four popular stores in Kansai and Kyushu have made their first foray into Tokyo!
First of all, I would like to introduce Hyuga Rikyuan, a chestnut confectionery specialty store in Miyazaki prefecture, which is a hidden chestnut producing area that has many celebrity fans. Craftsmen carefully tailor fresh chestnuts into sweets one by one. He says he is trying to create products that bring out the original taste of chestnuts without making them too sweet.
The signature product is "Kuri Toshihisa". It is a luxurious dessert with chestnuts kneaded in an astringent skin boiled on top and brown sugar yokan sprinkled on top. It's elegant and luxurious, and it's sure to play an active role in greetings in a proper situation.
In addition, "Kuriohagi" will be available only at the Ginza store! "The gentle sweetness of chestnuts and the natural sweetness and umami of rice are in harmony, and it's a product that makes many pieces go."
■ Toshihisa Hinata Official Website https://hyugarikyuan.co.jp
[Tokyo's first store ②] Sagamiya Ginza rev.1 / Baked confectionery specialty store
At the Ginza limited store "Sagamiya Ginza rev.1" of the popular baked confectionery store "Hakone Sagamiya" in Hakone Yumoto, the famous original sweet "Nuts Vessel" with the sweetness of caramel and the aroma of nuts is on sale.
I'm glad that the hard caramel baked at high temperature and finished crispy does not melt even in the summer. You can purchase various sizes and quantities according to your needs, from the one-handed "Nuts Vessel Mini" (1 piece / 210 yen including tax) to the large plate-shaped "Nuts Vessel High Class" (1,717 yen including tax).
I received one "Nuts Vessel Mini", but I was surprised at how hard it was. If you enjoy the crunchy or crunchy texture, the bittersweet aroma of caramel will soften … It contains various nuts such as almonds, peanuts, and pine nuts, so you can feel the flavor and texture. The sweets weren't too sweet as a whole, and although they were palm-sized, they were quite satisfying.
In addition, "The Cake" with plenty of nuts and dried fruits is limited to the Ginza store. You can feel the deliciousness just by looking at it …. It goes well with brandy, so it's a great gift for liquor lovers.
■ Hakone Sagamiya Official Website https://sagamiya-honten.co.jp
[First store in Tokyo ③] pâtisserie J'ouvre / Patisserie
The popular patisserie "pâtisserie J'ouvre" in Nagoya sells higher-grade sweets that have evolved standard Western confectionery with their own know-how to add color to casual everyday life.
The most popular "Tiramisu" series is tiramisu, which uses soymilk cream with richness, mellowness, and light aftertaste, and fermented soymilk cream with a rich flavor like mascarpone. Very photogenic in a bottle! You will want to have multiple flavors such as plain, ruby chocolate & raspberry.
Gorgeous and cute sweets such as "Strawberry Shortcake", which comes in a transparent box and is convenient to carry and has a beautiful cross section, and "Deco Frustic", a stick pound cake that looks like an ice lolly, are for you. Perfect for rewards!
■ pâtisserie J'ouvre official website http://jouvre.jp
[Tokyo's first store ④] Anko wins / Anko sweets specialty store
Anko confectionery specialty store "Anko no Katsu", which opened in Osaka in December 2021, collaborates anko with Western confectionery such as cream puffs, puddings, and tarts, and proposes new ways to enjoy anko and possibilities. ..
The interesting store name was given with the conviction that "Anko goes well with any sweets, but Anko always wins in the last remaining lingering sound!"
Among them, the products "AN Shukurimu" and "AN Purin" are interesting because you can choose 3 types of bean paste with different sugar content according to the mood of the day. The colors of bean paste (sugar content 60 degrees), koshian (sugar content 52 degrees), and peeled bean paste (sugar content 45 degrees) were slightly different. It seems interesting to buy all three types and compare them.
That's why I brought back three types of signboard products, "AN Shukurimu".
It has 3 layers of red bean paste, custard, and fresh cream from Hokkaido. Perhaps because of the solid feeling of the bean paste, I shook it a lot when I took it home, but it didn't lose its shape at all.
It looks like it has a good balance of custard and fresh cream, but when you try it, the presence of the bean paste is huge. You don't have to wait for the afterglow to win the bean paste!
The flavor and sweetness of azuki beans are well-balanced, and the texture of custard and fresh cream is excellent, so I especially like bean paste. The choux pastry is firm and even one is quite hungry, so it is recommended as a snack at 3 o'clock rather than dessert after meals.
There is "AN Monburan" as a sweet limited to the Ginza store, limited to 20 pieces a day! This product is made by adding sweetened chestnuts to a smooth cream and topped with cocoa powder and chocolate crunch.
■ Anko win official website http://www.annokachi.com
[Commercial facility first store ①] Shizuka Western confectionery store Natural confectionery research institute / Western confectionery
The popular natural pastry shop "Shizuka Pastry Shop Natural Confectionery Research Institute" in Shirokane Takanawa, which is produced by a chef from Pierre Marcolini, opened in 2021 and this is the first commercial facility to open.
It seems that products are made by simply using gentle raw materials harvested by a sustainable cultivation method that has a small impact on the global environment. I'm glad that the product lineup is almost the same as the main store.
We mainly develop baked goods such as biscuits, and our signature product is "NO.1 Shizuka Biscuits", which is the store's representative 6 types of natural biscuits (honey, black tea, whole grain flour, double cacao, raisins, florentine). ) Assortment. It has a natural taste and a light appearance, but since it does not use baking powder and the ingredients are not greatly inflated, the density is tight and it is very heavy.
When I heard that it was natural, I thought, "Is it simple and light?", But when I asked, "I tend to think so, but the opposite is true, and the taste is very good because it brings out the flavor of the ingredients. It's dark! " He showed me a confident smile, "I'm surprised." I'm curious!
■ Shizuka Pastry Shop Natural Confectionery Research Institute Official Website https://www.shizuka-labo.jp
[Commercial facility first store ②] Milano Dolce Tre Spade / Patisserie
"Milan Dolce Tre Spade", which is famous for the traditional "Milan Pudding" in northern Milan, is a talented patisserie that opened in Oku Azabu in 2015 with the slogan "Let's make it a delicious and happy shop".
Rich and creamy "Milan Pudding" made by the owner chef who won the Quocodoro Gold Award, also known as the Oscar Award for Italian cuisine, with almost no additives. It looks hard, but since it is baked in the oven, you can enjoy the good melting in the mouth, which is different from the pudding hardened with gelatin. As a new product, "Carbohydrate Restricted Kinako" (500 yen including tax), a flavor of 100% Lacanto that does not use any sugar, was also on sale.
I tried "Milan Pudding Plain" at home. The thin, self-supporting pudding was firm enough to be grasped normally by hand, but when it was put in the mouth, it melted on the tongue. This is also delicious! It's good that the elegant vanilla flavor spreads in your mouth like a gorgeous one. The texture may be a little like cheesecake? Although it is a mini size, it is very rich, so I was satisfied.
In addition, as a Ginza store limited product, "Mignon", a baked confectionery made from 100% almond powder that does not use wheat flour, is available in four flavors. Check it out with a cute Milan-style package.
■ Milano Dolce Tre Spade Official Website https://www.milanoplin.com
Limited items are also available from the stores that opened in advance!
Even at the stores that were open at the facility before the grand opening, there are some notable limited-edition products on sale.
"Chocolatier Pared All", a chocolate specialty store that explores all the possibilities of cacao and chocolate using homemade chocolate that handles the entire process from the selection of cacao beans, has released the "Ginza Tea Collection" as a limited quantity product.
A collection box that brings out the flavor by combining various tea leaves based on homemade chocolate. This is a must-see item for tea lovers who can enjoy eight types of tea chocolate, such as chocolate with a bright green color and an elegant scent, using the matcha "Tengyo" from the long-established Uji tea "Shinise".
In addition, the choice sale of bonbon chocolate sold separately, which had been suspended due to Korona-ka, has started ahead of the Ginza store. At the time of the exhibition, you could choose from 17 types of chocolate such as frambois, cassis, cognac, and whiskey. Let's make your own favorite BOX that is a little rich with your favorite taste and the number you like.
■ Chocolatier Palais All Official Website https://www.palet-dor.com
At the popular Nagoya patissier "Pâtissier Tokano TOKYO", which continues to make sweets that you will never get tired of eating every day, various open commemorative events will be held until May 8th (Sun). Three popular products, including the signature product cream puff "Shoo Ala Creme" (302 yen including tax), which has been baked for two and a half hours and has a crispy skin, are on sale at a special price of 250 yen. Where you want to carry.
In addition, "Camellia Honey Financier", which uses camellia honey, which is rare in Japan, is on sale for a limited time.
I received one, but it certainly feels like a fluffy floral scent. A very delicious dish with a moist feeling as if the deep sweetness of chewing and honey exudes Jivari! I wonder if it goes well with tea or coffee. It's strangely non-greasy, and it seems that you can eat it without worrying about the timing even if you don't pull back.
■ Pâtissier Tokano TOKYO official website https://tokano.jp/tokyo
Finally, "Ginza Bunmeido", which was founded in Nagasaki in 1900 and celebrates its 100th anniversary this year since it entered Tokyo in 1922, is selling "100th Anniversary Castella" for a limited time in this milestone year. .. Various events commemorating the 100th anniversary are announced on the 100th anniversary special site, so please check them out as well.
■ Ginza Bunmeido Official Website https://www.bunmeido.co.jp
■ 100th Anniversary Special Site https://www.bunmeido.co.jp/100th
GINZA SWEETS MARCH is a new spot where you can purchase a wide variety of products, from sweets that make you feel "cute!" To sweets that make you surprised "What's this !?" Please come visit us when you visit Ginza.
EXITMELSA Overview
・ Location: 5-7-10 Ginza, Chuo-ku, Tokyo ・ Communication: 2 minutes walk from Exit A2 of Tokyo Metro Ginza Station ・ Business hours: 11: 00-20: 00
(Restaurant: 11: 00-23: 00 * Excluding some stores)
・ Official Instagram: https://www.instagram.com/exitmelsa_ginza/
<Past related articles>
[Experience Report] Evolutionary flower art facility "NAKED FLOWERS FOR YOU" opens in Yurakucho Marui! Face diagnosis and cosmetics gifts for meditation experience
[Interview report] Special exhibition "Delicious time in Sylvania village" I faint in agony with the loveliness of a baby dressed as a bakery …! Held at Matsuya Ginza (until March 21st)
[Panasonic Shiodome Museum of Art] "The Power of Ceramic Art and Traditional Crafts that Connect to the Future" (~ 3/21) Preview Report