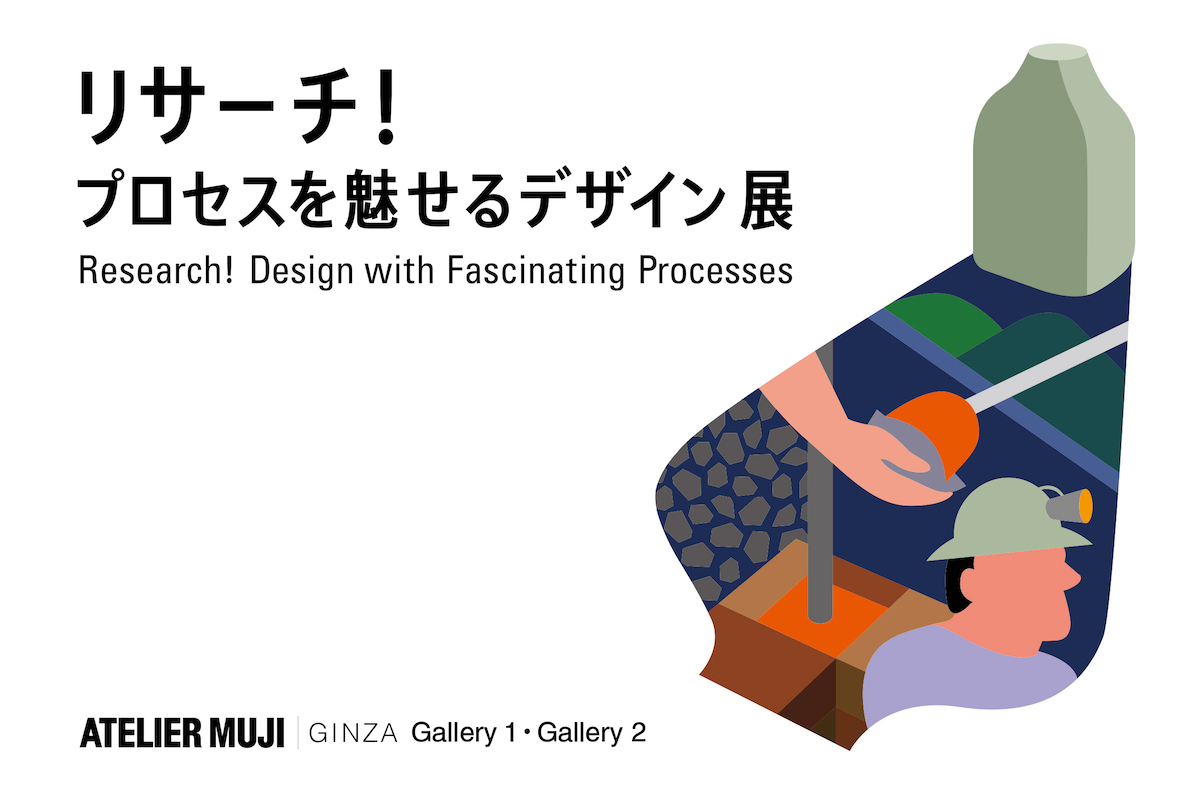 ATELIER MUJI GINZA (Chuo-ku, Tokyo / MUJI Ginza store) will be holding "Research! Design that fascinates the process" at ATELIER MUJI GINZA Gallery 1 and 2 from July 1st (Friday) to August 28th (Sunday), 2022. We will hold an exhibition.
The other things that surround our lives.
While looking at the table where the items are lined up, we select the items we like, the beautiful items, the convenient items, etc. from the user's point of view and incorporate them into our daily lives.
But what if each one begins to talk about the research and process behind it? What do we notice and how will our lives change?
Design Academy Eindhoven (DAE), located in Eindhoven, the Netherlands, is a design education institution known for its unique programs that foster modern concepts and ways of thinking that overturn the traditional concept of "design". We are attracting attention by sending out creators who will bring about major changes in the flow of manufacturing so far. So what exactly is that new "design"?
In this exhibition, Christine Mendelzma, who is known as a pioneering artist who takes the form of research, and young artists who are now attracting international attention, Simon Bagen Botero, Satomi Kinoshima + Porin Agustoni, and 3 from DAE. Visualize the horizon of the new design through the works of the group.
---
---
What they all have in common is the fundamental question of creating more in the modern era, thorough research, and the method of making the process itself into a work.
The works that fascinate us through the research and process of each of the three groups direct our curiosity to the things behind "things", and the scenery and sensibilities of everyday things that we have seen as simple "users". I think it has the power to completely change the consciousness of beauty.
ATELIER MUJI GINZA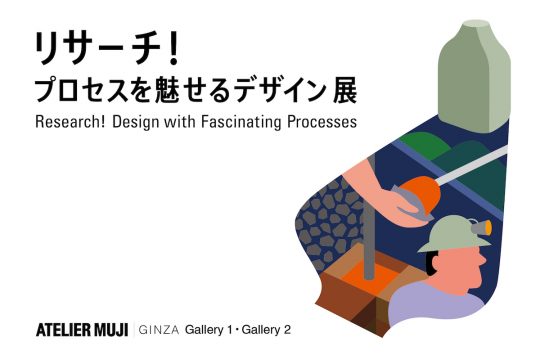 ▼ Exhibiting artist
Christine Mendelzma (1980, The Netherlands)
Mendel Tsuma shocked the design world by presenting works that reveal through thorough research and records the commitment to local resources and production, and the process that has been moved away by industrialization. In this exhibition, we will introduce two books and a chair project that made her name known. Based in Rotterdam (Netherlands).
Satomi Minoshima (1989, Japan) + Porin Agustoni (1996, Switzerland)
The two met while attending DAE, and after that, the installation that was formed through local research and experience of mud dyeing, which is a traditional craft of Amami Oshima, is'Craft Portrait: Dorozome'. Kinoshima is based in Eindhoven (Netherlands) and Agustoni is based in Berlin (Germany). Currently working on the second work of'Craft Portrait'.
Simon Bagen Botero (1992, Colombia)
Using design as a tool for discussion and empowerment, Bagen collaborates with different craftsmen, engineers and communities from project to project to recycle waste wood from Colombian gold mines to create glass objects. '. Based in Amsterdam (Netherlands) and Medellín (Colombia).
▼ Spatial composition
Ryohei Yoshiyuki
After graduating from DAE, after working at a design office in the Netherlands, established "Ryohei Yoshiyuki and Work" in Osaka. Focusing on the design of daily necessities, we move our hands, repeat experiments and verifications, and search for the desired color and shape. * We plan to participate in talk events with exhibitors who have graduated from DAE.
"Design Academy Eindhoven (DAE)"
An educational institution that has been at the forefront of design education for over 70 years in Eindhoven, the Netherlands. Exploring design as a tool for innovation in materials, society, environment, and criticism. It has produced many ambitious designers and is attracting worldwide attention.
[Related event]
During the exhibition period, there will be talk sessions by exhibiting artists, talk sessions by related parties (scheduled online, with consecutive interpretation), and workshops to explain the surprising lectures of their school, DAE (Netherlands). Details will be announced on the ATELIER MUJI GINZA official website and SNS at any time.
【Basic information】
"Research! Design that fascinates the process" Exhibition period | July 1st (Friday) -August 28th (Sunday), 2022 * Closed according to the store.
Time | 11: 00-21: 00
Venue | MUJI Ginza 6F ATELIER MUJI GINZA Gallery 1 ・ 2 Free admission | Ryohin Keikaku Co., Ltd. | Embassy of the Kingdom of the Netherlands, Design Academy Eindhoven, KANAIKOGEI
Sponsorship | Embassy of the Republic of Colombia Illustration | Satomi Kinoshima Graphic Design | SARAVAH design Co., Ltd.
Space composition | Ryohei Yoshiyuki Construction | HIGURE 17-15 cas
Curation | Kaoru Tashiro
* Some of the exhibits may not be available on some dates due to schedule changes such as the session and time, or events.
ATELIER MUJI GINZA
3-3-5 Ginza, Chuo-ku, Tokyo 104-0061 Mujin Ryohin Ginza 6F
Access | Tokyo Metro Ginza Line / Marunouchi Line / Hibiya Line "Ginza" Station Exit B4 3 minutes walk Tokyo Metro Yurakucho Line "Ginza 1-chome" Station Exit 5 3 minutes walk
JR Yamanote Line "Yurakucho" Station Central Exit 5 minutes walk
ATELIER MUJI GINZA Official Website | https://atelier.muji.com/jp/
Instagram | @ateliermuji_ginza
Twitter | @ateliermuji
<Past related articles>
ATELIER MUJI GINZA "Life in Art Philip Wise Becker" HAND MADE Handmade "Exhibition"
"Life in Art" TOKYO MODERNISM 2022 "" will be held at 3 venues, ATELIER MUJI GINZA, IDÉE TOKYO and MUJI HOTEL GINZA!
ATELIER MUJI GINZA "CREATIVE IMAGINATION" Exhibition Announcement