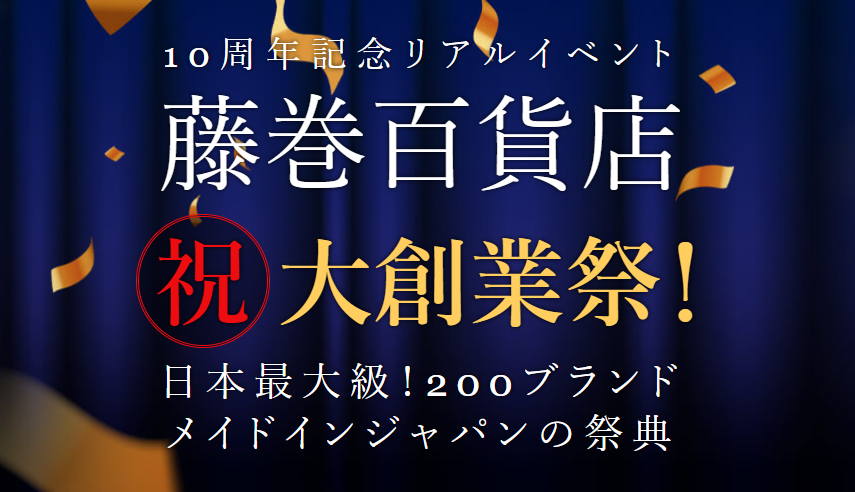 Japan's leading brand craftsmen and creators are in Tokyu Plaza Ginza! The largest real event ever to commemorate the 10th anniversary of the founding of "Fujimaki Department Store" "Celebration Grand Founding Festival!"
Summer, 10th anniversary, the "festival" of Fujimaki department store begins!
The EC site "Fujimaki Department Store" (Operating company: caramo Co., Ltd., President: Ryo Nakamura, https://fujimaki-select.com ), where you can meet gems with the theme of "Japan", commemorates the 10th anniversary of its founding. Then, we will hold the biggest real event ever, "Celebration Grand Founding Festival!" For 3 days from August 5th (Friday) to 7th (Sunday), 2022.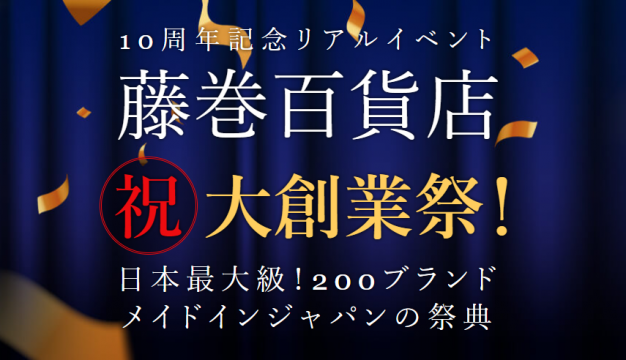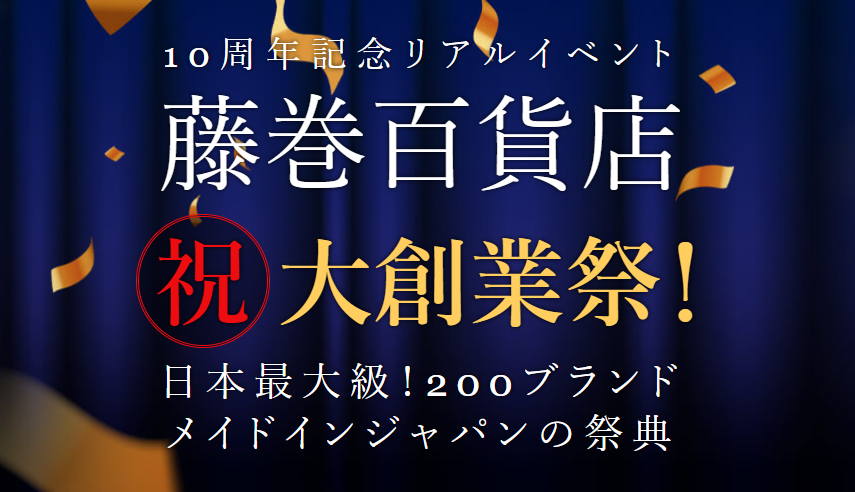 ▼ Event special page (scheduled to be updated at any time)
https://fujimaki-select.com/10th-anniversaryfes.html
At the "Celebration Grand Founding Festival!", Craftsmen and creators from Japan's leading brands are lined up. Gem that can only be seen on the WEB will be gathered at Tokyu Plaza Ginza.
The number of exhibited brands is about 200! It is truly Japan's largest made-in-Japan festival.
Full of highlights! Please look forward to the three days of seeing, touching, and experiencing selected gems from all over Japan.
・ Date and place
---
---
[Date and time]
August 5th (Fri) to 7th (Sun), 2022
11: 00-20: 00 (* Until 18:00 on the last day)
[Main venue] Tokyu Plaza Ginza 3F special space
[Venue 2] Tokyu Plaza Ginza B1F Fujimaki Department Store Ginza Store
[Online venue] Fujimaki Department Store website
* Sales activities and business card exchanges of other companies in the same industry are strictly prohibited at the venue.
・ [1] Super rare! Demonstration / direct sales corner where you can feel the skills of first-class craftsmen
In the main venue, the stores of brands handled by Fujimaki Department Store are lined up in the image of a summer festival!
A valuable opportunity to meet first-class craftsmen and up-and-coming creators that you can never meet normally.
This is a fan-coveted corner where you can find not only popular products from Fujimaki Department Store but also many products that have not been developed on the web.
In addition, we are planning a demonstration by a craftsman of traditional crafts , which is difficult to see in general.
・ [2] A very popular experience workshop that both adults and children can enjoy
On the day of the event, we will prepare a workshop that can be enjoyed by children from elementary school age and above to adults.
At the Edo Kiriko Sakura Festival held every spring, the Edo Kiriko production experience is so popular that it is always full, and you can get a direct introduction from Edo Kiriko craftsmen .
Enjoy making memories of your summer vacation, such as a workshop for making small leather goods such as wallets and key chains , which will make you feel closer to the handicrafts of craftsmen.
・[3] Buyers carefully selected "Japanese gems! Special feature corner"
In the special section in the event venue, we will propose a way to enjoy a more fulfilling life by incorporating the gems of craftsmen into the modern lifestyle.
From rare leather items, gems of young Edo Kiriko craftsmen, Japan x high quality T-shirts, famous sake known to people all over Japan, to sweets that are difficult to obtain! We have a variety of special features.
You can see wonderful items that are unique to Fujimaki Department Store.
▼ Event special page (scheduled to be updated at any time)
https://fujimaki-select.com/10th-anniversaryfes.html
・ Fujimaki Department Store (Fujimaki Hyakkaten)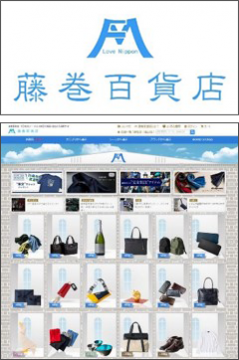 Operated by caramo Co., Ltd. (Headquarters Shibuya-ku, Tokyo / Representative Director Ryo Nakamura).
Produced by the late Yukio Fujimaki (1960-2014), who was known as a specialty buyer of Isetan, it opened in May 2012 as an "EC site that delivers only discerning gems with a Japanese theme." The products we handle are "surprisingly" original gems that have both high design and ease of use. With over 400 business partners such as excellent craftsmen and creators, it is one of the largest EC sites in Japan that handles only carefully selected Japanese products.
The main customer base is men and women in their late 30s to 50s who are highly interested in "things" and seek a little richness in their daily lives. Currently, there are about 240,000 Facebook members and about 100,000 e-mail magazine members, which are loved by many fans. In March 2016, the first real store was opened in Ginza (Tokyu Plaza Ginza B1F / 5-2-1 Ginza, Chuo-ku, Tokyo).
* The number of business partners and members is as of June 2022.
【Official site】
Online store: https://fujimaki-select.com
facebook: https://www.facebook.com/fujimakiselect/
Instagram: https://www.instagram.com/fujimakiselect/
・ Caramo Co., Ltd.

The operating company of "Fujimaki Department Store". Ryo Nakamura, President and CEO, started the Fujimaki Department Store with the late Yukio Fujimaki on a three-legged race. With the vision of "a little richness in our daily lives," we will create "new satisfaction and value" for our customers.
The company name is derived from its own way of "aiming to be a company that is loved by customers, craftsmen, and all over the world," and will continue to evolve with the aim of creating services with high customer satisfaction.
<Past related articles>
[Monthly held at Tokyu Plaza Ginza] Experience workshop on "flower arrangements made from vases"
Lifestyle shop "Space Is the Place" that proposes "living with records" Grand opening on Saturday, April 2, 2022 at Tokyu Plaza Ginza!
[Tokyu Plaza Ginza] Implementation of "Clothing Post", an initiative to donate sleeping clothes to contribute to environmental conservation and social contribution activities