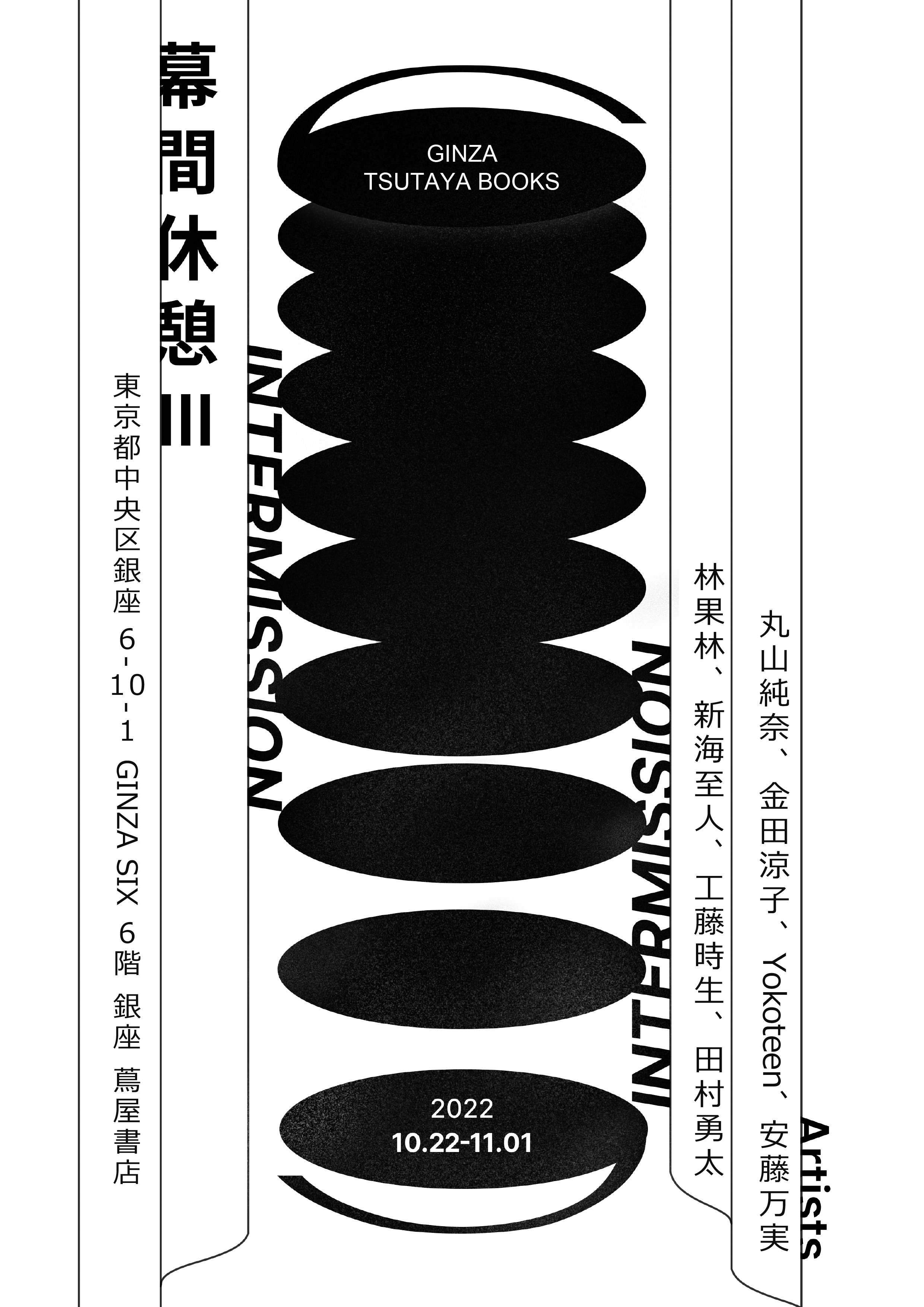 Ginza Tsutaya Bookstore (GINZA SIX6F, Chuo-ku, Tokyo) will hold a group exhibition "Intermission" by eight young Japanese artists who are active mainly in Asia at the store's central event space GINZA ATRIUM on October 22, 2022 ( It will be held from Saturday) to November 1st (Tuesday).
·Overview
The theme of this exhibition is theatre, and the name of the exhibition includes the meaning of the "intermission" of the consecutive exhibitions held at the Hotel in Taipei (June) and the Daikanyama Hillside Forum (August). I'm here.
Eight young Japanese artists who are active mainly in Asian countries such as Japan and China will participate, and will exhibit 15 works, mainly new works.
Participating artists include Junna Maruyama, Ryoko Kaneda, Yokoteen, who are overwhelmingly popular in the Asian region, and Mami Ando, ​​who is gaining popularity in the Asian region, challenging not only painting but also concrete spatial expression. , Rin Karin, who won the Excellence Award at Nagatei Gallery Exhibition 2021, Tokio Kudo, an artist selected for the CAF Award 2021, and up-and-coming artists who are attracting attention from HRD Artist Label, Shihito Shinkai, and Yuta Tamura.
Feature page| https://store.tsite.jp/ginza/blog/art/29465-1422381012.html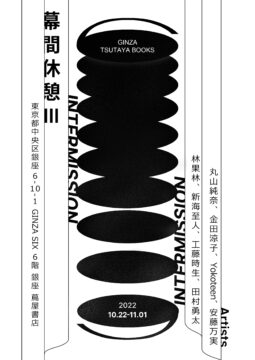 ---
---
・About sales
It will be on sale at Ginza Tsutaya Bookstore from 11:00 on Saturday, October 22nd.
* Depending on the pre-sale situation, sales may end before the start of the exhibition.
・ Profiles of participating artists (in no particular order)
Junna Maruyama
Born in Saitama Prefecture in 1999. Completed Joshibi University Junior College of Art and Design, under the theme of "Who am I?"
In September of last year, he held the youngest solo exhibition in the museum's history, "God Welcome", at the Hourlong Museum in Shanghai.
Ryoko Kaneda
Born in Ibaraki Prefecture in 1991. Graduated from Yokohama University of Art. Expresses existences beyond human understanding, such as gods and natural phenomena, by drawing girls of various sizes.
In recent years, he has produced many works with themes such as Japanese indigenous culture and everyday atmosphere.
In addition to producing works, he has been curating the "199X" exhibition since 2012.
Yokoteen
Born in Sakaide City, Kagawa Prefecture
Self-taught oil painting since 2010
In the "FRIENDS IN PARADISE" series, which he has been working on since 2015, he draws characters with animal motifs.
Each character in the work represents different races and values ​​on the planet, and contains messages of peace, cooperation and diversity.
In addition to domestic exhibitions, he has participated in many overseas group exhibitions such as Paris and Taiwan.
Mami Ando
He used to draw many abstract paintings with girls as a motif, but in recent years he has become interested in the extreme complexity of the difference between the surface and the inside of the face, and has created paintings with abstract spaces and character-like faces. there is
In addition, he is also challenging concrete spatial expressions. His works are highly acclaimed in China.
Karin Hayashi
Born in Tokyo in 1998. Graduated from Tokyo University of the Arts, Faculty of Fine Arts, majoring in oil painting. He always hides something hopeless in his world view.
Yukito Shinkai
Born in Tokyo in 1996 Lives and works in Tokyo
2022 Graduated from Musashino Art University, Department of Oil Painting, Department of Oil Painting.
I want to create paintings that distort images and whisper something, like a shoegaze distorting sounds and whispering lyrics.
The experience of learning Sogetsu-style ikebana influences abstractness and physicality, and images of otaku culture and new paintings appear.
Tokio Kudo
Born in Gunma Prefecture in 1998. Enrolled in the Sculpture Course at Musashino Art University Graduate School of Fine Arts. ing.
Yuta Tamura
Born in 1987. Graduated from Kobe City University of Foreign Studies.
With the theme of "the existence of human beings in modern society and the bodies that exist there", I mainly produce works that can be considered and raised. It is also an attempt to talk about philosophical content through vision rather than words.
・Exhibition details
Group exhibition "Intermission"
Period|Saturday, October 22, 2022 to Tuesday, November 1, 2022
Time | 11:00-20:00 *Closes at 18:00 on the last day only Venue | Ginza Tsutaya Bookstore GINZA ATRIUM
Admission|Free Organizer|Ginza Tsutaya Bookstore Cooperation|HRD ART Co., Ltd. Contact|03-3575-7755 (during business hours)/info.ginza@ccc.co.jp
Feature page| https://store.tsite.jp/ginza/blog/art/29465-1422381012.html
・Ginza Tsutaya bookstore
By connecting art, Japanese culture, and life through books, we propose a lifestyle with art.
Address|6-10-1 GINZA SIX 6F, Ginza, Chuo-ku, Tokyo 104-0061
Phone number|03-3575-7755
Business hours | Please check the store website.
Homepage| https://store.tsite.jp/ginza/
Facebook| https://www.facebook.com/GINZA.TSUTAYABOOKS/? ref=bookmarks
Twitter| https://twitter.com/GINZA_TSUTAYA
Instagram |https://www.instagram.com/ginza_tsutayabooks/
・CCC Art Lab
We are a planning group that conducts business related to art within the planning company Culture Convenience Club Co., Ltd. We would like to contribute to making people's lives happier and creating a better society by making art more accessible through "proposing a life with art". Based on the knowledge cultivated through many years of business experience such as store planning, art media, product development and event production, we will propose plans with a professional approach.
https://www.ccc-artlab.jp/
<Related articles in the past>
[Ginza Tsutaya Bookstore] UNSPOOKY, an artist who works on the theme of "curiosity and fear towards eerie existence", will exhibit his first work from Saturday, October 22nd to Sunday, November 6th. held in
[Ginza Tsutaya Bookstore] A two-person exhibition by Takami Sakurai, who left a dramatic mark on Japanese postwar art history, and his son Kyowa Sakurai, "What created the Kyushu school, what was born from the Kyushu school" on October 8 Held from (Sat).
[Ginza Tsutaya Bookstore] An artist who expresses stories, Miyako Amushi, a solo exhibition "Great Tam Tam" will be held from Saturday, October 8th to Sunday, October 23rd.