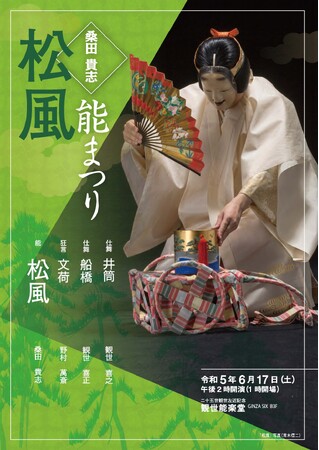 "Izutsu" by Yoshiyuki Kanze, "Funabashi" by Kanze Yoshimasa, "Bunka" by Mansai Nomura, "Matsukaze" by Kuwata Takashi
Fukagawa Noh stage "Takashi Kuwata Noh Festival 'Matsukaze'" will be held on Saturday, June 17, 2023 at the 25th Kanze Sakon Memorial Kanze Noh Theater (6-10-1 Ginza, Chuo-ku, Tokyo GINZA SIX B3F). will be staged.
Tickets are on sale at Confetti (operated by Long Run Planning Co., Ltd., Shinjuku-ku, Tokyo, CEO: Daigo Kurematsu).
Tickets on sale at Confetti
http://confetti-web.com/noh-matsuri
Official homepage
http://fukagawanohbutai.sakura.ne.jp/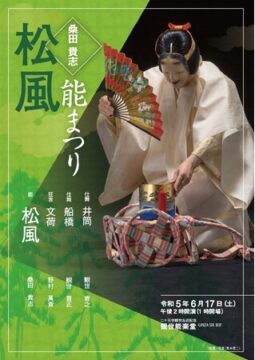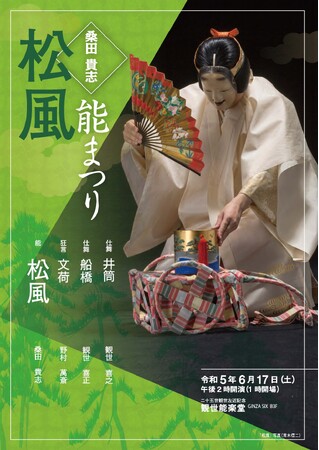 ---
---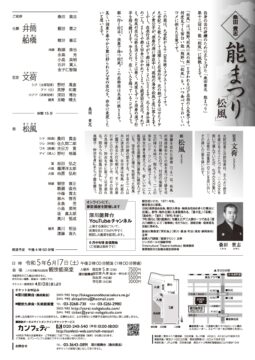 Appreciate Noh in Ginza Takashi Kuwata The 13th Noh Festival is one of the most popular Noh songs, "Matsukaze"
【program】
Shimai "Izutsu" / Yoshiyuki Kanze, "Funabashi" / Kisho Kyogen "Bunha" / Mansai Nomura Noh "Matsukaze" / Takashi Kuwata
"Matsukaze" is one of the most popular songs, so much so that it is said to be "Kumano, Matsukaze and rice rice." Noh "Kumano" and "Matsukaze", which are interesting no matter how many times you watch them, are likened to rice that goes well with any side dish and you never get tired of it.
The tragic love story between Arihara Yukihira and Matsukaze, who met in Suma no Ura. How about thinking about a love story that lasts 1200 years?
In the first half, the young diver sisters appear in front of the traveling monk and show the gesture of drawing the tide. This paragraph is a famous scene so well made that it was later incorporated into various performing arts such as Kabuki and the Japanese dance "Shiokumi''.
In the middle of the Noh performance, as he tells the traveling monk about his love affair with Ariwara no Yukihira, Matsukaze is overwhelmed with feelings of love.
Yukihira takes out the eboshi and dance costume that are keepsakes of Yukihira and embraces them emotionally. This dance is the highlight of the second half.
Dancing in men's costumes means dancing in men's clothing. In Japanese performing arts, there are many genres of male-dressing dances such as shirabyoshi dance. Even today, the Takarazuka Revue has inherited that style.
Kuwata, who is a man, plays Matsukaze, a woman. And Matsukaze dances in men's clothing. The glamorous atmosphere created by this double transformation is the highlight of this Noh play.
The shimai are "Izutsu" by Yoshiyuki Kanze and "Funabashi" by Kisho Kanze. Both are dances depicting love stories.
"Izutsu" is a nostalgic dance of Ki Aritsune's daughter who thinks of Ariwara Narihira, and is a story of pure love between childhood friends. "Funabashi" is a passionate dance of a man and a woman who died violently because their parents opposed them. Noh version of Romeo and Juliet.
Kyogen will be performed by Mansai Nomura, a popular Kyogen performer who represents the present generation. The highlight of "Bunha" is the exchange of love letters. Mansaishi is known for being very active in TV dramas and movies in addition to the Noh theater. Based on the experience he has cultivated through his numerous activities, Master Mansai is said to be a Kyogen performer with a modern perspective, and is highly regarded as an unparalleled performer. Enjoy the supreme Kyogen "Bumba" to your heart's content.
・ Profile of Takashi Kuwata
Takashi Kuwata, Shite-kata, Kanze-style Noh actor
Born in 1971. Studied under Yoshiyuki Kanze. (Public Corporation) Member of the Nohgaku Performers' Association. Important intangible cultural property comprehensive certification holder.
He has appeared in many stages, including the Kanze Kukokai and Ryokusenkai, and has also been involved in many new works and overseas performances.
Performs "Dojoji", "Mochizuki" and "Ataka".
He set up the Fukagawa Noh stage in the downtown area of Fukagawa and performed Noh dedications at the Fukagawa Hachiman Festival, one of the three major festivals of Edo. Since 2010, he has hosted the independent performance "Noh Festival".
Presided over the Noh dance dance class "Marikai".
He presides over the Nohgaku Salon, an introductory course to Nohgaku.
Instructor of Meiji University's Noh research department.
Noh instructor at Intercultural Theater Institute in Singapore
Official homepage
http://fukagawanohbutai.sakura.ne.jp/
Fukagawa Noh Theater Channel
"Matsukaze" Highlights Introduction – YouTube
・Performance overview
Fukagawa Noh Stage "Takashi Kuwata Noh Festival "Matsukaze""
Performance period: Saturday, June 17, 2023
Venue: 25th Kanze Sakon Memorial Kanze Noh Theater (6-10-1 Ginza, Chuo-ku, Tokyo GINZA SIX B3F)
■Performers Takashi Kuwata Yoshiyuki Kanze Kisho Kanze Mansai Nomura
■Performance Schedule Greetings 14:00
Closing 14:10
Kyogen 14:25
Break 14:50
Noh 15:05
*Doors open 60 minutes before the start of the performance.
■ Ticket price
S seats (front): 7,500 yen, A seats (side front, some middle front): 6,500 yen Non-reserved seats (middle front): 5,500 yen, student seats (middle front): 3,000 yen (all seats reserved, tax included)
*Student seats are under 26 years old, student ID required, preschoolers are not allowed to enter
<confetti limited>
1,000 yen discount! S seat 7,500 yen → Confetti S seat 6,500 yen!
(All seats reserved, tax included)
[Long Run Running Co., Ltd.] From the press release
<Related articles in the past>
Afternoon performance by young female Noh performers "Terai Sisters" held at GINZA SIX Kanze Noh Theater
Overcoming Corona and overflowing entertainment! ~Kabuki, Noh, art, movies, musicals~ Let's experience the entertainment city that transcends the boundaries of all arts!
Traditional Performing Arts Festival "Two Worlds of Foxes" will be held in March! !